Odds and Sods
Many Chicago-related artists are on a separate page, as are some Memphis bands.
Things were changing around 1973. Most West Coast bands were dead, irrelevant or into country rock. Prog-rock, glam, and early metal were now mainstays of music, and even the Stones were into country and gospel. What to do then to find some middle ground not really tainted by folk, jazz, country, classical or any of those other pesky genres that got stirred together in the late 1970s? The answer is affectionately referred to as cock-rock: taking the old blues and R&B sound (a la Stones), adding loud metal-level guitars without the speed or technical precision (a la Sabbath on quaaludes) and keeping the lyrics relatively simple. Granted, a lot of what I just wrote is conjecture - I need to hear more Montrose, early Kiss and others before really passing judgment. This sort-of movement is probably analogous to Britain's pub-rock scene, I am entirely ignorant about how it sounds since the latter never really crossed over into the US.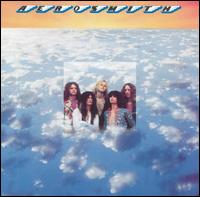 Aerosmith (Jan. 1973), ***1/2
It would be real easy to dismiss these guys as Stones knock-offs, but there's more to the story. At their base, Aerosmith took the early Stones' R&B and made it heavier and louder. Vocalist Steven Tyler's voice (sometimes you can almost hear the Jagger swagger), his old-school harmonica ("One Way Street") and the occasional added saxophone ("Mama Kin") all attest to this influence. They even close the album with the same song that concludes the Stones debut (the slightly goofy "Walkin' the Dog"). But while the real Stones were messing around with the real blues, gospel, country and God knows what, Aerosmith only truly breaks the mold once (the excellent "Stairway to Heaven" carbon copy "Dream On" which became a hit when re-released a few years later), and only approach actual blues once (the beginning of "Movin' Out"). All of that being said, the album is quite good because the songs, while relatively straightforward and interchangeable, are for the most part good. Even their filler doesn't rely on formula (some unexpected shifts in "Movin' Out") unlike some old British R&B bands. The instrumentation isn't built around speed like a metal band, and solos sound more like solos than riffs. The guitars are simply good, sticking with a simple power chord deviation which can get tiring, but still better than say, Slade. So - loud, easy to understand, direct and not terribly innovative, but still a good time. Band is Steven Tyler (vocals), Joe Perry (lead guitar), Brad Whitford (rhythm guitar), Tom Hamilton (bass) and Joey Kramer (drums). Tyler wrote most of the songs. Produced by Adrian Barber. (LP Columbia PC 32005).
Man, that is one cheap album cover.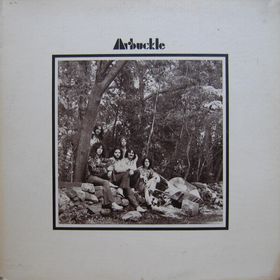 Arbuckle (1972), *
Strike 1: Naming your band after deceased, disgraced film star Fatty Arbuckle.
Strike 2: Blowing AM Gold. Arbuckle plays that sort of light folky/country music sold on TV infomercials as "AM Gold." The genre has not aged well, and rarely rocked. There are some good AM Gold artists – Jim Croce, Hamilton, Jo Frank & Reynolds had that one song, the obscure Clean Living, maybe a couple others, but mainly just a lot of wussy, unpopular stuff.
I won't even bother breaking down the album's individual tracks. The group appears to have been lead by Ronnie Fierstein, who sings lead, and does some guitar and keyboard work. Fierstein is not a good singer. He's not terrible, but lacks a strong voice, has an odd little accent, and his vibrato is goofy. When the first person he reminds you of has a strong Lancashire accent (Pat Moran of Spring) you know this is trouble. While Fierstein sings some moderately bad lead vocals, what caps this album off is the songwriting. These lyrics suck. Suck in a real bad way. Every song runs like this: I think the world is beautiful, now that you are here, or I was wondering, but now I found you, or blah blah blah. It is all the same, with a couple of minor exceptions (equally bad), and Fierstein wrote most of it. Thanks, Fierstein.
About the guitars – there seem to be a lot of them. Did I mention there are six people in this band? Six, with three playing some guitar. That's an awful lot of not very interesting guitar. Nobody in the band does much musically – there is only one noticeable guitar solo on the whole record from lead guitarist Steve Addabbo, and it only supplements the none too interesting chord changes these guys use. You will never see this album, but if you feel like AM Gold, get some Jim Croce instead. Bad, bad, bad.
The band is Ronnie Fierstein (lead vocals, acoustic guitar, some keys), Jan Flato (keyboards), Steve Addabbo (guitars), Gil Bowen (more guitars, flute), Rolf Berntsen (drums), and Joe DeChaves (bass). I think these guys were from New York, as the label (Musicor – never heard of it either) and studio were located there. Produced by Vic Millrose and Alan Bernstein. Addabbo later produced Suzanne Vega and a host of other artists in that vein. Everyone else is a ? Airto Moreira plays percussion on a few tracks.
(Strike 3: Everything else.)

Aside from their radio hits like "You Ain't Seen Nothing Yet" and "Takin' Care of Business" the group played by-the-book 70s hard rock. Unfortunately this particular book had the merit of a cheap romance novel. Randy Bachman had previously been in the Guess Who, achieving fame with songs like "American Woman". He was never the greatest of guitar soloists, but he left and after eventually formed BTO after a few years of doing crap. Nobody in the group was a great musician, although they were competent, with Randy being much better at occasionally turning up something interesting. The real problem was that aside from Randy, nobody knew how to write a good song, or even a decent one. Turner sung like a second rate John Fogerty, and Randy has that weird-sounding voice. But what can you expect from a group that named themselves after a trucking magazine? My advice: stick to a greatest hits compilation for your own health.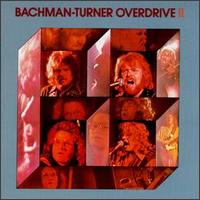 Bachman-Turner II (Dec. 1973), *1/2
Ugh, what a mess. This is sloggy hard rock. With the shortest song clocking in at just under 4 minutes, there is plenty of time for either the same damn riffs over and over again or Randy to make boring solo runs. The result is a mess of uninteresting guitars (the atonal, overblown ending of "Stonegates"). Most songs are filler, using the same formula over and over again, with the low point being the scarred lyrics of "Tramp". The light Caribbean "Welcome Home" is better, thanks to the jazz solo tacked on at the end, but still too repetitive to be good. The only saving graces here are "Let It Ride" with its background vocals, little soloing and rhythm guitar, and the classic "Takin' Care of Business" with its tasteful piano part and sing-along chorus. Otherwise the album would be complete crap. Produced by Randy Bachman. Band is Randy Bachman (guitar, vocals), Tim Bachman (guitar, vocals), Rob Bachman (drums), C.F. Turner (bass, vocals).

Bachman-Turner Overdrive: Not Fragile (Aug. 1974), **
After the success of their previous album, the group improved for Not Fragile, although not by much. The songwriting is better, although there are still some obnoxious self-lauding songs ("Rock Is My Life and This Is My Song"). The riff usage has also improved, but still not entirely under control, as shown by "Sledgehammer" or the title track. Randy's soloing is better, even though his crazy solo in "Second Hand" is marred by the annoying persistent riff underneath. Blair Thornton, who replaces Brother Tim, contributes a couple of decent Southern Rock knockoff tunes. Turner's "Roll on Down The Highway" is obviously a tribute to the majority of BTO's audience - truck drivers. But the best song by far is Brother Randy's "You Ain't Seen Nothing Yet", which uses the same formula as their previous hits - a light guitar underneath, good soloing on top and a catchy chorus. But the rest of the album pales next to that song. An overall improvement, but still unspectacular. Produced by Randy Bachman.
Music From Big Pink (Jul. 1968), ****1/2
If you go out to the Midwest or the Plains States, you'll find smaller communities whose downtown centers are a dusty, well-worn preserve. You won't find a big-box store there, and maybe they built a highway outside of town, stranding the old methods of life. The Band, formerly Bob Dylan's backing group, and formerly Ronnie Hawkins' as well, had been around since the start of rock and roll, and their debut was bridge between the contemporary bluesy, singer-songwriter work of Dylan and old-time sounds. Music from Big Pink is roots-rock; a musical retreat. But while the Grateful Dead explored Americana with an emphasis on extended passages and had a user's countenance, the Band were succinct and lyrically elliptical. Music from Big Pink rarely has solos, the playing is deceptively basic and the band members don't overshadow each other.
Certainly their connection with Dylan helped them gain notoriety, but Music from Big Pink is a deliberate and well-rehearsed rejection of contemporary music trends. Five men, dressed in a manner reminiscent of the Cripple Creek miners they allude to on "The Weight". Or so it seems, while some psychedelia does leak into the album ("In a Station" is a bit tripped-out), and the organ intro to "Chest Fever" has oddly classical intro leading into a get-down beat. Dylan's own writes (the prison hymn "I Shall Be Released") or his co-writes ("Tears of Rage", "This Wheel's on Fire") are not so different from the excellent indigenous material. Guitarist Robertson wrote most of the material ("To Kingdom Come", "Caledonia Mission", "The Weight", "Chest Fever"), while Manuel's is more varied ("We Can Talk", the annoying "Lonesome Susie" or the aforementioned "In a Station"). You can bang out the songs on here yourself, and they have a real populist tinge to it: R&B, gospel and country all appear in one guise or another. The un-Hendrix, the Band may have been the most imaginative bar band in the world. Thoughtful music for the roadhouse crowd.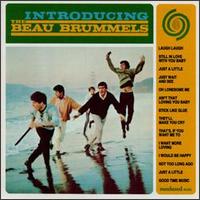 Introducing the Beau Brummels (Apr. 1965), ***1/2
The Beau Brummels have achieved the status of "great band that never was" for those who are overly interested in mid-60s rock. In truth, they were never that great, nor all that successful, outside of two hit singles right off the bat. You see, in 1964 with America's shores being invaded by hoards of innocuous subjects of Her Majesty the Queen wearing matching suits and the like, America needed to strike back. Following an adage no doubt derived from some moralistic cartoon (at least that's how I learn) America decided that if they couldn't beat them, they would join them. Word was sent out from the White House, and the Beau Brummels were charged with the task of infiltrating American shores, disguised as a British rock group. They would then save teenage girls' hearts from being stolen, harvested and sold on the London black market. Now you know the real reason the Kinks couldn't tour the U.S. for several years.
Seriously, the Beau Brummels are infamous as being one of America's first cognizant answers to the British Invasion, even if was mostly trying to be just like the Invasion. Even the Rolling Stones still dressed nicely at this point, but these guys wanted to slot in somewhere between the Beatles and the Zombies, with a great debt owned to the former. Their two hit singles, "Laugh Laugh" and "Just a Little" are the peak of faux-British harmony rock. Both tracks do an excellent job of echoing "And I Love Her" era Beatles with alternating leads on crisp electric or acoustic guitars, tight harmonies, sorrow-filled vocals and minor keys. At the same time, the Brummels distinguish themselves by sometimes employing the reverb-saturated guitar tones associated more with crazed surfers like Dick Dale. Yet, guitar chord sequences such as those on "I Want More Loving" would be a staple of the Zombies sound for the next few years. The album displays all the hallmark of its era - some Everly Brothers harmonies ("I Want More Loving"), a fun throwback twist number ("That's If You Want Me To") reminiscent of the Beatles' cover of "Twist and Shout." There are some flaws - "Stick Like Glue" is downright annoying, and the vocals on ("They'll Make You Cry") sound like a drunken impression of a Liverpudlian accent (likely not the voice of lead vocalist Sal Valentino). Somewhere in there you can hear the underpinnings of folk-rock, and they do cover both a country song ("Oh, Lonesome Me"), and a clean-cut version of "Ain't That Lovin' You Baby." Still, those are the only covers on here - as guitarist Ron Elliot shows himself to be a master of all these forms, at a time when this wasn't expected. Plus, their British Invasion copying really is impressive, down to the trick of ending with two beats and different chord, and the rhythm harmonica. In the long run, this does date the music, so it really sounds like 1965, if not 1964 or before. There's something American about them though - maybe that country track is belted a little too well, and the ballads have more of the loping gate of an American country and western.
All in all, it's mostly a imitation, rather than the significant advancement which would come with the Byrds, but it is impressive enough to have plenty of merit. I'm sure who produced the album, but at least "Laugh Laugh" was produced by Sly Stone (still going by Sly Stewart at this point). The band is Ron Elliot (guitar), Sal Valentino (vocals), Ron Meagher (bass), Declan Mulligan (guitar), and John Peterson (drums).
I have their third album, Beau Brummels '66, which is all covers. Thank the dunderheads at Warner Brothers Records for that idea. They then ventured off into country-rock a little earlier than most, without success.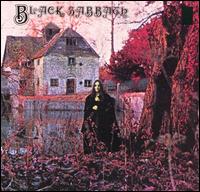 Black Sabbath (Feb. 1970), **
If music were a soap opera, Sabbath would be the drugged out, Satanic younger sibling of Led Zeppelin. Regretfully, this is not the case, so this is just an unfocused rip-off of Zep. Sabbath might have stolen the riffs, but that's all they got, or at least that's all they use. Ozzy's lyrics are mystical and slightly clunky, but nothing special outside of subject matter. The band relies on Iommi a lot, and he winds up playing and playing, without going anywhere. Everything sounds the same, with the exception of "N.I.B.", which is a Cream (vs. Zep) ripoff with Satanic lyrics. If I was forced to pick one song to listen to it would be the slightly amusing "The Wizard" with Ozzy's embarrassing harmonica playing. I wonder if he would have used it if Robert Plant hadn't. Band is Tony Iommi (guitar), Geezer Butler (bass), Bill Ward (drums) and "Ossie" Osborne (vocals). That's how it's spelled on the back cover - Ossie. Produced by Roger Bain.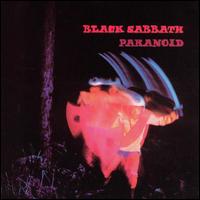 Paranoid (Sep. 1970), ***1/2
This album gives Black Sabbath an identity, in addition to/place of a bad reputation. While Zeppelin was in many ways a traditional blues band taken to new levels (New Yardbirds, anyone?) and still dealing with the same issues of "lost my woman," Sabbath came from a mixed background. They combined the pessimism and regret of the blues with an awareness of the world around them, seen in the lyrics dealing with atomic holocaust, drug overdoses and the like. It is not fair or accurate to say that they were simply an offshoot of Jethro Tull, but it is true that Sabbath's music came from the same place, and simply went to a logical extreme (the bridge in "Electric Funeral", or the entertaining "Fairies Wear Boots" demonstrate this style). Hand in hand with these lyrics went the gloomy leaden guitar of Iommi and the wailing of Osbourne - combining to make Paranoid a view of the world that's found in all aspects of the album. Even the quietest track (the fascinating "Planet Caravan" with Iommi demonstrating that yes, he can play in a jazzy way) seems like a post-apocalyptic moment - all too-quiet compared to the rest of the album. Of course, it goes without saying that this album is far better than their self-titled debut, but still has flaws. The group seems more focused, playing clearly delineated songs as opposed to the ramshackle nature of some of their earlier work. Iommi also shifts away from playing and playing and lets his eerie doom riffs do the talking. Granted, that does lead to some dead time where you expect a solo to crop up ("War Pigs"), but on the whole it's as effective as the riffs are. And, for the most part, the riffs are successful - after all, this album does contain what is one of the best riffs of all time ("Iron Man" which is probably their most well-known song), even though there are some relatively ineffectual ones (the repeating 4-bars of the title track). The lyrics (Ozzy's?) also are vastly improved ("Hand of Doom" which refers to drug use as "giving death a kiss" for example), and the vocals and guitar pretty much trade off being in front. The album also benefits from some real production, with Ozzy's voice receiving various treatments, and even the sounds of an air raid siren pop up in the opening seconds. But, the dead space does add up and things like drum solos ("Rat Salad") and hokey production tricks to end songs ("War Pigs") don't help. An entertaining classic, but a flawed one. Produced by Bain again.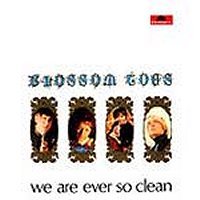 Blossom Toes: We Are Ever So Clean (Nov. 1967), ****
I finally deliver on my aim of obscure artists. This album is orchestral rock, if the Moody Blues trying to imitate the Beatles. It may be derivative as hell, but it is well written and tons of fun. There's lots of lush Moodys-style vocal harmonies ("Look at Me I'm You"), and tasteful orchestration ("Mr. Watchmaker", "Love Is"), but no organization along the lines of Days of Future Passed. Not to mention the Beatles-esque trumpet runs, and Ringo-ish drumming which pop up occasionally. The songs aren't love ballads, but more British whimsy, with a few almost Kinks-like numbers here and there ("People of the Royal Parks"). The band does have an ear for interesting chord changes occasionally ("I'll Be Late for Tea"), but nothing striking. That is, with one huge exception, "The Remarkable Saga of the Frozen Dog" which has broken backup vocals and a droning sound to it, set over the usual nonsense lyrics that mark the period. (The band were Beefheart fans, if that tells you something). Otherwise the album is fun, light, and guaranteed to delight. The only problem will be finding a copy, as the original didn't sell well, and the CD is way out of print. If you decide to assemble it yourself, don't forget to include their even rarer single that came after this, the amusing "Postcard/Everyone's Leaving Me Know" which appears on the real CD. Of course, the CD used that single to replace two other tracks "The Intrepid Baloonists' Handbook Vol. 1" and "Track for Speed Freaks", which is one of those album condensed into brief period of time tracks. Band is Kevin Westlake (drums), Brian Belshaw (bass), Jim Cregan (guitar) and Brian Godding (guitar). Cregan later showed in Family, and then as a Rod Stewart sideman. Produced by Giorgio Gomelsky. The group released a hard rock album two years later (If Only for a Moment), becoming one of the first bands with twin lead guitarists. From what I've heard it is nowhere as interesting.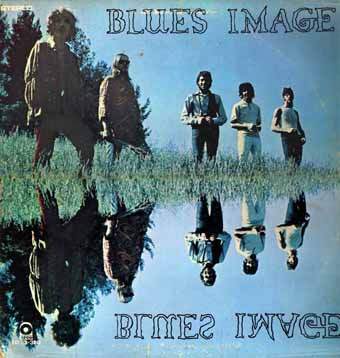 Blues Image (1969), **
Ah - journeymen, those musicians who pass from one group to another without any real stability. In some ways they are a step above session-men because they are actually members of a group, but they may not have the security or the success of a session life. On this album we have future examples of both. This album itself is well performed, well produced and fairly boring blues-rock. Well, it's not entirely blues rock - the liner notes claim that Latin Rock is "their own development." Santana's snub aside, the Latin influence is fairly weak. There's a couple of tracks that have touches and some lyrics in Spanish ("Outside Was Night" and "Yesterday Could Be Today") but mainly the claim appears to be grounded in the fact that they have a dedicated percussionist, future session man Joe Lala. Guitarist (and future journeyman) Mike Pinera has a good grasp of various blues styles (he'll play loud, he'll play soft, he'll play hard), but his vocals are admittedly vanilla. Lala sings on the album's only two decent tracks ("Take Me to the Sunrise" and "Leaving My Troubles Behind" conveniently placed as the first and second tracks on the album), so you have to wonder why he didn't get more leads. Like I said before, it's not badly performed, just really uninspired stuff (the slow traditional "Lazy Day Blues") or with fairly bad lyrics (the chorus of "In Front Behind You" contains the line "a whisper in a broken dream cannot be heard at all"). Lots of skills and potential, but not a whole lot else. Later on they scored a Top 10 hit with "Ride Captain Ride", a good song, and one that is not on this album. Pinera left soon afterwards to join Iron Butterfly and begin his wandering days with middle-road bands. Lala became a top session percussionist after the group broke up the next year. This album has not been re-released on CD, and there's absolutely no reason to track it down on vinyl. Produced by Bill Halverson.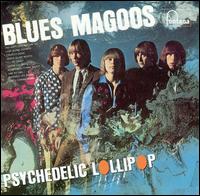 Blues Magoos: Psychedelic Lollipop (Nov. 1966), ****
A prime piece of 1966, consisting of pretty hard R&B. The band had too much talent and structure to be a real garage band, and both lead guitarist Mike Esposito and drummer Geoff Daking were excellent. Ralph Scala's puny organ and minor chords made them sound like the Animals in their prime ("Sometimes I Think About", "Love Seems Doomed" to a lesser extent) even though Ralph's vocals were not as emotive as Eric Burdon's. While they don't reach the level of the Who, they are heavy enough ("Gotta Get Away", "She's Coming Home"), and could have nicely slotted into Pete Townshend's coined "power-pop" (the fun "One by One"). Of course, the big-deal track is the Top-10 hit "(We Ain't Got) Nothin' Yet" which has all of the attitude and grittiness of garage rock, but with tighter playing. It's pretty early to be as psychedelic as the cover and title may suggest, and this is more like what the English would call "freakbeat" but with some Indian drones as well. They may not be the Who, but Esposito has his share of cutting-edge guitar moments, culminating in a fantastic cover of "Tobacco Road" where he leads the band to a destructive break-down with guitar launched feedback, until the entire band is pretty much just making noise in rhythm. Most of the band's material is original which is impressive, and it's really only on the covers that they waste time (the folky ballad "Queen of My Nights", James Brown's "I'll Go Crazy", "Worried Life Blues"). Clearly a strong American response to the British Invasion, pointing towards the harder sounds which would come out of Detroit a few years later. The rest of the band is Emil "Peppy" Thielheim (guitar) and Ron Gilbert (bass). Produced by Bob Wyld and Art Polhemus.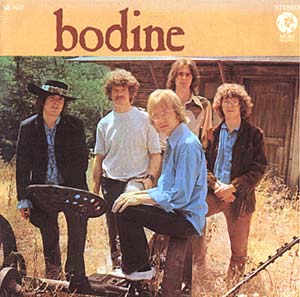 Bodine (1969), ***
Hey kids, ever heard of this album? I thought not. With so much garbage on CD, the fact that this album has not been re-released is a shame. Bodine were a bunch of no-names with skill, but after this album I can't find record of the members doing much. As for this album, it is a good mix of rock, scratchy guitars, country-rock and songwriting talent. The most obvious comparison is Buffalo Springfield, but I've never been able to find their records. That being said, there's only about half an excellent album on here, but man it's a great half. For example, their take on country-rock is pretty good, with the opener "Short-Time Woman" chugging along with strong rhythm guitars. In fact, one thing I can say about this group is that they can lay down a monster beat sometimes. Just listen to "Easy to See", which has to be the best song on here. It just draws you in, and you feel the fun they had in the studio. Otherwise, there are some fine attempts at regular rock ("Into My Life", and the 60s epitaph "Oakland"). "It's Just My Way" is a decent acoustic ballad (with a ridiculous organ solo), and goes on a bit long, but still merits mention. The back side is less strong, with only "Keep Lookin Through Your Window" and its awesome bass line standing out. They even go so far as to do one of those Dylan-impersonation songs ("Disaster"), but it avoids living up to its name. Most of the songs were written by guitarists Steve Lalor and Eric Karl, but you wouldn't know that looking at the album. The group declined to give their last names on the inside photos, as well as which instruments they played. Bassist Kerry Magness used to be in the Kingsmen (y'know "Louie, Louie", but not original lineup) and did session work for the Doors. The other members of were David Brooks on keys (largely superfluous) and Jon Keliehor on drums (partially responsible for the monster beat). Produced by Bill Cowsill, Jr. (of the Cowsills for pete's sake.) For where I got my info go to http://theregents.net/bodine.html.
John Keliehor wrote me an email about Bodine, which is a bona-fide feature.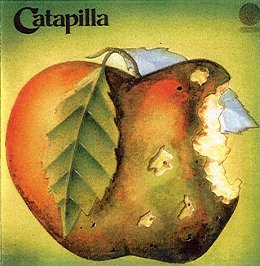 Catapilla (1971), ***1/2
What if there was an alternate universe with an evil jazz-rock band? Well, Catapilla's not evil per se, just really, really dark. To construct this Catapilla take a rhythm section (including guitar) which could have come out of the Blues Revival of the late 60s, some jazz-blowing horns with Third/Fourth style arrangements, brooding lyrics, and the most out-to-lunch female vocalist ever, Anna Meek. There are many alternate theories that can be constructed to explain Meek's singing, but I'll venture only a few of them. Most of the time she has an odd accent that sounds either Scandinavian, aristocratic English, or Grace Slick with her vocal passages unnaturally widened. Meek is over-the-top and then some - she screams, she coos, she's usually off-key - all within the same song ("Promises"). She sounds like some hammy horror villain who would say "I've gone mad, mad, mad, mad!" with a cackle. I could learn that she was violently insane and not be surprised. She might be the female Ozzy, but he sounds better. All in all, this recipe makes a very odd combination, but fortunately there's plenty of instrumental sections. The opening track, "Naked Death" has a lot of laid back sax lines (and wah-wah horns?!) and a generally creepy feeling otherwise. Then comes "Tumble Weed" which is very traditional sounding, both in horn usage and lyrics, and subsequently falls flat on it's face. It's followed by "Promises" which is sort of a traditional horn rock/Third hybrid with Meek showing her full range of whatever it is she has a full range of. The real kicker (and jewel of the album) is the whole back side, given over to "Embryonic Fusion", which alternates the straightforward jazz playing of the horns with Meek's creepy vocals and guitar based jazz-rock, all the while doing nice time signatures like 14/8. Canterbury on dangerous destabilizing drugs? Atmospheric at the least, it's both creepy and cool. Produced by future Black Sabbath manager/producer Patrick Meehan, Jr. The only band members of historical note are Robert Calvert (sax) who may or may not be the one associated with Hawkwind, and Dave Taylor (bass) who seems to have become a longtime member of Bryan Adams' backing band.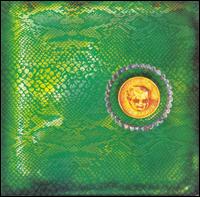 Billion Dollar Babies (Mar. 1973), ****
With his elaborate stage shows Alice Cooper may be the closest thing America had to glam-rock. There are substantial differences of course, as Cooper focused on the sadistic, shocking parts of life on stage and in his music. I really mean "on stage" because Cooper was foremost an excellent showman, which shows up on the first track here ("Hello Hooray") where you can almost feel him building off an audience. But behind it all was excellent songwriting, playing and vocals. David Bowie crossed with Screaming Lord Sutch? Something like that anyway, especially with call to be elected ("Election"). Don't be fooled by his appearance - Cooper was based much more in melodic 60s power-pop (the la-la choruses and the hit "No More Mister Nice Guy" are the best examples) than heavy metal, although he drew from that also. Of course, there's always the possibility for musical plagiarism, which happens in the socially indicting "Generation Landslide" which manages to borrow from the opening of "Dear Prudence" as well as Tommy. But the hard-hitting metal style works well with Cooper's shock approach such as on the creepy, riffy title track (with Donovan on co-lead vocals) or the dragging "Sick Things", but strangely not on "Raped and Freezing" which is such a good time you hardly notice the subject matter. However, sometimes his attempts to shock simply don't have much value, as on "Unfinished Sweet" a song which seems to be an excuse to use a dentist's drill and the James Bond theme, or an overblown tribute to necrophilia ("I Love the Dead"), complete with fast breathing noises. But overall the musicians here are excellent, while Cooper changes his vocal style almost track to track; from a nasally rasp, to open-throated yelling, to a "normal" voice for the simple piano ballad "Mary-Ann" (which seems out of place until you think about the lyrics). The end result is an album which is a much more than a teenager's tool for rebellion. Produced by Bob Ezrin.

Curved Air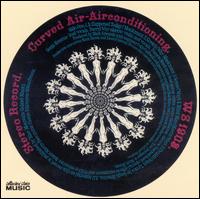 Air Conditioning (Nov. 1970), **1/2
Strange days indeed, when this album made number eight on the British charts. Or maybe not--why not take two of the more popular musical strands and combine them? Procol Harum may have been a blues band with classical interpolations, but Air Conditioning is an odd alliance of roaringly distorted rock guitar and classically inclined prog-rock. Francis Monkman's guitar is uses almost entirely for dirty, dirty blues leads, often played off of Darryl Way's classically tilted violin. Monkman has both sides covered actually; he was a classically trained pianist, and his songs and frequent keyboards are more staid. But even if you were not listening to Monkman's squalling guitar, you probably would notice Sonja Kristina, one of the few female vocalists in prog-rock (or even rock). Kristina's singing is more calculated than natural ("Hide and Seek"), possibly because her voice is better at lower intensities. The band's unique approach has some strange results. For example, the bluesy "Stretch" sounds like a contemporary Jefferson Airplane track with male and female vocals, violin and crapped out guitar. Even more unusual are the hushed vocals, acoustic guitar and simple percussion on "Blind Man", eerily foreshadowing Suzanne Vega! It is not quite Rick Wakeman meets Peter Kaukonen, and the "let's please everyone" integration approach of rocking guitar and classical causes is not always smooth--the album's opener, "It Happened Today" opens with Monkman splaying blues lines over pounding proud piano and Kristina's imprecisely double-tracked falsetto (hitting you with two crests), before abruptly shifting into a slower, Way-led section. The album has a more serious, darker tinge to it, thanks to the instrumentation, and their operating in the realm of bombast ("Vivaldi"), classical/folk (the dispirited "Situations", "Screw"), and blues ("Hide and Seek"). On top of everything and the band also had an experimental streak, (the name was derived from Terry Riley's A Rainbow in Curved Air, after all) with Way's Four Seasons synthesis mutating into something that sounds like a strange synthesized noise, which turns out to be a distorted violin. The less than satisfying production also has some odd twists like non-synced vocals ("It Happened Today") or guitars ("Proposition"), in an nod to Riley's experimentation with overdubbing. Still, Air Conditioning is more a process of discovery than playing to the group's strengths. Monkman's blown-out blues trend is nowhere near as compelling as Way's violin work on "Vivaldi" or "Vivaldi with Cannons". Only on one track do they realize their full potential: the stately "Screw" which has a great hook (oft repeated) and where Monkman's guitar slowly burns as a counterpoint. Otherwise, Air Conditioning is more about the journey than what you find at the end, placing it closer to American bands such as Sweetwater and the Jefferson Airplane than their British contemporaries.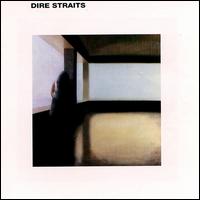 Dire Straits (May 1978), ***1/2
"It ain't what they call rock and roll" - a line in Dire Straits' big hit "Sultans of Swing" which sums up the band's approach to music. Not that guitarist/singer/writer/leader Mark Knopfler was saying that it isn't rock and roll - just that it's not what's in vogue with the young kids. This is the Counter-Reformation to the young revolution of the Clash, the Sex Pistols and everyone else. Knopfler hearkens back to the clean, cool blues of the 70s (think Eric Clapton), but employs all the modern trappings of New Wave. This goes along with his songs of broken or lost love - you won't find any society-directed anger or frustration. The rhythm section of 2nd guitar (Mark's brother David), bass (John Illsley) and drums (Pick Withers) is trim, nimble, and remarkably consistent - just what you'd expect in the New Wave era. But here, all that lack of sound only emphasizes the punctuation that Knopfler's guitar makes when he solos. And it does punctuate - Knopfler is rather fleet-fingered, and has his own distinct style right from the start, mixing blues with the older country forms, and shades of jazz thrown in. Not surprising then, that "Sultans of Swing" is about a Dixieland band who gets no respect.

However, it's not terribly authentic. Knopfler was in his late twenties, yet his singing makes him sound like he's 40 at least. He either sings like he's making off-handed comments, or just growls his way through (the generally creepy "Six Blade Knife"). The band tweaks it's clean blues formula just enough throughout to prevent it from being boring, but there's still a few instances of Didn't I Just Hear This Song? (recycling the 50s electric country-blues feel of "Setting Me Up" all of two tracks later in "Southbound Again"). The few attempts with acoustic instruments ("Water of Love") aren't enough to offset this. The band is so low-key that they drift towards Adult Contemporary ("Wild West End") or soft-core pornographic soundtracks ("Lions"). The faster and more energetic the performance ("Sultans of Swing", "Down to the Waterline"), the more successful.

Is it New Wave then? Or a Counter-Reformation? I'd think its influences are too recent to be New Wave, and it's contemporary enough with Punk and New Wave to be a real Counter-Reformation. Mark Knopfler started out in the same pub rock bands that punk grew out of - he just went in a different direction. Produced by Muff Winwood - and yes, he's Stevie's brother.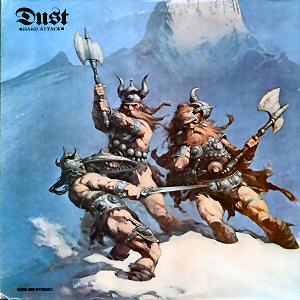 Hard Attack (1972), ***
Where the American metal bands were in the early 70s has always been a mystery to me. The Detroit scene was in the process of fizzling, and outside of that I'm hard pressed to name another American group that would qualify as early metal outside of Blue Oyster Cult (but that's another story). So are Dust an early metal band? Well, I haven't heard their debut from the year before, but according to this, occasionally yes. Guitarist Richie Wise clearly has drawn his inspiration from the loud English blues groups of the late 60s, but he hasn't evolved much, still firing off snappy little blues lines here and there on his cranked-up guitar like it's 1969 ("Ivory"). But the group's sound is also grounded in country/folk, and Wise uses a fair amount of acoustic guitar both on the harder-edged songs (most visible on the mildly schizophrenic "Pull Away/So Many Times") and in a couple of down-home songs. It's a bit odd to hear an angry breakup song with loads of slide guitar ("How Many Horses") right next to a thunderous tune along the same lines but with darker lyrics ("Suicide"). Lyricist Kenny Kerner must have been hanging with Keith Reid on that pre-Home bender, as they lyrics here are either on along these post-breakup or suicide contemplation lines, the latter sometimes paired ironically with the music ("I Been Thinkin'" is a poetic ode to the latter). This comes out in "Thusly Spoken" which sounds like a pairing of a Procol Harum tune with the scale of Bowie's "Oh You Pretty Things" as Richie casually describes the apocalypse over strings and gentle piano. The fantastic rhythm section consists of Kenny Aaronson, who pulls plenty of weight on bass and slide guitar, and Marc Bell (the future Marky Ramone) who's driving style is only made absurd by the fact that he was about 16 years old when this was recorded! This album's problem is that while the group has a fairly diverse sound, Wise is not that good a guitar player, and the band's material isn't too distinct. Take "Ivory" for instance - a great track which finds the band engaged in the titular hard attack, but Wise isn't able to go anywhere beyond his rather ordinary line, where there's plenty of room for him to solo. This is what makes them seem more like a really loud depressed rock group at times (the great "All in All" with plenty of who-like power chords, "Walk in the Soft Rain"). Still, this is an interesting album to listen to, if not essential. Kerner and Wise produced, and they later did that as a team after the group's breakup (the Stories which Aaronson joined, and Kiss).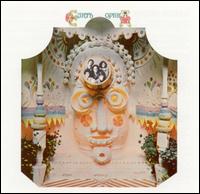 Earth Opera (1968), ***
Earth Opera is curious, as it raised havoc with my expectations. A name which suggests grandiose designs, intriguing cover art, and future Seatrain gentleman Peter Rowan, who wrote most of the album and handles lead vocals. Surprising therefore, to find that Earth Opera was a low-key, stately folk rock band, the sort of thing appealing to the artier crowd of 1967. Much of this is due to hushed nature of the music, relying on David Grisman's mandolin/mandocello and their keyboardist/vibraphonist Bill Stevenson. Above this stands Rowan with his declamatory vocals, as if he had learned elocution from recordings of T. S. Eliot. He wrote almost all of the album, and his lyrics were what might pass for poetry at the time, with empty statements ("As It Is Before") along with good phrasing and observation ("The Child Bride", "The Red Sox are Winning", "When You Were Full of Wonder"). "The Red Sox are Winning" is the album's attempt at a pop song, with Rowan's offhand commentary (and moan), a nice vibraphone solo, and dixieland references. For the most part it's very pleasant ("Dreamless" merges jug-band music with the harpsichord rock so in vogue) and gentle "The Child Bride", "Close Your Eyes", "When You Were Full of Wonder"). The band rarely turns up the volume, ("Time and Again" is really the exception), and except for a blip on "Home of the Brave", Rowan remains unruffled. The only mistakes are ones of scope, as their sound was not well suited to longer songs "As It Is Before" drifts onward seemingly forever, and "Death by Fire" (likely their attempt at an epic commentary on religion) also stumbles in Purgatory for an eternity. Still, a nice band, with a distinctive sound. The band recorded a second LP, The Great American Eagle Tragedy without Stevenson before splitting. The rest of the band was John Nagy (bass), with Billy Mundi and Warren Smith filling in on drums for new member Paul Dillon.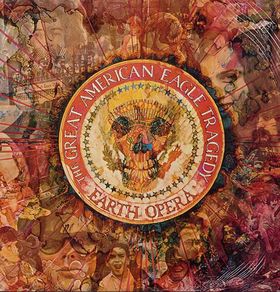 The Great American Eagle Tragedy (1969), ***1/2
Earth Opera's second, final album is really solid. While their debut often stalled, or lightly lingered while Rowan explained things, a few seconds of the warmly encompassing "Home to You" shows an engaging band. The Great American Eagle Tragedy is lively, and sounds great. Rowan dropped the haughty vocals for real singing, and plenty of guys fill in the sound: saxophonists, keyboardists, even John Cale. (Wise move, as none of the band comes across as a strong soloist). The albums best tracks show some folk lineage: light country-rock in the opening "Home to You" - which could have been a hit, or the tragic old-world folk song "Mad Lydia's Waltz". As before, their musical tastes are fairly diffuse, showing poppier rock ("Roast Beef Love") or old school rock and roll with jazz flourishes on "Sanctuary from the Law"). The album still has some longer works, but nothing like the time-suck that was Earth Opera's "Death by Fire". In fact, both are good and plenty jazzy: the slowly building, poetic "All Winter Long" which closes out the A-side, and then the title track - political commentary couched as fable. The latter stops and starts, opening with a mournful trio of saxophones then alternating between slower, more intimate versus and buzzed-up choruses. But no matter the track, this band had that mysterious "it" - a good sound with strong bass, well-thought out songs and arrangements. You even want to listen again to the lesser tracks (Dillon's poppy "Alfie Finney", some blues on "It's Love") which sound good, even if they are not going to win showcase awards. So, a very good album, with some weak spots (or long spots) and a couple of above-average filler tracks, but with a great sound. Produced by Peter K. Siegel.
Rowan went on to the Americana melting pot of Seatrain, Grisman played with people like Jerry Garcia, and Nagy went into session work.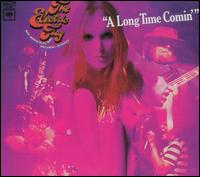 "A Long Time Comin'" (1968), **
Guitarist Michael Bloomfield's liner notes proclaim the Electric Flag to be "an American Music Band," and then lists the various forms of "American Music." He neglects to mention that the band manages to drain every last one of them of entertainment. But the music is a poor counterpart to Blood, Sweat and Tears' Child Is Father to the Man - blues, soul and pop, plus a horn section. The musicians are professionals, but most of the time they sound like a generic Motown backing band. It didn't have to end up this way - Bloomfield was a talented blues guitarist formerly with the Butterfield Blues Band, and his companions also were of some note. However, Bloomfield is the band's only stand-out soloist, and he's limited to the blues ("Killing Floor", "Texas"). Drummer Buddy Miles manages to blow his vocals on the soul songs (which might as well have been labeled soul in big letters next to them) and kills the promising "Over-Lovin' You" and "You Don't Realize". The band's sound is so big it's hard to find a place for everyone, and organist Barry Goldberg as well as the horn section never really stand out. The album also isn't helped by dated psychedelic tape effects ("Another Country"), or wretched mixing decisions ("Groovin' Is Easy" or "She Should Have Just" which bury most of the band in the center). Plus the Flag's songwriting is shockingly weak. Vocalist Nick Gravenities was a songwriter, but strangely does not contribute anything here. Instead, the band plays a trio of horribly dated pop duds by Quicksilver Messenger Service's manager Ron Polte including ("Groovin' Is Easy") matched by their own in-house stinker (Goldberg's "Sittin' In Circles"). The only completely likable song is a swinging boogie-woogie arrangement of "Wine". Botched on all levels at various points. Produced by John Court. The CD version includes the non-LP single "Sunny"/"Mystery" with the A-side being a cover of a song I disliked to begin with. It also has a couple of unreleased tracks for those who can't get enough (masochists).
You can thank the public library for this one.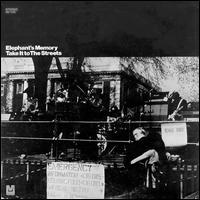 Elephant's Memory: Take It to the Streets (1971), ****1/2
New York had its fair share of bands, but because the city was (and still is) so diverse it's hard to say that there was a distinct New York sound (outside of the 60s folk circuit), unlike places like Detroit or San Francisco. Take It to the Streets reflects this, as the band demonstrates skill with a multitude of styles. But instead of mixing them together, the band tends to shift between genres mid-song, and as a result there's little emphasis on soloing. So what does Elephant's Memory sound like? Like a crazed rock band with auxiliary horns (Myron Yules on trombone and lead vocalist Stan Bronstein on saxophone) and left-wing pro-revolution lyrics. The opening track and supposed hit single "Mongoose" is a good example. One of their more conventionally structured songs, it sounds like a rough-and-tumble Chicago - African rhythms, gravely lead vocals, horns and a catchy chorus. But the very next song, "Power", showcases their radical political views with a primitive fast paced Detroit-sounding song driven by Rick Frank's 1-2 drumming and shouts of "hey" (you can almost hear the fists being pumped in the air). The middle section turns into a trade off between two people shouting revolutionary advice before the horns completely change the tone of the song by entering mariachi style, without a change in the the beat. But hand in hand with their protest lyrics is a good sense of humor, seen in lines like ("Rip up the judge / rip up the mail") or tracks like pianist Myron Yules' "I Couldn't Dream" which is a catchy parody of overly serious hipster jazz, right down to the nonsensical lyrics. The rest of the album is at complete odds any attempt to simply think of them as "rock-jazz," because it is mostly angry left-wing country rock. But it's cleverly done - "She's Just Naturally Bad" is a trashy delight with a women sing-along line in the chorus ("I'm just naturally bad," of course). Another example is "Piece Now", where Detroit meets San Francisco in terms of sound, but the song is constructed with a counterpoint. Or what do you do with "Damn", where the Beatles-country-rock ends, only to be followed by a Memphis Soul horn section that gets prolonged in hilarious fashion? The album is fascinating and smart, with only one track that doesn't quite match the rest ("Ivan" another country rock tune). The band is Stan Bronstein (lead vocals, tenor sax), Myron Yules (trombone, piano), Rick Frank credited as Reek Havoc (drums), John Ward (bass), David Cohen (guitar, keyboards), Guy Peritore (guitar) and Mike Rose (guitar). Bronstein and Frank are the only consistent ones credited with writing the songs (along with other members). No, I have no idea which guitarist does what. Produced by Ted Cooper.
Oh, these guys were fairly well known back in the day. Some of the music was on the Midnight Cowboy soundtrack, and John and Yoko used them for backing the next year in NYC (that's Elephant's Memory on the live albums from that year). Lennon also produced the group's next album, and then Elephant's Memory backed Chuck Berry on an album in 1973, before recording their final album the next year.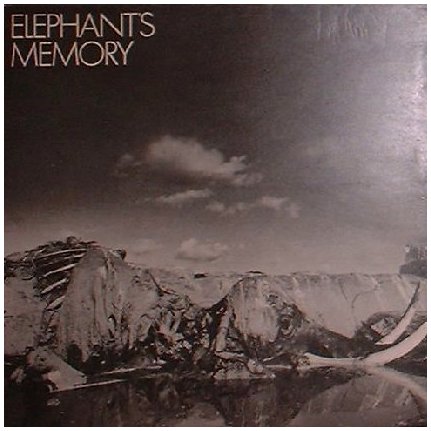 Elephant's Memory (Sep. 1972), **1/2
A group of goofy left-wing radicals in the studio with John Lennon and Yoko Ono sure sounds like a recipe for success. But, as with most of the Beatles' Apple label releases (excepting their solo work and Badfinger) the result is disappointing. Most of the old members of Elephant's Memory were gone, with only Frank and Bronstein remaining. They also transformed from whacko rock group with horns to an average guitar-rock band, with country tendencies and a saxophone. Sure, Bronstein's faintly Wolfman Jack/John Kay - like vocals are still distinctive, but the music isn't. New guitarist Wayne "Tex" Gabriel only distinguishes himself by using a slide, and then not with any imagination (the sax/slide jam in "Baddest of the Mean"). Their political stance is still present, but toned down to be simply lyrically goofy, not musically cool. The single "Liberation Special" typifies this approach - fairly radical lyrics to a straightforward rock song, and the train-whistle vocals don't add much. There's plenty of generic 50s revivalism to go around ("Chuck 'N Bo", "Power Boogie", "Cryin Blacksheep Blues") and some decent hard-rock ("Gypsy Wolf" and "Madness"), but it lacks the humor or just plain nuttiness that made their previous album so much fun. While the album is stylistically consistent, the tracks written by the newer members are either bleh (Gabriel's "Life"), or just plain terrible (bassist Gary L. Van Scyoc's terrible "Wind Ridge" which repeats its chorus ad infinitum). The album's only inspired moment is the herky-jerky "Local Plastic Ono Band" which Bronstein makes sound like the Chiquita banana song gone awry. Lennon contributes some innocuous piano and guitar in places and Ono sings, and their production just bounces the sound around. Kind of ironic, that the teaming of a whacko horn-rock group with a pair of conceptual avant-gardists turned out to be rather ordinary. The other member of the group is Adam Ippolito (keys).

The Free Spirits: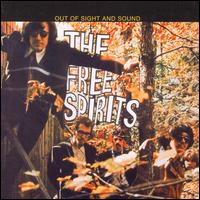 Out of Sight and Sound (1966), ***
The Free Spirits were a group of New York jazz cats making rock music, and man, it is hip! This music is jazz-rock before anyone was doing it, and the band really creates a unique sound, blending jazz instrumentation into contemporary sounds. The people involved, tenor sax player Jim Pepper, guitarist Chip Baker, bassist Chris Hills, drummer Bobby Moses and guitarist/singer Larry Coryell, were good musicians, and most of these guys went on to bigger things (notably Larry Coryell's solo career). When it gels, the chaotic sax lines, jazz drumming, affected vocals make an interesting experience ("Don't Look Now (Your Head is Turned Around)" or "Bad News Cat"). There are big glaring holes in the whole experience, though, which scuttle the album. One is that Coryell (or is it Baker? who knows?) is not much of a singer, and his delivery is best described as either consciously cool ("LBOP"), or more of the Lou Reed spoken variety (the nice "Angels Can't Be True" or "Blue Water Mother", where two people singing different lyrics simultaneously on the verses). The harmonies are of the shouted imprecise type ("Early Mornin' Fear"), rather than the get the notes right type. Maybe these guys were too creative to be bothered with such details. This would not be so bad if the band had not focused so heavily on their antiquated lyrics, mainly written by guitarist Chip Baker. He (and Coryell to some extent) tried to be clever in a Beat Poet manner which pegs them as mid-60s (the album's opening line is something like "Take me out a-sailing on a muddy stream of consciousness"). This decision or premise almost designates the album as a historical item ("Cosmic Daddy Dancer", "Bad News Cat" are among the song titles). It may have been cool, it may have been the scene, but it sticks out like an Edsel on the racetrack. Some of their music choices are dated also - "I'm Gonna Be Free" is a sitar and flute number straight out of the background music from Help!, and there's some lesser folk as well ("Girl of the Mountain", "Storm"). Coryell fans will likely come away disappointed, as he doesn't make any real jazz solos, occasionally producing the blues ("Cosmic Daddy Dancer" if it is not Baker). Instead, Jim Pepper's squiggly fast tenor sax lines get all the showtime ("Don't Look Now", "Sunday Telephone"). The band has a good sound here when they stick more with the jazz-rock, but their lyrics and vocals prevent this album from being more than a time capsule of mid-60s NYC, and a minor footnote in the history of jazz-rock. Sometimes the hep cats can be a little too hep. Produced by Bob Thiele.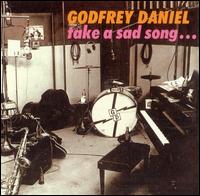 Godfrey Daniel: Take a Sad Song... (1972)
This isn't a review, merely a heads up. Here is this album's concept - take a bunch of respected rock songs and record them in older styles with hilarious results. Can you imagine a doo-wop version of "Hey Jude" or "Whole Lotta Love"? Or how about "Hey Jude" as done by Righteous Brothers knock-offs. How about the Rascals' "Groovin'" done as if it was on the vaudeville stage? Buddy Miles' "Them Changes" as by the Glenn Miller Orchestra? The real brilliance is the exact nature of these replicas - if they were sloppy or done tongue-in-cheek it would have ruined everything. None of the perpetrators (musicians) are identified, but it was produced by Andy Solomon and Dave Palmer (both ex-Amboy Dukes) and endorsed by "radio station KAKA". (LP Atlantic SD 7219).
Gracious! (1970), **1/2
An OK English progressive-rock band who made an OK debut. Guitarist Alan Cowderoy uses the common loud, distorted, blues-based approach, while keyboardist Martin Kitcat is more about atmosphere. The rhythm section of Robert Lipson (drums) and Tim Wheatley (bass) is a write-off. Wisely, the band shuffles instrumental passages since they lack any soloist who can hold a listener's attention for very long. This method tries to sound dramatic (the symphonic opening of "Heaven"), but often there is a sense of disconnect between the segments. They are not particularly interesting in most of them - classical, jazzy, even easy listening. They sound pretty good only when Cowderoy does his bluesy thing (the hard rock of "Introduction", and portions of "The Dream"), or the album uses guitar-based menace ("Hell" once it gets cranked up with Kitcat using Rare Bird-like distorted electric piano, some of the earlier segments in "The Dream"). Gracious! had fairly lofty ideas/plans, but not enough talent to execute them well.
While their instrumental skills don't stand out, the band's lyrics are dated to the point of being awful. There's a concept side to the album - featuring an "Introduction" followed by "Heaven" and "Hell." The side's opening sounds like the soundtrack to a horror TV movie, with Cowderoy's threatening guitar working with Kitcat's harpsichord, making it one of the album's better tracks. But sure enough, vocalist Paul Davis lets us down gently with the lyrics, starting off with a nice anachronism like "Let your mind trip to things that we do." The whole Heaven/Hell topic is appropriate enough for a group that formed in a religious school, but it is all tongue in cheek. Thus, Heaven is a boring stately place, with vocalist Paul Davis asking if we have a clean mind, and will we be able to give money to the church before death, in order to compensate. Hell is supposed to sound like more fun, with Kitcat dragging out some barrelhouse piano, but Davis crams his voice through his nose here. Truth be told, neither "Heaven" nor "Hell" is much fun. (Amusingly enough, Davis later played Peter on the Jesus Christ Superstar album.)
The final track, "The Dream", is where the real lyrical chestnuts lie. It's just as slow and pompous as the rest of the album, but the band has moments here amidst lines like "In the presence of myself, I see a gathering of people to hear the music play / Seated on velvet and looking / I am aware of one child / She is turning me on." The band then pulls out a nice section when Davis discusses this girl, with lots of echoed atmospheric keyboards. Of course this is followed by another classic line: "Hey you - what about that bread you owe me?" and then a brief Hey Jude parody moment. Probably great stuff in concert, but painful (or downright hilarious) to listen to.
Their saving grace? "Fugue in D Minor" which is straight classical music led by acoustic guitar and harpsichord. Not the first time this was done (the intro to Renaissance's "Wanderer" is better), but a pretty good example of rule-following. A bit sad it is the best track on here. So, here's your sketch: classical and blues juxtaposed, with the Cowderoy's blues really outshining their low-rent progressive rock and the lyrics being outshone by everything. Produced by Hugh Murphy.
The group released a second album, This Is ...Gracious!, before dissolving.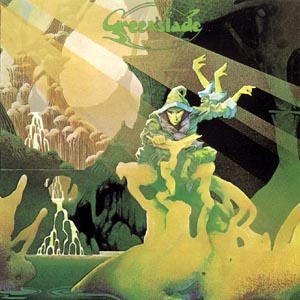 Greenslade (1973), ***
Back in the day there must have been plenty of groups that attempted to hitch their fortunes to the ascending prog-rock star. Greenslade might fall into the category of johnny-come-latelies playing another round of Look at My Time Signatures, in which case it would be proper to dismiss them outright and move on. But Greenslade cannot be entirely overlooked for a few reasons. First off the players, while hardly winning any contemporary NME polls (or even garnering a place on the ballot) have respectable pedigrees. Both keyboardist/band namesake Dave Greenslade and bassist Tony Reeves had been in the jazz-rock band Colosseum, a band of good repute and respectable chart placing, and drummer Andrew McCulloch holds the title of one-time King Crimson drummer. If you think pedigrees don't matter, then consider this: vocalist/keyboardist Dave Lawson is the weak link in the chain. He's of rather bad voice, and his lyrics are sometimes awful (the non-starter "Feathered Friends" where he abuses his poor falsetto, and the silly Eastern flavored "Temple Song"). Of course, a lineup with two keyboard players and no guitarist attempts to answer the seldom-posed hypothetical "What would Yes sound like if Tony Kaye had never left, and Rick Wakeman replaced Steve Howe?" The scary thing is that I am only half kidding - this is a recapturing of the more rock-oriented Yes of only a few years previously, although without any real soloists. McCulloch and Reeves sound a heck of a lot like Bruford and Squire respectively, although neither achieves Yes's level of playing. Greenslade and Reeves, like Rick Wakeman, stay away from moogs and instead delight in stationary Hammond organs (Tony Kaye style), mellotrons, and electric piano. Heck, Roger Dean did the cover art and the calligraphy inside. There's really only one true Yes impersonation (the fantastic "Melange" with a good deal of lead bass), in part because they don't give themselves over to longer multi-part songs (although the instrumental "Sundance" comes close), they're busy going off in other progressive directions (the neo-hymn "Drowning Man"), and they don't attempt any unusual time signatures. The song furthest out of the Yes orbit is Lawson's harder rocking "What Are You Doin' To Me", which even with classic 70s man-cheated-on lyrics is surprisingly good. So, all in all, if you like classic Yes this album is certainly worth a shot. Produced by Greenslade, Reeves and Stuart Taylor.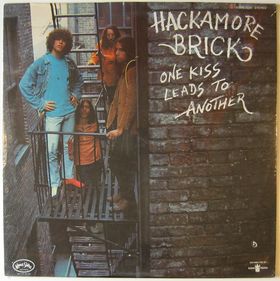 Hackamore Brick,

One Kiss Leads to Another

(1972), **1/2
Another album instantly submerged in the marshes of popular culture. If Hackamore Brick is mentioned it is usually as an example of the Velvet Underground's legacy, and indeed,

One Kiss Leads to Another

sounds like the product of a 70s singer-songwriter with large VU infatuation. The manifestations are multiple, but conflicted. The band is equally fungible on guitars and keyboards, relying on the singer-songwriter (country and mellow tones) 70s vibe to carry through ("I Watch You Rhumba", "Someone You Know"). Serious defects abound - no true lead instrument ("Reachin'"), a paucity of melody or musical hooks, and few interesting lyrics. VU could always lay on oral or aural obscenities, HB lacks verve and stays away from the edge. So for each success - such as the chugging VU-like "Oh! Those Sweet Bananas", the remainder a pile of bland with little edge. Hackamore Brick has some experiments, such as the upbeat, twiddly "I Won't Be Around" which presages New Wave (long term) and their own diddling keyboard jam ("And I Wonder" - the next track), but not enough. Overall, individual elements succeed - the chorus on "Radio", the opening to "Peace Has Come", but the bulk lacks spark. The result is a album of good intentions, but not enough substance; the world would have to wait for Patti Smith or the Modern Lovers before any real VU influence was widely heard.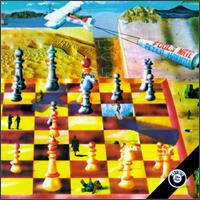 Peter Hammill, Fool's Mate (July 1971), **1/2
Hammill was the singer, songwriter and rhythm guitarist/pianist of Van Der Graaf Generator, and a unique talent. That band had either already broken up, or was about to do so when this was recorded in mid-1971. Unlike Generator tunes, those on Fool's Mate are short and poppy. Well, more poppy than VDGG; the songs are still world-weary and depressing. Hammill's notes indicates that the bulk of this material was written three to four years prior, which would place it in the 1968-69 era. Those were lighter years of naiveté and innocence, and if these songs would have been right at home next to albums like From Genesis to Revelation. While one can picture a contemporary Peter Gabriel wondering amidst a wood striking out against school society with his notebook, it is likewise easy to see Hammill sitting by himself, jotting down phrases of dejection to pass the time ("Solitude" is the perfect example). What sets him apart from others is the extent of his self-centered nature. His is a world of heavy sighs - Why are you gone? Why am I alone? When are you coming back? Why have you left? I wish I were elsewhere. The two exceptions are the songs co-written with a "Smith" (probably one-time Generator drummer Chris Smith) - "Imperial Zeppelin" and "Viking". Hammill loosens up on the former, has some fun, as seen by lines like "of course we all knew it wouldn't work, but what the hell." "Viking" is more serious, although not excessively so, and tells the little tale of viking trip. In effect, this song was a precursor to the Generator's longer epics, although without the complexity or length. These two songs are very much the exception here, and notwithstanding them, this album is the romantic's great triumph of self-expression.
While Hamill's naïve lyrics and singing may fully realize his thoughts, they do not make the album an entertaining listen. There are no "House with No Doors" here, as musical hooks are far less frequent. He does have some success with choruses ("Candle", "Summer Song"), but otherwise there is very little of interest. Hammill's withdrawn and self-pitying lyrics only take an intriguing turn in a few places. Otherwise they are simply the notes of a fragile and spurned youth ("I Once Wrote Some Poems" is self-explanatory). His vocals are either the soft voice of the wide-eyed youth ("Solitude", "Vision" among others), or laced with dramatic flairs similar to David Bowie ("Re-Awakening", "Imperial Zeppelin"). All of the Generator folks lend support, as are others including Bob Fripp and some Lindisfarne folks. It therefore does sound like a Generator record, and reproduces one of that group's main faults - the lack of a strong soloist. Fripp filled that hole on H to He for a portion of the time, but he does not do the same here, and neither does anyone else. So, we are treated to the very easily bruised Hammill lamenting, which becomes depressing after a short period of time. One wants to shake him by the collar - socialize him - do something so that he breaks free of this ennui. If you listen to this record in its entirety, someone may need to do the same to you. Produced by John Anthony.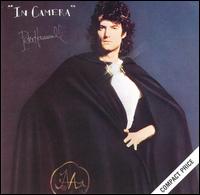 Peter Hammill, In Camera (Sep. 1974), *1/2
Perhaps there were legions of Peter Hammill fans anticipating this release back in 1974. Pale young boys without much ability to make aesthetic distinctions. Boys (for I doubt very much many girls were interested in Hammill's work, except those who favor the sad, self-pitying type), boys with light complexions, Questions About the World, who wore doubt like slacks. Those that inhabit college coffee shops and burn with the intensity that suggests they have probed the surface of Society and found it a sham. Revelations behind a screen that are both miraculous, unsurprising and cause an urge to proselytize.
Enter Hammill, a man whose lyrics have now turned from schoolboy jotting to overwrought essays. A man whose preferred vocal style is better suited to operettas - an over-dramatic, spoken/singing style appropriate to the sole-worn stages of the West End or Broadway. A man who attempts to compensate for recognized playing limitations (on an album where he supplies everything but drums, no less), with sound effects and treatments that had long become the equivalent of parlor tricks.
Still, Hammill is trying some new things. His quasi-operatic vocals are now sometimes turned to growling ("(No More) the Submariner"). The sound effects stuff is also different, but just annoying. "Fear and F" is the only partially decent song on here - another empty folk song with Hammill overlaying swooping David Gilmour-like guitar lines. Other bits of not quite praise - "Again" is another self-pitying folk tune, much like the bulk of Fool's Mate, and "Tapeworm" could have been a kick ass song ... if Sabbath did it. Hammill's presentation makes it a self-loathing intellectual ode. Beyond that ... his bass playing is decent. However, the one-two punch of lyrics that have the defiant, self-questioning stamp of a pretentious high schooler about them ("(No More), "Tapeworm" or the unbearable "The Comet") and the the fact that Hammill wouldn't know a hook if he was standing in a meat locker, makes this anathema to anyone outside of the aforementioned self-identifies subculture. It all culminates in "Gog" and "Magog", a sort of anti-church service (the lyrics swimming in a sub-Heretical Squid squirty, evil way), which combines a lack of music interest with a level of pretension that may be toxic.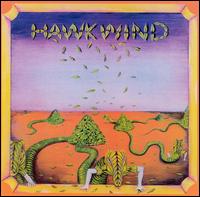 Hawkwind (Aug. 1970), *
In 1970, Hawkwind released a single - "Hurry on Sundown" backed with "Mirror of Illusion".

In 1970, Hawkwind released this album with "Hurry on Sundown" as the first track, and "Mirror of Illusion" as the last.

Everything in between is garbage.

Hawkwind absorbed all of the wrong things from good influences. Thus, they pull the hippie mysticism and aimless noisemaking of the early Grateful Dead (think Aoxomoxoa era) but completely miss the melodies and clever lyrics ("Seeing It as You Really Are"). Or they pull the grand experimental space-rock noise of Pink Floyd, and ignore the underlying structure behind it. Instead, these tracks are one collective mess with a galloping Saucerful of Secrets beat, illuminated only by random scatterings by the rest of the band, and infrequently punctuated with ridiculous lyrics ("Be Yourself"). Their attempts at being spooky or creepy are utterly simplistic (rising diminished chords in "The Reason Is?" or the one creepy riff overused in both parts of "Paranoia") such that Floyd was light years ahead of them. The soloing is pretty aimless ("Be Yourself" has some rote blues leads by Huw Lloyd), and intermittent (Nick Turner's sax seems to come and go at will).
Seeking to understand what the band is up to, we can turn the back of the album. There the band explains that "We started out trying to freak people (trippers), now we are trying to levitate their minds, in a nice way, without acid, with ultimately a complete audio-visual thing. Using a complex of electronics, lights and environmental experiences." So, their approach is based on these three things - electronics, lights and environmental experiences. Unlike the CD version of Pink Floyd's Pulse, there are no lights involved here. Dikmik's electronics seem to consist of making wind noises at various frequencies, squelches and slide whistle noises. You'd be hard pressed to find notes in there. So, scratch electronics, unless it's part of "environmental experiences." The environment is tripped out and spacey as hell, but with a nice dash of hippie "insight" thrown in. So, my advice is that if you want to enjoy these tracks (as songs may be too nice of a word), buy yourself a lava lamp, draw all the shades, get high out of your mind, and put this on.

Unfortunately, the B-Side/last track "Mirror of Illusion" is also junk. No fisher king here. So ultimately this album boils down to the question of ¿How good is "Hurry on Sundown"?. The answer is - it's pretty good, but nowhere near enough to carry the album by itself. It's far different from the rest of the album - being more like a good acoustic based folk song with a nice driving beat. "Mirror of Illusion" has the same folk-gone-slightly-awry feeling, but the band is deliberately layering their sound, like the rest of the album and trying to more experimental. Listen, if it's 1971 and you want to trip out to something, go listen to Floyd, or some Can or something.

The band is Dave Brock (vocals, guitar) who wrote everything, John Harrison (bass), Huw Lloyd (lead guitar), Terry Ollis (drums), Nick Turner (sax, percussion), Dikmik (electronics). I have no doubt their other albums are better, as the personnel changed - Harrison's pretty worthless, although Ollis sounds like a more focused Nick Mason deprived of his vast percussion collection. Produced by Dick Taylor and the group.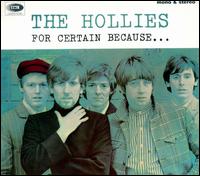 Stop! Stop! Stop! (1967), **1/2
While many groups claim to have been the Beatles biggest competitors in the early days, the Hollies' claim actually has some merit. Not too much, but they had a good run of hits with their brand of high-end pop-rock. By this time, however, the Beatles had pulled away (and into more folky material) while the Hollies continued with their tried and true formula. This was the first album written entirely by the band, and they experimented with their formula (high-pitched harmonies, simple rhythm section, romance-related lyrics) with limited success. First of all, there's a surprising amount of banjo (the fun album opener "What's Wrong With The Way I Live" among others), and the signature harmonies (which wear on the ear after a while) are not on every track. They even play around with changing the time signature in a song (chorus vs. verse of "Pay You Back With Interest" and the odd reverb piano intro). But even some of Graham Nash's attempts at being more "serious" either sound forced (the downer romance of "Clown") or are not terribly interesting ("Crusader" has minor-major changes and fairly advanced lyrics, but lacks momentum). Among the other tracks there's a middling Byrds impression ("Suspicious"), a goofy orchestrated Allan Clarke spotlight track ("High Classed") and a great Latin-tinged number with actual guitar lines ("Tell Me To My Face"). The US title track ("Stop Stop Stop") is the only real classic song, as the band puts a manic banjo line and rather disturbing lyrics in a nice shiny pop package. Nothing is offensive (other than sustained listening to their harmonies), nor could it be. The Hollies were good, but rather straitjacketed, as a pop-rock group, contributing to Nash's departure and their increasingly out-of-touch sound in the following years. The band is Allan Clarke (vocals), Graham Nash (vocals, rhythm guitar), Tony Hicks (guitar), Eric Haydock (bass) and Bobby Elliott (drums). Produced by Ron Richards, and ex-Manfred Mann member Mike Vickers adds orchestration on some tracks. Released as For Certain Because in the UK.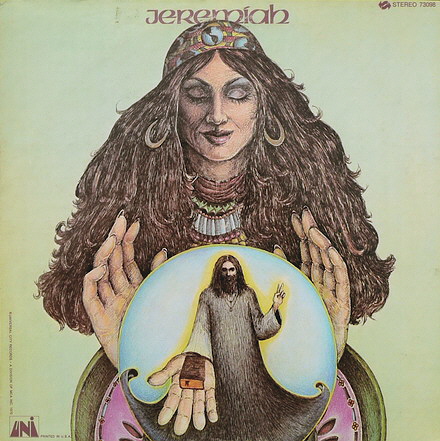 Jeremiah (1971), **1/2
Basically a solo album from ex-New Mix frontman David Brown, in a pop singer-songwriter mode. (Tellingly, it was recorded with some of the musicians which Paul McCartney used for Ram and later comprised Wings. Drummer Denny Seiwell is even credited as a member of Jeremiah.) Jeremiah is unofficially sequenced into a light and heavier side, or is I call it, asleep and awake. The A side is largely gentle pop songs, but a few have a pulse ("Sweet Rebecca" and the fake ragtime of "Hey Baby Don't You Cry" sound like some McCartney could have done in his sleep, and "Somewhere Someone" is decent enough). Brown had the voice for his material, but light pop from this period is more pleasant than memorable. McCartney is an exception because he infused most everything with a goofy sense of humor; a similar band like Tranquility also falls prey to the memory disease of being inoffensive).

The B side is better, with more a band feel, closer to The New Mix without the psychedelic lyrics or production. Poor lead guitarist Pat Walters still doesn't have much to do, except for "David Blue" which sounds like The New Mix (minus keyboards), as an actual rock song and where Walters gets to hammer on some blues licks. Brown had such a good voice, and some strong pop instincts that I really wonder what happened to him after this. I guess he released another album, I Want to Be With You, as "David Brown and Jeremiah" the next year, then disappeared..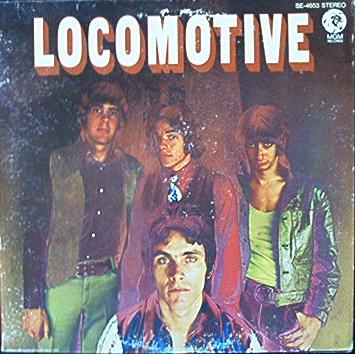 Locomotive (1969), *1/2
I have two conflicting opinions of this album. On one hand, Locomotive is a pile of bluesy and slightly gruff blues-influenced rock of the sort that was popular at this time, and ultimately only leaves a small impression of distaste. On the other hand, Locomotive was probably a perfectly decent blues-based bar band, and they have some talent, and their music isn't irksome - just in one ear and out the other. Thus, it's a perfect candidate to get two stars, which is admittedly my dumping ground for albums that are not too good, but not that annoying either. Sort of the reviewing cut-out bin. It's getting dumped down to one and half stars because at least other 2 star wonders had a couple songs that I liked, and made an impression. Normally, one has to do something really bad to fall below two stars, but Locomotive does not vary their formula enough to be bad. It does feel like I'm passing judgment on the genre, and not the music, which is something I do not want to do, so if you're a fan of roots/blues rock from this era, feel free to add an additional star.
Locomotive's lineup was pretty standard with guitar, bass, drums, organ, which would have been made sense for a local band. The cover photos also reflect this - leather vests, blue jeans, big belt buckles, and out by the railroad tracks. You get the feeling they presented themselves as a blue-collar band with some grit, not studio creations, and not grubby hippies with jam music. Despite this no-nonsense appearance, their material is flat out boring. This music just pours over you, with all the flavor of purified water. It ranges from obnoxious ("Big City Car") to pleasant ("Barbara Jean"), but there's little to discuss. The repetitive lyrics are all about girls going free, girls not understanding, buying shiny new cars, etc. Repetition applies to the music also, as the blues always has the danger of luring people into the same old scales and chord patterns ("Get on Away" is one of the one-riff ponies on here). At least Blues Image claimed to invent "Latin Rock," even if it got them nowhere. Guitarist John Ussery wrote almost all the songs, and he is a functional blues player with an appropriately slightly scratchy voice. But the band has an almost ceaseless approach to blues-rock with some contemporary roots rock thrown in for good measure. Ussery occasionally uses acoustic ("Barbara Jean"), and Ussery occasionally uses a wah-wah ("Wah-Wah," "All Come Free" which is sort of psychedelic), otherwise it's the same sound. I even like the band's sound, but just not what they (don't) do with it. I sure would not mind seeing the band as they worked in the Seattle area, and I bet they were real crowd pleasers. But unfortunately, this isn't a review of a live show, and their music betrays the fact that they don't have anything new to say. Give these guys a pile of Rolling Stones, Muddy Waters, or other blues covers, and they'd be better. Produced by Chris Houston. There's no real reason to own or listen to this.
Ussery is still active and sitting on railroad tracks for album photos wearing leather and blue jeans. On the off-chance that he's reading this, I'd just like to say your playing is decent enough, but if all I remember from your album is you bawling about wanting a "big-city car," well then you need to do better. I do like the bad-ass mustache you now sport.
Of course, one of the main reasons I bought this for the stunning price of one dollar was that it was reviewed by Rolling Stone in the same review as Bodine, also on the erstwhile crappy MGM label. Yes, did you know you can search the Rolling Stone archives on line? I looked up Bodine as a test, to see how in depth the reviewers got, and was surprised that it was covered. The reviewer made the annoying decision to lump both bands together and not talk about specifics, which ticked me off. Unfortunately, his words rang true for Locomotive.
Also, this isn't the English Locomotive, which had future Traffic member Chris Wood.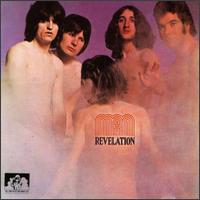 Revelation (Jan. 1969), ***
At heart Man was a bluesy hard rock rock group, but given the time and place and all, they had yet to realize it. Thus, they decided to record a concept album, and incorporate an appropriate amount of artiness. When you have a name as ambiguous as Man, you could be either grandiose or down'n'dirty. The album does a bit of both, as the band runs around and does a bunch of different things, and then tries to shoehorn them into the concept. What is the concept? It's never quite clear, but the album appears to be the story of the evolution of mankind. You are better off just forgetting that it is a concept album. The album opens with "And in the Beginning", and closes with "The Future Hides Its Face" which are the same song with different lyrics. This is the Church of the Blues, featuring a ceremonial and paced service, and filled with pretentious lyrics ("The ageless face of time / smiles briefly and is gone / and in its wake leaves nothing / save future yet to come"). There's even someone doing little spoken word lines, exactly like Bible readings. Who is the preacher here? Vocalist Deke Leonard, who sings like a acid prophet or a very young wizard (he bubbles enthusiasm all over "Don't Just Stand There (Come in out of the Rain)". He sounds like that guy who's so high, he's got the entire world figured out. He could produce the unifying theory connecting Newton and Einstein, if only someone would run down to the store and get him something to eat. He sounds like a street preacher, Bob Dylan, and a drug dealer rolled into one. "The Future Hides Its Face" tells us where man is going. (Answer: Space.) The album then ends with an excerpt from some anonymous NASA mission. Space-rock? More like spaced-rock.
It is not even funny how much better formed their blues numbers like "Sudden Life" and the barrel-house fun of "Blind Man", both written by Leonard, are compared to the rest of the album. In fact, most of the album was recorded live, with overdubs added, and it is clear that this was the band's stage show. Man could kick some roadhouse butt when they chose, as guitarist Micky Jones used a good, loud distorted tone without sacrificing clarity, and was able to distort it when needs arise (the end of "Sudden Life"). Even though the band got off track occasionally, they were a cohesive unit, pretty much everyone is a good player and they mesh remarkably well. The rhythm section is unusually good without turning to either the jazzy sound employed by groups like Jethro Tull or the standard hard rock patterns of a Led Zeppelin. Organist Clive John gets some nice faux-classical runs in here and there ("Empty Room", the fun "Don't Just Stand There") but does not overdo it. Clearly, their strength lay in this area.
Outside of the blues tracks, the album is the usual psychedelic grab-bag. There's the infamous "Erotica", where the band took a jazzy jam recorded live and then overdubbed a woman faking sex noises. Admit it - you knew someone had to tried this. The merger works pretty well, and the jam is good with John doing some nice Doors-like work on the organ. (You know which organ). There's a fair amount of what could be either be interpreted as "artiness," psychedelic grandstanding, or filler. "Puella! Puella! (Woman! Woman!)" tries to be very dramatic, with its wordless vocals, and rather unexpected bad flute playing. Yet, the whole arty dramatic thing works with Jones' "And Castles Rise in Children's Eyes" which has a thunderous "Hall of the Mountain King" type of rock, and has a nice repeating riff. Otherwise there's some real filler (psychedelic nonsense in "The Missing Pieces," and the acoustic "Love" which belongs more in the repertoire of a French chanteuse).
Thus, this is just what you'd expect from a hard rock band in the midst of a haze of hallucinogens - good when on target with the blues, and completely erratic otherwise. Produced by John Schroeder.
I have their second album, Two Ounces of Plastic with a Hole in the Middle, which is more blues-rock with a surprising dose of artiness as well, and some of their mid 70s albums like Rhinos, Winos and Lunatics which are pretty much straight hard/pub-rock sorts of affairs.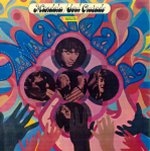 Mandala: Soul Crusade (1968), **
Fairly big-deal Canadian soul band that may have been past their prime when their lone album was released. Sort of a Canadian Young Rascals, centered around singer Roy Kenner, who uses tries to Mitch Ryder with a bigger voice. The key to most of these bands is the playing underneath - it usually needs to be tight for dancing and to keep the spotlight usually on the singer, but big enough to balance The Voice. The foundation is solid, both drummer Whitey Glan and bassist Don Elliot form a tight groove, usually with guitarist Don Troiano, with both he and organist Hugh Sullivan take small steps front from time to time. Some chemistry probably got lost in the recording process, but the album's main problem is that they either needed better songs or musical hooks. As is, Soul Crusade relies too much on Kenner and his "charisma" to carry the album, or passes Motown knockoffs ("Don't Make Me Cry" and "Stop Cryin' on My Shoulder" - lot of crying on this record). Live, I'm sure the band make them sweat, but in the studio, Troiano distinguishes the songs through adding in occasional horns or strings, or preach and have your friends testify ("Faith" which closes the album.) All the add-ons cannot compensate for behind the times production or adventure, with only a minor attempt at experimentation-- "Mellow Caramello Pallambo", a blues jam where Troiano messed with tape speeds, and which Zappa made look passé by 1966. Lyrically, it's a combination of "gotta have faith", "everybody is brothers", "babe, I love you" (and crying). I credit Troiano for writing and producing almost all the songs, but this is the rare case where, perhaps the band should have done a few standards. Their lone outside choice is "Love-Itis", a forgettable song given the same treatment as all the rest, despite being a Canadian hit. Still, the almost total lack of solos (Troiano has a fuzzed-one on "Love-Itis"), booming soul sound and basic production make this sound like it was from 1966, not 1968.
Glan, Troiano and Kenner, plus another bassist, recorded an album as Bush. I have that somewhere. Kenner and Troiano showed how not to balance a big voice with the James Gang.

Manfred Mann don't have a stellar reputation - both of their US hits remain pretty dumb songs, and in his autobiography Ray Davies says that Mann was a jerk who claimed he was sending up the whole scene. (Not that Ray Davies is a reliable source). Anyway, Manfred Mann the band was a second-tier pop group that had a bunch of garbage pop hits in the UK for a few years. Encouragingly, some of the people involved are interesting. Jack Bruce was their bassist for a bit, in between John Mayall and Cream. His replacement, Klaus Voorman was a Beatle associate, and one of their earlier members became a conductor and arranger. Singer Mike D'Abo was in the original Jesus Christ Superstar. (Mann himself was their keyboardist, and didn't sing or really write their music, although he was an early adopter of the mellotron.) The band had a rather frightening amount of charting singles before quitting in 1969. Mann himself went into jazz-rock and prog, most notably with the Manfred Mann Earth Band; I have a pile of Earth Band albums I've never listened to.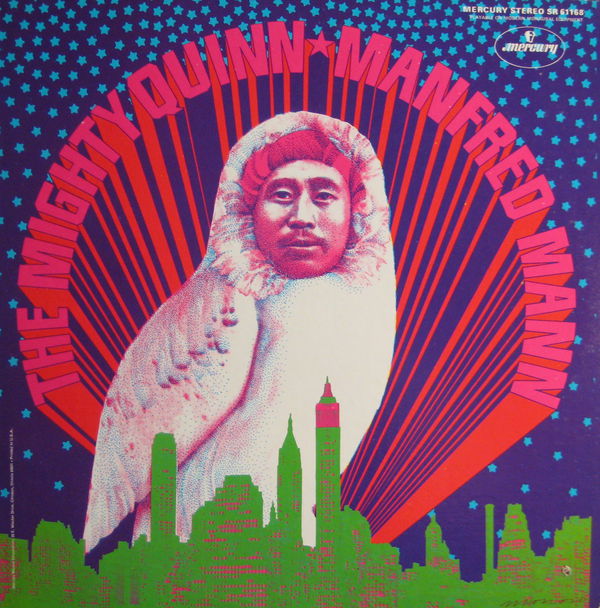 The Mighty Quinn (May 1968), ***
An American bastardization of the UK album Mighty Garvey! with some tracks removed, and some hideously "Electronically Altered to Simulate Stereo." Mike D'Abo is a strong singer whose slightly pinched voice sounds like Arthur Lee of Love, but with a soul tinge. (Perhaps a less showy Carl Wayne). You'd be hard pressed to hear the guitar on many of these tracks, as their sound was based on Mann's piano, often overdubbed with mellotron. Up front are two garbage pop singles - a cover of Dylan's "The Mighty Quinn (Quinn the Eskimo)" probably successful because of the catchy "Come on without / come on within" chorus, not for Dylan's inscrutable lyrics. (I'm comfortable with Dylan, but this is junk). That's followed up by "Ha Ha Said the Clown", probably the quintessential 60s junk pop song: guy goes to a clown, becomes enamored with a woman dancing, then YONK turns out she's the clown's wife. Ha ha said the clown. Written by an outside songwriter (like most of their junk singles), and imbued with a bouncing beat, I categorize it as So dumb it's Enjoyable. (Even though it's also in fake stereo.)

Beyond those two tracks, The Mighty Quinn is pretty interesting, although derivative/not as good as other pop strains floating around at that time. But first, let's talk about the the album's best track, "Semi-Detached Suburban Mr. James", technically a two year old garbage pop single by the time this was released. Thing is, it's a great song, something like The Move crossed with The Kinks, produced by Shel Talmy. (Of course, it is a first person tune, basically about "hope you have fun marrying that boring guy in the suburbs" while if it was a Kinks song it would be third person and probably commend the suburban lifestyle.) It's a punchier tune than the rest, and has an early use of mellotron.

It's hard to tell what the "natural sound" of the Menn would be, beyond empty commercial pap. The rest of the album is largely good psychedelic/art-pop, written by either singer Mike D'Abo or drummer Mike Hugg. Compared with their earlier works (and the garbage pop), it sounds like Mann + Co. really started listening to Pet Sounds at some point, adopting overlapping vocal harmonies and scant guitar. This matched well with their focus on Mann's keyboards and D'Abo's voice, and the former's generous use of the mellotron to fill in their sound. The band were not impersonators, but their influences are obvious - Hugg's excellent "It's So Easy Falling" and guitarist Tom McGuiness's "Cubist Town" bear the Beach Boys mark. The influence is audible on lesser songs like "Every Day Another Hair Turns Grey" (melancholic Beatles) or the bouncing "Country Dancing" (Donovan). D'Abo's "The Vicar's Daughter" better be parody, with lines like "tried things I didn't outta." None of it really rises to the level of Odessey and Oracle, for example - nor would you find "Big Betty", a semi-parody of a mid-60s dance song with bamma-lamma lyrics on a Zombies album. (The inclusion of which suggests that Mann may have been taking the piss, even if it's stupid fun.) The same strengths - D'Abo voice and the not particularly distinguished backing, make their soul pop songs pretty decent ("Each and Every Day" or "No Better, No Worse"). I hold out hope for the UK release, as it has even more group originals. Self-produced, save the 1966 Shel Talmy track.

(The band had a few more hit singles after this that are . . . garbage pop. I've heard a couple of tracks from a soundtrack they did around this time, which are excellent chill Beach Boys-like songs with staggered backing harmonies.)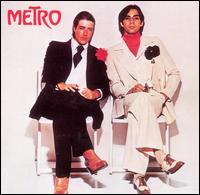 Metro (Feb. 1977), **
1977 was not an particularly good year for old-wave music, and

Metro

is no exception. The group attempted to slot into glam and pop and the approach is decent: Peter Godwin's breathy vocals, a polished, sexualized bitchy tone and sleek production. In other words, Metro was the drug-sniffing, decadent debutante to Japan's sleazy, enthusiastic debauch. Metro's sole claim to fame is the decent song "Criminal World": a polished piece glam pop, with Godwin breathing his way through double entendres, very traditional 70s guitar work, and a talkbox. But for all their Eurotrash poise, Metro has strong inherent downsides: Godwin is a very milquetoast Bowie ("Black Lace Shoulder"), neither Duncan Browne nor Sean Lyons were much of a rock guitarist, and the album rarely gets loud, lingering in some shiny decadent netherworld.

While some new wave elements are present,

Metro

arrives there from contemporary trends, rather than breaking with the immediate past. Former orchestral pop artist Browne's input is very audible: the classical guitar sounds ("Overture to Flame"), periodic choirs ("Precious", the fine "Jade"). The result is something like a wealthy Eurotrash early version of Japan or Colin Blunstone crooning glam ("One Way Night", "Paris"). "Overture to Flame" is Metro at its most intriguing, echoing the classical fashionings of the Durutti Column ("Overture to Flame") and playing around with disco beats. Perhaps there was room for a lighter, "classier" glam album that dove into mainstream pop, but Metro was not it. In the end, it's all well-heeled posturing, mere exhaling rather than moving, and mainly remembered because Bowie later covered "Criminal World".



(Studio musicians Simon Phillips (drums) and John Giblin (bass) rounded out the group). Metro released a couple of non-Browne albums afterwards.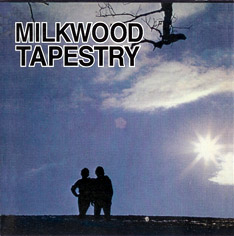 Milkwood Tapestry (1969), **
This has to be one of the stranger albums I have come across - not for any zaniness or strange sounds (a la Zappa, or any of his ilk), but for their strange dualistic approach to music. Milkwood Tapestry was an off-kilter folk/rock duo, by which I mean they play folk, and they play rock, but no real combination of the two. It is not exactly Peter, Paul and LSD, but that should give you the general idea. On the rock songs they resemble a lackluster West Coast hard rock group, thanks to Roland G. Antonelli's bluesy guitar playing and the clunky and obvious session work along with him ("Journey-less Ride"). But the key component is his partner - singer Joseph Ransohoff, who contributes poetry to all the songs (including the heavy ones) and turns his vibrato-laden voice (one of the most annoying vibratos along with that guy from the Bee-Gees) into derangement ("Beyond the Twelve Mile Zone"), screams and screeches on the "hard" tracks. The mixture is decidedly odd - for example, "Signs of Invisible Chalk" opens with the line "All the little ballerinas / Have pink tights on" to chugging accompaniment with screeching thrown in later. The result is one of the most unintentionally funny tracks I have ever heard. The best example of their off-kilter rock sound is the eerie "Tockless Time Morning". On the other lighter side, the album has twittering light songs about love, window-sills and the like, frequently done with Antonelli's light baroque orchestration. To make it even odder, despite Ransohoff's lame-o smiley-faced sound, it is done with all the earnestness of a pair of children's performers. There is something child-like about these songs ("Seas of Marshmellow Bees" a doped-up love song with the most elementary rhymes in existence, or "Look at the Children" which I noted is 'more smiley-faced circus crap') almost to the point of nausea, while still directed to an adult audience. They sound like an actual folk duo without any accompaniment once, and "Sunday Raindrops" is without a doubt the best track, with Antonelli providing some lonesome classical guitar to Ransohoff's controlled singing. However, the song's arrangement is the lone non-rock one. Without a doubt this is the stuff to make fun of - entirely serious and incredibly dated. I concede that it's entirely possible for someone to love it lock, stock and barrel, unlike, say Ultimate Spinach. So dang idiosyncratic it's bound to have fans out there. I am not among them. Produced by Manny Kellem, and engineered by Bon Jovi's relative. The strangest thing of all? The fact that it's been re-released on CD (since I bought my copy). Despite the fact that I gave them half a star extra for being so dang weird, I would have no problem if all the copies of this album were somehow destroyed.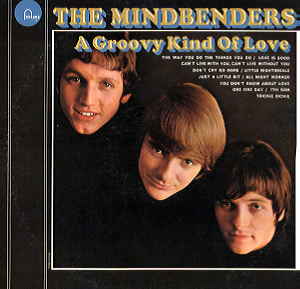 The Mindbenders: A Groovy Kind of Love (1966), **
As Wayne Fontana & The Mindbenders, the group some hits in both the UK and the US ("The Game of Love" being the most famous, I think). Fontana left for a solo career, and the rump carried on The Mindbenders. The title track was a big hit, but the rest are middling covers of familiar songs, almost all with the same vaguely echoing production. "A Groovy Kind of Love" is good, despite dated, and guitarist Eric Stewart has a decent enough voice. Nobody really distinguishes themselves instrumentally; Stewart's guitar leads are unremarkable (the blues on "All Night Worker"), and sometimes he repeats the vocal line as the guitar solo (the title track). But even though the band could play their instruments, recording a bunch of covers makes it seem like they were playing the school dance. There is no good reason to listen to Mindbenders cover The Temptations ("The Way You Do The Things You Do") or The Chiffons ("One Fine Day"). The album helpfully does not identify the songs' authors, but even if some of these songs were originals, they lack spark. "Can't Live With You, Can't Live Without You" and "Ashes to Ashes" were follow-up singles to their hit, but neither quasi-ballad has much of interest. Half of these songs could be from 5 years earlier, and the band's adapting to each song means they seem to lack an identity. The result is that they come across as faceless and behind the times, like a tame and lame sibling to The Zombies. No producer credited (no surprise).
The band released a second album, With Woman in Mind, the following year. After the three singles taken from / compiled on this album, they released seven more, most of them covers and I believe all of them flopped. Stewart founded 10cc a few years later with late-era Mindbender Graham Gouldman.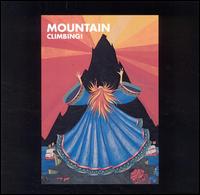 Mountain: Climbing! (Mar. 1970), ***1/2
If this album sounds like Cream revisited, that is because Mountain was the brainchild of that Cream producer Felix Pappalardi. However, guitarist Leslie West doesn't try and sound like Clapton, and the group's songwriting was excellent. Climbing! sounds like it was written before the whole Zep and metal rage took over, with references to rainbows and sunshine. The songs are roughly dividable into those Pappalardi sings, and those West does. West's are slightly lesser, relying on gut power vocals, loud riffs (the hit "Mississippi Queen") and even a song that has a bagpipe imitation on organ ("Silver Paper"). Otherwise, "Never In My Life" is nice but does not quite overcome its riff. There's even a Page style acoustic solo number (the great "To My Friend"). Pappalardi played similar to Jack Bruce on bass (great) and was a better vocalist ("The Laird", and one of my favorites "Boys In the Band"). It does not hurt that the second track is an excellent Bruce-Brown song "Theme for an Imaginary Western". "For Yasgar's Farm" combines both styles with excellent results. Overall a listenable fun hard rock album with only a few weak numbers.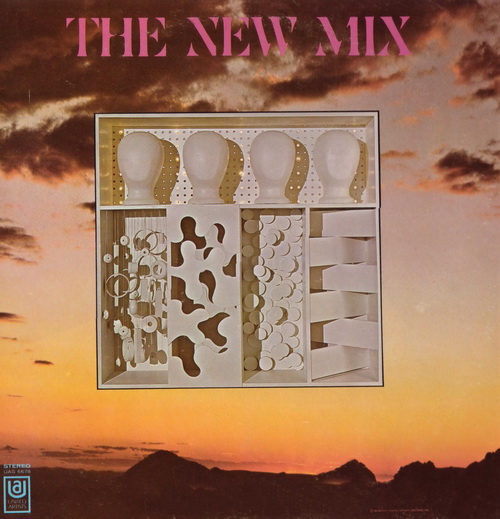 The New Mix (1968), ***1/2
Good pop album that walks the line between the psychedelia of The Jefferson Airplane and the sunshine of The Mamas and The Papas. It's a fine line, because it would be very easy for a braindead pop group from a minor town (Charlotte, NC, no offense) to thrown in some groovy production techniques on their way to become an historical footnote. But The New Mix is smart; for example - "While We Waited," the ominous opening track, which creates a lot of mood out of a fast pace, Rob Thorne's use of a snare/tom drumbeat on the verses, Henry Steele's moody organ and some San Franciscan burnout lead guitar. (Those guitar parts are probably from friend Wayne West, Brown seems to stick to rhythm.) The melancholy shows up in other places (the quiet intro to "Doorway to an Open Light" for instance), but this is very much a pop album. Proof is in the careful use of vocal harmonies on the "Nothing Matters More" and "The Man", the studio horns that provide an unexpected ending to "Ever Brighter." There are a number of psych-pop little masterpieces like "The Man", "The New Harpoon Song" and "Get Me Out" with more of that burnout guitar, and "Ever Brighter" capitalizing on Brown & Steele's ear for hooks and the latter's garage-band organ. Even their poppier songs avoid being super-drippy, even though a flute crops up "("Ursula" which has a pessimistic mood about it, "Nothing Matters More" with its very West Coast vocal harmonies). Even a one-hook song like "Sun Down" comes across as catchy, probably because Thorne's drum fills are so awesome. Worth seeking out. Produced by Tommy Kaye.
Brown and bassist Karl Jarvi moved on to Jeremiah, and Thorne was later in The Spongetones.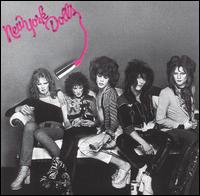 New York Dolls (July 1973), ****
The New York Dolls are often hailed as "proto-punk" for a host of reasons, including their bizarre stage personae (note the album cover and their roller skates), crunching guitars and future Sex Pistols organizer Malcolm McLaren's failed management. McLaren's management is a story unto itself, as every strategy he adopted backfired, even though similar tactics later worked for the Pistols. Pistols fans may come away disappointed - there is little nihilism, and the band uses a combination of glam rock, Mick Jagger-like vocals, and cranked up guitars. The British glam-rock movement always had a kitschy fascination with the 50s, which usually appeared as a tepid revival in America. Fortunately, the Dolls fall more into the first category, playing a cross between straight-up 70s rock and the old retro sound, resulting in some turbocharged performances ("Personality Crisis", "Trash"). Sometimes the 50s feel predominates ("Lonely Planet Boy" with its loose sax line, "Pills" the ending of "Subway"). David Johannson is a front-man of the Jagger swagger style, as opposed to the dark twisted nature of an Iggy Pop. Still, Sylvain's blistering guitar sets the band apart ("Frankenstein" is a real monster, or "Jet Boy"), foreshadowing the Pistols' hard rock sound. The band was far more interested in bitching about their "baby" than society at large, and their lyrics owe far more to the confused hyper-sexuality of the early 70s ("Personality Crisis", "Looking for a Kiss") and New York sleaze ("Bad Girl"). Only a few weaker tracks hold this one back ("Private World", "Jet Boy", the calmer "Lonely Planet Boy"), but otherwise it is a celebration of a time when men could dress up in drag, wear roller skates, be otherwise decadent and still be real men. In the end, the amount of talk surrounding the New York Dolls will guarantee them a place in "pre-punk" history, even though they have more in common with Mott the Hoople's All the Young Dudes than Never Mind the Bollocks. Produced by Todd Rundgren.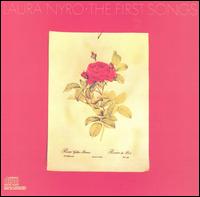 More Than a New Discovery (Feb. 1967), ***1/2
Not really a normal singer-songwriter, Laura Nyro sometimes is just recognized for the latter. Superficially she bears a resemblance to Carole King - both were female pianists and pop songwriters. But Nyro was more than a simple songwriter; not only did she have a vastly better voice than King, but she was a better and more interesting musician. Yet, King found vast success as a solo artist, and Nyro did not. Based on this record it is not surprising either, despite its trailblazing nature (how many women singer/pianists were there in 1967?) More Than a New Discovery bears all the hallmarks of the New York folk scene--strong vocals, endless uncredited session musicians--but is removed from folk or rock. Nyro's songs are in a commercial soul-pop vein ("Goodbye Joe", "Wedding Bells Blues", "Stoney End" all given Supremes-like treatments) or gospel ("And When I Die"), and later found popularity in the hands of others. That's only half the story - Nyro also delivered a string of powerfully sung jazz ballads ("Billy's Blues", "Lazy Susan", "Buy and Sell") where she borrows her vocal phrasings from people like Ella Fitzgerald. While her vocals are given center stage, sometimes the backing becomes intrusive (especially on "Billy's Blues" and "Buy and Sell"). The rest of the album is along the same lines, but without any real substance ("California Shoe-Shine Boys" is downright fluff) as if the label needed more commercial material to market the album. It takes a while to reconcile the various parts of this album, but it is well worth it. Even at 19, Nyro was vastly talented, but ahead of her time. Later re-released as The First Songs. Produced by Milt Okun.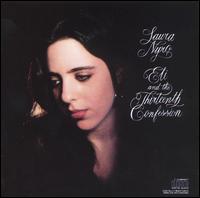 Eli and the Thirteenth Confession (Mar. 1968), ***
While Nyro proved to be adept at writing innocent pop songs and ballads on her first effort, Eli shows a more mature writer. Most of these songs would not fit on New Discovery at all: an ode to imbibing ("Sweet Blindness"), a relatively hard-edged social commentary ("Poverty Train"), and more adult love songs (the album's closer "The Confession" ends with the lines "love my lovething / Love is surely gospel"). The New York folk backing is gone, and producer Charles Calello replaced it with pop-rock supporting players, as well as strings, horns and whatever else wondered into the studio. Certainly not all of them are always present, but periodically Nyro gets lost underneath it all ("Woman's Blues" or the bombast of "December's Boudoir"). As for Nyro herself, the production emphasizes her exceptional vocals once again (she does plenty of multi-tracking also), but her craft had matured as well. Perhaps a bit too much for her own good, actually. Her song construction has gone a bit loopy, changing rhythms within songs, stopping and starting, while her lyrics have become slightly muddled. At some points you know what she's singing, but you're not quite sure what she's going on about ("Once it was Alright Now"). If this sounds a bit like Astral Weeks to you, you'll be pleased to know that at least one track has the same jazzy feel that Van Morrison later used with great success ("Lu"). One almost wonders if someone told her not to record any true ballads, as any song that starts out that way inevitably winds up in fast tempo pop-rock at some point ("Emmie", "December's Boudoir"). When she does stick to more normal structures it's very successful ("Luckie", "Eli's Comin", "Stoned Soul Picnic", of which the latter two became hits for others), while her complex stuff shows it's age. In general, Nyro tried to push pop's boundaries here, but it doesn't quite work, and she isn't helped by the production.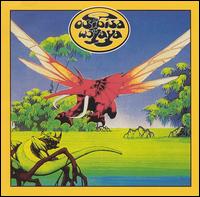 Osibisa: Woyaya (1971), ****
Sometimes you take a chance and it pays off. I bought this solely because Roger Dean did the cover art (that guy who did lots of Yes work), and it then proceeded to sit in my closet. Of course, that turned out to be a mistake, but that's life. The group is four guys from Africa and three from the Caribbean (traditional dress and everything), and they produce a truckload of cool percussion. I can't dance, but this made me wish that I could. It also means I am less qualified to discuss this than an ordinary rock record, but phooey on that. I also may draw some flack for this comparison (as if anybody reads this), but Osibisa is like a much better, less rocking and more focused Chicago (the opening of "Y Sharp" in particular). Certainly, the compositions are different, but there's a general similarity. Osibisa has a thick sound with all the percussion, horns, guitar, bass and drums. There's even a chorus in places. Big sound. The opening track "Beautiful Seven" starts out with thunder and then an echoed flute. Put a guitar in its place and it could pass for a Santana track. If that didn't warn you, there's a good dose of jazz present, but in a much different way then some sort of fusion album. But there's little (if any) self-indulgence, instead it just builds on the beat thumping away underneath. You can't dance to fusion, you can dance to this. Not quite a rock band, they do cool stuff like vocal percussion "Survival", or Roland Kirk's "Spirits Up Above" which is like a jazz jam wedged in the middle of a gospel song. The back side wanes a bit, but it's still a fun album. I almost forgot the coolest thing of all - the bass player is names Spartacus R. Produced by Tony Visconti.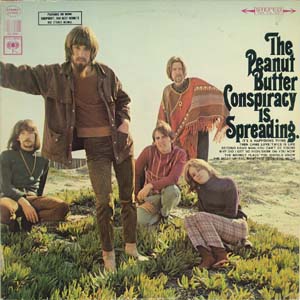 The Peanut Butter Conspiracy is Spreading (Mar. 1967), **1/2
The Peanut Butter Conspiracy may not be the worst name in rock history, but it certainly could only be thought clever in the 1960s. (See also Frank Zappa's humor). The Conspiracy were among several Byrds-influenced folk-rock groups inhabiting L.A. in the late 60s, although they had a greater pop feeling than others like Clear Light, due the influence of Beach Boys and Sagittarius producer Gary Usher. They had a strong female lead vocalist in addition to the men (Sandi Robinson), such that they often sound like a revved up version of the Mamas and Papas. They wrote their own material (usually Bassist Al Brackett or guitarist John Merrill) which used fairly quick chord changes, often down-shifting the tempo for the chorus (a clever trick you can hear on the best tracks on here: "It's a Happening Thing", "Dark on You Now", and "Twice is Nice"). They may be fast, but almost every guitar break is incomprehensible ("It's a Happening Thing", "Twice is Nice"), and according to the liner notes Usher brought in session musicians. Usher goes for lush pop on only one track ("Then Came Love"), and adds bits and pieces elsewhere. There are a couple of forays into jugband territory ("Second Hand Man", "You Took Too Much") and a mysterious Old World or Eastern song ("The Marketplace" with delightful squealing horns) to keep it interesting. Their folk-rock alone dates the band, and their lyrics are also firmly rooted in 1967. The opening track ("It's a Happening Thing") has Sandi proclaiming that "Love is the grooviest thing / up till now, in the world." It gets better. There are some drug references, some perhaps cautionary ("You Took Too Much"), culminating in the All-Time Most Hilarious Anti-Drug Song: "Why Did I Get So High", which needs to be heard to be believed. It opens with Robinson asking, "why did I get so high? Just to fall from the sky" while the band plays a vaguely classical tune (suitable for a harpsichord). It is not a bad song, perhaps just a sign that the L.A. scene was falling into self-parody. Even today the album is enjoyable, especially if your taste runs to charged folk-rock.

The rest of the band was Lance Fent (guitar) and Jim Voight (drums).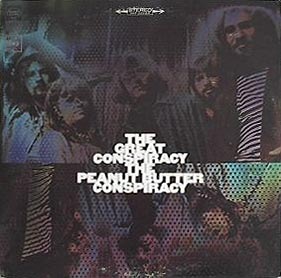 The Peanut Butter Conspiracy: The Great Conspiracy (Dec. 1967), **
On their second album, the Conspiracy continued their psychedelic folk-rock. Without Gary Usher producing, the band moved towards a darker and longer songs with more instrumental sections. The Great Conspiracy has a very California feel: trippy instrumental sections, electric guitar lines over folky guitars, the blues lurking in the background, Mamas and Papas vocals, and psychedelic lyrics. Such a shame that the lack Usher's mainstream push also resulted in really dull songs from Merrill and Brackett. The lyrics are no longer laughable, just delightful drug nonsense ("Invasion of the Poppy People", "Captain Sandwich" to name a few). They could play fairly well (especially Brackett's bass lines), but for every interesting instrumental section (the break in "Turn on Friend (To The Good Life)", "Captain Sandwich") there are deadening downer tracks ("Too Many Do", "Ecstasy"). Drugs caused most bands to play unusual music, go nuts or make distinct music. Not so with the Conspiracy; the ticking guitars in bassist Al Brackett's "Time Is After You" are the closest thing to innovation or real exploration. Otherwise, dull dull dull, which is the worst kind of album to review. The band may have been great in person, but the entire scene had just about run its course, and it shows. Everyone was packing up to move onto horn rock, soft rock, country rock or any genre that did not require much in the way of dazzling skills.
The band replaced Fent with Bill Wolff for this album. Included on my reissue is a post-album single, "I'm a Fool" which is a soul and horns track, and not bad at all with Robinson's voice. The band released a final album in 1969, For Children of All Ages, on a small label before breaking up.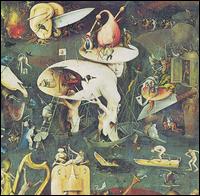 Pearls Before Swine: One Nation Underground (June 1967), **1/2
Another album designated as "underground" (even in the title), but one with "underground success." The man behind Pearls Before Swine was Tom Rapp, a confirmed folkie who got some friends together to record this album fairly quickly in New York. One Nation Underground is a strange blend of folk guitar, Farfisa organ and nice ornamental touches with rather poetic lyrics, resulting in a crystallized sound. It sounds best when Rapp fingerpicks and gently sings verses in an unhurried voice ("Another Time" with wonderful additions of autoharp and finger cymbals, or "Morning"). On the whole, the band sounds like a group of very high folkies. Sometimes this works ("Drop Out" - pretty blatant there, or the mock Victorian mania of "(Oh Dear) Miss Morse" with naughty Morse code and banjo), but for the most part they are too spaced out to hold interest ("Regions of May", or the really trippy "I Shall Not Care"). Part of the problem stems from the fact that Pearls Before Swine was not a real band. Sometimes the players sound like they are only backing Rapp, or not sure what's going on, while the situation probably limited their ability to play their instruments. Mismatched session drummer Warren Smith does not help the situation, with his egregious overplaying on "Playmate", a track further rendered a dud by Rapp's inexplicable Dylan-like singing. Rapp himself is also part of the problem: upon closer listening he sounds like he has a slight lisp, and his hoarse yelling adds nothing to the protest song "Uncle John". While folk music doesn't overly lend itself to using a variety of chords, some songs are almost identical musically (he like to hover between D and C on both "Another Time" and "Morning", and "I Shall Not Care" is partially based on "Drop Out" which itself uses a chord pattern found in almost any 50s song). The only time the band sounds like they are together is on the ethereal "The Surrealist Waltz", which sounds great until the vocalist (not Rapp) starts and one realizes he has almost no voice at all. It's no accident that this was the only track written by non-Rapp members of the band. Despite all this, this album has a rather unique sound, but is frustratingly inconsistent. The band is Tom Rapp (guitar and vocals), Roger Crissinger (organ), Wayne Harley (banjo, mandolin) and Lane Lederer (bass, guitar).
Why the public library has an Italian import copy of this album I may never know.

Someday this will be its own page - after I dredge up my copy of Queen II and Sheer Heart Attack.
Personnel:
Freddie Mercury (vocals, piano); Brian May (guitar, some vocals); Roger Taylor (drums, even fewer vocals thank God) and John Deacon (bass).
With their distinctive vocal harmonies, wide range of styles and sense of humor, Queen deserves a place in any classic rock collector's library. May had a unique guitar sound, and Mercury was an incredible vocalist with a range to make women envious. Taylor was a drummer who thought he could sing (dreadful) and Deacon occasionally breaks out the upright to add a nice tone to things. However, the group was very democratic, for better or for worse, and all members got to contribute songs. With "No Synthesizers!" proclaimed on their albums, the group used massive overdubs to achieve their sound, with both their guitar parts and trademark harmonies. Whatever your issues with either synths or overdubbing, don't let them be a hindrance from trying Queen.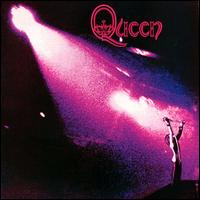 Queen (July 1973), ***
This was recorded over three years and man, some of this stuff is weird. The first song, May's "Keep Yourself Alive" is the blueprint for their later success: fast driven, harmonized glam rock, with Mercury's soaring vocals and May's interesting guitar leads. The rest of the album isn't the same. Queen had already started using multi-part song structures, but Mercury had yet to master songwriting. So, the quavery piano-pop goes hard rock "Doing All Right" or the glam-rock-goes-gospel number "Liar" just do not work correctly. There's even a bizarre psychedelic piece ("My Fairy Queen") that relies heavily on Mercury overdubs. Other songs are unspectacular rock, the breakneck Taylor piece "Modern Times Rock 'N' Roll" is annoying, and "Son and Daughter" is a Zeppelin rip-off. But, my favorite would have to be May's "The Night Comes Down" with Deacon on upright and May on acoustic. Gorgeous. Produced by John Anthony and Roy Thomas Baker.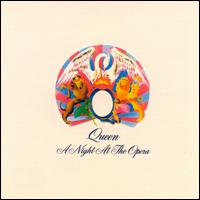 A Night at the Opera (Dec. 1975), ****1/2
One of the better 70s records I've heard. Anyone who's seen Wayne's World is familiar with "Bohemian Rhapsody", and the excellent ballads "You're My Best Friend" and "Love of My Life" get well deserved radio airplay where I come from. But the remainder is diverse and top-notch, with few exceptions. "Death on Two Legs" and "Sweet Lady" are hard rock, without being annoying (see Led Zeppelin at this period for examples of annoying). The music-hall type numbers, which remind me of the Kinks' "Lazing on a Sunday Afternoon": "Seaside Rendezvous" and "Good Company" benefit from the Queen harmonies and Mercury's vocal range (particularly "Seaside Rendezvous" with it's suburb lead vocals and vocal renditions of instruments). But, if the best Mercury composition is "Bohemian Rhapsody", then May's is "'39". That is one of the best kick ass acoustic songs I've heard in a while. The only down moments are Taylor's "I'm in Love With My Car", which suffers from a slower tempo and his annoying voice, and "The Prophet's Song" which at 8+ minutes is too long. Other than that, the album is a classic and deserves to be listened to immediately. OK - at least soon (if you haven't yet, and like that sort of thing). (I have the Elektra 7E-1053 LP.)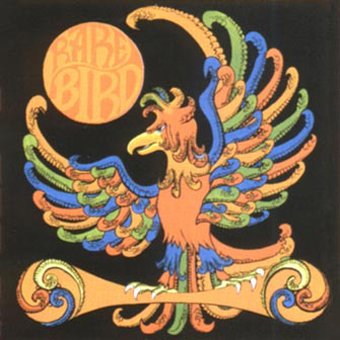 Rare Bird (Nov. 1969), ***1/2
Dark art-rock, albeit with a distinctly Procol Harum flavoring; Rare Bird has an interesting sound, no doubt. The band uses no guitar, instead relying on two keyboardists - organist Graham Field, and electric pianist David Kaffinetti, in addition to the standard rhythm section. From Procol Harum they drew plenty of ominous minor chords, but in keeping with the times it's far faster, far punchier, and far more instrumental. Despite Rare Bird's obvious prog-rock feel, the blues is always lurking somewhere in the background or in bassist Steve Gould's vocals ("Times" is the most overt example). It's not like the whole album is an frenzied rendition of "Repent Walpurgis", but you get the idea. The band seems to care about atmosphere and rhythm more than lots of notes. Not that they don't have quick little runs, or solo sections, just that the band is fairly discreet. Drummer Mark Ashton's performance is almost worth the price of the album alone. He really propels the music, and is in Carl Palmer territory speed-wise ("Beautiful Scarlet"). Producer John Anthony simply lets the band play, but correctly places Ashton up front while the keyboardists fill in behind with their interesting holding patterns. This is in contrast to other groups, where the organ is usually right in your ears the entire album. The band's other main influence seems to be the Nice's first two albums, which raises a automatic caution flag. For example, "God of War" is built around a catchy evil riff, but the vocals are a bizarre whispered affair derived from "Dawn" (with Gould singing the song's title over and over). Elsewhere, the opening and closing parts of the last song "Melanie" feature Gould doing a annoying Lee Jackson impression, although "Times" is a harmless Ars Longa Vita Brevis-like jaunt. It's not all atmosphere of course, and the band is successful when they keep things moving ("Nature's Fruit", the hymn-like "You Went Away"). But the longer songs are hardly losers - both "Beautiful Scarlet" and "Iceberg" do a good job of contrasting sections, although the former is the hands-down winner, and as the opening track, the instant hook for the listener. Lyrically, the album is a vague late 60s mishmash, with everything from odd devil imagery ("Beautiful Scarlet"), help the world (the trudging anthem "Sympathy" which was a minor hit single, "Nature's Fruit", "Bird on a Wing") to more romantic songs. Anthony's rather basic (or minimalist, if you prefer) production, each band member's use of a sole instrument (although Kaffinetti does distort his electric piano in places, making them briefly sound like a Canterbury band), and all the minor chords can make this a wearying listen after awhile. But, fans of the dark Procol Harum, or early prog-rock in general will get a real kick out of this. The band recorded one more album (As Your Mind Flies By) with this lineup before Fields left. All songs are credited to the group.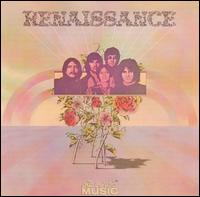 Renaissance (1969), ****
The early days of progressive music are really interesting because people were working traditionally non-rock music in with rock any way they could. It is also interesting to note that, with rare exceptions, the bands and musicians making this music were new. Renaissance was one of those exceptions, and had a weird dynamic to boot. On one side you have Keith "Collapsed Lung" Relf (vocals, guitar) and Jim McCarty (drums) from big-deal R&B band the Yardbirds. Relf and McCarty had never been just plain old R&B enthusiasts, and this album reflects Yardbirds songs like the neo-chant "Still I'm Sad" or the traditional folk of "Only the Black Rose." With Relf and McCarty writing the basic songs, Renaissance follows this line (the chorus on "Kings and Queens" has some of the chant feel to it). On the other side there was John Hawken on piano from R&B one-hit wonders the Nashville Teens, and newcomer Louis Cennamo on bass. They are the players who made the music work. Relf was never a great vocalist--at his best he was simply good, with a distinct voice--and having just picked up a guitar, he was still in the awkward strumming phase. Indeed, producer Paul Samwell-Smith, another ex-Yardbird, tends to bury Keith's guitar at his first chance. McCarty, while a fine drummer of the mid-60s variety, is still only the drummer. Hawken and Cennamo are instrumental gods, plain and simple. It's an easy formula. You take a Relf/McCarty song and then Hawken and Cennamo drop in classical sections borrowed from famous works. It's not terribly integrated, but their interplay is so good it's hard not to be impressed. The result is longer songs where the two non-Yardbirds go off on adventures, only to be brought round again by a nice Relf/McCarty chorus. But there is another member of the band, Keith's sister Jane, who despite any apprehensions one may have about a female version of Keith, is pretty good. She does not have much vibrato, and has a nice voice when not doing wordless vocals or doubling Keith, although some of her pronunciations sound a bit funny to me (the friendly "Island" starts with her singing "There is an i-luuuuund"). Combine it all to get traditional folk music not based on guitar, and lots of classical piano work interspersed. Both "Kings and Queens" and "Innocence" follow the long trip format, but Jane gets to sing lead on "Wanderer" which starts out with a kick-ass harpsichord-rock (harpsi-rock?) intro before turning into an Elizabethan folk song. The band only blows it big-time on the closing track, "Bullet", which starts out as an awful blues number with Keith doing free-association lyrics before the band completely looses their way. As if waiving a white flag, the track (and the album) ends with bells chiming while the wind blows. Exactly. Certainly an interesting album with a unique sound, even though it barely charted at the time.

This lineup recorded another album (Illusion) which was only released in Germany.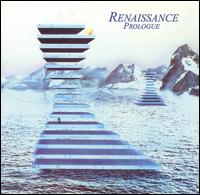 Prologue (1972), **1/2
By the time Renaissance recorded their third album nobody from the first incarnation had survived. This version of Renaissance was far more accessible, but still made a merger of rock and classical music. Despite the lineup turnover, their sound still focuses on piano, and the guitar is still in a backwater. Pianist John Tout knows enough to not dump classical works wholesale into the songs, but tends to fill up the sound by quickly overplaying (the title track is almost dizzying). Since so much of the focus on the piano and the vocal harmonies, it is almost piano-based folk music, like Fairport Convention with Rick Wakeman instead of Richard Thompson. Still, it's clear that the band was still organizing their thoughts at this point - guitarist Mick Dunford doesn't appear on the album, but is credited with arrangements (along with Tout). As well he should, since he wrote the bulk of the album, in conjunction with associated lyricist Betty Thatcher. Dunford's melodies are of the aforementioned folky/classical variety, and Thatcher seemed to wonder around and jot down impressions, often of the sea ("Bound for Infinity" and "Sounds of the Sea"). To emphasize the transitional nature of this album, even a couple of Jim McCarty melodies appear on the record - the catchy "Kiev" being the most notable. With a chord pattern that sounds like it was borrowed from a Russian folk song, a slow-mo disco beat, weak male lead vocals but great group harmonies, it's like some odd precursor to ABBA. Annie Halsam's smooth vocals are not all-out yet, and she is presented only as That One Lady With The Really High Range. She does not yet have the self-assuredness that marks Renaissance's later albums, and her falsetto is pretty weak as well. The male vocalists are pretty bland, but combined their vocal harmonies are pretty, well, pretty ("Sounds of the Sea"). The rhythm section (including guitarist Rob Hendry) is flexible enough, but nothing to make you go Wowsers, listen to that! If Flash's rhythm section was one step removed from Yes, then John Camp (bass) and drummer Terry Sullivan are one step further removed. Put all these pieces together, and you have a very poppish band which likes to take some progressive breaks (the beautiful "Spare Some Love" and "Kiev" both have distinctive progressive sections). Of course, being a progressive album, the songs are long (only one is under 5 minutes), and there's a long Eastern-flavored instrumental piece, "Rajah Khan" with a loud, questionable, drawn out electric guitar intro by Hendry. It's their stab at big time progressive rock, and the most unusual thing about it is guest Francis Monkman's squealing synth solo in the middle. Mostly it's just a nice trance-inducing sound with Halsam doing wordless harmonizing over it. Nothing earth-shattering.
Some of the blame can go to the production - done by the group and Miles Copeland. Thus, even though this was Renaissance's third album, the title of Prologue is appropriate, as the band later got their majestic, orchestral classical/rock act together.


Sand (1973), ***1/2
Probably because it was the antithesis of cool, the early 1970s' blending of country and soft rock has never made a comeback. Sure, you can like the Grateful Dead or Crosby, Stills and Nash, but few are awarded for namedropping Bread or Poco. But not all bands had to be as brash as the Eagles or as lame as Bread. Enter Sand, which combined the acoustic guitars and harmonies of CS&N with a good steel guitar player, and the intricate playing and discipline more akin to progressive rock. Released in one of the more puzzling formats around-- a regular length album appearing on one side each of two records (a gimmick that backfired when oil prices went up and manufacturing costs increased)-- and on a label formed to put out Andy Williams reissues (Barnaby), the band's existence appears not have ever been noticed, much less forgotten. Primarily through the efforts of guitarists Jack Meussdorffer and Dan Ross, Sand offered an expansive sound which did not venture too deeply into country or rock. Instead the guitarists created the light, expansive sound which their name suggests (the opening of "Mystery" is a good example). The opening track, "Who Ya Tryin' To Fool" is the zenith of the band's approach. The song's vocal harmonies are straight from CS&N, as are Meussdorffer's acoustic underpinnings, but Ross's excellent steel guitar really makes a difference. There's a country flavor (how could there not be with such prodigious steel guitar?), yet it never overpowers the music. The real surprise comes on the instrumental breaks - the rhythm section switches to eighth notes, and Ross starts exacting little runs. Meussdorffer then joins in and the two trade off, before eventually intertwining their guitars. While the band only takes advantage of this in a few other places ("Destined Road"), Ross's steel guitar work and their calculated harmonies make listening to the band a joy. The second side/disc isn't as successful as the first, yet the band still works the harmonies (the very CS&N-like "Mystery"), and dual lead guitar ("Eagle's Claw"), before closing with "Lady of Mine" which boasts a fun sing-along chorus. Not rocking, not wussy, not political: just a group of guys giving it their all and making good music. All I know is that if I owned a label, I would re-issue this album. The rest of the band is Dan Wilson (vocals), Rich Gooch (bass), and Steve Williams (drums). The group put out another album Head in the Sand in 1976, on the Ostrich label (which I guessing means it was self released). Meussdorffer (as Jack Charles) and Gooch later appeared in the 80s band Quarterflash. Produced by Ken Mansfield.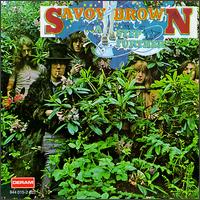 Savoy Brown: A Step Further (1969)
I really expected more from this group - they sound like they have potential, and had been around a while. But as a blues band (not a bad thing), they rely way too much on the same song format. Only frontman Chris Youlden brings something interesting to the table - the other band members don't have a distinct sound. This is probably why most of the first side is masked with dated-sounding orchestral accompaniment, and is pretty derivative. The real problem is the second side which is a live boogie montage that starts out as a good time and quickly deflates. I mean, 22 minutes of the same beat in the same key (A) is going to get tiring. Along the way they manage to disgrace not only "Purple Haze" but also "Hernando's Hideaway". I don't really want to rate it because listening to the second side puts me to sleep every time.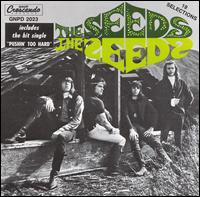 The Seeds (Apr. 1966), **1/2
American garage rock is credited for being an influence on many later scenes including late 60s and 70s Detroit, metal and punk. But while each of those have relatively famous bands and albums, garage rock's whole approach usually limited recognition to only a handful of singles. If garage rock was by definition amateurish, then the Seeds are professional amateurs. This is certainly the case with the Seeds' debut album, where the group takes English R&B and turns it into a primitive sophomoric exercise. This album isn't much more than attitude - snarling vocals (like some grotesque caricature of Mick Jagger), distorted guitars, and occasional frenzy ("Girl I Want You") set to adolescent love lyrics. The result sometimes borders on a cacophony of sound ("Evil Hoodoo" which is actually an entertaining mess) but usually just lurches between a few chords. Attitude alone cannot compensate for a lack of both songwriting and instrument proficiency, as many of the songs are virtually hook free. As a result, most of the songs never rise above the filler level, some sounding eerily like Pretty Things fodder ("Nobody Spoil My Fun", "Fallin In Love"). They do stumble across some interesting ideas, such as "You Can't Be Trusted" with a list of reasons for rejecting a girl, and a guitar distorted to the point that it sounds like a violin. The only notable tracks are the rebellious, yet constructed "Pushin' Too Hard" (which was a hit), and "Can't Seem to Make You Mine", which is remarkably hook-based. Mostly forgettable, and forgotten. Singer/bassist Sky Saxon wrote all the songs (I think he concentrated on the lyrics), with only a few co-writes. The rest of the band is Daryl Hooper (organ, piano), Jan Savage (guitar), Rick Andridge (drums).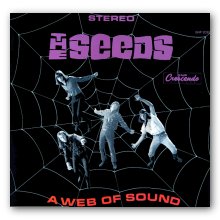 The Seeds: Web of Sound (Oct. 1966), *1/2
I gave the Seeds the benefit of the doubt on their first review because I admired their sound, even if they weren't able to do much with it. But they deprive me of that opportunity this time. On Web of Sound the Seeds got normal and more experimental at the same time. There's actual production, and their sound is far more commercial, but at the cost of sacrificing their attitude and the charm that goes along with it. Saxon's vocals are no longer sneering, instead his barely controlled voice and extensive diphthongs make him sound eerily like a teenage Bon Scott (the compromise garage/pop of "Mr. Farmer", memorable only for Saxon's drawn out sssses on the chorus), which is not necessarily a bad thing. On their debut the garage attitude helped mask songwriting holes, but here all the hooks disappear as well (the slow, draining blues of "A Faded Picture"). The result is the worst of both worlds. Savage's guitar is really pushed down in the mix, while unremarkable bottleneck guitar supplied by "Cooker" fights Hooper's organ for prominence. Most of the album is early dirty blues psychedelia ("Pictures and Designs", "Rollin' Machine"), roughly (and I mean roughly) comparable to English groups at this time. All the sliding guitar and spooky organ sound do sound like a terribly early Pink Floyd at times ("I Tell Myself"), just far worse than Floyd ever really sounded. However, the absolute worst is "Up In Her Room" which could be considered one of the first psychedelic jams, if they hadn't forgotten the jam. In fact, Saxon sort of rambles on while the band goes back and forth on the same two chords for 14+ minutes, and nobody in the band even really tries to solo. Andridge's drumming is entertaining for the most part, and the lyrics are pretty explicit for their time, but it's still over fourteen minutes for a song that has only enough musical interest for two, tops. Saxon even runs out of things to say and winds up repeating the same thing over and over again towards the end. So, let it be hailed as early psych, and let it be condemned as a waste of everyone's time.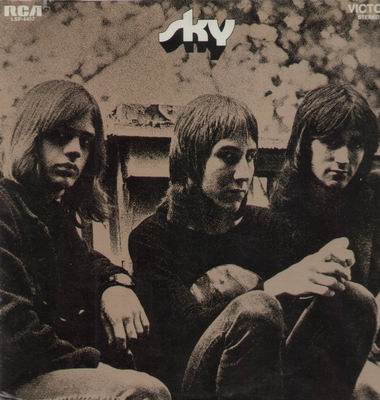 The Sky: Don't Hold Back (1970), **1/2
Perhaps the only non-Motown Detroit band failing to crank it up and sonically assault people, the Sky followed English bands like the Who and contemporary Stones instead. Bassist/vocalist and future Knack leader Doug Fieger and the other band members were barely out of high school, so why not send demo tapes to Pete Townshend and Jimmy Miller? In a move which is formulaic in the movies and improbable in real life, Miller responded and invited the band to England. Miller was working heavily with the Stones at the same time (which is why Spooky Tooth keyboardist Gary Wright wound up producing most of the album) and there appears to have been some borrowing from the Stones' sessions going on next door. Thus, the Keys-Price horn section, and backing singers Pat Arnold, Doris Troy and Flo Bender, appear periodically throughout the album. Sometimes dreams come true.
As a three-piece, the band's main approach was to make power-pop based on the Rolling Stones' sound, and Fieger wrote the bulk of the songs. Sometimes it works (the crunching "One Love", or the lesser "Goodie Two Shoes"), but mostly it does not. Miller, Wright and friends make them sound like a contemporary English band periodically with building horns, trashy female gospel backed choruses, whistle-clean sound (the expansive "Take Off and Fly", "Feels Like 1000 Years"), but only a second-class one at best because many songs sound unfinished, or don't really go anywhere (the nice sounding "Homin' Ground" is certainly perplexing). For example, the leadoff track "Goodie Two Shoes" never truly ventures beyond its initial riff, and its lyrics are neither really a story nor a series of portraits. The songs are not that long, but the band just doesn't have much to say, and could condense ("Make It Time", "Feels like 1000 Years" is a good song, but could be cut in half). Guitarist/keyboardist John Coury plays well enough to not embarrass himself, but never gets to the "cutting it loose" stage. Fieger gets a little two wrapped up in his cock-rock-lite surroundings on the atrocious/funny "How's That Treating Your Mouth, Babe?" responsible for the album's "Certain portions of this album may not be suitable for broadcast purposes" warning.
The proximity to some better-known names can create embarrassing situations as will, such as "There in the Greenbriar" - a folky Traffic knockoff with real live Traffic member Chris Wood as a guest. All it does it highlight how good the real Traffic was. The same is felt when all the session folks are on a track - it makes unfavorable comparisons easy.
So if you had ever wondered how great the impact a producer can have on a band, here's a good case study. We can therefore safely conclude that it is more than the producer at work on those Stones albums. Bottom line: Fungible.
It looks like they had some trouble with their drummer, one Bob Greenfield, who plays on the album but afterwards was replaced by a Rob Stawinski. (Yes psychotics take note - Alan White drums on unspecified tracks). The group recorded one more album, Sailor's Delight, the following year. I've read that this was done in the Stones' mobile studio right after the Who were recording Who's Next (or portions). So, in a sense - the Sky were next. Their sound is supposedly different, but I don't have a copy, and don't anticipate ever finding one. Courey later became John Corey and played with members of the Eagles and Rod Stewart.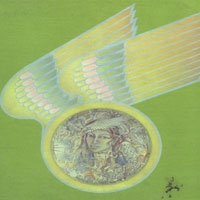 Skylark (1972), *
Almost by definition pop music sounds good or pleasant, and the best examples do much more. Sadly, more often than not, pop stars have their six months of fame but lack the talent to carry it further. Part of the reason is that often these groups are merely singers, not instrumentalists or songwriters, which hurts their ability to produce in the long run. Once the song/production machine supporting them switches elsewhere, they are left as has-beens, and often deservedly so. Is Skylark a band? It certainly looks like it on the outside, even though their group suspiciously consists of two lead vocalists, a piano player and a drummer. It turns out however that they are towards the manufactured end of the pop spectrum, and this is proto-adult contemporary. The production focuses on the singers, Donnny Gerrard and B. J. Cook, who are the smooth, soulful, and Canadian version of Bonnie and Delaney (without the marriage), although Gerrard is clearly the better singer. However, the album's main figure is David Foster, who is credited with piano, arrangements, string arrangements, and "assisting in production" on the album. He later moved onto things such as inventing "adult contemporary" through churning out power ballads, running over African-American Broadway stars, unleashing Celine Dion on an unsuspecting world, and having a reality show based on his life. This (the adult contemporary aspect) is what he did on this album as well--Skylark had a built-in pop factory to add schmaltzy orchestral arrangements and the like. Of course, no matter how smooth you make the sound, or how many session men you hire, you're really only as good as your material. Skylark's songs are drawn from a great variety of semi-crappy places - some names you may recognize (Dominic Troiano's "Writing's on the Wall", the Mann-Weil machine, even a Fats Domino cover) to anonymous hacks (the Gaye/Terrell knockoff "What Would I Do Without You") and even session guitarist Doug Edwards gets some credits in (co-writing the group's lone hit "Wildflower" with a Canadian policeman). It's all the usual semi-depressing 70s crap for the most part, so let's take a look:

| | |
| --- | --- |
| Song | Summary |
| "Brother Eddie" | Sinful minister runs skid row mission. |
| "What Would I Do Without You" | Self-explanatory. |
| "A Long Way to Go" | "I may have come a long way / but I've still got ..." |
| "Suites for My Lady" | An orchestrated phone call. Seriously. |
| "I'll Have to Go Away" | I'm lost in the city, but it isn't easy going away. |
| "The Writing's On the Wall" | The world sucks, but can't change. |
| "Twenty-Six Years" | I was wrong in the past, but I can still change. |
| "I'm In Love Again" | Guess who I'm in love with? You! |
| "Wildflower" | I pity this poor young girl and wish that I could help her. (I thought it was about an underage prostitute at first listen, and see no reason to change my opinion.) |
| "Shall I Fail" | If I write a crappy song, shall I fail, shall I fail? (Yes.) |
Just like candy bars, the first one may be good, but eating several in a row is unpalatable, not to mention unhealthy. But here's the critical question - how do you rate something like this. It's the same problem one runs into with any truly pop artist - even the recognized greats like Frank Sinatra. Few wrote their own material, they just interpreted others'. Does that mean that blatant pop music deserves it's own criteria to judge it with? If so, how do we determine what it is? Distinct genres like jazz certainly do, but you can also spin off sub-genres ad nauseum (the trap that the AMG guide tends to fall into). You can also say that the music itself suggests the criteria by which it should be judged, like a song with lots of solos which are terrible is bad because the solos are bad. However, this just skirts the issue - the criteria could be complete crap ("Uh - we meant to play out of tune and be boring"). So let's take a wholly subjective stance right here - This music is crap, and this album is crap. It could be a guilty pleasure for some people, but you can't cover a piece of cardboard with tin foil and pass it off as currency. Produced by Eirik Wangberg.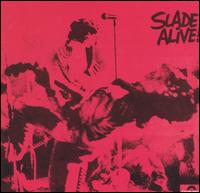 Slade Alive! (Mar. 1972), ***1/2
Listening to a group starting with a live album is not the best idea, but this is what appeared and is my only Slade album [Ed. note - no longer true]. Alive! is the exact opposite from the last album I reviewed, Yes's Tales from Topographic Oceans; it is unpretentious, earthy music with simple lyrics and little technical skill. Instead of trying to impress the listener, Slade drives the beat and the melody into your head. Plus, unlike most music at this time, the band's aim was to get the audience moving, and they try their best with lots of interaction. Good harmonies ("In Like a Shot from My Gun") help, and the group's compositions aren't bad at all ("Know Who You Are"). Just in case anyone thought they were softening up, singer/guitarist Noddy Holder burps during a downtempo cover of John Sebastian's "Darling Be Home Soon", one of the few moments he isn't screaming at the audience. The back side isn't as interesting, with some 50s rave ups ("Keep On Rocking" which turns into "Tutti Frutti") and a cover of "Born to be Wild". Overall this is a fun album, aimed to entertain instead of to shock or impress. Produced by Chas Chandler.

The Smoke: My Friend Jack (2000)
The Smoke were a good sixties band with a common problem: they could not write enough really good songs. Of course, having your first single banned by the BBC, being dropped from your label, and having your manager/label owner sell all your equipment also doesn't help the career. My Friend Jack has almost the band's entire recorded work, including their album It's Smoke Time. When the band does have a good song their musical skills make it work well. For example, the title song is unquestionably their finest, with its screechy feedback guitar and thinly veiled drug references. With a album of this kind you get the good with the bad for the sake of completeness (bad fidelity German TV cuts for example) and songs like "We Can Take It" and "Victor Henry's Cool Book" show why they were B-Sides. Perhaps the worst track is a cover Traffic's "Utterly Simple" produced by Dave Mason and Jeff Beck that was wisely never released. But elsewhere Mal Luker's scratchy feedback-ridden guitar drive songs like "Have Some More Tea" and the excellent "High In a Room". This is all probably irrelevant for such a cult group (a very small cult) whose fans would already own this anyway.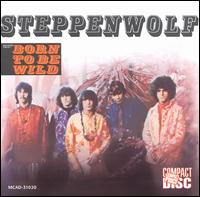 Steppenwolf (Jan. 1968), **1/2
I'm still trying to figure this group out -- were Steppenwolf for real? Were they merely a second-rate West Coast band, or one of the first hard rock groups? Their first big hit appears on this (their first) album, "Born to Be Wild". Steppenwolf does not have any real amazing display of playing prowess or songwriting talent. The real things going for the band is an organ and a good guitar tone. Otherwise, it turns out that they were just another West Coast group, and not a very inspired one. What they do come up sounds like the Byrds cranked up louder ("Everybody's Next One") or rambling heavy psych (the political dreadful "The Ostrich", which de-evolves into a noise collage). Otherwise this album appears to be tributes to the bands influences - Chuck Berry (the montage "Berry Rides Again"), the blues (represented by a cover of Willie Dixon's "Hootchie Kootchie Man") and of course the Byrds ("Everybody's Next One", and about every other group-penned number). The only other songs of interest are the covers of Don Covay's "Sookie Sookie" and an excellent, moody rendition of "The Pusher", written by Hoyt Axton. Produced by Gabriel Mekler. I'm not feeling that motivated to look up the group members, so all I really know is that John Kay is the vocalist and wrote or co-wrote all of the non-covers. With the exception of "Born to Be Wild" that is, which was written by departed group member, Mars Bonfire.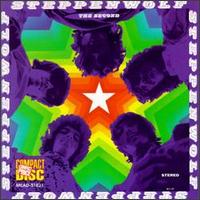 Steppenwolf the Second (Nov. 1968), **1/2
This album is better, but also worse (such is life). Steppenwolf dropped their folk influences for the blues (Kay was originally a blues singer), which sounds like a novel idea. However, they manager to screw it up, mainly by rewriting Junior Wells' "Messin with the Kid" as "Tighten Up Your Wig", which annoys the hell out of me. Yes, they play around with a slide guitar to a bit of success, but this brings up the group's major flaw - nobody can solo worth a damn on guitar. Their second big hit "Magic Carpet Ride", aside from being almost the same as "Born to be Wild", has no guitar solos to speak of, only feedback laden sounds now and again. On the rest of the album this problem becomes apparent, as their rock songs just die in instrumental breaks because there's little talent propping it up ("Faster Than the Speed of Life", another Mars Bonfire leftover). Kay's voice wavers between asset and liability as well. On the hard rock and blues songs it works, but when he tries to lighten up his voice grates, like on the acoustic and strings-enhanced "Spiritual Fantasy" where Kay blathers about universal religion. The album's high point is the connected blues tracks on the second side (which I can't separate well). It starts out slow and soft, just an acoustic guitar, Kay's voice and birds chirping ("Disappointment Number (Unknown)"), then builds to a good pace and song ("Lost and Found by Trial and Error"?). From then on (about halfway through) it dissolves into a blues jam which doesn't do much. After that it turns into a song with a hilarious chorus "Shake your moneymaker / Shake it just for me" before ending dubiously. Typically, the only other song I enjoy is the piano-rocker "28" written by the producer Gabriel Mekler. So, this album is better than their previous one overall, but lacks more than one or two really good numbers and has some mistakes as well (hence the same rating as Steppenwolf).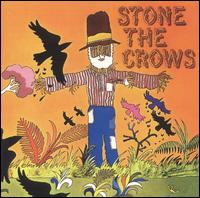 Stone the Crows (1970), ***
Stone the Crows' debut belongs to a pretty nebulous genre - English Soul - which may exist, but is not particularly relevant. Any genre whose best known figure is probably Joe Cocker is going to be intermittent at best. Besides, if you really wanted to listen to soul music, you could always turn to the traditional artists like Aretha!, Ray Charles or any number of others for the original thing. Instead, soul music often becomes an excuse for vocalists to let their voices hang out to dry, and for those who can sing, but not prettily, to be a vocalist. I love British music from this period to death, but only because they usually were more interesting than their American counterparts. Not so here.
As far as soul groups go, Stone the Crows were a bit different in that they had both a male and female lead singer in Maggie Bell and bassist Jim Dewar. Bell is a female Rod Stewart - she has a scratchy voice which many may find unbearable, while Dewar sounds like he's had a few too many of his namesake. Their voices are dangerous. When the aural sandpaper only rubs you for a minute, appreciation doesn't get a chance to turn into annoyance. When they let their vibrato waggle their uvulas there's little reason to listen (the slow, painful death of "The Touch of Your Loving Hand"). Thank goodness the band is pretty good. The band's non-vocal center is guitarist Les Harvey, whose versatility and songwriting talent give the band's sound enough depth to balance the vocals. Harvey deftly fits into that tier of lesser-known guitarists who might have reached the fame and fortune (see future Dewar employer Robin Trower), and he does a solid job. When he decides to bang the blues out on an acoustic guitar, with Bell wailing along, it's heartfelt and effective ("Blind Man"). Nor is their bluesy cover of the Beatles' "Fool on the Hill" half bad; the band does the song a bit slower and with more bluesy grit, of course. They also sound like post-Fisher Procol Harum on "Raining in Your Heart", which feels the same as "Whisky Train" - soul vocals, fast paced drumming, blues leads, organ, the works.
The back side of the album is the most interesting - "I Saw America" - which is somewhere between progressive rock and the Who's "A Quick One While He's Away", and was written by Harvey, drummer Colin Allen and producer Mark London. Much as the title implies, the song moves from section to section, reflecting on various aspects of America. The sound is pretty varied - ranging from straight progressive rock to folky, to bluesy, to psychedelic. The lyrics are a bit weak in spots ("Have you got any spare change, man / is a cry you'll often hear" - oof!), but the playing is really good. For all the band's faults, it is fascinating to hear a soul-based attempt at progressive rock, even if it never went anywhere.
The band released three more albums, but keyboardist John McGinnis and Dewar left after the next album. Harvey was accidentally killed before their final album, preventing any lasting success. Dewar became Robin Trower's sideman. Drummer Colin Allen was a graduate of the John Mayall Blues School, and the future Wings guitarist Henry McCulloch was Harvey's replacement.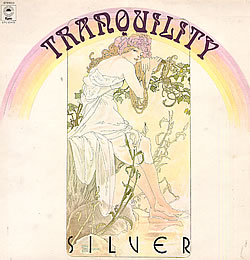 Tranquility: Silver (1972), **
George Harrison made an album (Electronic Sound) based on the idea that some music would become almost instantly disposable - sort of an album a day thing. This was only an extension of existing practices - many singles and albums were released which provided limited entertainment, after which they would be disposed of, and easily replaced. Tranquility was one of these bands, consisting of rather faceless individuals and playing rock which relied on more famous faces. This is the band's second album, after an eponymous debut the year before. Lead guitarist/lead vocalist/dominating songwriter Terry Shaddick appears to have been in love with both late-era Beatles and West Coast soft rock, mainly Crosby Stills & Nash. The Beatles influence appears in varying degrees, from borrowing the bass line to "Come Together" ("Can I See You"), a McCartney-esque retro song ("Dear Oh Dear"), or Abbey Road plundering (the title track). In addition to these infractions, the vocal harmonies for most of the album sound a great deal like a combination of both Abbey Road and CS&N's first album ("Can I See You" where it goes back and forth). As for Tranquility's own sound, it is a quite listenable soft rock one, with uncomplicated solos, simple rhythm section and two lead guitarists (who trade off instead of duel). In accordance with contemporary norms Tranquility softened their chords (making many of them semi-crappy light jazz ones) and de-emphasized most of the playing in order to focus on their carefully made vocal harmonies. Lyrically, the album is no great shakes either. The opening track, "Eagle Eye" is one of the few where they sound like themselves, and is good to boot. There are slight dabbles into other forms--the oddly danceable light funk of "Couldn't Possibly Be" and the country rock of "Linda" are two good examples, even if the latter suffers identity issues, sounding like early Poco. One could spend a great deal of time simply noting what Tranquility sounds like, above and beyond what I have already written. The result is an album that sounds like it could have been made either side of the Atlantic, although the group was English. Entertaining, even fun in places, but utterly derivative. Both Shaddick and other lead player Berkeley Wright are competent guitarists, with someone doing a rather good job on slide during "Linda". Otherwise the band if Tony Lukyn (keys), Kevin McCarthy (rhythm guitar), Bernard Hagley (bass), Paul Francis (drums). Shaddick co-wrote "Let's Get Physical" or "Physical" which was a hit for Olivia Newton-John, and no I am not making that up. Produced by Ashley Kozak.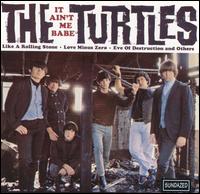 The Turtles: It Ain't Me Babe (Oct. 1965), ***
At the start, the Turtles were a more of a rock band, and scored their first hit with the Dylan-penned title track. With this album, the group already focused more on vocals than instrumentation, as reflected in some of their covers ("It Was a Very Good Year", later done by Sinatra, and Kurt Weil's "Glitter and Gold"). A strong Byrds influence is pervasive, with three Dylan songs ("Love Minus Zero" and the obligatory "Like a Rolling Stone") as well as other covers ("Eve of Destruction", a hit for Barry McGuire). Singer Howard Kaylan is the only group member writing, and most of it is studied filler (social commentary on "Let the Cold Winds Blow" for example), with the exception of "Wandering Kind" which sounds like the Beach Boys covering the Byrds, and is quite good. The Turtles had more punch than the Byrds, even borrowing the trademark drum line from the Dave Clark Five's "Bits and Pieces" for the two-chord romp "Your Maw Said You Cried". This album is more raw and interesting than some of the commercial pap that they would later record.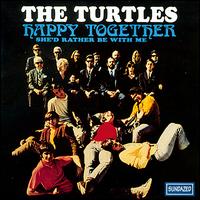 The Turtles: Happy Together (Apr. 1967), ***1/2
Victims of their own success, the Turtles' controllers had moved them into polished, overproduced pop-rock. Kaylan and Volman are accordingly treated like the American Peter & Gordon (but with alternating vocals, although it's hard to tell them apart)--they get top rate songwriters (Bonner & Gordon mainly) and plenty of horns and strings. Think of the Monkees, whose producer Chip Douglas was the Turtles' bassist for a short period. The title track nails it - romance lyrics, orchestration, loud rhythm section, interacting backing harmonies. Within this genre the stuff works, and there are others songs that do it almost as well ("She'd Rather Be With Me", "Guide for the Married Man"). "Too Young to Be One" is a catchy acoustic number, but the melody is copied straight from the traditional "Tis a Gift to Be Simple" (not the group's fault). I don't know if the Turtles functioned as a group here or if the instruments may have been handled by session men. Distinguishing the rhythm guitar from the lead is also a moot point, as the album has no solos. They had a new competent, but unobtrusive rhythm section of John Barbata (drums) and Jim Pons (bass), while the guitars get pushed back in the mix during most songs. The group's own more imaginative contributions are the really interesting part of Happy Together. The band used many of the same production techniques, except that the guitars are audible, and offer goofy-to-pass-the-label-censors social commentary again ("The Walking Song"). One senses that even faintly psychedelic tricks like the backwards hand claps in the slightly devious "Person Without a Care" had to receive approval. The greatest example is "Rugs of Woods & Flowers" which sounds like a strange Russian naval march, but with intentionally overwrought lead vocals, goofy backing ones (including coughing), and the same straight orchestration. Nothing like a self-parody. In the end the album is half guilty pleasure, half casual winking at the listener. Produced by Joe Wissert. (White Whale WW S-7114 LP)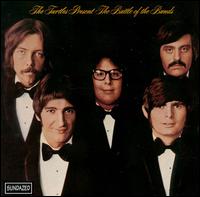 The Turtles Present the Battle of the Bands (Nov. 1968), ***
Not a particularly high concept, but a concept nonetheless - The Battle of the Bands featured the Turtles posing as a different group for each track. While I don't think the band put this much thought into it, the sampler approach was a pretty sharp comment on popular music at the time - bands were concocting psychedelia by tackling a billion genres, yet few ranged as wide as this. Maybe it was commentary, as everything is pretty tongue-in-cheek - the LP has pictures of the band posing in various ridiculous costumes, with fitting names like The Atomic Enchiladas who perform the harmless, tripped out "The Last Thing I Remember". Some of the tracks are polite genre numbers such as the country-n-western "Too Much Heartsick Feeling" or the organ-led soul piece "Buzzsaw" or the goofy "Surfer Dan" by The Cross Fires (an early name for the band), while the joke "We're the Royal Macadamia Nuts" openly mocks some of the novelty bands of the era. Yet, the Turtles' strength was pop music, and "Oh Daddy", a fun Kinks-style rock song, and the album's two hits show that. The first, "Eleanore" is openly jokey ("gee I think you're swell") but still the song is catchy beyond belief, aided by the band's vocal harmonies. The second, "You Showed Me" was an unotherwise unheard Gene Clark/Roger McGuinn song, somewhat reminiscent of the Zombies - built around a slow organ with Kaylan and Volman trading hushed vocal lines. It's goddamn beautiful, and utterly sincere (so I think). Both songs have also aged really well, partially due to former bassist turned successful Monkees producer Chip Douglas quietly using the nascent synthesizer on both tracks. The odd spectrum of deliberately fake, possibly true and so on, makes it hard to tell where the final number ("Earth Anthem" attributed to All) falls. It's folky, with something of Simon & Garfunkel in it - acoustic guitars, strings, the works while the band sings a simple song about Earth. Borderline schlock (it could serve as the basis for a passé mass celebrity sing-along), I'm hopeful it's a sincere statement, for it would lose something if it were merely a commentary. A pretty nice album, even if the highlights are most likely going to appear on any best-of.

A producer named Alan Lorber decided to create a movement akin to those happening on the West Coast, and hyped up the "Bosstown Sound" of Boston. Scarily enough this band was the biggest thing to come out of this artificial movement, and despite their declaration that "top 40 is not where it's at, anymore" their first album made the Top 40. After originally buying it I thought so highly of it I gave it away to a friend who likes spinach almost immediately.
Record courtesy of K.J. Regis.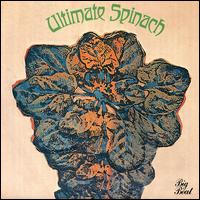 Ultimate Spinach (1968), *1/2
If you can move beyond this group's immensely stupid name, you will discover a psych-pop failure, but like so many failures, an interesting one. This third-string band's main force was Ian Bruce-Douglas, a multi-instrumentalist with a predilection for bad, pretentious lyrics (as if the band name didn't give it away). Musically, Ultimate Spinach sound like Jefferson Airplane without any talent (the harmonies on "Your Mind is Reeling"), but with Bruce-Douglas doing a cut-rate Doors organ impression all over the place ("Ego Trip"). Some of the real trouble is with Bruce-Douglas' lyrics: he's concerned with very contemporary topics such as the interaction between the hippies and the squares ("Funny Freak Parade"), acid trips ("Pamela") and war objectors ("Dove In Hawk's Clothing"), making the album very dated. The spoken intros to each side are so bad (and laced with unnecessary sitar) that one can almost hear Frank Zappa uttering sounds of disgust. Granted not everything is terrible, as "Plastic Raincoats/Hung-Up Mind" and "Dove in Hawk's Clothing" both have a nice sort of bluesy laughing-down-one's-sleeve feel, and are adequate. The best tracks are instrumental ("Sacrifice of the Moon" and "Baroque #1" which borrows from Eric Satie for parts), if that tells you something. None of the band has much to say in terms of musical innovation or talent, resulting in scenarios where one is waiting to hear the solo, only to discover that was had been going on was the solo ("Your Mind is Reeling"). There are also plenty of psychedelic touches such as spacey noises and backwards clips. The only exception is when Bruce-Douglas cribs from classical composers ("Pamela"). The absolute nadir, perhaps for the whole psychedelic movement, is "Hip Death Goddess". After an unintentionally hilarious spoken intro, guitarist Barbara Hudson sings in a thin voice, while in the long instrumental section the band discovers that they cannot solo at all, and instead engages in such scintillating tasks as producing small amounts of guitar feedback. Although not factored into the rating, the album contains so-bad-you-have-to-see-it-to-believe-it liner notes, some of which have been reproduced here. The band is Ian Bruce-Douglas (mainly keyboards), Barbara Hudson (guitar), Keith Lahteinen (drums), Richard Nese (bass), and Geoffrey Winthrop (lead guitar). Yes, they had a female guitarist which is unusual for this era. This lineup released a second album, and an almost new one released a final, third album. Nobody from the original band did anything interesting afterwards. Produced by "Bosstown" mastermind Alan Lorber. (LP MGM SE-4518).

If groups like Tranquility made poor photocopies of others' work and tried to pass it off as something new, Uriah Heep was a 6-year old attempting to copy a famous painting with crayons. In their case that painting was Deep Purple. That being said, Uriah Heep does have some good points, not that I want to cast myself as their defender. Their music is so legendarily bad and pompous that it's trashingly entertaining. It should be no surprise that they were one of the unofficial models for Spinal Tap. Of course, I can't really reflect this in my ratings, but their work can fall into the "so bad it's good" category.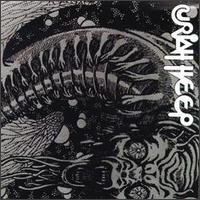 Uriah Heep (June 1970), *1/2
A remarkably bad imitation of contemporary Deep Purple. Singer David Byron sounds like the consolation prize in the Ian Gillan Sweepstakes (although he doesn't do any falsetto screams), and keyboardist/guitarist Ken Hensley apparently once heard Jon Lord's organ. Not that copying Deep Purple is a bad decision, it is just that the band is frankly terrible at it, lacking most of Deep Purple's skill and all of their innovation. For example, the opening track "Gypsy" has the Worst Organ Solo Ever, as Hensley diddles around for an enormous period of time, making Lord sound like Keith Freaking Emerson. The vocals are overblown and serious to the point of ridiculousness (the gleefully pompous "Bird of Prey"), while the lyrics approach the nadir of quality ("Real Turned On", or "Walking In Your Shadow" which advises the listener to "Make every cloud your slave"). While they do come up some interesting riffs now and again, they do nothing with them, at one point even repeating the same one over and over to kill time ("I'll Keep On Trying"). Granted, the album does have its moments (and for the most part I literally mean moments), but their best efforts come when they don't try to sound like Deep Purple--their half-baked moody rendition of Tim Rose's "Come Away Melinda" which even at half-baked is better than most of the record, and "Wake Up (Set Your Sights)", where they put their inherently dramatic sound to create the album's only decent song). On the whole, it 's surprisingly listenable, and laughably bad. The other band members are Mick Box (guitar), who has an awful solo in "Dreammare", Paul Newton (bass), Alex Napier (drums) who quit during the sessions. Produced by Gerry Bron. Originally released as Very 'umble Very 'eavy in the UK.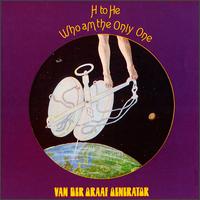 H to He Who am the Only One (Dec. 1970), ***1/2
Van Der Graaf Generator was an early experimental art-rock band who met little success. While other groups were goofy or romantic, H to He Who am the Only One would appeal more to the angst-ridden teenage crowd. Still, it is hard to recommend the Generator to those unfamiliar with bigger names like King Crimson, as the band was so far out there. The main person responsible is lead singer/lyricist Peter Hammill, who ran a solo career concurrently, and dissolved and recalled the Generator at various times. Hammill, whose voice often bears an uncanny resemblance to David Bowie's, touches on familiar themes in his lyrics--loneliness, death, lack of love--and he's pretty damn good for a pretentious rock lyricist. Musically, H to He is an odd hybrid of King Crimson-like quiet sections (the intro to "The Emperor in his War-Room" with flute) and the keyboard-filled Canterbury scene, but more whacked out than either. The players have a fairly light touch and are very solid in general, but the band lacks a strong soloist. In fact, they arguably lacked a soloist entirely. There's no real guitarist, even if Hammill does sporadically play, which creates a hole in their sound. Keyboardist Hugh Banton does a good job at the heart of things, but fails to step up, and saxophonist/flute David Jackson seems more content with random noisemaking ("Killer"), playing one-man woodwind section, or just repeating the song's main lines. On the longer tracks they compensate for this by shifting time signatures, alternating dynamics fairly dramatically, stopping and starting music. Robert Fripp's guest appearance ("The Emperor in his War-Room") only demonstrates their need for a real soloist. Most of the album (four out of five tracks) are longer songs ("Killer", "The Emperor in his War-Room", "Lost", "Pioneers over c"). "Killer" maintains it's beat pretty much all the way through, but with each song the musical segments get shorter and shorter, so that by the time "Pioneers over c" arrives you wonder if there is any structure at all. It could be that the music is constructed around Hammill's lyrics, a practice that is not unusual, but taken to extremes at points. The music is not constrained to a beat; it is free to move along with the mood evoked by the lyrics. Thus, the album is musically underwritten somewhat, and plenty of air could be let out of these songs. The lone standout is "House with no door" - a remarkable piano ballad by Hammill which is not only conventional in structure and playing, but is fantastic as well. A weird album and group, but intriguing, even if off-putting initially. The other band members are Guy Evans (drums) and Nic Potter (bass), of whom the latter quit during the sessions. Produced by John Anthony.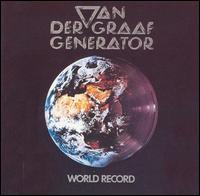 World Record (Oct. 1976), **1/2
No, Peter Hammill has not gone all Peter Gabriel here. Using a more cautious approach, on World Record the band tried to reach out to other areas of music, and gently fold it into their prog-rock. Thus, like a mid-life crisis, there are changes, but they are mainly just new ways of doing old things. There are some nods towards actual "world" music – some synthesized Spanish horns crop up in "When She Comes" and "A Place to Survive" kicks off with a pretty sweet 70s dance beat. Elsewhere it is merely a curiosity, such as the band's employment of reggae beats towards the end of the endless "Mergylus". Some tracks pick up on bad trends "Masks" takes cues from soft jazz and Roxy Music, with some guzzling saxophone parts and Hammill's nuanced vocals. The Banton/Hammill song "Wondering" sounds like an Andrew Lloyd Webber outtake with Hammill's always theatrical vocals and Banton's faux-classical organ work. Still, give the Generator credit for trying - most prog-rock groups had either started retreating into pop or remained just as irascible as ever.
Hammill, for one, really toughened up his part of the sound. He recorded Nadir's Big Chance - a raucous solo album, a few years earlier, allowing him to further develop the effective angry growl which pops up here. Probably around the same time, he also turned the distortion up on his electric guitar, and lost some of his (faux?) timorousness. Even if this was the tail end of the progressive era, the songs are still too long. Quite often the band has a good riff going, but there a mysterious power prorogues the affair. "Mergylus" goes on for over 20 minutes, and the other tracks could be cut in half easily. Jackson is the only real soloist, and, poor fellow, there is only so much a saxophone player can do. Hammill plays single notes here and there. One thing you can never doubt is that Hammill's vocals are sincere – he is not being ironic or humorous when he sings. The lack of irony prevents him from crossing over into glam here (another dying genre), as he has the dramatic voice, the saxophone accompanying him, and now the distorted electric guitar. The lyrics are fine as well-- his usual assortment of solipsistic jottings ("Merglyus III, The Songwriter's Guild", which is pretty good as these things go), torment by women ("When She Comes"), and similar topics, but far less navel-gazing than Hammill's solo pieces.
The record sounds great, though. Hammill's guitars and intentionally demented vocals work well with the organ and horns. It all has the dark tone which seems to infuse everything connected with the band. Evans' drumming is good, and Banton's reliance on the organ is refreshing in a era dominated by polysynths. Also, Hammill's lyrics are much better, in that he does not sound conceited. To be sure, there is some pomposity to be found, but no more than in other groups. The main problem is that the band may have made these changes, but they still go on for too long. At worst this makes good background music, at best a prog-rock fan will enjoy it.

The Wackers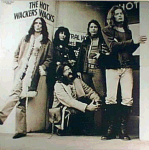 Hot Wacks (1972), **
The Wackers were a California/Canadian semi-power-pop band who really loved Abbey Road. They use the same approach in track after track - acoustic guitar with late period Beatles guitar over it: an ultra-light power-pop group. But they lack strong vocals, relying on harmonies which belie their early 70s California origin. Fortunately no pointless protectionism resulted in the banning of the real thing (British rock) unlike the Butter/Oleo disputes of the same area. For this is I Can Believe It's Not English Rock. They play well as a group, which is to say none of them does anything particularly interesting with their instruments. Sure, the Wackers sound nice and former Beach Boys producer Gary Usher gives the album an interesting sound, but this is a blessing and a curse. It sounds really open, which is kind of odd for a band with three guitarists and a rhythm section. Nor is it really power-pop, because it isn't that powerful. They have too much of that early 70s wussy sound ("Do You Know the Reason"), despite the fact that the band cranks it up sometimes. If one were to make a power-pop continuum, on the heavy side would be Alice Cooper, in the middle Big Star, and the Wackers manning the light end. The band also lacks strong songwriters, and their lyrics deal mainly with love ("I Hardly Know Her Name") or vague leftover 60s philosophy ("We Can Be"). The first side is a patchwork of acoustic based songs and the then-in-vogue 50s sound ("Wait and See"). When the only memorable track is a Lennon-Ono cover ("Oh My Love"), you are in trouble. The back side is much better, and kicks off with "Breathe Easy", which matches their acoustic sound with a catchy riff. The remaining track is one the more presumptuous things to appear on an American album in this era. Taking a cue from Abbey Road, the band decided to string a bunch of pop songs together, with a theme at the ends ("Time Will Carry On"). To the band's credit, it is the best track on the album, as they move on before any ideas become stale. Certainly, someone could think was a power-pop gem, and wonder why Big Star gets all the publicity while Hot Wacks remains overlooked. This would be a person who hasn't heard Big Star. Or Badfinger. Or the Stories. Or the Raspberries. Hot Wacks passed largely unnoticed, and rightfully so. Most of the songs were written by guitarists Michael Stull and Robert Segarini together, and the rest of the band is N. Randy Bishop (guitar), William Trochim (bass) and Spencer T. Earnshaw (drums). This was their second album, their first being Wackering Heights. The band relocated to Canada at some point and recorded a third album, Shredder. Segarini later had a solo career, and has a good reputation, but it shouldn't be from this.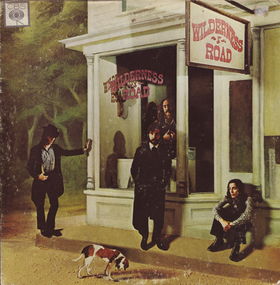 Wilderness Road (1972), ***1/2
Another vinyl bin find. Wilderness Road was quite a diverse group, although on their debut they stuck mainly to country-rock. Guitarist Nate Herman, who wrote most of the album, was a member of Second City, and co-guitarist Warren Leming still works in theatre. Wilderness Road is a sort of loose country-rock concept album about a guy in the Wild West on the run after shooting someone. The instrumentation isn't out of the ordinary - distorted electric guitars, underlying acoustic, a smattering of dobro - their strong melodic sense helps make up for the fact that none f them is a strong singer, and they're a touch over-reliant on riffs ("Wilderness", "Rider's Return"). Comedy kicks in here with Herman's parodies, which are clever takeoffs on rabble-rousing. The first one, "Revival" is a medley tribute to the old tent revivals - there's the preacher standing up there egging the crowd to "Testify", followed by a couple of good testimonial songs ("Ten Miles" and "Lost and Lonely Navigator") before really showing it's all just tongue-in-cheek with the goofy "Sing Your Song to the Lord". The other is "Dr. Morpho's Revenge", which is a take-off on the old patent medicine salesman who used to trawl the small towns looking for suckers ("I've got the answer my friend / Right here in the bottle in my hand"). Another small thing that sets them apart is Herman's use of a vocal introduction ("Death Dream" before the acoustic ballad "Don't Cry Lady"), which is much more likely to be found in English folk music than American country-rock. Otherwise it's pretty steady fare, with a good harder-rocking song ("Pictures in an Gallery") outweighing the ending track which cannibalizes the opening song's theme ("Rider's Return"). Fun, good country-rock. The band is Nate Herman (guitar, vocals), Warren Leming (guitar, vocals), Andy Haban (bass, vocals), Tom Haban (drums, vocals). Produced by Jack Richardson.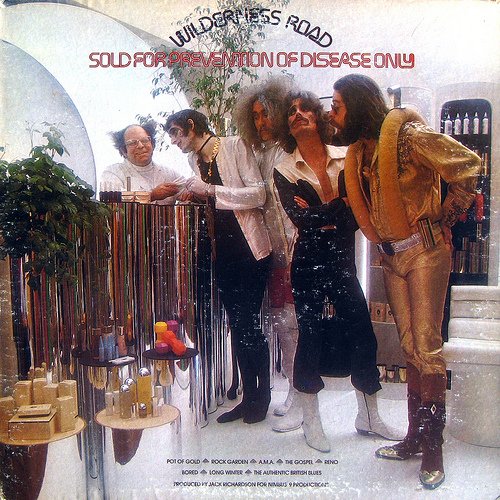 Sold For Prevention of Disease Only (1973), ***
The second and final Road album is less serious, but still lets the singers play roles. Ultra-competent Jack Richardson produced again, and the production sounds fuller with the band aided by horns and backing singers ("Pot of Gold"). It's not a concept album, but "good old rock and roll" of the roots/country variety and satire following early Zappa, employing the members' backgrounds with Chicago's Second City. Like the debut, there's a gospel medley ("The Gospel"), but this time it's clearly a joke. The album hypes the Rev. E.J. Corvette's sermon amongst commercials and bookended by two catchy joke songs ("What Key Does the Good Lord Sing In?" and "Heavily Into Jesus"). The album ends with a parody of English Blues acts after quoting a heckler at one of their shows, and contains the priceless couplet of "I got just the thing baby to liberate your mind / Some asshole on a sitar playing 'Darling Clementine'" as well as a delightful impression of Robert Plant.

The whole thought of serious parody is worth considering for a moment. Parody is a way to enjoy aspects of something while rejecting others - here Wilderness Road mocks the greed and conservative aspects of radio gospel and preachers while allowing the audience to enjoy the music. The Byrds tried to introduce country music to the mainstream on Sweetheart of the Rodeo, but sent mixed signals and were rejected by the country music community. Parodies like this allow people to reject the establishment (in the then-contemporary vernacular) while still participate in it; because really, you have to know and respect something at least a bit to parody it well.

The album's strength is really in the lyrics, followed by an ability to parody certain styles, so the the straight stuff is not quite as good on the whole. "Pot of Gold" and "Reno" are both good songs aimed at a wide audience interested in ordinary guitar-rock songs. A bit too heavy to be AM Gold, but something rootsy without being overpowering or a tribute, and the band has some musical talent, but rarely attempts solos except for some quick double-time lines. But, honestly, nobody is going to remember this album for those songs, even the goofy "Rock Garden" with fake 50s vocals; they will remember the plastic gospel songs and ads for "Mouth Jive".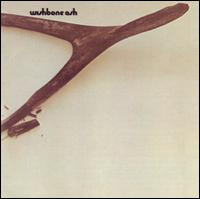 Wishbone Ash (Aug. 1970), ***1/2
A moment on Wishbone Ash's debut neatly sums up the complexities of British blues boom of the late 60s and the rock that blossomed from it. After going through a veritable catalog of blues-rock ideas (surprisingly melodic bass solo, rote drum solo, etc) and entering the song's heart, bassist Martin Taylor starts to scat sing. While this particular track, "Handy" appropriately named for jazz guitarist John Handy, it tucks in neatly among the band's interesting forays into folk ("Errors of My Ways"), boogie ("Blind Eye"), and blues-rock ("Lady Whiskey"). This was not uncommon, given the jazz-inflected blues that sprang up in the late 60s in Jethro Tull, Ten Years After and Savoy Brown. Bassist Tucker and drummer Steve Upton also fit this mold, as the former is rarely content to just keep time, while the latter is very good at just doing that quickly (even if his playing lacks imagination). Wishbone Ash's unique hook is that guitarists Ted Turner and Andy Powell often provide the expected hard leads in lockstep, giving the band a unique dual lead instrument blend. This helps separate them from both the blues specialists as well as other hard rock bands like Led Zeppelin and Nazareth, who were also attuned to broader influences at this time, even if they did not resort to scat singing. Wishbone Ash were also cleaner in their sound - eschewing distortion, putting tremolo into their notes for accentuation, and avoiding sloppiness. They are not primarily riff soloists, although they use them well ("Whiskey Lady"), instead usually cranking out fluid guitar lines, shifting from idea to idea. They also use their songs mainly as a frame for rock, instead of vanilla genre exercises (here's our "folk" song, our "jazz" song, etc). This is also where they sometimes get into trouble, as where their more intense playing lacks overall structure, the songs trend towards filler ("Queen of Torture" and the faster "Phoenix" fall into this trap sometimes, despite some very good parts in each). Regardless, Wishbone Ash is an excellent start for the group. Produced by Derek Lawrence, and Matthew Fisher plays piano on "Blind Eye".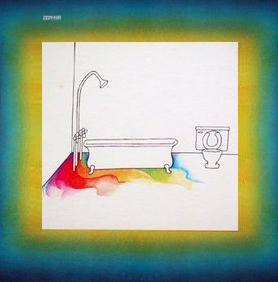 Zephyr (Oct. 1969), ***1/2
Mainly known for having a young Tommy Bolin, Zephyr's debut is a solid American blues album. The band's approach is pretty consistent-- bluesy material with a strong jazz bent (like many of those English bands which cropped up in the late 60s) with Candy Givens' Joplin tornado vocals overlain. It may sound boring in the abstract, but two things make this album stand out. First, nobody in the band is below average on their instrument. Bolin was already a very good player, and both Candy's voice and David Givens' moving bass lines are also good. The result is that nobody overpowers the others. Second, the band plays around within the genre, unlike other blues-based bands which applied the same approach to every rote tune. Sure, there are fine, straightforward blues numbers ("Suns A Risin", "Huna Buna"), but they aren't the album's best spots. The band has a good grasp of dynamics and mixing jazzy sections into the blues, allowing them to stretch out without becoming boring ("Sail On", "Somebody Listen"). They could also get very heavy for the day, with Bolin leading them into hard rock on the good "Cross the River" before wading into jazz and even a rare, good flute solo from the organist. While the band clearly had a good sound, and well-planned arrangements, a soul-shoutin' cover of the old song "Raindrops" seems out of place, and the closing "Hard Chargin' Woman" is supposed to be a blow-out ender, but lacks interesting parts. Overall, a good start.
The band broke up after one more album, although the Givens formed a new version a few years later. Bolin later joined The James Gang, and then Deep Purple.

Done taking care of business? Return to the Music page.