The Pretty Things
Albums reviewed on this page: The Pretty Things, Get the Picture, Emotions, S.F. Sorrow,
Parachute, Freeway Madness, Silk Torpedo, Savage Eye, Cross Talk
The Pretty Things were a crass R&B band that had some early hits, but then fell by the wayside. On the way to the wayside they managed to do some interesting things. Supposedly a proto-punk band because of their attitude and poor production on their first album, they initially sounded like the English cousin of American garage rock. Eventually, they recorded a decent album more on the pop side that was then abused by the label, resulting in embarrassment for all sides. Their crowning achievement is probably the crowning achievement of any second-rate band, a slightly derivative (and also exploratory) yet wholly entertaining concept album, S.F. Sorrow. After that the group turned more progressive and started shedding original members. Their last really good album was Parachute, and then they turned commercial and bland before splitting in the late 70s. A decent lineup returned in 1980 with Cross Talk, a (relatively) poppy new wave-ish album, but then they broke up again. Still, their commercial 70s period must have done well enough, as I've seen multiple copies of their albums floating around.
Personnel: Phil May (vocals), Dick Taylor (lead guitar), John Stax (bass), Brian Pendleton (rhythm guitar), Viv Prince (drums). Prince sacked after setting fire to a stage and other miscreant deeds, replaced by Skip Alan. Stax emigrated and Pendleton disappeared around the same time, supplanted by Wally Allen (bass, guitar) and John Povey (keyboards) for Emotions. Alan quit during recording of S.F. Sorrow, replaced by Twink (aka John Alder) (drums), formerly of Tomorrow. After S.F. Sorrow, Alan returned and Victor Unitt replaced Taylor. After Parachute, swap Peter Tolson in for Unitt. Then Allen left, and was replaced by Stuart Brooks. Keyboardist Gordon Edwards added for Silk Torpedo. Finally, Jack Green replaced Brooks in 1975. Band broke up in 1976. Reformed in 1980 for a year with May, Taylor, Povey, Tolson, Allen and Alan.
The Pretty Things [U.K. EP] (1964)
This has the band's first two singles, "Rosalyn"/"Big Boss Man" and "Don't Bring Me Down"/"We'll Be Together", which did not appear on the UK version of their debut LP. All appear on the re-release on the LP.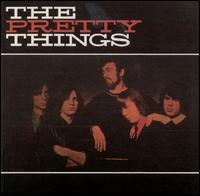 The Pretty Things [LP] (U.K. rel. Mar. 1965), **1/2
Bands have to have a foundation somewhere, and for British bands of the mid 60s it was R&B. The Rolling Stones had Chuck Berry, the Who had James Brown, and the Pretty Things had Bo Diddley, even taking their name from one of his songs. They say that imitation is the sincerest form of flattery, so Bo should be flattered that this is essentially a tribute album (the brief thank you of "Pretty Thing"). A strange dynamic is at work on the album - Phil May's slurred, straining vocals, Viv Prince's manic drumming (often buried in the mono mix) and the persistent Diddley "Hand Jive" beat. But lead guitarist Dick Taylor struggles to break out of the generic R&B mold, only succeeding on the album's big hit "Roadrunner", with improbable, cryptic, sliding guitar leads. Unfortunately, that driving energy is found only sparing elsewhere on the album, not surprisingly on their prior singles (their breakthrough hit "Rosalyn" another frantic song, and "Don't Bring Me Down"). Other R&B standards are either generic ("Big City") or drag ("She's Fine She's Mine", "Unknown Blues"). Some of the vocals are kind of funny, such as the background line of "Hey mama / Keep your big mouth shut / Your big mouth shut", or when May proclaims that he doesn't care if a girl is underage ("13 Chester Street", the most blatant rip-off of Slim Harpo's "Got Love if You Want It" since the High Numbers' "I'm the Face"). The inconsistent production hurts also, with mysterious clicks (hand claps?) in one song ("13 Chester Street" again), and the drums are hard to hear. Produced by Bobby Graham, the session drummer (not labeled as such, but in the liner notes).
The re-issue combines the U.S. and U.K. versions, which include the tracks from their first EP. The re-issue's liner notes try to stake some sort of claim that this is one of the first "punk" recordings because of their raw, energetic sound, but that doesn't hold up for most of the album because of the reasons described. Not to mention the mostly fact-free liner notes, and complete lack of track information on the re-issue which irks me. You should still buy the re-issue, as it has some previous singles on it.
The Pretty Things: Rainin' In My Heart [U.K. EP] (1965)
Four new tracks, all of which are now available on the Get the Picture re-issue.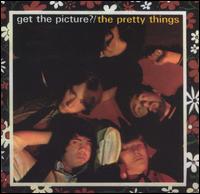 The Pretty Things: Get the Picture (U.K. rel. Dec. 1965) , ***1/2
Get the Picture shows the band caught between rough and tumble R&B and the onset of Swinging London. The Things had already made dirty R&B their forte, having helped launch a million scruffy garage bands with bruised renditions of "Roadrunner" and "Rosalyn," and releasing The Pretty Things, an album scratched out with some large miscalculations. Get the Picture is more polished, and relies more on pop and soul than the blues. The band turned their manic energy into verve, and created a pile of solid, tight songs. The album is more poppy and accessible than their debut, almost nascent power-pop, but not to the extent of The Who Sings My Generation, released in the same month. The band reigned in Dick Taylor, letting him solo throughout songs more than long standout solos. With this change, Get the Picture is built on the strong rhythm work of the drummer (upwards of three were used in the sessions), the Pendleton/Stax duo and then Taylor's continual playing. Phil May is on top of it all, and he's delightfully plastered most of the time ("You Don't Believe Me", "Get a Buzz"). Yes, this is the Pretty Things you can dance to ("Buzz the Jerk", parts of "You'll Never Do It Baby"), even if they do have their weaker moments (the dark, laconic "Can't Stand the Pain"). Not everything has changed from their debut, but slower R&B ("Rainin' in My Heart") is good in small doses, rather than the bulk of an album. Listening to slower tracks like the acoustic "London Town" or the soulful "Cry to Me," you can understand why their label pushed them more towards pop, with the crippled Emotions. Even though it failed to chart, Get the Picture has everything that made late 65-early 66 good - solid guitars, frictionless rhythm, attitude, fuzzed guitar ("Come See Me", "Buzz the Jerk"), kicking R&B ("Gonna Find Me a Substitute") and clean living under difficult circumstances (the bonus track "Midnight to Six Man").
The CD re-issue includes tracks from their singles and EPs from the period, which are generally good quality, along the lines of the Who's power-pop ("Come See Me" takes its cues from "My Generation"), but with more blatant society clues ("£.S.D."). Madman Prince appears on some tracks, others have session drummer Bobby Graham, or new member Skip Alan.
The Pretty Things: On Film [U.K. EP] (1966)
Another four track EP whose tracks appear on the Get the Picture re-issue.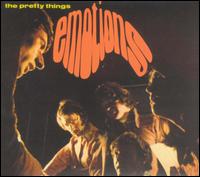 The Pretty Things: Emotions (rel. May 1967), ***
The group does not like this album, and it is easy to see why. Continuing the movement begun with Get the Picture, the Pretty Things mutated into a much poppier and trippy rock group, similar to the Kinks' evolution. Acoustic guitar, piano, vocal harmonies and a toned down Phil May make Emotions more relaxed than their earlier work. The group also wrote all of their own material, usually with new bassist Wally Allen, and they were good (not great) songwriters. Emotions has the required urban life vignettes ("House of Ten"), some forays into folk ("Growing In My Mind") and, of course, drug references (the slide blues "Tripping"). The entire rhythm section is more conventional, and the loss of Pendleton means that Taylor switched to mainly doing rhythm guitar. Even when Taylor plays a solo it is short and sweet, like the distorted, stinging intro to "One Long Glance." This change is good because he was not a great soloist in the first place, but it leaves the group without a lead instrument. But, with May's voice as the only focal point, the record company decided to overdub a dreadful orchestra onto some tracks, like some horrid foreshadowing of the Moody Blues' Days of Future Past. But where the latter was splendidly orchestrated, the horns added here are downright annoying most of the time. Imagine the Kinks' Face to Face with less verve, bad overdubbing and lower-quality songs. The horns mar otherwise fine poppier songs such as "There Will Never Be Another Day," "Out in the Night," and "Photographer." This treatment only compliments one track: the slower, dramatic "The Sun." While the Pretty Things adjusted to the times, the orchestra-besieged Emotions is frustrating.
The re-issue features some songs with the annoying overdubs removed (or actually made really quiet) and the single "A House in the Country" / "Progress", which isn't spectacular. According to the liner notes, Herd bassist Gary Taylor plays on the album (I have no idea how much). Produced by Steve Rowland.
The Electric Banana (1967)
Much as Pink Floyd would later do, the Pretty Things recorded music for films. Many of these tracks were then released on albums credited to the Electric Banana.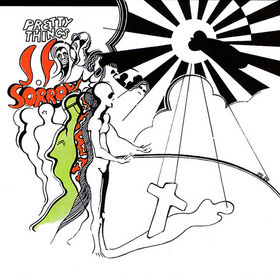 The Pretty Things: S.F. Sorrow (1968), ****
Let's get the story straight - this is not a rock opera. It does not have different characters speaking, only a story told like a story. This is still a huge innovation, and May's story of one S.F. Sorrow is even relatively coherent given the times and nicely divided into manageable songs. Given a free reign in the studio (and a small budget) the group managed to produce one of the crowning achievements of a B-list rock band. Their method combined their newfound writing talent (May, Taylor and Allen working with other members) with musical ideas borrowed from others (including George Harrison's sitar). Povey and Allen both turn out to be wonderful replacements, with Povey doubling on sitar and Allen playing everything he can get his hands on (except drums) including flute. The influences are so wide ranging and the sound so interesting it would be impossible to discuss everything (not that I would do that anyway). First off, the vocal arranging is superb - the harmonies are complex and often eerie (the opening of "Bracelets of Fingers" or "Balloon is Burning"). There is a marked Indian influence on songs like "S.F. Sorrow Is Born" and "Bracelets of Fingers" which avoids being overdone, while the opening of "Private Sorrow" sounds like Jethro Tull with its acoustic guitar and flute setting. The folky sound is still around (the quiet closer "Loneliest Person"), and compliments of producer Norman Smith (engineer for Sgt. Pepper's and Piper producer) there are tons of strange noises, and an inoffensive psychedelic music collage ("Well of Destiny"). Some of the band's borrowing is obvious, such as Povey's organ made to sound like Beatle trumpet arrangements ("Private Sorrow" again). While they do a good wholesale Beatles impersonation "Baron Saturday" with an odd percussion interlude, pumping mellotron chorus and Lennon-like vocal treatments, the Pretty Things have their own brand of sneering distorted psychedelia that helps validate the claim of proto-punk band ("She Says Good Morning", or "Old Man Going" with Taylor's slowly red-lining guitar). However, the best song is "Trust", a relatively straight forward piano-based song with backing vocals straight out of early Floyd. Why it was never released as a single is beyond me. Taylor's difficulties with soloing are masked by the dense nature of the music, as well as distortion. Twink is the drummer on most tracks, but was forced out soon afterwards. Not all of the songs are great, but they're worth hearing. A minor masterpiece.
The remastered CD version comes with both sides of two heavy psychedelic singles that were supposedly originally part of the S.F. Sorrow project, "Deflecting Grey" / "Mr. Evasion" and "Talkin' About the Good Times" / "Walking Through My Dreams". "Defecting Grey" is a strange multi-part song that lurches from pub sing-along to destructive rock and everything in between. The others are also pretty top-notch songs, similar to S.F. Sorrow in sound.
More Electric Banana (1968)
More film work.
Even More Electric Banana (1969)
More of the same.
The Electric Banana: Hot Licks (1970)
Must have been tough times.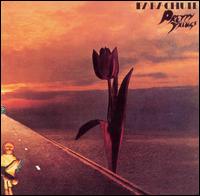 The Pretty Things: Parachute (1970), ***
Having tried their hand at a Sgt. Pepper's, the Pretty Things now made their Abbey Road. The band retained Phil May's more poetic lyrics, the loosely connected album structure, and the pretty vocal harmonies of S.F. Sorrow, but their sound has mellowed into the pleasant swirls of a gasoline headache. The band had evolved from bizarre fantasies to merely pleasant feelings, and while this album rocks harder than the Beatles in some places, its few rough edges are more unpleasant than character-building. The acoustic and harmony approach which first flowered on Emotions has brought the band to the opposite of their original incarnation ("The Good Mr. Square", "In the Square", "She's a Lover") and are good (if obvious with their sources). Ironically, the former R&B stars' more lumbering, bluesy songs (i.e. the "She's So Heavy" inspired), "Cries from the Midnight Circus" or the incomprehensible "Sickle Clowns," are downright annoying. Fading psychedelia is still around (the Byrdsy "What's the Use"), but the band's strong point is now in their enticing vocals (the opening tracks), and the album's high point is vaguely progressive, rock track which sounds like a very, very happy Floyd cousin ("Grass"). The band chilled out, but the loss of energy wasn't offset with inspiration.
As an Abbey Road pretender, it is certainly far better than other attempts at this that I've heard (i.e., Hot Wacks), but the obvious derivation from the Beatles is a two-edged sword. The band uses the more easily acceptable aspects like great harmonies and nice melodies ("She Was Tall, She was High", "Parachute"), but this only sets them up to fail when compared with the genuine article. The band strongly lacks a sense of humor, for one. For another, much of Parachute has the same feeling of squandered chances that permeates the Velvet Underground's "New Age" (although it sounds much different) - so much hope and excitment blown, and then all you can do is take solice in some harmonies and guitars. In other words, the band sounds more pretty than happy. May and Waller co- wrote almost everything, and producer Norman Smith makes it sound nice and gives them some substantial production, but in places it sounds like later grandiose acts like 10cc or late ELO ("Parachute"). It's quite a nice listen, but much like nobody will mistake Las Vegas' Eiffel Tower for the one in Paris, there is a clear demarkation between the masters and the journeymen.
This was Rolling Stones' album of the year, which was more of a vote of no confidence in far better albums than any indication of this album's worth. The CD re-issue includes everything else they recorded for the progressive-oriented Harvest label with new guitarist Peter Tolson and it is more of the same: druggy acoustic and harmony songs ("October 26") or more hard rock tracks ("Cold Stone").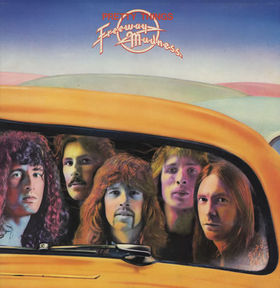 The Pretty Things: Freeway Madness (1972), *1/2
The manager of Skip Alan's new band Sunshine liked Parachute enough that he re-assembled the Pretty Things. (I am uncertain if they drove around in a black ex-police Vauxhall, wore suits and sunglasses in order to do so). They got everyone back except Waller, who was replaced by Stuart Brooks. That is, replaced as to the bass playing, as the May/Waller team's Beatles knockoffs were replaced by the output of a new May/Tolson partnership. Sadly, the returning half of the duo also took a step downward, as May abandoned his hyper-poetical style. Tolson was a talented guitarist, but his songs are bland early 70s rock which continue Parachute's acoustic underpinnings and vocal harmonies, but lack momentum or identity. You would not think twice about most of Freeway Madness because of this approach, even if a pair of tracks are explicitly (and oddly) autobiographical: "Peter" about Tolson's parents and birth (thanks for sharing that you were born via a ceasarian section, Peter!) and the "Rip Off Train" of fame and fortune. It is not a coincidence that Tolson was not involved in writing two of the album's stronger (read: decent) tracks: the Povey/May authored "Love is Good", and a May/Waller holdover in "Over the Moon." Not that these Povey-sung tracks are heaven-sent. Without faux Beatle song structures, Povey's raspy vocals are more out of place; he sings Jeff Lynne, or Rod Argent withdrawing from smack. It is fine when he provided the inauthentic Lennon-like voice for the Beatles-like material, but grating outside of "Over the Moon", whose melodies provide a moment of respite from the rest of the album.

Wait a second, the UK has no freeways, so why is this album even called Freeway Madness? I guess the Rolling Stones' Album of the Year award went to the band's head(s), and they incorporated a lot of (mediocre) American elements. Thus, Freeway Madness has a lot of contemporary flavors - country stylings ("Country Roads", "All Night Sailor"), major 7th chords ("Rip Off Train"), expansive mid-tempo rock ("Love is Good") and vocal harmonies; everything is laid back ("Religions Dead"), which is a shame. The Pretty Things used to rock, and you would think that if the band had cranked it up they might have been a decent booze-band like the Faces. Freeway Madness has only one attempt, "Havana Bound," which sounds a bit like the New York Dolls, but not nearly hard or loud enough. They needed some good riffs, but even though Tolson is a decent guitarist, his work is not enough to hold interest. It is as if the band took the atmosphere of Parachute's "Grass", but removed its strength and melody for most of the album, rendering their work a languid display of exhaust. Freeway Madness is a frustration of boredom.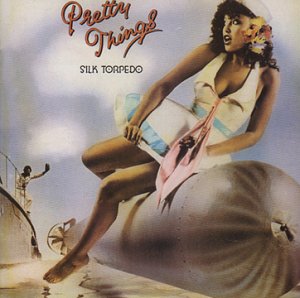 The Pretty Things: Silk Torpedo (1974), **
Silk Torpedo was the band's big attempt at a commercial rock record. A pretty big shift from Freeway Madness, it has a roughly glammy, retro feel, Phil May singing "straighter" and plenty of shiny things. The best material is the least expected: two songs of Phil May's which are essentially chirpy piano-pop, and are oceans away from Freeway Madness's dreck. The first is the flop single "Joey", based around Povey's piano, and a happy! singing May, with accessories like handclaps and a Tolson rock coda. Not your usual Pretty Things track. The second goes even further into the land of the straight; "Is It Only Love" is a bit of delightfully grand pop, and its enticing choruses of "Is it only love that let's you down" will agglomerate in your head, and a bridge from McCartney's bag of tricks. The song is a bit cheesy (the backing singers sing "It's time to speak the truth" early on) but Billy Joel would probably have given his wife to write this song (and perhaps even Jon Small's). Tolson's writing had improved - "Maybe You Tried" is cock-rock with some hooks - and his solos are more restrained. The new guys (bassist/keyboardist Gordon Edwards and singer Jack Green) were from Sunshine, and one of the few descriptions I've found of that band describes it as a "lively gospel soul / funk / hard rock band" and that has an impact on the album's direction. The resultant vector is less imaginative - not quite adult contemporary, but bland funky rock ("Atlanta" with the regretful line "for Atlanta I burn", or the subsequent early Chicago-like "L.A.N.T.A." percussion track). The Pretty Things were trying new things, and the band sounds invigorated on the rock tracks. Still, a looseleaf collection of trends (prog on "Bridge of God", arena rock on "Singapore Silk Torpedo") or mild risks (discussing the Irish question on "Belfast Cowboys") shows a band that still had not figured out what they wanted to do. A decent, renewed effort, but it's like starting all over again.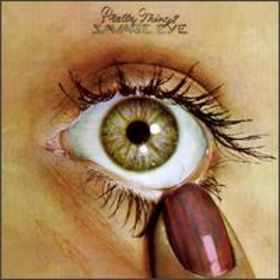 The Pretty Things: Savage Eye (1976), *
Rock music was burning itself out at this point, and Savage Eye provides a cross-section of the process. The Pretty Things started off as a dirty, cut-up rock band, and made a statement with their first couple of albums, but with at each turn they borrowed more from popular trends. This trend came to a peak on Savage Eye, where the band crossed over into pandering to commercial tastes, and started to really lose their identity. Silk Torpedo was a grasp at a mass market, and Savage Eye is a grainy photography of the previous album. The album also suffers from rock's mid-70s malaise, and the contemporary ideal of shiny, overkill production. Plenty of rock cliches arise: Tolson's sincere, waive-the-lighter acoustic ballad ("Sad Eye"), Bad Company-like everyday rock ("I'm Keeping"), and meta-songs (ack). Worse, May's piano-pop has degenerated into candy-ass schmaltz ("My Song" a song about writing the song for a girl), and sometime lead singer Jack Green lacks May's charisma or distinctiveness. Not all the band's choices are outright bad: May's voice is well suited for a white soul sound ("It's Been So Long"), Povey was reasonably adventurours with his novelty "It Isn't Rock and Roll", which juxtapositions Tin Pan Alley with generic R&B (although the same sort of thing would be done far better on goddamn Xanadu), and "Drowned Man" which has some jazzy threads. The Pretty Things was just another band it this point, and it was their own fault. Sometimes it turns out that the rebels just wanted to be popular after all.
The Return of the Electric Banana (1978)
Old habits die hard? Insert Triumverat joke.
Phil May & the Fallen Angels (1978)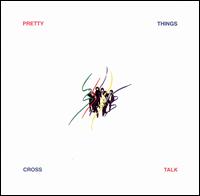 The Pretty Things: Cross Talk (1980), **1/2
Something close to an all-star lineup: May, Waller, Alan, Tolson, Povey and a recussitated Dick Taylor. Co-producer John Astley was Pete Townshend's brother-in-law and had previously worked on Who Are You, and Cross Talk frequently resembles the more popular band, less Townshend's creativity or sythesizer fetish ("I'm Calling" or "Sea of Blue"). They were told old, and too commercial to have gone punk, but at least they chose a direction, which in itself was an improvement. So new wave it was, and Cross Talk fit right in with 1980: lots of electric rhythm guitars, few solos, and Povey's keyboards reduced to flourishes. May's perpetual vocal idiosyncracies make him ideal for the taut rock assembled behind him, even if he does cop Sting at one point ("No Future"). The band really focused on their songs, writing a pile of guitar-led songs that retain the old R&B flavor in parts ("I'm Calling"), and their performances are spraightly ("Edge of the Night," "The Bitter End" or "Office Love" with an odd "no sex" postscript). The songs are mostly May/Tolson, but stairwells above their previous work, and the contemporary production fruitfully boxes in Tolson's guitar lines ("Office Love"). After the confusion in their previous albums, a return to form is a splendid surprise, even if there are a few minor detours (the ballad "She Don't", or the partially tropical "Falling Again"). Cross Talk was new wave geezer rock: shiny, a bit sleezy, energetic and unthreatening. Not a renaissance, but we'll take it.
You're Walking Through My Dreams At Night, Walking to the Music page..