The Kinks
Where have all the good times gone?
Albums reviewed on this page: Kinda Kinks, The Kink Kontroversy, Kinkdom, Face to Face, Something Else,
The Kinks are the Village Green Preservation Society, Arthur or the Decline and Fall of the British Empire,
Lola versus Powerman & the Money-Go-Round, Part One, Muswell Hillbillies,
Everybody's in Show-Biz, Everybody's a Star, Preservation Act I, Preservation Act II, A Soap Opera, Schoolboys in Disgrace,
Sleepwalker, Misfits, Low Budget.
The Kinks started out as a heavy R&B band, churning out riff laden rock that was the mid-60s hard rock --songs like "You Really Got Me" and "All Day and All of the Night". The Kinks lightened up soon enough, as Ray Davies became a talented songwriter in a different way from his contemporaries, focusing on social satires or character portraits much like "Eleanor Rigby" and drawing from music hall material. In the later 60s, the Kinks didn't embrace psychedelia; instead their music evoked pastoral scenes and British whimsy in a lighter vein. The Kinks are the Village Green Preservation Society was the culmination of this approach, and sounds about as removed from works like Led Zeppelin as can be. The Kinks represented an alternative path --one without synthesizers, lightening-quick guitar or massive amounts of LSD-- a path that was as worthwhile and interesting as the more popular ones around it. The result was that their records didn't always chart, but their peak period was similar to that of the many other first generation English bands, from around 1966 to 1971 or so. Post Muswell Hillbillies, the band drifted into Ray Davies centered musicals and concept albums laden with everything imaginable.
The UK albums are now canonical, and if you're going to buy Kinks albums on CD, buy the re-releases. The bonus tracks are necessary --the Kinks focused mainly on the singles market, and as a result many of their greatest songs were left off of albums. Their singles continued to chart long after their albums ceased to make an impact. If you already own their albums and don't really want to buy them over again, try the double CD The Kink Kronikles which contains most of these tracks, with some duplication of album tracks. It is what a compilation should be - their best tracks, regardless of how they did in the charts.
Personnel: Mick Avory (drums), Raymond Douglas Davies (rhythm guitar, some keyboards, vocals), Dave Davies (lead guitar, some vocals), and Peter Quaife (bass, background vocals). Quaife replaced by John Dalton in 1969. John Gosling (keyboards) added starting with Lola. They later added a pile of horn players for a while in the mid-70s. Dalton leaves, Andy Pyle replaces him in 1977, before leaving himself in 1978. Then Gosling leaves, replaced by Gordon John Edwards for Misfits. Both Edwards and Pyle had enough of Ray's crap and left after that album, with Jim Rodford of Argent becoming the bassist. After Low Budget, Ian Gibbons became the keyboardist (does anybody really care about this?). Finally, Avory left in 1984, and Bob Henrit of Argent replaced him, because he had nothing better to do, or he loved Rodford, or Rodford owed him money and this was the only way he could it back. Or something.
The Kinks (1964)
"You Really Got Me" was their debut's star; uncoincidentially, the American LP was named You Really Got Me.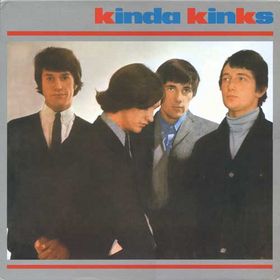 Kinda Kinks (1965), **
There's a divide between the Kinks' singles and their albums early on, with the albums cut with filler while the singles had the real action. The band was playing R&B dance music of the era with some slower acoustic ballads rounding things out, although nothing has the bite of "You Really Got Me." There's only two real surprises on the album. First, its a bit surprising to hear Dave have a large vocal presence, singing four songs: the best is the boisterous "Got My Feet on the Ground" followed by the chugging "Wonder Where My Baby Is Tonight". Second, is that the Davies wrote almost all the songs, rather than recording just covers. However, home-grown does not mean good, as the only bona fide classic on Kinda Kinks is "Tired of Waiting For You" - a gentler riff-based song than their big hit. Ray's slower, acoustic song are mostly weak ("So Long", the Spanish-tinged "Don't Ever Change"), excepting "Nothin in the World Can Stop Me Worrin' 'Bout that Girl" which builds itself out slowly. Otherwise, there's a lot of rote R&B ("Look For Me Baby", the Dave-sung "Naggin' Woman", "Come On Now"), even Motown ("Dancing in the Street") . The playing is fine, although there's little room for the band to do much beyond playing like a giant rhythm machine, with barely a guitar break. This is now a canon album and was also released in the USA, with another LP, Kinks-Size, around the same time.
On their singles the Kinks were good to great, frequently with the guitars turned up on the R&B and Ray quickly turned towards embryonic power-pop. The good: the dance pairing of "You Shouldn't Be Sad" and the slower "Something Better Beginning". The great include the classic stomper "Everybody's Gonna Be Happy", "Set Me Free" which trades on more riffs, and "See My Friends" which foreshadows the popularity of Eastern/Indian influences. "Well Respected Man" is one the earlier examples of Ray's sartorial character portraits and an excellent one at that. If these tracks were on the album instead of what was actually released, it would get a much higher rating. Also of interest is Ray's demo for "I Go to Sleep" with him singing and playing the piano, sounding like some bedroom pop artist. A good portion of what appeared on the US album Kinkdom appear as bonus tracks on CD releases.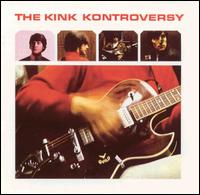 The Kink Kontroversy (1965), **1/2
In the early days, the Kinks churned out albums and EPs at a quick rate, about one every six months, so consistent quality was a problem. Kontroversy is built around both sides of their single, "Till the End of the Day" and "Where Have All the Good Times Gone". The former adopts the harsh guitar and energy of their other early R&B songs, but uses it for a poppier hedonistic song. The latter draws from the music hall for Ray's pleasant drink and sing-along song. Both indicate the band's future direction - reminiscence, booze and satire - as does the decent "Ring the Bells" a lighter, acoustic tune. The remainder shows the band quickly pressed into service, some of which are the barest of ideas; a few pleasant uptempo pop songs ("The World Keeps Going Round", "When I See That Girl of Mine"), easily forgotten R&B, usually with Nicky Hopkins' piano twinkling in the background ("Milk Cow Blues", "You Can't Win"), and a Dave Davies' vocal number ("I Feel Free?"). Produced by Shel Talmy.
Just to be confusing, this was released in the US, after the below album, Kinkdom.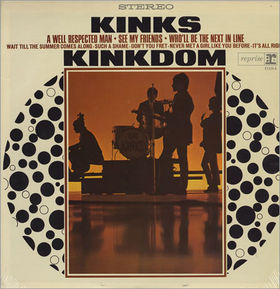 Kinkdom (1965), **1/2
On the American side of things, this was the Kinks' fourth album, following The Kinks, Kinks-Size and Kinda Kinks. There's no reason to own it now, and it was a false transitional album at time, as its tracks were drawn from the band's entire existence. Ray had a few excellent new ideas - his first biting satire on "A Well Respected Man", the droning Indian-like "See My Friends" which foreshadows the popular use of sitars without using them, and a classic dance song "Who'll Be the Next in Line" with a nice descending verses. Aside from these, Ray is not particularly inspired, writing lukewarm tracks like "Such a Shame", "Don't You Fret" and the Beatles-style knock-off "Never Met a Girl Like You Before". He even cannibalize previous work, with the opening of "Never Met a Girl Like You Before" copying "Tired of Waiting for You", and "I Need You" is another re-write of "You Really Got Me". Dave contributes one song, the decent acoustic country tune "Wait Till the Summer Comes Along". The album's cover versions are sinkholes - the annoying "Naggin' Woman" and a pointless version of "Louie, Louie". With "You Really Got Me" masquerading as "I Need You", and "Louie Louie" present, this album should have just been called Ray Davies' Few New Ideas and the Hits of 1963-64. Warning: the "stereo" version of this album is just a poorly spread mono version, and can cause headphone headaches.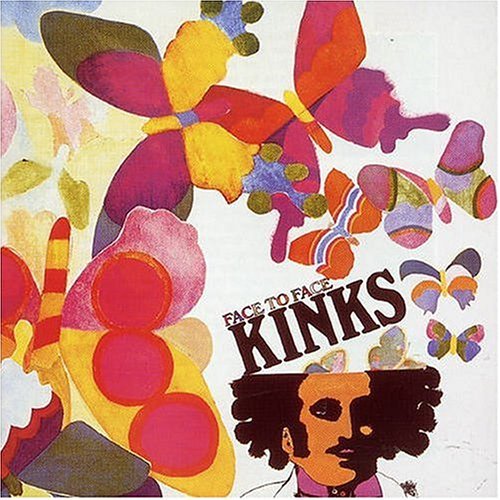 Face to Face (1966), ****
Ray Davies had matured by this time, writing with a lighter, but not less substantial style than many of his contemporaries. Face to Face was pretty sparsely recorded, without orchestral backing or any session players outside of Nicky Hopkins. Ray's songs take the form of character sketches ("Dandy", "Little Miss Queen of Darkness"), social satire ("A House in the Country", the hit single "Sunny Afternoon") and are splendid. The opening track "Party Line" echoes the Beatles' own Rubber Soul, and there are few respectable rockers ("You're Lookin' Fine", "I'll Remember") that don't quite measure up. Ray even comes up with a wonderful Eastern song ("Fancy" with sitar-like, droning guitar). Despite some shortcomings in performances, the album is a real delight.
Bonus tracks on the Castle re-release include the excellent singles "Dead End Street/Big Black Smoke" and "Mister Pleasant/This is Where I Belong" along with Dave's "I'm Not Like Everybody Else". Produced by Shel Talmy.

Live at Kelvin Hall (1967)
From what I've read, it's plastered with screaming girls and sloppy performances.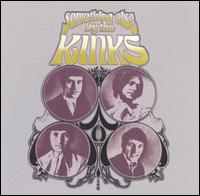 Something Else (1967), ****1/2
While the Beatles and Stones and everybody else experimented wildly, the Kinks churned out an even better collection of "normal" pop songs. Their strengths lie deeply in Ray's songwriting talent; his words and melodies are enough to captivate the listener, allowing the band to dispense with soloing. The Kinks were still a charting singles group, and each one of these songs is written like a single - short, melodious, some with sing-along chorus. Above all you get the feeling that it was a hell of a lot of fun to make this album as well. Ray has his usual portraits ("David Watts" ,"Tale of Two Sisters") and satire ("Tin Soldier" for one), and Dave even places three songs (the circus oddity story "Death of a Clown", "Love Me Till the Sun Shines" and the slightly disturbing "Funny Face"), and they are about par with Ray's songs. The only psychedelic influences are on "Lazy Old Sun" where Ray sounds stoned (or possibly just blasted), and the bonus single "Autumn Almanac" with its backwards effects towards the end. The real gem is Something Else's final track, Ray's first production job, "Waterloo Sunset" with its background vocals and simple Dave line. This song is gorgeous, and widely considered one of the group's best tracks, and one the era's best. The good bonus tracks are the singles "Autumn Almanac/Susannah's Still Alive" and "Wonderboy/Polly", the rest are kinda bleh. Produced by Shel Talmy, with the exception previously mentioned.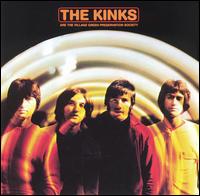 The Kinks are the Village Green Preservation Society (1968), *****
What the heck year is this? 1968? You'd never know it from this album; granted, some unobtrusive mellotron crops up here and there, but one of these tracks was recorded two years prior and blends right in. Anyway, this is Ray Davies' first attempt at a concept album and it is focused on pastoral life, fairy tales and a faint sense of the glorious past. Ray throws in some satire ("Big Sky" and "Do You Remember Walter"), but it is much more subtle than before. This is about as uncool as one could be in the age of psychedelia; Ray's production was straightforward, and he played most of the keyboard parts. Sure, Dave's distorted guitar and creepy vocals on "Wicked Annabella" gets close to psychedelia, but that is about it. Instead, we are treated to more of the usual --short songs (with one exception) that are imbued with happiness and fun, not to mention the sing-along choruses. Picking stand-out tracks is hard - the title track is great, and "Big Sky", "Monica" and "Starstruck" are among my favorites - and the sole complaint may be that "Picture Book" and "People Take Pictures of Each Other" are close in subject matter. A pop touchstone.
Released with little publicity, the album disappeared quickly, and there was no tie-in single. The CD bonus tracks are the original pulled 12-track album in stereo (the rest is in mono) with one unreleased song "Mr. Songbird", and the subsequent single "Days". So, not as a good as some other albums, and the stereo tracks aren't quite CD quality, but still nice.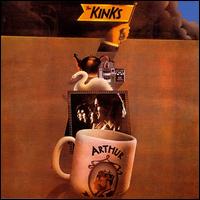 Arthur or the Decline and Fall of the British Empire (1969), ****1/2
Initially dismissed as a Tommy clone, Arthur proved that the Kinks could rock after all, and it and Village Green are two of the best albums never to hit the charts. Granted, Arthur continued some of the themes of Village Green ("Victoria" which should have been a hit single), but it was also a stunning indictment of contemporary society that was at least as intense as their older work ("Brainwashed", "Shangri-La"), and anti-war themes ("Some Mother's Son which is the most beautiful and poignant anti-war song ever.) It's not an even a double-album, for pete's sake! The band's playing is also good - Dave starts playing leads and gets pushed up in the mix with great results ("Brainwashed"). Plus, Avory's drumming is not to missed ("She's Bought a Hat like Princess Marina"). The lyrics are probably Ray's best, lifting such lighter songs as "Drivin'" and "Young and Innocent Days" far above previous works. There's only one questionable patch, and that's the overlong jam that mars the end of "Australia" which prevents this album from getting five stars. Gosling appears on keyboards but stays in the background like a good session man. Ray produced, and the re-released CD is in stereo (yeah!). Bonus tracks include the "Plastic Man/King Kong" "Drivin'/Mindless Child of Motherhood" singles (the latter is far better).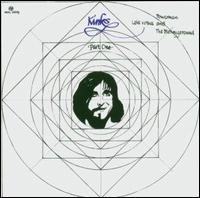 Lola versus Powerman & the Money-Go-Round, Part One (1970), ***1/2
You could hear the beginnings of the Kinks' new sound in the title track of Arthur. Always having a good time, the band went kinda Stones-like on Lola, with new guy Gosling playing like Nicky Hopkins' younger brother, and Dave picking up the banjo. While the sound may be closer to the Stones than the music hall, the writing is far different. Ray took this time to put together a album around the music industry and fighting/escaping it. Some of the songs like "Denmark Street" and "The Moneygoround" may be accurate, but are not up to Ray's usual level. He still dishes out the goods on songs like "This Time Tomorrow", "Get Back In Line" which is in their earlier style (sounds like a single) and the delightful "Apeman". Let's not forget "Lola" either - it was the groups first big single in a few years. Dave also shapes his act up, delivering two strong songs "Strangers" and "Rats", which prove he can sing fairly well, and otherwise sounding a lot heavier ("Top of the Pops"). Although not as strong as previous albums, well worth it. R.D. produced.

Percy (1971)
Soundtrack to a TV film. Usually slagged.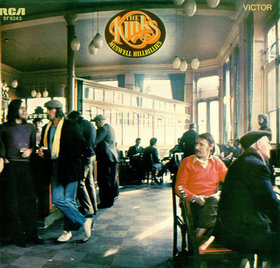 Muswell Hillbillies (1971), ****
Ray had been writing about the evils of the city and society (with a smirk), and the treasures of the country (with a sigh) for most of his career. Certainly there were feelings besides sarcasm and a desire to mock trends behind Ray's songs all along, but here he gives in to his own disillusionment. The trouble is that by 1971, the hippie's idealism had also worn out, with plenty retreating to the hills musically with the fallout from Altamont. While the Kinks were certainly not among this group they went the same route, giving a frank voice to the doubts Ray had been voicing all along. The problem is that they chose the same route as everyone else - roots-rock - and a touch later than most. It may be less innovative and authentic for the Kinks to delve into folk/country/rock, but it really suits them. At the center of the sound is usually Ray banging out a song on an acoustic guitar, Dave contributes plenty of slide guitar and the rest of the band fill out the sound as usual. One of the more disturbing aspects of this is that the band sounds so American, rarely delving into the overtly English demeanor used so often in the past ("Holloway Jail" is a slight exception). There's a great deal of American roots-rock of the Grateful Dead ilk ("Uncle Son") and Dixieland jazz arrangements on some tunes ("Acute Schizophrenia Paranoia Blues", "Alcohol") a la Randy Newman. It may lead one to wonder if this is really the Kinks, but at the heart of it all are Ray's lyrics, and if there's anyone who'd use rustic music with lyrics on the plight of suburban/urban people, it's him. Ray's attitude towards his songs' subjects has changed; before he was mocking or commenting (think "Sunny Afternoon") and here he either does a good job portraying ("Here Come the People in Grey", "Holiday") or is personally invested in the lyrics ("Alcohol", the beautiful, expansive ballad of a working girl's dreams "Oklahoma U.S.A."). In fact, the weakest tracks are those "typical Kinks songs" where Ray gets mocking or overly happy (the tongue-in-cheek "Skin and Bones" and the happy "Have a Cuppa Tea"). A bittersweet retreat by a man from the perils of the modern city. Produced by Ray.
Everybody's In Showbiz, Everybody's a Star (1972), **1/2
Everybody's In Show-Biz, Everybody's a Star marks the start of the Kinks' mid-70s decline, which was largely a result of Ray's theme and music recycling, and a simultaneous idea shortfall. The album is half studio, half live, and the band's problems show most obviously on the studio side (Everybody's in Show-Biz). Their new material is a hybrid of Muswell Hillbillies and Lola: rootsy loosely based around a rock star's experiences, and with a strong satirical bent. The music sounds like Muswell Hillbillies warmed over - more Dixieland horns ("Maximum Consumption", the drunken "Unreal Reality") and roots-rock ("Here Comes Yet Another Day", the middling "Hot Potatoes" or the gentle, escapist "Supersonic Rocket Ship" which perplexedly was a UK hit). Little of the band's rock really clicks; "Here Comes Yet Another Day" kicks off the album and is the only true good rock song. While the others are not bad ("Motorway," "You Don't Know My Name") they are not going to make anyone forget about the Faces. Instead, Ray's taste further reverted to prancing Salvation Army music-hall ("Look a Little on the Sunny Side") and his biting lyrics have taken a oddly gastronomical turn (the sing-along "Hot Potatoes" or "Motorway"). Well, Dave Davies does have a spotlight song ("You Don't Know My Name"), but it's more an opportunity to debate whether his strained voice sounds more like Ray's merged with Dylan or Ronnie Lane.
You can almost predict that after all the clever songs about indulgence, the "comedown" song will crop up; a slower, more introspective or observant work, similar to Muswell Hillbillies' "Oklahoma U.S.A." This album has a pair, and the fine "Sitting in My Hotel" is the more bitter and honest of the two. The songs' lyrics of confusion and dissolution probably refer to Ray himself; who else was "writing songs for old time vaudeville reviews?" The other settled track is "Celluloid Heroes" - Ray's guided tour of the Hollywood Walk of Fame, and antithesis to the stars ("everybody's in movies, everyone's a star"). The latter is an excellent track, and one that I still hear on the radio. Ray being Ray, he would later revisit this topic with A Soap Opera. Altogether, Show-Biz is a disappointment, and fails to continue Muswell Hillbillies' vector.

The live side (Everybody's a Star) holds few surprises. The band eschews their earlier hits, only going as far back as Arthur once ("Brainwashed" with the horns put to good use); the rest are Muswell Hillbilly tracks. Ray sounds like a drunk showman throughout, tossing in snippets of extraneous songs ("Mr. Wonderful", "The Banana Boat Song", "Baby Face") and generally acting up (is his pandering, faux version of "Alcohol" ironic, or was the original written with this jokey exaggerated attitude neatly concealed?). Dave never gets to do much, and the half ends in the most ignoble way possible, with a pointless audience-led rendition of "Lola". The juxtaposition of a satire on rock stars and a sloppy performance is rather odd; was Ray commenting on himself throughout? Perhaps his subsequent retreat into Preservation themes simply a better way of dealing with whatever problems he had, after the moments of self-reflection. Or it could have a reflection of his greater ambition, that of Show-Biz, of writing movies or scripts, so frustratingly reduced to the concept albums that followed. Or he could have just be sloshed throughout. Either way, this was the start of an artistic lull.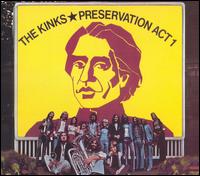 Preservation Act I (1973), **
Preservation Act I has plenty of problems. First, it is a vague and disorganized concept album; plenty of songs are story-related, but lack plot ("There's a Change in the Weather, "Here Comes Flash"). Second, it is no mistake that the name is reminiscent of VGPS - Ray ransacked his own back catalogue. It is pretty blatant, too - "Where Are They Now?" reworks "Dedicated Follower of Fashion", and "Sitting in the Midday Sun" turns the relaxed sound of "Sitting by the Riverside" into a video-game soundtrack. Finally, the brothers Davies were not getting along too well at this point, and Dave is pretty much absent from this album. Without him, the band really lacks edge, and the addition of the Mike Cotton horn section and female backing singers make the sound like a B-grade musical with Ray Davies singing almost all of the parts. Even so, it would not be as bad if Ray had not also lost his lyrical sharpness. Lerner and Loewedown present Ray Davies, Stuporstar. Still, Preservation Act I has a few decent moments, such as the album opener "Morning Song" whose wordless opening is nice but best suited as entertainment in a retirement home, the inflated "Demolition", or parts of "I Am Your Man". The album's main redeeming grace is the flop single "Sweet Lady Genevieve", a vaguely rootsy mid-tempo rock ballad which was (probably) shoehorned onto the album, but stands far above everything else here. Produced by Ray.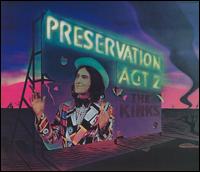 Preservation Act II (1974), **
Better in almost every imaginable way than Act I. As Paul Harvey says, "and now, the rest of the story," or in this case, the actual story. Ray delivers plenty of action via periodic radio announcements, and thus the need for story-only songs largely disappears. Dave rejoined the fold, enabling the band to rely on their basic, solid sound and giving them a harder edge. All of this would be meaningless had Ray not written good songs. Most are cast in a fairly dark and/or bluesy mold and rely on strong playing from the three non-Davies ("He's Evil", "Nobody Gives", "Introduction to Solution", "When a Solution Comes"), and "Money Talks" is frighteningly close to the Stones. Seriously - stinging slide guitar from Dave, female backing singers, basic yet competent rhythm section, and horns to boot - all they needed was another guitar and Jagger's vocals. Like Act I, the group's latest romantic single ("Mirror of Love") is irregularly placed, but it is nothing special aside from Ray's oddly Marc Bolan-like vocals. Act II's largest problem is one that plagues many a double album: there simply is not enough good material to fill out two LPs. There is some light experimentalism like the mock Cromwellian "Shepherds of the Nation" or "Flash's Dream (The Final Elbow)", a conversation between a sound-altered Ray Davies and a nasty Ray Davies followed by a boring sound collage. All of this is compounded by Ray's inexplicable decision to turn most of the lead vocals over to one of the inferior female backing singers on the final side of the album (ruining the dreamy, jazzy "Nothing Lasts Forever"). If this were condensed into one album it would help, but as is it absolutely pales next to contemporary efforts like Quadrophenia, or Dark Side of the Moon.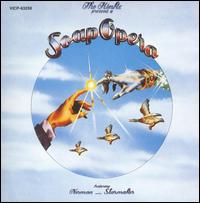 The Kinks Present A Soap Opera (1975), *1/2
This project encompasses all aspects of mid 70s rock malaise - self-indulgence, non-biting satire, middling rock tunes, grand ambitions and recycled themes. The album's basis was a Ray television musical in which he starred; but the whole thing is just Everybody's In Showbiz, Everybody's a Star: the Musical, and the music is a bunch of hammy tracks augmented with dialogue and narration from the television show. It opens with a watered-down version of a familiar Kinks chord progression and rarely becomes more interesting. Since most of the music was used to back Ray's performance, the band (including the now-usual array of backing singers, horns, etc.) is turned into a straitjacketed high-school pit orchestra. Appropriately, most songs have a lame stage musical ("Nine to Five") or 50s rock feel ("Rush Hour Blues", "Ducks on the Wall"), but Soap Opera lacks even one great song. Even had the music been stronger, disappointment would probably arise. Most of the album is about the dullness of ordinary life and the music matches this. Sure, Ray has his required heartfelt ballad is "You Make It All Worthwhile", but it isn't terribly good, and the plot punctuates it. Some of the songs are acceptable (the self-reflecting "Underneath a Neon Sign", "Nine to Five" or the 30s throwback "Holiday Romance") but nothing the Kinks had not done better previously. At best, the entire project is supposed to crest with the polite anthem "You Can't Stop the Music" - a tribute to departed rock stars, but its good-time, glass hoisting plodding isn't worth any enthusiasm.

That is, crest if you can follow the story - a muddled combination of Pygmalion and the Prince and the Pauper. (The plot is a lot clearer in the TV program which is on Youtube, but it should only be watched under duress, or if you have a thing for dancing chorus members, platform shoes, boom mics and low budgets). Ray (the Starmaker) announces he can make anyone a star. Then, within the same song/track announces that he's going to use a dullard named Norman as fodder for his art. He then changes places with Norman, but that doesn't mean anything as Norman never appears, and Starmaker decides to remain in Norman's life at the end. Ray plays (and I mean plays) Starmaker as a self-aware, cocky, silver jumpsuit wearing person who learns blah blah blah. But Davies is just as full of himself as this character is - the vaguely-self referential plot is just a poor justification to make fun of pop stars and the drudgery of ordinary life. Nor is the satire sharp - the story has been told a million times, and Davies only tells half, without new insights. Starmaker was supposed to be so good that he could make hits out of dullness, but Ray Davies can't do it. (Maybe because, as David Foster Wallace noted, dullness is terrible subject matter). To make things more confusing, the album includes singles from outside this mess - "Holiday Romance" is a self-contained song which makes little sense in this context (is Starmaker cheating on Norman's wife?). Even worse is the grossly annoying "Ducks on the Wall", about bothersome stuffed ducks, replete with duck call noises. An album about boringness, which is itself generally boring.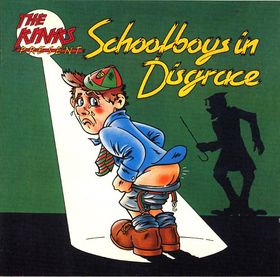 Schoolboys in Disgrace (1976), **1/2
or The Restoration of Dave Davies. This album marked the Kinks' return to actual rock music. Dave is uncaged and the horns and backing singers are mostly excluded. Sure, it's a concept album grounded deeply in Ray's persistent reminiscing, but thankfully one without much of a narrative. The music too, has a retro tint, with nods to the sock-hop era ("Jack the Idiot Dunce", "The First Time We Fall in Love") or the Kinks' own beginnings ("The Hard Way"). Ray still had some grandiose ideas to work out of his system, but for the first time in several albums his lyrics are fairly interesting. He still had some excesses in him, such as "Education", a seven minute rock song about the general and personal history of education that would have fit right in on Everybody's a Star. Other songs include parody/homages to sock-hop biography dance craze songs "Jack the Idiot Dunce", or 50s love songs, intercut with Ray's own bitter commentary ("The First Time We Fall in Love"). Most of the rock songs are problematic in some respect, although the band regained some catchy riffs. For example - "I'm in Disgrace" opens with a frilly piano intro, but rapidly turns into a good little rock song with riffs. Alas, it is blemished only by the line "it wasn't lust, it wasn't rape, it was just a mistake," which can be interpreted in a very bad way. Elsewhere, Ray's lyrics and the all-to-familiar chord pattern make "Headmaster" list a bit, and the clipped and rocking "The Hard Way" recovers an old chord pattern from the Who. (Still, borrowing from your own golden years is better than completely losing yourself in the mid-70s malaise.) The strongest song is "No More Looking Back" a gradually building song, where Ray renounces that approach while haunted by memories of the past. Much like Soap Opera's "Underneath a Neon Sign" it's a song where Ray doesn't appear to affect a persona and sounds the most sincere. A promising return.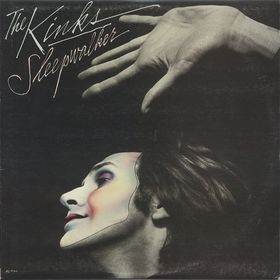 Sleepwalker (1977), ***
This marked the band's resurgence, an improbable third act as a popular arena-rock band as Ray woke from his theatrical slumbers. The second step to Schoolboys' change in sound: no extra singers or horns, but plenty of Dave's guitar and rock. The Kinks' never made particularly heavy or dirty rock after their first few years - as Ray appealed to his listener's minds without trying to blow out their ears. This measured approach resurfaces here, as their music is still rather clean and regular, even though cranked to arena-rock levels. It was as if Ray used Everybody's in Showbiz as a starting point, and then borrowed to make up. Yet, their sound is weird in that the more successful songs echo the Kinks' contemporaries - in the past: "Life on the Road" feels like early 70s Rolling Stones (or more like Everybody's in Showbiz) and "Juke Box Music" sounds like mid-70s Who. Hand in hand with this, sometimes Ray sings like he's echoing other rock stars - "Life Goes On" has a touch of Ian Hunter, and the bonus track "Artifical Light" is a detached Gary Brooker. Lyrically, Ray returned to Showbiz-era themes such as the music industry ("Life on the Road", "Mr. Big Man"). Sleepwalker also avoides Ray's sharp wit, which appears only on "Mr. Big Man" and a touch in "Life Goes On", which jokes about suicide. Yet, Ray still pulls out a few topic surprises, such as two stronger monster (werewolf?) autobiographies (the title track and "Full Moon"), and a slight character portrait in "Juke Box Music". (I'd rather hear Ray sing about someone than attempt to portray them.) Both of the werewolf (or what-have-you) songs are good rock numbers, as is "Life Goes On". Alas, not every hat fits the man, and the less said about the leftover 60s spirit + arena anthem of "Brothers" (unintentional irony there) or the soft rock of "Stormy Sky", the better. Still, at least there was no attempts at disco or anything. There's still plenty of bloat to go around, from long track running times to slighly proggy introductions, but on the whole, this documented the Perfectly Acceptable Kinks, if not particularly exciting ones.
This was Dalton's last album with the band, and Andy Pyle's more excited rock bass appears on "Mr. Big Man". The bonus tracks show Ray had not lost his wit, mocking the "Prince of the Punks" or "The Poseur". "On the Outside" is a decent character portrait, with a chorus you can sing-along with, just like an older Kinks song. I wish they had put that song on the album rather than any number of tracks.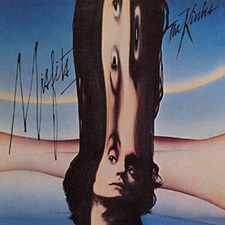 Misfits (1978), **
Sonically, Misfits is more mainstream than Sleepwalker, but Ray returned his old satire/social commentary mode, and the resulting album tries far too hard. Misfits' more successful tracks are still arena-rock bangers: "In a Foreign Land" about tax exiles, and some cultural implosion documentation on "Live Life". Even though he was concentrating on current affairs, Ray also appeared to think he could write a song about anything, be it cross-dressing ("Out of the Wardrobe") or allergies ("Hay Fever"). Some of the commentary is ridiculous as well, such as their reggae jab at racism: "Black Messiah". Yes, the Kinks did a reggae song with Ray adopting an accent at times, moving themselves a few steps closer to Weird Al Yankovic. (In a particularly tone deaf move, it was released as a single in the UK.) It gets worse, however, as the album ends with an unbearable, Call-to-Action! disco/arena-rock hybrid ("Get Up"). Ray's old topics get an airing as well. His eternal interest in the ordinary people shows on the opening title track, a gentle song coaxing a misfit back into the general population. Yet, the music sounds like a sterile, non-technical version of a Dire Straits song, and the lyrics are a quantity of clichés. Rock music about rock music (or meta-rock) also continues with "Rock N Roll Fantasy", a bit of 'folks love rock music' ala "Juke Box Music" combined with some self-mythologizing. It is also pandering, over-long, and was a hit in America. Dave even sneaks on a middling rock ballad ("Trust Your Heart") which I guess is a good sign for the band's internal dynamics. Granted, this album was a success and a fair number of people like it, but it is quite empty. Ray's middle-class observer persona (that closest to his actual self) lacks the oomph of a punk's complaining, and is entirely diluted when placed alongside trite crap like "Hay Fever". I realize the silent majority of undiscriminating, ordinary rock fans were unperturbed by the band's lack of an edge, and heard someone singing to them and their worries. However, Ray could have hit his demographic with music that was more than the equivalent of an off-brand breath mint, and without resorting to clichés or reading the news. Disappointing.
The CD version I heard includes some bonus tracks, the only important one being their Christmas single, "Father Christmas", which combines some Clash-style guitars with Ray's lyrics about poor kids mugging Santa Claus. It's actually a pretty awesome song.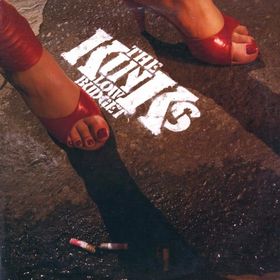 Low Budget (1979), ***1/2
The best rejuvination-era album yet, mostly just a tweaking of the Misfits approach. Low Budget is trying to be an uplifting rock record, for those who want to follow contemporary trends without all the political or social baggage of being a punk fan. Musically, Ray borrowed punk, contemporary-era Who, new wave and arena-rock into a (usually) loud but catchy combination that was something like an import-substitution product for those who put off by younger bands. Maybe he realized that his talents shown best with those genres/productions rather than bland atmospheric songs or soft throwaways. Although the songs are better, the real change is in Ray's lyrics. Low Budget drops the Living Newspaper approach on politics, save the throwaway half-blues of "A Gallon of Gas". Instead, it continues on his eternal fascination with fake people, but instead of dandys, his scorn is directed towards punks, etc ("Attitude", "Little Bit of Emotion", "Misery"). Yet, Ray's commentator is always tries to coax or goad the objects of his cycnicism into his own more authentic middle class values. Misfits' title track was essentially one big welcome-home hug, for example, and he duplicates that approach with the stripped-down acoustic "Little Bit of Emotion" here. Of course, the record isn't really aimed at those people (hard to imagine Sex Pistols fans casually putting on an late 70s Kinks album), but those on the fence. Nor is Ray himself particularly authentic (the theatrical productions, his age). Maybe he realized his audience was mainly Americans who didn't want to hear about race relations, and instead wanted to hear about superheros. (He also avoids relationships and love, which is a bit odd.)
Musically, Ray's buffet of trends is pretty good and he could still come up with catchy refrains. Although Low Budget borrowed less from the Kinks' contemporaries, the phony punk upbraiding "Attitude" draws from Who Are You, but is a fine song. It's not all punk-centric, either; Ray was cranking out superhero themed rock as well: "(Wish I Could Fly Like) Superman" was the album's big hit, a disco beat with some arena-rock overlaid on it. I prefer the other superhero song:"Catch Me Now I'm Falling" which builds around a great riff. Ray subverts nicely punk's formula of sped up old R&R chord changes, and adapting it to a fairly lighthearted sing-along song about social tension ("Pressure") or anti-serious person son ("Misery"). Between keyboardists, Ray provided simpler parts himself and uses more sythesizer, which suits the band's new wave material. The good is pretty good: both "National Health" and "Moving Pictures have catchy refrains and judicious synthesizer, although the former has a goofy topic (nervous tension and exercise). Ray can still overthink himself, though, and "In a Space" is the downside of the band's borrowing: overly clever lyrically and relies on farty synth noises. Overall, the music is pretty good, even though it walks the fine line of trends.
All in all, this is a successful record; musically it's a sampler, but Ray still knew how to make good sounding music and talk about the trends.
One for the Road (1980)
I have this - it's good. Mainly focusing on Low Budget material with the expected classics included. Hiatus at this point, because I don't have Give the People What They Want.

Give the People What They Want (1982)
State of Confusion (1983)
Word of Mouth (1984)
Think Visual (1986)
The Road (1988)
UK Jive (1989)
To the Bone (1994)
Do you remember Walter? If not, return to the music page...