Chicago-Area Albums of the Mid 60s to Early 1970s
Bands Reviewed: The American Breed, Aorta, The Buckinghams, Chicago, The Cryan' Shames, The Flock, H.P. Lovecraft,
Illinois Speed Press, The New Colony Six, The Shadows of Knight.
Ill-formatted and Sprawling Timeline of Chicago Bands
The city of Chicago was certainly large enough to have its own scene and sound, like Detroit or San Francisco, but what it had was far weaker. Few of these bands are remembered today in a flattering way (think of Chicago's 80s ballads), which is appropriate. Most of them turned to lame pop even if they started off with harder sounds (New Colony Six, Chicago, even the Buckinghams used to rock). Even though the area had a pile of late 60s pop hits, these bands were unable to maintain any momentum beyond 1968 or so. What I am going to call the First Wave bands (The Buckinghams, The Cryan' Shames, The American Breed) could not adapt to harder times, and fizzled into pop. Even harder garage bands like the Shadows of Knight and New Colony Six sold out within a few years. The "Chicago Sound," which involving horns and some more jazzy chords and was pioneered by the Buckinghams on "Kind of a Drag," became quickly dated. It evolved into the jazz-rock parts of the more professional sounding Second Wave (loosely Chicago, the Flock, Illinois Speed Press, Madura), showing up in the first two's sound, but otherwise became the MOR sound of the moment.
I partially attribute this odd and persistent shift into pop to two influential producers on the scene - James William Guercio (one-time Chad & Jeremy bassist) and Bill Traut (one-time jazz saxophonist and law school graduate). Guercio took over the Buckinghams, and got them some hits but also ran them into the ground with his awful arrangements and songs. With the subsequent explosion of White Horn Rock at the tail end of the 60s, Guercio became famous for producing both Chicago and Blood, Sweat & Tears. Traut is less known. He originally made it big with the Shadows of Knight, which he recorded in their own instrumental squalor. But after the Buckinghams vaulted up the charts, Traut and pianist/arranger Eddie Higgins were soon clogging pop albums with horns and strings, burying their bands' skills. The American Breed typifies this - they had no opportunities to really display their talents (assuming they had some) but still scored some hits with songs like "Bend Me Shape Me" before cratering within the next few years. (Other bands like the New Colony Six crippled themselves with horns). Traut's bands also seemed to rely on outside sources for songwriting, with ugly results. Still later, Traut introduced Styx to the world, which is like being a demon's midwife.
It's not so simple, certainly. Traut produced just about anything he could (including the Nazz's debut!), and the Chicago area did have some interesting bands. Both H.P. Lovecraft and Aorta had some extra flourishes, but were primarily psychedelic bands. Also, other bands ventured outside the Chicago Sound - Illinois Speed Press, Mason Proffit and Wilderness Road were more country oriented, while Siegel-Schwall was almost a straight blues band and Madura seems to have been more progressive. Certainly Chicago had a thriving jazz and blues scene as well, and down at Chess studios, they were producing soul-pop-?-rock with Rotary Connection. Also interesting is that there is a fair amount of movement between some of these bands for people, especially with Traut connected-bands. In the end, the entire Chicago scene and "Sound" was mediocre, and neither as popular or influential as others.
Albums which I can recommend -
Aorta (cool psychedelic rock)
The Cryan' Shames - A Scratch in the Sky (Chicago boys try a more diverse, Beatles-like approach)
Chicago Transit Authority (jazz-rock back when Chicago still rocked)
The Flock (jazz-rock led by an amazing violin player)



Chicago pop group in the hands of ...wait for it... Aorta, H.P. Lovecraft, Shadows of Knight, Styx producer Bill Traut. They evolved into Rufus (featuring Chaka Khan).
American Breed (1967)
A highly non-politically correct cover graced this album.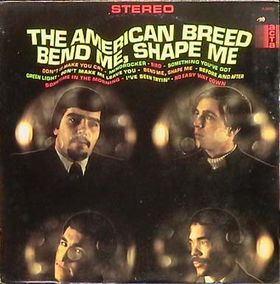 Bend Me Shape Me (1968), *1/2
One-hit wonders, the title track has everything you could want from the "Chicago Sound": big horns, handclaps, a catchy chord progression and a danceable beat. It could have been re-mixed for the disco era and succeeded. The only other decent number is the driving "Green Light" written by Annette Tucker, who was behind most of The Electric Prunes' I Had Too Much to Dream Last Night. Beyond that ...it gets ugly. Slower, bland pop, mostly by anonymous songwriters fill out the rest, although there are a couple of real dogs from the Goffin-King duo ("Sometime in the Morning" and "No Easy Way Down" which involves toy balloons). The band's two contributions ("Don't It Make You Cry" and "Bird") are just as bland, with the latter featuring a pitiful guitar solo break. But at least it has audible guitar; producer Bill Traut consigned the guitar to the background as usual, layering on horns or strings, and focusing on the vocals. The fault with that strategy was that Gary Loizzo was not a strong lead vocalist, and so the Breed does a lot of just-alright group vocals or using overdubs. Maybe the fact that Loizzo was their "lead guitarist" has something to do with their lack of lead guitar. This is one of those groups where the fact that a member had a voice seems more important than their actual playing skills. Heck, drummer Lee Grazanio may have earned some extra dough by playing trumpet with the horn section. Actually, rhythm in general is their strong suit - it's just that the songs are junk.
Not to say the band lacks any trace of personality; the production subsumes them like on Buckinghams records: the guitars are buried, and horns or strings are often given as much importance as the band's playing. The Breed's playing or singing is not as good as the Bucks', however. The Breed drew more on soul and old fashioned 50s R&B than other Chicago groups did ("Something You've Got"), and they do cover Curtis Mayfield's "I've Been Tryin'", which I cannot picture many other Chicago groups doing. They were also integrated, a rarity, with an African American bassist in Chuck Colbern (or Colbert). All interesting, but none of it changes the fact that this music is icky pap. Take the two good tracks (the title track and "Green Light") and run. The band is Loizzo (lead guitar/vocals), Al Ciner (rhythm guitar), Lee Grazanio (drums/trumpet), and Chuck Colbern (bass).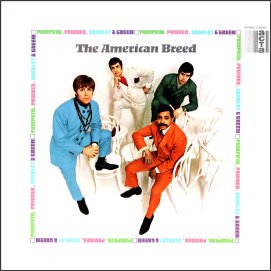 Pumpkin Powder Scarlet and Green (1968), *1/2
All the crap of the prior album without the hits, and with marginally improved sound and a lame attempt at a concept (the title refers to the suits worn by band members on the cover and brief tracks that bookend each side of the album). No "Bend Me Shape Me" balances things out here. The album does give us some good news - rhythm guitarist Al Ciner shaved off his bad mustache and beard and looks like he lost some weight. Bassist Chuck Colbert's mustache is still large enough to look fake, however. To be fair, the Breed still does an excellent job on the rhythm front - they just need songs that aren't second-rate cliché-fests and a good vocalist. At least they didn't lose it all, and turn completely lame-o like the New Colony Six. I mean, what the heck happened to those guys? Produced by Bill Traut again.
POINTLESS THOUGHTS: I thought it would be more interesting to look at the songwriters responsible for these tracks, but it was taking way too long. I'll just make a few comments, since I don't normally deal with professional songwriters. My rudimentary understanding of how the business worked is this: songwriters, usually working for a publishing company, recorded demos of their songs. These demos would often be just guitar or piano with one voice. The publisher would then send these out to interested people (record producers) in the hopes that they would record it, and both the writer and the company would make money. Not all professional songwriters were bad, although the field is littered with hacks. Most of Motown's catalog was written by songwriting teams, and songwriters are responsible for a great portion of pop. Sometimes they had enough talent to become performers - Carole King is the quintessential example, although Lou Reed qualifies as well.
Veterans wrote most of the songs on this album, which does not make the songs less bad. The guy who wrote "Under the Boardwalk" collaborates with the person responsible for Barry Manilow's "Mandy," to make "Cool It (We're Not Alone)." Chip Taylor may be famous for writing "Wild Thing," but not for "Anyway That You Want Me" on this album. My point is that songwriting appears to be hit or miss if you are the songwriter. Too much is outside of your hands - the artist's talent, the production, the marketing. Some of these people have hundreds of songs registered, although you may only recognize a couple. I think there may be too much of a disconnect to have a real steady stream for many songwriters, unless they are part of a large stable system like Motown. If you are in a band, or are a solo artist, you have a say on how your idea is actually presented. Otherwise, if you have some innate talent like Carole King, it may not show up when presented by a band like the American Breed. Instead, it will blend into a song ("Welcome, You're in Love") by a guy with a recurring role on the Rockford Files (Stuart Margolin). There are good songwriters (or just good songs), but beyond them it falls on the talent of the band.
Lonely Side of the City (1968)
Three albums in one year, huh. I'm sure this is high quality stuff.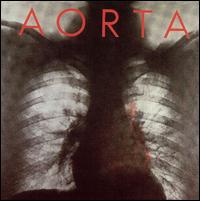 Aorta (Mar. 1969), ****
An attempt to cram all of psychedelic pop from Sgt. Peppers onward into one album, with great results, OR: English-influenced psychedelia seen through a Chicago pop lens - i.e., rock with strong pop leanings and orchestral overdubs. Aorta has a laundry list of psychedelia: Strange repeating linking tracks? Check: four separate tracks called "Main Vein", which repeat the phrase "Have you ever wondered what it is? It's your main vein." Tracks all run together? Check. Strange sound collages? Check. Buzzy psychedelic guitar? Check. Bizarre drug-induced lyrics? Check. Aorta does some of these things very well. Pop song with lush orchestration? Try "Sprinkle Road to Cork Street."

Guitarist Jim Donlinger's trippy electric guitar lines songs like "Heart Attack", "Ode to Missy Mxyzosptlk" or "Strange". The other songwriter, keyboardist Jim Nyeholt, sticks mainly to organ, and takes advantage of the mid-fi sound to vary the band's sound through cathedral organ ("Sleep Tight"), electric piano, as well as orchestrating several tracks.
The pop-leaning psychedelia works often, as on "Magic Bed," a delightful romp through whacked out dreams, and "Strange" certainly reflects the Chicago heritage, featuring belted-out vocal harmonies and lyrics about "proving I'm a man," balanced by Donlinger's wily guitar. As noted Donlinger's fluid guitar and tone drive the harder tracks to success - the panting before "Heart Attack" is nice touch to a burning meteor of a song, and "What's In My Mind's Eye" with a blippy Eastern flair, among them. Trouble arises in the "Main Vein" tracks, and an anemic lounge song (which might be a parody) lies closer to Chicago ("A Thousand Thoughts"). Also attractive are the jazzy underpinnings found in "Ode to Missy Mxyzosptlk" and Donlinger's solo section in "Strange," although not surprising (or strange) given that this was the band from which Peter Cetera joined Chicago. (His replacement, Bobby Jones, does a fine job.)

Yet, despite all the psychedelic bells and whistles, this was a Donlinger/Bill Traut co-production and sounds like it. Aorta retains some of the bad characteristgics of Chicago pop: Herman's drums are indifferently recorded and mixed (dumped in the center), and Nyeholt's orchestrations can resemble a pop producer's add-on ("A Thousand Thoughts" sounds like the Moody Blues' leavings). But while diversity is often important with psychedelia, Aorta has a lot of ideas (often second-hand ones) and succeeds more than not. Maybe I listen to too much bad music, but this album has really grown on me: it's catchy and diverse and well-played. A better sibling to Scratch in the Sky.

Columbia released the album at roughly the same time as

Chicago Transit Authority

,

The Flock

, and

Illinois Speed Press

in mid-1969 to push a "Chicago" sound. However, all the copyright dates are from 1968 in the album, indicating it might have sat for some months. Herman joined a declining New Colony Six. Donlinger and Nyeholt joined soul band Rotary Connection for a bit (or exchanged members with them?), then re-established Aorta with a couple members of that group. They also guested (or were members) of the band Coven on their debut album. It's your main vein.
Aorta 2 (1970), **
New lineup (bassist/singer Michael Been and Donliger brother Tom on drums) and Aorta's sound has been re-jiggered and is far less ambitious. It sounds like bassist/singer Michael Been was the main figure in this incarnation of the band, and his schtick is different and somewhat dated: his white soul vocals with the band's sound patched together from the hits of 1969 - CS&N, The Band, even Chicago (the percussion in "Egypt"). At its core, the band clearly has talent and can be soul/jazz groove machine ("His Faith in Man", "Little Bonnie"), but the new direction undercuts this. Donlinger's lead guitar and Nyholt's keyboards have less to do, and Been singing about End Times, for real ("Beg for His Forgiveness"). But at least they pair the more on-the-nose song titles with some good performances: "Beg for His Forgiveness" is one of the few places where Donlinger's guitar shines, but "His Faith in Man" or the sub-The Band "Devil, Maggot & Son". Maybe it's just me, but an attempt to make a cool psychedelic album is infintely more interesting than a The Band knockoff with occasional Christian lyrics. A change with the times, but I am not surprised the band broke up after this album.
Been and Donlinger joined Lovecraft, and the former now goes by the name of James Vincent. Been achieved success with The Call in the 80s.
Chicago Transit Authority (Apr. 1969), ***1/2
Wait a minute, Chicago? You mean the group who did those overwrought annoying ballads in the eighties? Yes, but let us not forget their brief string of success in the late sixties and early seventies, before they became soft rock schlockmeisters. A good portion of that aforementioned success came from their self titled first album, which mixed various styles in most songs. They formed around the same time as Blood, Sweat and Tears, but didn't record until after that group made it big with the horn sound. Not surprisingly, James Guercio, who produced BS&T, produced this album as well, which rocks harder than expected. The big hits are all here - "Does Anybody Really Know What Time It is?", "Introduction," "Beginnings," and the rest of the tracks are equally as good, which is a real surprise for a double debut album. Equally unusual is the lack of cover material - limited only to an OK rendition of the Spencer Davis Group's "I'm a Man". The weak moments are guitarist Terry Kath's experimental instrumental "Free Form Guitar" (name says it all), and the fourteen+ minute instrumental live track "Liberation," which demonstrates that the band really could play well live, but Kath's guitar gets a little tiring after awhile. Robert Lamm (keyboards) was the dominant songwriter, picking up half the tracks. But the group really has their stuff down - the rhythm section of Daniel Seraphine (drums) and Peter Cetera (bass) are top notch, and Kath shows that American guitarists can play loud and well (the opening of "Questions 67 and 68"). The horn section is James Pankow (trombone), Walter Parazaider (woodwinds) and Lee Loughnane (trumpet).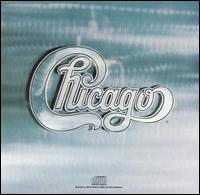 Chicago II (Jan. 1970), ***
After their first album Chicago decided they did not want to be a rock band after all - they wanted to be a soft rock band. Consequently, the members' parts are more equal, with the horns everywhere, no real long instrumental passages and Kath's guitar has been muzzled. They get softer (example - light flute solos), but they tend to experiment a lot, which is not always a good thing. The result is that they play around with the time signature a bit, add in a fake Sell Out style needle skip, and have a Pankow-written ballad (consisting of six tracks), a Kath written orchestrated piece (with four), and the hideous political crap that is "It Better End Soon" in no less then four "movements." In case you did not think they were pretentious, they also add a "u" to the word "color." That being said, some of it is good, some of it is bad, but overall you can still listen to it. The opening jazzy numbers, "Movin' On" and "The Road," make these stylistic changes work, and even some overtly pop works like "Make Me Smile" and the 70s prom favorite "Colour My World" have a certain charm. On the second half, "Fancy Colours" is 3/4 fun and "25 or 6 to 4" is the only time Kath lets loose. The album's closer "Where Do We Go From Here," itself good, makes you want to answer "Anyplace but this annoying soft-rock hell you seem bent on creating." Otherwise Chicago II is filler galore! Interesting to note that the writing has really been split amongst the group, vs. the Lamm-dominated debut. Lineup remains the same. They got sued real quick by the real C.T.A., hence the name change to Chicago.
I have some of their albums past this and I can summarize them real quickly: Crap.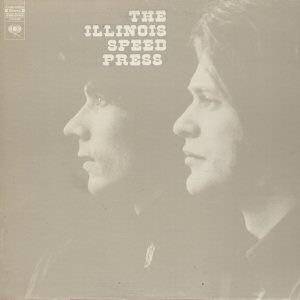 Illinois Speed Press (1969), ***
Most midwestern cities have lots of bars, and on any night a good portion of them are filled with bands. Not especially good bands, often background music for carrousing, who'll play over clinking bottles, chatter and bad lighting. Recording equipment is ubiquitous enough today that almost anyone can release a CD, even if it consists of lazy Led Zeppelin or Pink Floyd covers. Most will never make it out of this circle, and many will never try.
I don't know if Illinois Speed Press was a bar band, but they sound like a good one. History shows that James William Guercio forced Columbia to signed every band containing a member of the defunct Chicago outfit the Exceptions: Chicago (Peter Cetera), Aorta (half the band), and the Buckinghams (Marty Grebb), so slot in ISP there as well. Fronted by singer/guitarists Kal David (the ex-Exception) and Paul Cotton, ISP is what you expect from the Heartland of America - blues-rock and sensitive-70s-mustache man music. I once drove through most of Illinois at night and the radio was filled with this stuff - precursors to early REO Speedwagon, crappy soft-rock et cetera. Few pretentions, just regular rock.
ISP's sound centers around David and Cotton's buzzed-up guitars (Michael Anthony's organ less so). One of the singers (David?) also sounds exactly like one of the Chicago singers (Lamm?) and ISP's blues often resembles Chicago's approach (the obvious single "Get in the Wind", "Hard Luck Story"). The Chicago sound isn't that surprising, but the organ and distorted guitars also bring to mind a straight-edge Iron Butterfly ("Get in the Wind "), oddly enough. Guercio didn't crap up the production for once, and ISP has no horns, scant psychedelia, and well-placed overdubs. "Overture" is the exception, the genius producer pasted various instrument tracks together to be arty and annoying.
Just being a blues-rock bar band dumped in a studio would earn them little on these pages, and what makes the band of any interest is that they did the little things right. The buzzed up dual lead guitar works ("Be a Woman", "Free Ride", or "Beauty"), elevating them above mere bar bands. The rhythm section put little quirks in from time to time. Cotton's post-Springfield songs are also not rote; "Here Today" would be a standard acoustic countrified song, except that the bass line is the lead. The lyrics aren't much but if you're listening to blues-rock for lyrics beyond "women" complaints or tales, good luck. ISP was a group of guys making music they liked, and they were better at it than most.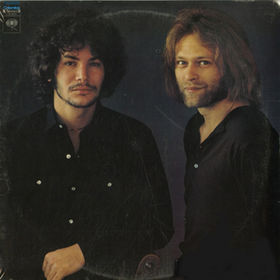 Illinois Speed Press: Duet (1970), **
Sometimes on the interminable journey in the backwaters of popular music, I curse myself for undertaking this Quixotic journey. I forget what good music sounds like. I speculate as to why and how various recordings were made, ones whose only value is contained in its format (old beat-up LP -> $ nothing). The easy way out is to unleash hate, and I've done that from time to time. But, hell, I can't hate Illinois Speed Press. I understand why this record exists, even if its value is something like those poor imitation mid-century saltshakers that haunt antique shows - cheaper, but still with some talent. The Press, now just David and Cotton, had talent in their guitar skills, but lacked a songwriter who could do more than say hey! blues-rock! or hey! country-rock! and slap down some guitar. Duet stepped away from the bar band sound (strings, backing, etc) but it is easy enough to picture the Press dudes in the blue jeans and dark shirts, letting it all come out in a club somewhere (maybe with a backing band). ISP sound like they could entertain an audience with the two guitars in blues/country mode, but in recorded form they sound like warmed-over ideas. David had the better ear, but that isn't saying much: "The Visit" is the album's sharpest track, a sort of soul big-band blues track, while his others songs are either blues-rock "The One Who Knows" or country/soft-rock "The One Who Knows". Cotton's work is more of the same, excepting the Chicago II-style orchestrated "Dearly" suite, whose "Bittersweet" part is good in a sub-Ritchie Furay manner. They lacked a distinct identity - the "woman" based songs and their middling output placing them in an orbit between Poco and the Allman Brothers. Not too hard and not too distinct, Duet is an album for those who wanted their blues and country in an easily digestible package, and was the Press's end. Cotton joined Poco (a struggle upwards), and David showed up in the Fabulous Rhinestones.

I have read only one real tale about the New Colony Six, but it's a classic: fresh out of high school, and armed with new Revolutionary outfits, the NC6 decided they were going to try and make it big. They moved to California, where (to their horror) they discovered another band in their building, also with Revolutionary style uniforms. Despite the Twighlight Zone feel of this, the band continued on, playing only a handful of shows before returning to Chicago, determined to write their own material like the other band. Their neighbors? Paul Revere and the Raiders. The NC6 then self-released a couple of albums: Breakthrough, which has a strong reputation as fuzzy garage rock, and Colonization, which contains the minor hit of "Love You So Much." After that, things went dizzily downhill as the group embraced lame pop, like almost every other Chicago group.
Lineup: Patrick McBride (vocals), Raymond Graffia Jr. (vocals), Gerald Van Kollenburg (guitar), Walter Kemp (bass), Craig Kemp (organ), Chic James (drums). Craig Kemp left in 1966, replaced by Ronnie Rice (vocals, organ, guitar). Walt Kemp gone in 1967, and Les Kummel took over on bass (with an interlude of Ellery Temple). Graffia and James left 1969, and the band picked up Bill Herman (drums), Chuck Jobes (keyboards), Bruce Gordon (guitar). McBride left 1970. More changes after that, as Van Kollenburg was the only original member until the end in 1974.
Breakthrough! (June 1966), **1/2
These guys were still in high school at this point I think, and this is fine with that caveat. It's almost uniformly decent album: a dumpy recording of a good band playing British Invasion music. It's not really garage rock, although some of the sonic elements are there: a good rhythm section, cheap organ, not particularly gifted singers, cruddy guitar. The last two would hobble the band later on, and they already show a good interest in vocal harmonies ("Dawn Is Breaking"). At this point when they slow things down the reverbed guitar and organ help create a pensive mood (Graffia's "The Time of the Year Is Sunset"). The band didn't really have much of an edge (or the "one big room" style of recording killed it), nor is their songwriting rarely more than pedestrian; their best track is the opener, "I Confess" with its emotionless vocals. They do have a surprising interest in the Yardbirds, covering both "Mister You're a Better Man Than I" (where Van Kollenburg's guitar leads skate the Mendoza Line) and Wally Kemp's Yardbirds knockoff, "At the River's Edge". The album ends with a fake live performance of "Sloopy" which is pretty funny in retrospect. The band wrote most of these songs (credits spread between combinations of McBride, Kemp and Graffia), which is something.
None of this particularly bad, and the album is contemporary of The Buckinghams' Kind of a Drag and The Cryan' Shames' Sugar and Spice, none of which are great (and of which the Buckinghams' album is probably the strongest).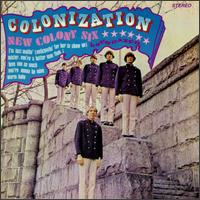 Colonization (June 1967), **
By Colonization, the band had lost its organist, replacement Ronnie Rice was a sugar pill, and their weak points are even more obvious - "lead" guitarist Van Kollenberg is at best a rhythm player, only one of their singers is any good, and the band's own material was becoming all smiles and no substance. Unlike their later albums, Colonization has plenty of guitar, and they even get fuzzed up at some points. The best track, "Let Me Love You," demonstrates this transition from garage to candy store: tough and fuzzy, with almost forceful versus, and a light and pleasant bridge. Their attempt at a big feedback freak-out, a cover of the Yardbirds' "Mr. You're a Better Man than I," is largely a flop; Van Kollenberg's fuzzed incompetence is still incompetence, and their serious rendition of the lyrics is a bit overboard. Still, I'll take that over the milquetoast, sub-Byrds/Rubber Soul balladry which comprises the album's bulk. Their vocal harmonies are nice, but sometimes nauseatingly sincere ("Hello, Lonely", "Accept My Ring"). Colonization does have a nod towards the Buckinghams' nascent Chicago sound, "I'm Just Waintin' (Anticipatin' For Her to Show Up)," co-written by Tony Orlando, pointing to future overproduction. Balancing teenage pop and rock is tough, and they do get it correct occasionally ("I Love You So Much"). Sure, people needed to excuses to dance, but this music was disposable even before the vinyl cooled. It only got worse from here. Self-produced, and self-released.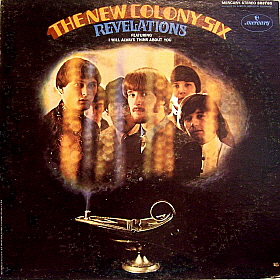 Revelations (June 1968), *1/2
By the time they recorded Revelations, the Six had little garage or rock left in them. Almost every track gets the same treatment - band quashed into one side, vocals front and center, and obnoxious horns compliments of Eddie Higgins on the other side. Ballads dominate Revelations, two of which were substantial hits for the Six ("I Will Always Think About You" which is sentimental dreck, and the marginally better "Things I'd Like to Say" which has some decent rhythm playing). These guys sound like they really want to be The Association, or a substance-less pop band (all of which were commercially dying at this point, I hope), except the Six lack strong vocal harmonies or even use them often ("Girl Unsigned" is the most complex, and it pales in comparison to the Cryan' Shames). The lyrics are not interesting, including a couple attempts at harmless humor (the ode to handymen "Dandy Handy Man" and the pseudo-country "Just Feel Worse"). Otherwise, the songs could be The Readers' Digest versions of bad teen novels, with titles like "Hold Me With Your Eyes" (yuck!), "Summertime's Another Name for Love" and "Can't You See Me Cry." One minor slip of substance is "You Know Better," which is what the singer's girlfriend says to him in bed! The entire album has aged poorly, although "Treat Her Groovy" is the nadir, functioning as some sort of social guidance PSA (irony miners take note). Neither Ronnie Rice (sometime lead vocalist), Ray Graffia or Pat McBride have more than average voices, and the rest of the band does not do much. They wrote all these tracks, which makes them less phony than the American Breed, and with competent vocalists, but more wussy. Also, there were seven guys in the NC6. Produced by Pete Wright.
Take note of the picture on the back the album if you have it.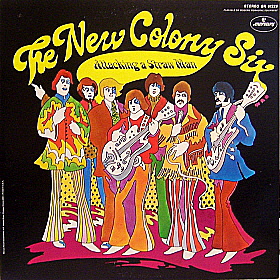 Attacking a Straw Man (Oct. 1969), **
An improvement, as former Aortadrummer/vocalist Billy Herman replaced James. Herman immediately became their best musician and singer, and co-wrote a fair number of songs with Chuck Jobes. You would be surprised how much difference a steady rock beat can make, as Herman tried to drum respectability into the Six. Wright's production has taken a turn for the better as well - more restrained orchestration replace Higgins' overblown ones, and Wright focuses the mix on Herman, Jobes and Kummel (all of whom had played in other bands, I note). Graffia, who quit around this time, and McBride are still adequate singers who write, while "lead guitarist" Jerry Van Kollenberg remains incompetent ("Come and Give Your Love to Me"). Also, yes, Ronnie Rice, whose syrupy sounds graced the Colony's hit ballads, is still downright nauseating ("I Want You to Know" and "I Could Never Lie to You" are the annoying ballad singles).

The Six's final album incorporates the Chicago area jazz-rock sound, but the band regretfully plays like it was 1967, despite the rock musician influx. Jobes can play jazzy chords, Herman can play to his heart's content, but the band's adventurousness quotient rose only slightly ("Ride the Wicked Wind" has some vaguely gospel-like vocals, and even counter vocals). They were still way too light and behind the times, as were a lot of harmony bands ("Barbara, I Love You", Jobes' pleasant but unremarkable "Love, That's the Best I Can Do" is almost a show-tune). To put this in perspective, Chicago Transit Authority was released before this album, along with Aorta and The Flock. Even their "rock" music is more "crappy pop with a cool beat" ("Come and Give Your Love to Me", "Sun within You"). Attacking a Straw Man has all the era's conceits --a throwback song with a classical motif ("Blue Eyes" with Rice - that's so 1967, guys), and the obligatory let's-be-goofy! track ("Come Away With You"). Plus, the album cover is pop-art for chrissakes. The Who did that back in 19 freaking 66! Better still, it is the band photo from Revelations' back, colored, with Herman and some instruments added. Thanks for being cheap, Mercury Records. The album finally craters on "Prairie Gray," a poem read by McBride about a young man leaving home, with ridiculous backing vocals ("I'm on my way to Boston...Prairie Graaaaay") and the horns play a riff which sounds suspiciously like a news program theme. Way too many divergent directions here - lame Association group pop, icky ballads, and only partially successful pop/rock. The infusion was too little, too late, although you can always listen to Herman's drumming, which may be second only to the Buckingham's Jon-Jon in the local pop scene.

The band kicked around for FIVE MORE YEARS releasing singles, although this is the last album they released.
The Shadows of Knight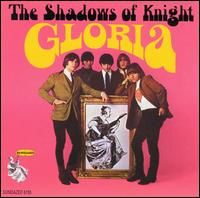 Shadows of Knight, Gloria (Apr. 1966), **1/2
I never used to frequent places like this coffeeshop that had a jukebox full of sixties R&B. It had trashy, fairly trendy stuff - full of attitude and perfect as background music, but utterly disposable and the songs were only barely distinguishable from each other. The Shadows of Knight, one of Chicago's contributions to the R&B scene, could very easily have been on that style-over-substance jukebox, even though the band had a fair amount of substance. Gloria is mainly R&B and blues covers, all done in a style that is a little too polished and well-performed to be considered garage (although there is some dirty fuzz-tone on "It Always Happens That Way"). Producer Bill Traut's elementary production serves them well, limiting them to a basic sound. (Remarkably, he avoided buttering up the album with horns). Their big hit was their version of the title track, a song by the Irish band Them. Reportedly, someone remarked to Traut that Them's original version would have been a hit if it were not for objectionable lyrics. Traut had the group record it with those lyrics changed, and presto! a big hit. Those who love mid sixties R&B with guitar to spare will love this, but for everyone else it will seem only like a spunky local group playing the R&B songbook ("I Got My Mojo Working", "Boom Boom", "Hoochie Coochie Man"). Wisely, they save the big number for the end: the frantic "I Wanna Make Love to You" which is a nice Who-inspired number with a moment of nice bass-work, some Townshend-like feedback. Their lead guitarist has all the standard blues moves down for the day, and the band sounds like they could whip up a frenzy live, but who wants to hear the 4939th interpretation of "I Got My Mojo Working?"