The Cryan' Shames
Albums Reviewed on this page: Sugar and Spice, A Scratch in the Sky, Synthesis.
The Cryan' Shames were a Chicago pop-rock band who could play pretty well, but did not do anything new. They released a whopping three albums, of which I have two. The first is an exercise in trend copying, while the second is a nice little psychedelic pop-rock album. Not a classic mind you, just a nice little album. The main force in the band was lead guitarist Jim Fairs: he and bassist Lenny Kerley wrote most of A Scratch in the Sky. However, Fairs left during their third album (I believe), and I am unsure about the results. I am disinclined to type up all the members of the band again. If you are insanely curious, look at the end of the reviews.
---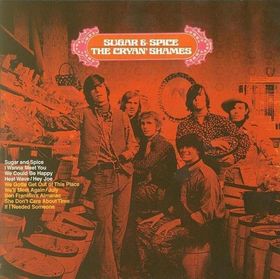 Sugar and Spice (1966), **
Boy, somebody likes the Byrds. The Cryan' Shames sound like the local Byrds cover band, which makes sense for mid-1966. They don't do anything silly like play the hits, but "We'll Meet Again" and "She Don't Care About Time" are played outright, and the band's entire approach is Byrdsian: guitarist Jim Fairs does a good McGuinn impersonation on 12-string, and the group has their harmonies down, but why listen to this when can listen to the original? To be fair, Sugar and Spice is not all Byrdsian; the band covers other top acts - Beatles ("If I Needed Someone"), Motown ("Heatwave"), the Leaves ("Hey Joe"), and the Animals (an odd version "We Got to Get Out of This Place" with an unfunny spoken intro, and possibly overdubbed crowd noises). Even the fun, bouncy title track was a Searchers hit from 1963. There are some good signs here - the band plays well together (as expected from a cover band), and lead guitarist Jim Fairs penned four tracks. At best, his work is average pop-rock ("I Wanna Meet You", "We Could Be Happy"), but "Ben Franklin's Almanac" is a small step beyond their Byrds copying. It's still quite Byrdsian, but more rocking, as the rhythm guitar plugs away at a Bo Diddly beat, and Fairs allots himself a nice solo spot. He is, well, at least fair, at lead guitar, although nobody else in the band really stands out. Again, they were probably fun to see live, but only a substitute for what was readily available. Nothing particularly original about Sugar and Spice, unless you include the guy with a hook (Jim Pilster aka J.C. Hooke) for an hand playing tambourine. Although that may be enough for some. The rest of the band is Dennis Conroy (drums), Tom Doody (lead vocals), Dave Purple (bass), and Gerry Stone (guitar).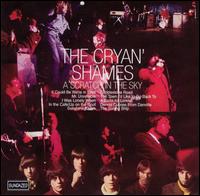 A Scratch in the Sky (1967), ***
Just like scientists posturing the existence of an unknown particle or detecting a planet through its gravitational pull, you knew this had to exist - a Chicago psychedelic pop-rock album. Okay, maybe you did not know it, but it does exist and if you can accept the fact that the Cryan' Shames never had an original idea in their entire lives, you'll enjoy A Scratch in the Sky. The album succeeds because Fairs and new bassist Lenny Kerley did a great job writing hooks, coming up with catchy melodies, and getting the group's vocal harmonies into shape. Instead of the Byrds, the Chicagoans now echoed West Coast harmony groups like the Beach Boys and the Association, as well as British psychedelia. So, the group gathered up every conceivable instrument they could play, and went on a psychedelic pop-rock binge. A Scratch in the Sky is not a masterpiece, but it was more cutting edge than Paul Revere and the Raiders ever got. The band's flexibility is apparent, from happy little tunes like "The Town I'd Like to Go Back To" and the cosmopolitan "In the Cafe," to more Beach Boys influenced songs like "It Could Be We're In Love." The group had enough chops to successfully venture into more rock territory ("Sunshine Psalm" and the humorous "Dennis Dupree from Danville") and their psychedelic jams are rather, erm, pretty (the intricate "The Town I'd Like to Go Back To"). Fairs and Kerley just cranked out a pile of fine pop songs such as "A Carol for Lorelei", "In the Cafe", "Cobblestone Road" and the tripped out "The Sailing Ship," among those already mentioned, and the band's playing is credible and detailed enough to enable the Fairs/Kerley songwriting team to present all this without it coming off as crude. Sure, there is plenty of outright copying: "Mr. Unreliable" is a fine Beatles knockoff and "I Was Lonely When" is a dead-on impression of a Marty Balin led Jefferson Airplane track, and there's an unnecessary cover of the Goffin/King "Up on the Roof". Still, if you like psychedelic pop-rock (or think you might) check this out - it's rather good, even if unoriginal. (Isaac Guillory (guitar) replaced Stone as well.)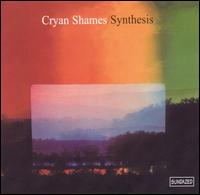 Synthesis (1968), **
This pegs the group's interest as drawing from both American West Coast pop groups like the Mamas and Papas, as well as stars like the Beatles, to make relatively adventurous pop-rock. Synthesis follows Scratch's technique of featuring songs in a variety of styles, but suffers from the loss of Fairs. He contributed one of Synthesis's two standout tracks: "First Train to California", a nice sunshine pop song drawing from squeaky clean acts like Mamas and Papas and the Beach Boys. The other is "Greenberg, Glickstein, David Smith and Jones", a full blown psychedelic rock song, with instruments turned up, phased production, and everything. While I give them marks for trying, Guillory may have discovered drugs, because his two pop epics ("A Master's Fall" and "Symphony of the Wind") close out both sides of the album. They sound like the band was emulating the Moody Blues' grandiose approach, but the melodies and lyrics flop. The chorus of his regular psych-pop song "The Painter" is also close to a parody: "I'm the funny painter man (he's the funny painter man)." A couple of pop songs are decent enough ("Baltimore Oriole" and "Sweet Girl of Mine"), but the rest of the album is pretty flat (curdling ballads, a Caribbean rhythm tune, etc). While they did not have horns tacked onto every track and avoided Paul Revere's mimeographed pop stylings, Synthesis is a disappointing final entry from the group.


Fairs appeared on a Pearls Before Swine album in 1969 (recorded in NY?), and Guillory released a solo album in the 1970s, which, embarrassingly enough, I own.