Jefferson Airplane
Albums reviewed on this page: Surrealistic Pillow, After Bathing at Baxter's, Crown of Creation, Volunteers,
Blows Against the Empire, Hot Tuna, Bark, Sunfighter, Papa John Creach, First Pull Up, Then Pull Down, Fat Fandango, Child of Nature.
Jefferson Airplane was one of the best San Francisco bands but also one of the most consistently commercially successful outfits of the late 60s and 70s, although you would never know it today. Sure, everyone is familiar with their two big hits, "Someone to Love" and "White Rabbit," but starting with the album from which those songs were drawn , Surrealistic Pillow, the lowest chart position one of the albums reached was 20. That makes eight Top 20 albums in a row. Why don't we hear this music? Because despite that success none of their singles ever did much in the charts, and I guess DJs realized that most of the album tracks are awful, plus commercial radio (at least in the US) is almost entirely driven by catering to people's nostalgia for old singles. The more important issue is whether or not we want to hear this music. For the most part, the answer is no. The band's folk + acid thing was impressive while they stuck with it, but they quickly turned into spokespeople for their generation. That meant anti-war left-wing politics, bad folk jams and a graduated rootsier style. By being so much in the moment, the Airplane's later albums have become permanently stuck in it, sounding horribly dated today. When all was said and done, the band had their own vanity label, Grunt, which allowed them to release solo albums of varying sort and quality, and diminished sales. The band broke up in 1973, only to sort-of reform as Jefferson Starship the next year. But back at the beginning JA was a very good folk/acid-rock band, mixing straight music with psychedelic runs. One of their most notable features early on was their strong mixed vocals, which made them sound like the Mommas and the Poppas, if that group rocked. Their breakthrough album Surrealistic Pillow does a very good job of mixing in psychedelia (usally through Grace Slick), while After Bathing at Baxter's is more given over to aimless noise jams. They recovered to the general quiet folk feeling on Crown of Creation but then began a long slide downward through the Land of No Hooks with a few rounds of Where's the Melody? as they became encumbered by the roots-rock movement. Most of their musical edge was planed off with this excessive good time, return to the country feeling. Sure they did odd things like take on an older violin player, but the retreat from the idealism of the 60s was echoed in the Airplane's music (or funneled into the hippie science fiction of Paul Kanter). They were the voice of their generation, but it was one that became disillusioned, although not with the band (as their success showed).
Here is a quick rundown on the individuals that make up Jefferson Airplane. Balin really shared most of the lead vocals early on and had some good songs, but he faded out over time. His voice is bit quirky as well. Kantner, recipient of my John B. Sebastian look-alike award was mainly a rhythm guitarist and reasonable singer. He wrote the majority of the group's later songs, but for the most part they sound awful today, and the same goes for most of his solo work. Kaukonen was the true lead guitarist among them, playing both the usual bluesy licks, and also intricate folk lines. Jack Casady was America's best bassist, playing great lines and pioneering a big fuzzy sound. He combined this distinctive sound with Kaukonen 's own old-time folk to form the spin-off group Hot Tuna, which is pretty much what you would expect. Finally, Grace Slick is probably the most well-known member of the group due to her gender and lead vocals on the group's hits. She was not a belter a la Joplin, but can go for a nice normal sound, or seductive, or angry or sadistic or so darn strong you'd feel she was yelling for them to crucify someone. In case you think I forgot the drummers, they were the most varying of the lot, from simply decent to good and they generally had a jazz background. That was probably entirely useless, but I thought I would make the effort. Oh well.
Personnel: Signe Anderson (vocals), Marty Balin (vocals, guitar), Paul Kantner (guitar, vocals), Jorma Kaukonen (guitar, vocals), Skip Spence (drums), Jack Casady (bass). Anderson and Spence left after Takes Off didn't, and Spence then helped found Moby Grape. They were replaced by Grace Slick and Spencer Dryden, respectively. After Volunteers, Dryden left, was replaced by Joey Convington. Let's see, Papa John Creach (violin) joined 1970, Balin quit 1971. But by Long John Silver, Covington had been replaced by John Barbata, and David Freiberg (bass) was also made male lead singer. This takes me to 1973, where I will stop for right now.
Jefferson Airplane Takes Off (1966)
No Grace Slick, and the drummer Skip Spence was a converted guitarist. This scraped the bottom of the charts. This LP destroyed my needle.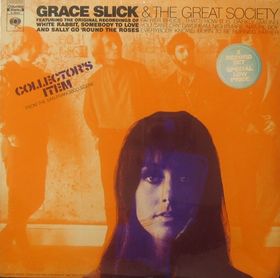 The Great Society: Collector's Item (rec. 1966, rel. 1968)
This collects two live albums recorded by Slick's pre-Airplane group the Great Society. I don't have too much to say about it - the liner notes suggest the Great Society were probably a good band for their time, but only because the competition was so weak. The group plays well together, but the recording dumps the band in one channel and Grace in the other, making it annoying to listen to with headphones. Supposedly the group had two guitarists - I only hear one (Darby Slick?) who is a great rhythm player and then chokes on solos. Kind of funny hearing him try and cover up his mistakes through repetition. Anyways, the real reason someone might want to hear this is for the originals of "Somebody to Love" which is less expansive here, and "White Rabbit" which gets an interesting extended Egyptian introduction. Otherwise the band played contemporary folky guitar-rock in a standard form, with Grace's distinct vocals and her husband's eighth-note loving drumming. Produced by Peter Abram.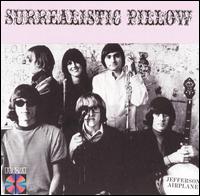 Surrealistic Pillow (1967), ****
With a few personnel changes, the Airplane released one of the best pre-Sgt. Pepper albums of the era. Mid-tempo rock with grumbly bass (Jack Casady), Byrds-like harmonies (see the Mammas and the Poppas) and blues-based electric solos all power this album above most anything else from the period. Grace Slick is only one of the driving forces on Surrealistic Pillow - charging through the psychedelic hits "White Rabbit" and "Somebody to Love", and proving that America really did contribute something to the music scene. I am not sure if there was a lead vocalist, with 4 people credited to vocals, and 3 to guitar, and everybody contributing at least one song. The album's only weak numbers are "Comin' Back to Me" which looses its effectiveness at over five minutes, and the obligatory Airplane-imitating-Paul Simon-imitating-Dylan number "Plastic Fantastic Lover". Otherwise, Surrealistic Pillow is pretty diverse: the fast-paced hits are offset by slower folky numbers, with plenty of good songs in-between (the opening song "She Has Funny Cars" combining the best of all). Hell, the album even includes a fairly brief, interesting acoustic solo "Embryonic Journey". Excellent, and fun. Produced by Rick Jarrard. Jerry Garcia also has a hand in the album as "Musical and Spiritual Advisor," whatever that means.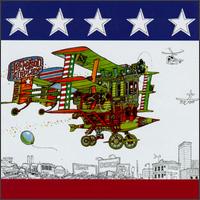 After Bathing at Baxter's (1967), ***
After flirting with psychedelia on Surrealistic Pillow, the Airplane dove in head-first, but with mixed results. Gone are most of the acoustic guitars, replaced with electric on full distortion (inspired by their own bassist?). The experimentation does not do much for the album - there's a short sound collage ("A Small Package of Value Will Come to You, Shortly"), and they play around with the speed of the recording at points ("Young Girl Sunday Blues"). Additionally, the songs are divided into groups, with names like "Street Masse". But they fail to capitalize on the success of Slick's vocals, and she has sings lead on two songs again. One, "rejoyce", is a mysterious social commentary, and the other, "Two Heads", has those full-throated vocals, but is not as good as those on Surrealistic Pillow. That is After Bathing at Baxter's big problem: most of the songs aren't as focused or good, with the exception of the updated acoustic "Martha" or the vocal harmony weirdness of "Won't You Try". The low point is a nine+ minute hypnotic jam between the bassist Casady, one of the guitarists and Dryden ("spare chaynge"). Paul Kantner wrote most of the songs, I still don't know what guitarist does what, but I do know that Jack Cassidy was one of America's best bassists. Produced by Al Schmitt.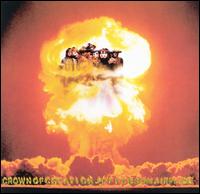 Crown of Creation (1969), ****
Half of this album is near perfect. Instead of loading up on psychedelic production, the Airplane delivered a string of moody, slower-paced acid-folk songs (the highlight being David Crosby's donated "Triad", which is so damn well arranged and sung [by Slick] that it's scary). The album has plenty of fine electric acid-rockers, from Balin's wailing "Share a Little Joke" to Kaukonen's "Star Track", to the title track by Kantner, which also displays their group harmonies at their fullest. The Airplane is still experimenting a bit, but outside of Dryden's mercifully short sound collage ("Chushingura") it is tastefully done (Slick's "Lather" which incorporates both recorded sound bites as well as a solo which sounds like a person on drugs attempting to imitate a guitar). The band does have some issues underneath, which have not turned into problems yet, but still could. Despite having three guitarists, none of them is really an out-and-out soloist (Kaukonen may have been tripped out). Instead, Crown of Creation has a lot of rhythm playing, and on the electric songs usually some fairly slight pentatonic soloing (Balin's jaunty "If You Feel"), sometimes with another guitar contributing some single note verse accompaniment which is not quite diddling ("Star Track"). Casady may be the only consistently fantastic instrumentalist, but the songwriting talent of the rest of the group is what really shines here. Crown of Creation drops off during its second half, with Slick trying again to do her angry, strident vocal thing ("Greasy Heart") and an an extremely boring, gloomy apocalyptic-rock song ("The House at Pooneil Corners", which alternates between two chords for the most part). As long as you know when to cut it off (right after the title track), this is an excellent album. Otherwise, it is merely good. More proof that the Airplane was a rare group with multiple good songwriters. I once believed a line from "Triad" may have been the inspiration for the title of the Big Star album Sister Lovers. Produced by Schmitt again.
Perhaps I'm just off my acid-rocker.

Bless Its Pointed Little Head (1969)
A live album.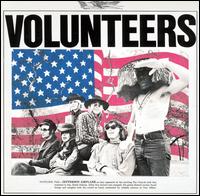 Volunteers (1970), **
It is pretty clear that the Airplane decided to go rootsy like most of their fellow bands. But on Volunteers their playing ability starts to the limit them. In fact, one thing that really sinks this album is the cursed distorted guitar that pops up in almost in the right channel on almost every track. Whoever it is (Kantner? Kaukonen? Balin? some combination?) has a mastery of the basic pentatonic scale, but only that. It gets real annoying real quick, as the mystery player does not stumble across anything really interesting. They did have enough sense to bring in Mr. Good Timey Piano himself, Nicky Hopkins, for a number of tracks, but the level at which they rely on him for their sound is a bit unsettling for a band with three guitarists (although I wouldn't be surprised if Balin didn't play on the album, so maybe two guitarists). But for the most part Volunteers does not work. Their country-rock is iffy at best (Kantner's goofy "The Farm" with Jerry Garcia on pedal steel, or Dryden's band-breakup tune "A Song For All Seasons" with traditional massed vocals). CSN's influence is really apparent - both in an inferior version of "Wooden Ships" with a written intro by Kantner, and Kaukonen's "Turn My Life Down", an on-the-money impression of a Stills gospel song (with organ by the man himself). Otherwise, Slick returns to her cold, dark ways on her "Hey Frederick", only to have the track turned into a real nightmare by a lengthy instrumental coda featuring a guitar battle with both sides playing the distorted pentatonic game. Political feelings and slogans turn up more in the packaging (a mock newspaper including insert) than in the songs themselves (Kantner's steady and remarkably normal "We Can Be Together" and the Balin-Kantner title track which is perfectly suited for audience participation, but lacks more that two chords). Plenty of good moments, but only one really good song, "Turn My Life Down". The rest is not dreck, but a lot of professionally done ho-hum material. Covington appears in a couple of places. Produced by Schmitt.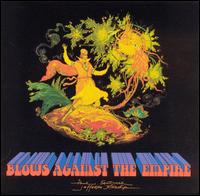 Paul Kantner/Jefferson Starship: Blows Against the Empire (1970), **
Poor Paul Kantner. There was no way for he and his friends to know that their starry-eyed optimism and taste in modern literature would sound incredibly dated today. His enthusiasm really blows through this album, but any project that could be seriously subtitled Hippies in Space seems ripe for mocking. Blows Against the Empire is supposed to accompany a novel of the same name, which may or may not exist, and its story deals with hippies hijacking a starship so they can be free among the stars. Try not to think about it too hard. Throughout all Kantner plays guitar and bass, and the ever present Slick contributes piano and vocals. Throw in a pile of guests and the whole thing reeks of "vanity project," but that should not necessarily condemn it. What does condemn it is the fact that Kantner is plainly not a good songwriter. He wrote a trio of songs with semi meaningless and self-consciously literate lyrics (but nowhere near Jethro Tull standards) and then crafted loose backing around them ("Mau Mau <Amerikon>", "Hijack", "Starship") that are classic examples of sprawl without hooks. The one song he had no hand in writing, "Baby Tree", is done with simplicity (a solo banjo arrangement) and directness. Out of the pile of guests, David Crosby co-wrote the better songs ("A Child Is Coming" with a cool "it's getting better" segment, and "Have You Seen the Stars Tonight" which is rather calm comparatively), while when left to himself, Kantner cranks out the same old mediocre folk dribble ("Lets Go Together"). Let's not forget the by-now obligatory sound collages, where one learns that spaceships sound like feedback and vacuum cleaners ("Home", "X-M"), but without any homage to Our Man in Havana. Blows' biggest surprise is that Slick turns out to be a competent, if not outstanding pianist ("Hijack"). The guests include the entire contemporary Airplane lineup (Kaukonen delivers some nice wah-wah work on "Mau Mau <Amerikon>", and Balin contributed some lyrics), Crosby, Nash, Jerry Garcia (who blows through some nice leads on "Starship"), both Dead drummers, Harvey Brooks, and David Freiberg. Among those thanked are Kurt Vonnegut, Jean Genet and A.A. Milne, all of whom wrote far better than these guys. This album dares to dream, but like so many pot inspired dreams its wisdom has turned out to be worthless. As proof of how hot the Airplane was commercially (while coasting artistically) this reached #20 in the charts.

Hot Tuna: Hot Tuna (1970), ***1/2
A set of old-time country-blues (pre Chicago, pre Delta, pre R&B stuff - the sort of material that would sound at home on a banjo) performed by Kaukonen (on acoustic) and Casady, and sometimes augmented by a Will Scarlett on low-key harmonica. Recorded live in a club, the performances are unhurried, and Kaukonen's vocals are lackadaisical throughout. Hot Tuna's production is pretty flat, which is to be expected in the circumstances, but Kaukonen's guitar technique is impressive, and Casady always pleases. It may just be the setting, but it even sounds like Casady is slapping his bass in places. The songs themselves do not vary much, with the Rev. Gary Davis's "Death Don't Have No Mercy" obviously being a basis for Crown of Creation's "Star Track", and Jelly Roll Morton's "Don't You Leave Me Here" being a personal favorite. But this album is specific in its sound that one will either love it or be bored to death. If the latter is true then all the defects will stand out - flat sound, low energy, little songwriting (Kaukonen only contributes a couple of tracks), repetition. Whatever the case, it certainly is a departure from the mainline Airplane sound, even if it requires an acid test (no pun intended).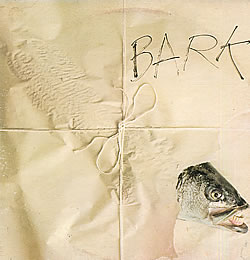 Bark (1971), **1/2
Tons better than Volunteers, Bark is coherent, well-played and the band reigned themselves in. With both Balin gone and Kantner occupied with side projects, the rest of the Airplane has plenty of opportunity to get songs on an album. Plus, you can discern each member's role - Kaukonen is the lead guitarist, Slick is on piano, and Papa John Creach is lurking in the background on violin somewhere. Kaukonen was developing into a great electric blues-rocker ("Feel So Good") and Bark has a couple of good tracks that could be from a Hot Tuna album (the acoustic "Third Week in the Chelsea" might be from Hot Tuna, and "Wild Turkey" foreshadows their electric work with Creach). Kantner contributed his usual epic smiley-faced anthems, stuff the Iranians might sing as they gleefully walked arm-in-arm across minefields during the Iran-Iraq war ("War Movie" where he stumbles across the annoying siren sounds that would later punctuate ELP's "Rondo"). Sure, his sci-fi interest is sort of odd ("When the Earth Moves Again", "Rock & Roll Island"), but give the guy credit for being unusual, and his songs are at least tolerable this time. Slick's compositions are pretty standard as well (confusing social commentary on "Crazy Miranda" and "Lawman" is a fine bluesy rock song), although her piano skills improved. The Airplane's goofy side is more pronounced, and concentrated in a few songs, such as the endurance-test "Never Argue With a German If You're Tired", with Slick singing mock German, and some odd studio noises and tape effects in the background, as if someone had replaced the tapes in a mellotron with those of opera singers and began to mess around on it. Covington's "Thunk" is unexpected, but not as bizarre: an experiment in self-multi-tracked vocals that attempts to update goofy doo-wop music in a capella style. However, Bark's true surprise is "Pretty As You Feel", also the Aiplane's last hit. The song is so deliberately low-key, with distinct vocal harmonies and light guitar and violin lines running throughout that you'd think it was anything but a Jefferson Airplane track at heart. Almost like a CSN song with Santana appearing on guitar alongside Stills. More of group album than before, and with surprisingly good results. Produced by the band.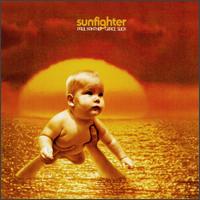 Paul Kantner/Grace Slick: Sunfighter (1971), **
Apparently another chapter in the Blows Against the Empire saga, but since my copy lacked a libretto booklet (their term, not mine) I cannot be entirely sure. One thing is for certain - Sunfighter is worse. All of Kantner's previous indulgences are present but without others to shore up the music, although the usual suspects are around. Kanter was up to his old rambling thing as Sunfighter has a lot of talk about San Francisco, children living with wolves, cannibalism, trips to Andromeda and the like. Kanter also (sometimes with Slick) wrote a large pile of mediocre folk numbers, some of which demonstrate his interest in goofy rusticity ("Look at the Wood"), or mid-tempo rock songs that goes runs in circles while he babbles off odd lyrics ("When I was a Boy I Watched the Wolves"). Plus, his tendency to fall off pitch when holding a note is really annoying. Slick is more interesting -- she still can be utterly captivating with her vocals ("Silver Spoon") which she never got to do Blows, and her "China" is a remarkably well thought out ode to her (and Kantner's) baby, and stands far (or is held) above everything else on here. It isn't a real shock that Sunfighter sounds like an Airplane album - nearly everyone from the group showed up, and includes the requisite amount of "experimentation" that contribute little ("Universal Copernican Mumbles", or the sonic recreation of "Titanic", some background synths). The album also ends in the worst possible way - a long, tepid, horribly loose and ironically titled "Holding Together" which gives Kantner plenty of time to blather his way through ridiculous lyrics, while the absence of solos is absolutely oppressive. The only thing, and I mean the only thing that is worth listening to on that track is the strange bass (synthesized?)/guitar unison that sounds like a sax buried in the mix. Other than that, forget the song, and other than the two Slick songs, forget the album.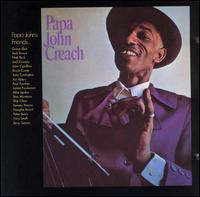 Papa John Creach: Papa John Creach (1971), ***
Papa John Creach's tale is one made for a VH1 special: a band at their commercial zenith adding a far older and completely unknown session musician. The move really makes a lot of sense: the Airplane had been getting rootsier with Volunteers, and outside projects like Hot Tuna reinforced the old-time streak. Creach was a old session violin player from the jazz/blues side of things, and he had an interesting impact on the Airplane. Everyone who was, or had been, involved with the Airplane at the time got to record solo albums or have side projects, and Creach was no exception. Similar to his fellow flyers, Papa John Creach has a laundry list of San Francisco musicians, but the album's sound is different from the Airplane's revivalist tendencies, as Creach brings more of R&B and blues feeling to many tracks. Like many good session people, he had his own distinct style of playing, and his electric violin really sings. He did deliver some fine instrumental renditions of standards (Dixieland on "St. Louis Blues", "Danny Boy", and a beautiful rendition of "Over the Rainbow"). Some tracks are Hot Tuna in everything but name ("Plunk a Little Funk", "String Jet Rock"), and others have a distinct R&B feel ("Soul Fever", Covington's "The Janitor Drives a Cadillac" which made the Top Forty). He even coaxes a marvelous performance out of Carlos Santana on some late 50s rock and roll ("Papa John's Down Home Blues"). But while the players are impressive (the full lineup of Jefferson Airplane and Hot Tuna around, some Santana members and lesser appearances by John Cipollina and Jerry Garcia), the most amazing thing is not that he was able to rope in all of these people, but that they sound really comfortable playing together. Listening to Papa John Creach is a good time - it has a lot of feeling and emotion behind it, despite the paucity of original material. If you cannot get enough Hot Tuna, this would be a good place to look. Self-produced.
The real reason the album is so successful? Paul Kantner is limited to only one rhythm appearance, and doesn't write anything. (Yeah, I'm a jerk.)

Hot Tuna: First Pull Up, Then Pull Down (1971), ***
Still lingering between side-project and full-fleged band, Hot Tuna encompassed drummer Sammy Piazza and the Airplane's Creach to round out the sound for this live set. Thus, Kaukonen's acoustic country-blues of their debut now takes its place alongside electric blues-rock, and the addition of more players allows everyone to stretch out more. Including three old timey blues tracks ("Candy Man", "Want You To Know", "Never Happen No More") is a bit much, given that they all sound pretty much alike: laid back Kaukonen vocals and melodies that would be apt for banjo accompanyment. Creach's violin fits in perfectly on these songs, conjuring up more of their original trappings. It may have been novel for a rock group to reach this far back for their material, but Hot Tuna's adherence to traditional melodies means that repetition overshadows the novelty since their focus is on the music, not the lyrics. This aggregation of Hot Tuna shines the best when they go for the other tried and true - the regular blues. Most of these songs are just loose structures so the band can jam ("John's Other", "Come Back Baby" and "Keep Your Lamps Trimmed and Burning"). Only "Been So Long" is the exception, as it is presented as short blues-rock tune. A few minutes into "Keep Your Lamps Trimmed and Burning" the band noticeably tightens up and starts playing with an intensity not matched elsewhere on the record, so much that Scarlett and Creach get left behind. Essentially, this is a bunch of very good musicians doing some very disciplined jamming to a bunch of covers. However, the band makes little attempt to integrate this sound with anything else, unlike Dan Hicks's historical alchemy. The narrow scope of Hot Tuna's sound (wouldn't want to compete with the Airplane now) as opposed to other Bay area bands means blues and blues-rock fans will probably be delighted, and others will not understand the attraction.

Long John Silver (1972)
Their final album, and every one of them after Takes Off made it to the top 20.
Hot Tuna: Burgers (1972)
Studio recording. Reportedly the key Hot Tuna album, and one that I also own.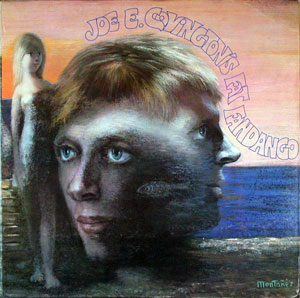 Joe E. Covington's Fat Fandango (1973), ***1/2
The existence of a Joe E. Covington solo album shows just how popular the Airplane were at this time. If Creach was a known quantity, Covington has to have been the group's extreme X factor. Joe E. (or Joey as we'll call him from here on out) is right behind Signe Anderson on the list of least recognizable Jefferson Airplane members (hush J. Peloquin fans), and a drummer to boot (drummers' solo careers being notoriously hard to predict [hush P. Collins fans]). The one huge difference between this album and the rest of the fragments spinning out from the artistically imploding Airplane was that Covington had the decency to avoid any famous guests on his album. To clarify, Covington uses a stable band and is himself the most famous person around. Follow this ? with an extra ! then. He seems to have been a pretty quirky guy - mixing the pleasant California feeling with 50s doo-wop/early Motown and art-rock, or sometimes both ("Miss Unaverse"). The playing is excellent, which is good considering the rather strange combinations of these songs. The great opening track, "Your Heart is My Heart" sounds like early Temptations but with some great psychedelic guitar work by Stevie Midnite thrown in. The real catches are where he lets the band get into a loose groove, and the organ work of "Senator" Patrick Craig propels the music into Canterbury territory ("Mama Neptune", "Miss Universe"). It is all held together by Covington's tongue-in-cheek humor that echoes Zappa in places (the Hendrix-flavored funk "Hideout (Is a Crook's Best Friend)"), but nobody is around to tell him when to stop (the cloying 50s ballad "Moonbeam" with Covington just belting out his vocals). His drumming is uncluttered, fast jazz work, but his voice is often the key component (as like lots of drummers he wants to sing as well [hush C. Palmer fans]). Although he had a good range in the normal registers, is voice is kind of thin - think Joe Walsh at his best (the fun "Country Heart"). Which is why it is a good thing that he goes all nostalgic, because he overdubs well with himself, and the 50s material provides ample opportunity for him to use his good falsetto. One man's wacky vision should be chalked up as a winner, although you'll probably never see or hear it. The bassist is Jack Prendergast. Produced by Covington and Pat Ieraci.
He's also kind of mad in real life because he didn't get into the R&R Hall of Fame with Jefferson Airplane.

Paul Kantner, Grace Slick and David Freiberg: Baron Von Tollbooth & the Chrome Nun (1973)
I have a feeling that the joke is on us.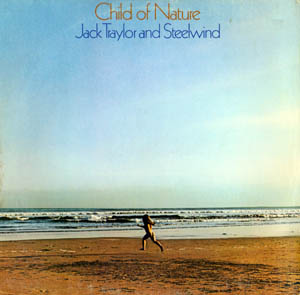 Jack Traylor and Steelwind: Child of Nature (1973), **
A basic desire of any species is reproduction, and occasionally the urge strikes bands as well. Paul McCartney became the surrogate father of Badfinger and helped kick off the nostalgia influenced power-pop of the 70s, while Jefferson Airplane step-parented Steelwind. It is almost simple one-to-one substitution - Jack Traylor was the main songwriter and vocalist, and sticks to unvarnished acoustic rhythm guitar (Kantner). The have a female vocalist, Diana Harris, who also happens to play some piano (Slick), a lead guitarist who mainly sticks to electric (Kaukonen), a third guitar player, Skip Morairty (Balin), and a bassist (Casady). Plus, longtime Airplane producer Al Schmitt produced their debut, Child of Nature. Sure, it is not quite that simple, and this comparison is far more interesting than Steelwind's music. I wish I would stop running across these albums from the Airplane's vanity label, Grunt. Traylor's an okay singer/songwriter (the title track is catchy) but outside of Chaquico, who later hald the same position in Jefferson Starship, the group's backing is vanilla folk/soft rock stuff (plenty of lame 70s flute courtesy of Skip Morairty). When they did pick things up a bit, Steelwind sounds like an Airplane knockoff (the politically themed "Smile", "Gone to Canada"). The young Chaquito gets in some nice work , and has one extended solo which owes a lot more to flashy rock than folk ("Time to be Happy"), but beyond that your pulse will not rise too much. Child of Nauture is instantly forgettable, pleasant 70s music, but its dated political content insures that it will not be played in a bank lobby near you anytime soon. Besides Traylor and Chaquico, the other members of Steelwind dropped off the face of the planet. The drummer is Malo member Rick Quintanal, and Freiberg plays faint mellotron on one track. "Caveat Emptor" indeed.

I refuse to buy Jefferson Starship albums, because I don't think I would get anything out of them. Just my (arbitrary) line in the sand.
Where are the bodies for dinner?...on the Music Page. Yum.