The Flock
Albums reviewed on this page: The Flock, Dinosaur Swamps, Inside Out.
The Flock deserve more than a footnote, but not the full-fleged treatment that an entry in The Anal Annals of American Progressive Rock would surely give them. They released three separate albums all of which had separate ideas behind them, and with steadily decreasing results. Their first album focuses on classical violinist Jerry Goodman, with counter-point done by a horn section (this was a Chicago band, after all) and guitarist Fred Glickstein. Shifting between styles within songs was the key to their success, as was letting Goodman stretch out as much as possible. The second album, Dinosaur Swamps reigned Goodman in, hampered itself by changing styles too much, and was way over-produced. But both albums are certainly a different form of progressive rock - sort of Chicago with Seatrain's violin. But Goodman then left for John McLaughlin's Mahavishnu Orchestra and the band fell apart in 1971. Glickstein and the rhythm section revived it in the mid-70s without horns, but with a token violinist and a synth-loving keyboardist. The final Flock album was self-consciously "progressive" and laid claim to being one of the first "progressive" bands while stumbling all over themselves to imitate crappy popular "progressive" music like Styx (another Chicago band). In short, a deserved, obnoxious flop. So really their debut (The Flock) is the only Flock album you need to own or hear.
Personnel: Rick Canoff (sax), Fred Glickstein (guitar, keyboards, vocals), Jerry Goodman (violin, guitar, vocals), Ron Karpman (drums), Frank Posa (trumpet), Jerry Smith (bass), Tom Webb (sax). Band broke up 1971. Glickstein led a comeback with Smith and Karpman, along with newcomers James L. Hirsen (keyboards), Mike Zydowsky (violin) in 1975, recording Inside Out, which flopped.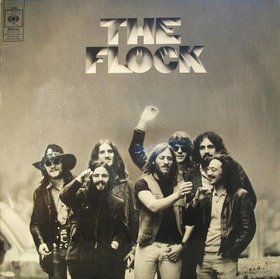 The Flock (1969), ****
Similar to cross-town rival Chicago, the Flock used horns and was signed to Columbia records. But while Chicago was more of a rock group with strong jazz influences, the Flock was even more out there. Most of this is due to their not-so-secret weapon: violinist Jerry Goodman, who played in a downright classical style. The word virtuoso is not one to use lightly, but it applies to Goodman. Right out of the gate, The Flock has an enchanting classical violin/jazz guitar piece ("Introduction") that can hardly be called rock. Goodman's playing is very fluid, and he even pulls out a few tricks such as plucking and wah-wah ("Truth"). It helps that the rest of the band are no slouches either. Guitarist/vocalist Fred Glickstein usually just acts as support while Goodman does his thing, but is a decent player in the distorted electric mold ("Store Bought-Store Thought"). The rhythm section of Jerry Smith (bass) and Ron Karpman (drums) acquits itself well on the jazzy beat (like Chicago's), while the horn section is closer to BS&T (Rick Canoff on tenor sax, Frank Posa on trumpet and Tom Webb on sax/flute/harmonica). Together the music is one huge melting pot, varying between rock, classical, jazz, blues, and even soul, often within the same song. For example, "Clown" starts out as a BS&T like blues number but has a fantastic dreamy middle where the horns get to play jazzy lines, or "I Am the Tall Tree" which can only be described as folky classical that again has jazzy stretches. Lyrically, The Flock has a lot of semi-dated counter-culture stuff, but it is not embarrassing or anything. On the other hand, the music is planned well - the rhythm section tends to keep them firmly anchored ("Store Bought-Store Thought") no matter where they go, the vocal harmonies are well constructed, and they do synchronized note runs periodically ("Truth"). The songs are not jams, but spotlights that rotate on the members of the band. That they only lose their way once, in the middle of "Truth" where what starts out as a straight blues number evolves into something looser, is remarkable. They even do an excellent, soul-like rendition of "Tired of Waiting" (oddly credited to the group). But this is a downright fascinating album. You want American progressive music? Here it is. Produced by John McClure.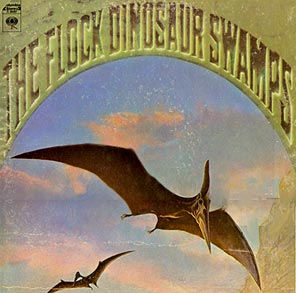 Dinosaur Swamps (1971), **
Dinosaur Swamps is even more progressive, and completely bewildering - right down to the intricate gatefold artwork which almost indecipherable. It is a very dense sounding album - usually Glickstein (using both guitar and keyboards) and Goodman play at the same time, frequently with the horns as well (who get a larger role). Either the group or producer John McClure was fascinated with the already passť use of sound effects for the beginning or endings of songs, like making foghorn noises (the opening of the Steve Miller Band's Sailor anyone?), speeding up the track, or hideous laughing/calliope from hell noises. The songs are not much better, because the band has too many musical ideas. Dinosaur Swamps has psychedelia ("Hornshmeyer's Island" which alternates between quiet versus and loud, helium-voiced choruses), blues ("Crabfoot" with percussion solos, backwards noises, a strange horn noise section that's not quite a John Zorn wet dream), a romantic folk ballad with Salvation Army style horns ("Mermaid") and even a strong country feel on "Big Bird." The album's biggest surprise is the group's almost complete failure to capitalize on Goodman. Sure, he plays, but he has no lengthy solos, only spots now and again, and a couple of interesting tones (wah-wah on "Crabfoot", and an underwater tone that makes it sound like a mellotron on "Hornschmeyer's Island"). The last track, "Uranian Sircus," has ridiculous spoken versus, a chorus of "Uranian Sircus is on it's way to town!", and fun production tricks like reverb and slightly phased vocals. Repetitive, annoying, but grotesquely interesting. Actually, quite a bit of nice playing is within these tracks when the band get a chance to stretch out, but with so many ideas to wade through, the band frequently does not make it. As they never get around to playing, or the music changing too frequently, the weak lyrics (Hornschmeyer's Island" has a few 'gems') and inter-song filler (the intro to "Big Bird", Glickstein's guitar lines in "Lighthouse") shine through. While everyone had ample space on their debut (apportioned by talents, of course), Dinosaur Swamps' approach of everyone going at once makes the album neither overly structured or organized chaos, but like an large object made out of Legos(TM): done in stages, fun for the assemblers, perhaps interesting to look at for a short while, but with a utility approaching zero. In trying to do everything, the Flock amply demonstrate they are not the musical equivalent of an uncollapsed wave function, but instead a band that had too much time on their hands, too little quality control, and little knowledge about their strengths.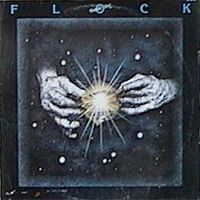 Inside Out (1975), *
How to destroy your career in three easy steps - 1) release an overreaching mess of an album, 2) lose your star musician, and 3) record a comeback album that is even worse than your first mess. Glickstein, Smith and Karpman re-formed the group a few years earlier. This album is bad. Not quite laughably bad, but bad. Ladies and gentlemen, meet keyboardist James L. Hirsen. Hirsen, like oh so many keyboard players, loves to use a bunch of different keyboards and overplay. Yes, he is the new Goodman for the band, as violinist Mike Zydowsky's existence is entirely window-dressing. Zydowsky gets trotted out only for atmospheric effect in a couple of places, and otherwise was probably going to high school as looks to be about 16 on the jacket photo. But Hirsen makes them mainstream prog-rock, well, as long as mainstream means Styx, Kansas and other pretentious johnny-come-latelies without the talent to back up their grandiose schemes. Inside Out is not quite the arena rock/prog of Styx, but more blues based with Glickstein's guitar not really having evolved out of the late 60s. Entirely consistent with this, the band brought in Felix Pappalardi to produce, likely through blackmail or kidnapping a loved one. Pappalardi funks up their sound a bit ("Hang On"), but for whatever the amount of work he poured into this album, he hopefully poured an equal proportion of booze into himself when listening to the music. Granted, the band sounds like they are capable of playing good music (the old rhythm section is still ticking), just that they don't. There are a couple of low-skill prog-rock instrumentals ("Metamorphosis", "Straight Home") and one bearable rock song ("Music For Our Friends"). Glickstein was never much of a soloist, so it is mostly Hirsen time. Hirsen with the seizure-producing synths. The lyrics are also fairly awful: a perfectly typical mix of quasi-New Age philosophy ("Back To You" is about Karma, but also about women cheating on a wretched voiced Hirsen) and meaningless phrases. Try "My OK Today", which was inspired by the mental health best-seller "I'm OK, You're OK" - it likely sets the record for use of the word "buzzin'" in a song. Yes, this is not your father's Flock, or your grandfather's. At least Inside Out is not offensive, just boring boring boring.
Normally, I try to do nothing else when listening to music for review. Here I soon found the dust jacket more interesting than the music itself. Boy, did the Mercury record label's rock roster suck - the only respected artists listed are Captain Beefheart, Gentle Giant, the New York Dolls, and Kraftwerk(!), none of whom sold a ton of records in the US. The big money makers were their harder rock people like Bachman-Turner Overdrive, Rod Stewart and Uriah Heep. Or check out this anecdote from the lengthy anti-piracy story ("Tape Piracy...Everyone's Problem") on the back:
While many recording artists have actively engaged in promoting the fight against anti-piracy by appearing before state legislatures and acting as witnesses in court cases, Jerry Lee Lewis has taken the bull by the horns.
John Polk, RIAA investigator based in Nashville, told a NARM antipiracy seminar, that Lewis recently pulled up to a gas station in the south and noticed a rack of pirate tapes in the station. He asked who owned the rack and when told that an unidentified man serviced it weekly from the trunk of his car, Lewis took the rack outside the station and smashed it. When the station operator asked him what he should do when the route man came and asked what happened to his rack, Lewis replied: "Tell him 'Killer' was here."
You cannot make that stuff up. Also included are methods on how to tell a counterfeit 8-Track from a legitimate one. Perhaps the best part of this is that Hirsen quit music, went to law school, and is now a conservative law professor. He's christened himself America's Advocate, and hosts a nationwide talk radio program. I kid you not. Maybe someone should call in and ask him why this music sucks so bad. (Don't really do this - he teaches tort law so you would be toast). So, yeah, this music won't make you throw up in your mouth if you listen to it once, but it also won't win you friends, members of the opposite sex, or self-respect. Don't try repeated listens.
Take me to another land ...or at least the Music Page.