Al Kooper
(including Blood, Sweat and Tears)
Albums reviewed on this page: Child is Father to the Man, Blood, Sweat and Tears, Supersession, You Never Know Who Your Friends Are, 3.
Rather simply, Al Kooper is one of the unsung heroes of rock. A keyboardist/guitarist/singer with feet in rock, jazz and classical, his resume is long. A brief rundown -
Songwriter in the early 60s - "This Diamond Ring" for example.
Big session player, most notably on Bob Dylan's earlier works.
Was in influential groups Blues Project and Blood, Sweat and Tears.
Got the Zombies' final album released in the US, where "Time of the Season" became a big hit.
Discovered and produced Lynyrd Sknyrd.
Produced influential jazz artist Don Ellis, among others.
I think that speaks for itself. As for BS&T, they were one of America's answers to art-rock. Incorporating the same wide range of influences and technical prowess that mark "art-rock," BS&T interpreted did not so much interpret music with the traditional rock group instruments, instead incorporating a horn section directly into the band. The result, "white horn rock," was how America soothed its popular desire for artsy or jazzy music without resorting to the use of people like Keith Emerson. Of course the movement died out fairly quickly (as opposed to English "art-rock"), but while it lasted it was a truly American contribution to the music scene.
Blood, Sweat and Tears: Al Kooper (keys, vocals), Steve Katz (guitar, some vocals), Bobby Colomby (drums), Jim Fielder (bass), Fred Lipsius (alto sax, keys), Randy Brecker (trumpet), Dick Halligan (trombone, keys, flute), Jerry Weiss (trumpet). Brecker, Kooper and Weiss left after Child is Father to the Man. Added at that time were Lew Soloff (trumpet), David Clayton-Thomas (vocals), Jerry Hyman (trombone), Chuck Winfield (trumpet).
See the Blues Project.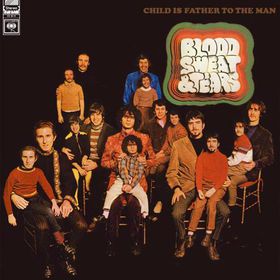 Blood, Sweat and Tears: Child is Father to the Man (1968), ****
The birth of White Horn Rock, with Kooper taking Katz away with him from the Blues Project. Child is Father to the Man has no big hits, and the horns are not as prominent as they would become. Instead, they shared the stage with the expert keyboard playing and singing of Al Kooper, dishing out a blend of classical, jazz influences into a blues base. The results are spectacular - the slow blues of "I Love You More Than You'll Ever Know" with great playing by Katz, the odd "Morning Glory" well sung by Katz, Nillson's lounge jazz "Without Her" the psychoanalysis-meets-Elinor Rigby "The Modern Adventures of Plato, Diogenes and Freud," and much more. The experimentation in some places does not quite work ("House In the Country" or Katz's "Meagan's Gypsy Eyes" which as close to psychedelia as they got), but Kooper tried so much and was usually successful, so the lesser moments are easily overlooked. The level of horn involvement in a non-supporting role was virtually unprecedented at this time and later used by such groups as Chicago. Kooper also continued using his creepy space-age ondioline at this time: an odd precursor to the synthesizer which sounds like high-pitched electronic bagpipes. Produced by John Simon. (Columbia CS 9619)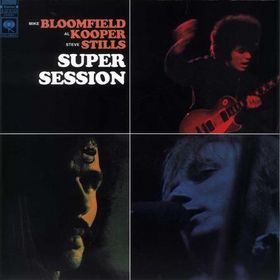 Mike Bloomfield/Al Kooper/Steve Stills: Supersession (1968), ***
A Jeckyl and Hyde affair. Kooper wanted to have a jazz-like session where everybody just gets together and improvises some old standards. So he partially recreated Dylan's Highway 61 session by inviting blues guitarist Mike Bloomfield and bassist Harvey Brooks to join him, along with drummer Eddie Hoh. The only problem being that Bloomfield decided to skip out of the session about halfway through. Perhaps by accident, perhaps by blind luck, recently unemployed "Steve" Stills was drafted in as a replacement. The end result is part genius, part rush hour traffic. Bloomfield really kicks the Chicago blues out on his side ("Albert's Shuffle" and "Really"). Even on the longer jazzy "His Holy Modal Majesty" the band has plenty of life, and Kooper's odd ondioline sounds really offset his more traditional organ playing, showing the great potential of a jam. The real trick is that Kooper keeps the group focused, which is probably the large difference from The Electric Flag, where Bloomfield, Brooks and electric pianist Barry Goldberg (who shows up on a couple of tracks) came from. Then there's the Stills side, and here Kooper takes control. Sure, there was a blatant Kooper soul song with Bloomfield (Curtis Mayfield's "Man's Temptation"), but it was still within the players' element. Stills and Kooper make an unlikely pair - Kooper's more of a loud shouter, while Stills is more laid-back and staid. Couple that with Stills' understandable underpreparedness and there's trouble. The opening number, Dylan's "It Takes a Train to Laugh, It Takes a Lot to Cry" works well enough with Stills' more quiet lead guitar, but after that it's little short of a disguised fiasco. So when Kooper drags the band through an 11+ minute version of Donovan's "Season of the Witch" with Stills' jagged wah-wah guitar buried during the listener's fleecing. Instead, Kooper digs into his producer's bag of tricks - covering up parts that he thought may be boring with horn arrangements ("Season of the Witch" and transforming Brooks' "Harvey's Tune" into full-blown jazz as well as some of his soloing on the Bloomfield side), and phasing the hell out of the remaining track ("You Don't Love Me"). Stills sounds bewildered throughout, and generally gets smothered. While Kooper may have had an excellent idea, this album shows both the heights and perils of an unscripted session.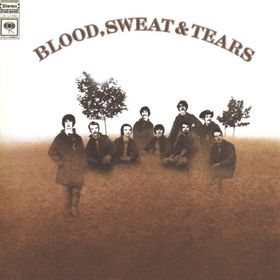 Blood, Sweat and Tears (1969), ***1/2
With the group's main writer and musical force gone (Kooper), BS&T aimed for a more commercial sound with Chicago producer James William Guercio. In the end, BS&T is split fairly evenly between the horns and new frontman David Clayton-Thomas. Judging by the album picture, he's a big guy, so it comes as no surprise that he can really belt it out, complete with noises stolen from James Brown. Fred Lipsius (alto sax/piano) and Dick Halligan (keys/flute/trombone) wrote most of the horn arrangements (Kooper also gets some credit), and the horns back Clayton-Thomas during the songs, then shift into jazz instrumental breaks (the hit "You've Made Me So Very Happy" among others). BS&T has a fairly consistent tone, but a few variations carry over from their debut, such the classically derived intro/outro ("Variations on a Theme by Eric Satie") or the jazz/blues solo showcase of "Blues-Part II." All the changes worked for the band, and this album had plenty of success. Its most famous track, "Spinning Wheel," is truly a great song, with Clayton-Thomas's big vocals interspersed with a guest solo by trumpeter Alan Rubin (later in the Blues Brothers' original band.) BS&T only potential downside is that most of the songs are covers, the exceptions being "Spinning Wheel" and Katz's nice ballad "Sometimes in Winter." Along with Chicago Transit Authority, this is one of the defining albums of white horn rock. Produced by James William Guercio. (Columbia CS 9720).
Al Kooper: I Stand Alone (1969)
His first solo album, so yes he did.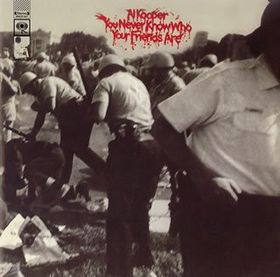 Al Kooper: You Never Know Who Your Friends Are (1969), ***1/2
Kooper may be mainly know as a keyboardist, but he also shows himself to be a decent guitarist occasionally. This post-BS&T album is a intelligent and fun pastiche of pop styles, that was less experimental and lighter than BS&T, but still worthwhile. The opening track, the BST-styled "Magic in My Socks" shows not only Kooper's songwriting sense, but his sense of humor. He does a few Motown covers ("Too Busy Thinkin' Bout My Baby" and "I Don't Know Why I Love"), and a great Beach Boys type song ("Loretta"). Throw in a gospel blues instrumental, the funny title track and a fantastic Nilsson cover ("Mourning Glory Story") to round things out. But the most interesting track is the serious "The Great American Marriage/Nothing" which starts out as a modern classical piece. A good time indeed. Produced by Kooper. There are about a billion session players with "The Al Kooper Big Band," conducted by Charlie Calello.

The Live Adventures of Al Kooper and Mike Bloomfield (1969)
Double-LP. I have this as well.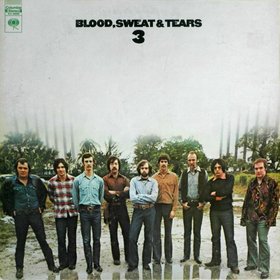 Blood, Sweat and Tears: 3 (1970), **1/2
Now this really is analogous to progressive-rock - an ambitious attempt to merge songs with horn arrangements, but in a mainly Americana fashion (despite some of the songs' origins). To elaborate, in addition to using quotes from classical composers such as Bartok and Prokofiev, BS&T used gospel both as a style (the mass choir enhanced rendition of an old Goffin-King tune "Hi-De-Ho") and as a latent theme throughout, while also throwing in the usual jazz and blues stretches. Of course, this belies one of BS&T's main post-Kooper problems - a lack of songwriters. One would think that in a band with nine members somebody would be able to write songs. Sure, Steve Katz has always been good for one song (this time it's the inferior anti-war "The Battle"), and frontman Clayton-Thomas did deliver the goods with his debut, but his only song here sounds like a rewrite of "Spinning Wheel" ("Lucretia MacEvil"). In terms of group dynamics, 3 is pretty much a balance between the Clayton-Thomas's vocals (some unexpected falsetto in a cover of The Band's "Lonesome Suzie") and the horns (the alternating sax parts in Joe Cocker's "Somethin' Comin' On" come to mind). But while the arrangements are eclectic and adventurous (Traffic's "40,000 Headmen" merged with nesting musical quotes) they do not quite gel for the most part. Even Laura Nyro's "He's a Runner", which is fantastic, doesn't really go anywhere, outside of a piano break that sounds like the theme to Mr. Rogers' Neighborhood. The worst is the orchestrated suite "Symphony for the Devil / Sympathy For the Devil", which sounds like a blissfully atonal counterpart to "In Held Twas In I" (where squiggly atonal lines = bad = devil). Sure, 3 has plenty of highly competent solos and the playing on the album generally well-done, but something is amiss. I believe it to be the lack of any strong material, despite whatever bells and whistles deck their arrangements. Halligan and Lipsius did most of the arranging. Produced by Colomby and Roy Halee.

Blood, Sweat and Tears: Four (1971)
I have this too. Don't hold the phone for this one. I haven't listened to it in years.
I can't quit reading bad music reviews...