The Byrds
Albums reviewed on this page: Mr. Tambourine Man, Turn! Turn! Turn!, Fifth Dimension, Younger than Yesterday,
The Notorious Byrd Brothers, Dr. Byrds & Mr. Hyde, Untitled, Byrdmaniax, Farther Along
Byrds outline: founded folk-rock along with others such as The Beau Brummels, and became the blueprint for numerous bands from Love, to Jefferson Airplane to The Cryan Shames. Gradually drifted into psychedelia, shed members, and the went into straight country-rock with Sweetheart of the Rodeo. Their final albums (with a substantially different lineup than Sweetheart), continued the country-rock pattern, but were more folky, loose and bad. Also - one of the top American bands of the era.
Initial Personnel: Jim (later Roger) McGuinn (12-string guitar), David Crosby (guitar), Gene Clark (guitar), Chris Hillman (bass), and Mike Clarke (drums). Clark quit after Turn! Turn! Turn!, Crosby out after Younger than Yesterday. Retooled for Sweetheart of the Rodeo, with Kevin Kelley on drums and Gram Parsons on guitar. Afterwards, Hillman and Parsons left for the Flying Burrito Brothers, and Kelley was fired. New lineup for Dr. Byrds: McGuinn, Gene Parsons (drums), Clarence White (guitar), and John York (bass). Skip Battin replaced York for the final two albums.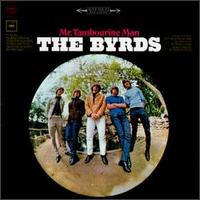 Mr. Tambourine Man (Jun. 1965), ****1/2
America's response to the Beatles, and the birth of folk-rock. The Byrds combined American folk music, 12-string guitars, Beatlesque harmonies and Dylan lyrics into the smash hit title track, and the rest of the album generally sticks with that formula (with the exception of the lyrics). Their debt to the Beatles is enormous, right down to the open strum endings on some songs. However, their pace is slower, and sound less harsh - relying more on acoustic guitars and an electric 12-string. But while the Beatles were the best and most well-known group to come out of the Mersey beat explosion, this album almost single-handedly established folk-rock, and influenced everybody from Jefferson Airplane to REM. Heck, they could write their own songs, relying on Gene Clark for gems like "I'll Feel A Whole Lot Better" and gentle country-influenced "I Knew I'd Want You". Lots of fun, historically significant and well done. Produced by Terry Melcher.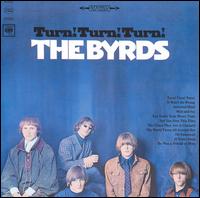 Turn! Turn! Turn! (Dec. 1965), ***1/2
Six months after their debut, The Byrds tuned their approach with Turn! Turn Turn! - less McGuinn 12-string solos, plenty of chiming guitars, perfected harmonies, and more original material. The title track is the one that most resembles their debut with its strong McGuinn lead, Biblical lyrics and has since become a song that connotates the era. Still, this album as recorded in the six months following Mr. Tambourine Man, and it has weak spots - an irrelevent cover of "Oh Susannah!", one good Dylan cover "Lay Down Your Weary Tune", an ok one "The Times They Are A'Changing" and some other covers. But who needs Dylan when you have Clark, whose "If You're Gone", the country-minded "Set You Free This Time", or the folk of "The World Turns All Around Her" are perfect blends of electric rock and tradition. The album has sentiments of expectations - "The Times They A'Changing" and McGuinn's working of "He Was a Friend of Mine," but the band was not political or particularly contemporary in subject. A solidifying album more than an advancement, but solid. Clark's swansong.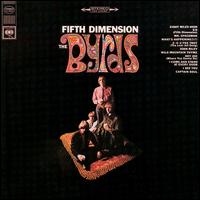 Fifth Dimension (Aug. 1966), ****
A fantastic leap upwards... and another padded release. The Byrds fell straight into early psychedelia here, led by McGuinn's fascination with jazz and non-Western music, which led to fascinating, fractured guitar solos. The band was hit was Clark's departure, with McGuinn picking up most of the slack. The whole album has a nascent feeling of drug use and the now-rote flight metaphor ("Fifth Dimension", "5D", "Mr. Spaceman" "2-4-2 Fox Trot (The Lear Jet Song)"), and Crosby's fine "What's Happening?!?!" sums up the band's state of mind. From a historical standpoint you can hear the blueprints of several strands of music trends on Fifth Dimension: psychedelic freakouts in McGuinn's twisted guitar solos, the technical jazz of early Yes ("I See You"), the traditional-minded work of Fairport Convention ("John Riley"), protest rock ("I Come and Stand at Every Door"). While their drug-aided writing was cutting-edge, it was not plentiful, and Fifth Dimension has more traditional stopgaps ("Wild Mountain Thyme", "John Riley", the antiwar "I Come and Stand at Every Door") and the album's latter half is a puzzling collection of filler: a brisk "Hey Joe", an R&B(!) instrumental, and a failed sound experiment ("2-4-2 Fox Trot (The Lear Jet Song)" - takeoff noises with rudimentary backing). Allen Stanton's production retains the focus on McGuinn's 12-string, but adds orchestration on the traditional numbers, and otherwise is unremarkable. The Byrds would never be this far ahead of the curve again.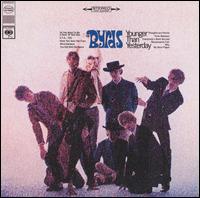 Younger Than Yesterday (Mar. 1967), ***1/2
"So you want to be a rock 'n' roll star?" the Byrds asked. A valid question, as many emulated them, and also because the Byrds started to pass the baton at this point; Younger Than Yesterday was another follow-up album, with few new highlights. In fact, maybe the Byrds wished to maintain their top status by abandoning trademarks: Fifth Dimension's gnarled 12-string solos, and the layered harmonies. When combined with Gary Usher's sometimes-psychedelic pop production (mostly backwards guitars), the Byrds started to lose what made them special, even if their work was strong. This marks the point when McGuinn's sci-fi and experimental tendencies started to hobble him. He probably conceived "CTA 102" in a mental haze, with rambling science lyrics and an early nonsense synthesizer jam for a solo. Fortuitously, Crosby and Hillman compensate. Hillman supplied several Beatles-go-country songs - "Have You Seen Her Face," "Thoughts and Words" and the country-rock "Time Between" are good flickering guitar songs. Crosby's serious songs appear in sharp relief against the lighter material - weary electric folk ("Everybody's Been Burned", a CS&N precursor) and an angry parable recited in a rising tide of reversed guitars ("Mind Gardens"). Yet, the old ways were still effective: a cover of Dylan's "My Back Pages" is one of their strongest Dylan covers, and a throwback in terms of style and production. The album closes with the great "Why" which could easily have fit on Fifth Dimension - a basic rising chord progression, the harmonies, but with a steady rhythm that serves as a dancing background for a cracked McGuinn 12-string solo. The Byrds were at the start of a slow decline, but it wasn't apparent yet, and Younger Than Yesterday is a solid album.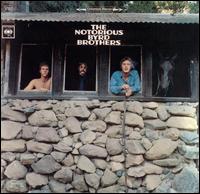 The Notorious Byrd Brothers (Jan. 1968), **
Only McGuinn, Hillman and Clarke, the band fell. Down. Hard. Gary Usher continued to make them sound like a lame pop group, while the band got high as kites. McGuinn was still way out there ("Artifical Energy", "Dolphins Smile", "Space Odyssey" the latter presented as a traditional folk ballad) and his vocals are mediocre (and he's the best of the lot). Everyone collaborated, and Hillman shows none of his sharp talent from YTY in the present setting. Okay, the band is still concerned with war ("Draft Morning"), but Notorious's songwriting is shockingly weak. Warning sign: one of the better tracks is a Goffin/King composition ("Wasn't Born to Follow"), and "Tribal Gatherings" is offbeat, shifting between jazzy to rock, and has some good guitar work. Otherwise, nothing new - a bit more country ("Get to You","Old John Robertson"), the droning "Change is Now") and a lot of blandness. Usher doesn't spark anything either, employing some of the usual tricks - phasing ("Natural Harmony", "Old John Robertson") and backwards guitar ("Wasn't Born to Follow"), and the band's harmonies are hurt by the loss of band members. If you want tripped out, middling music, you may enjoy this; otherwise, forget it.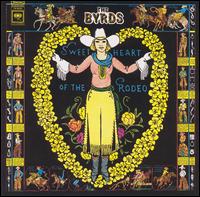 Sweetheart of the Rodeo (Aug. 1968), ****
According to the liner notes, McGuinn wanted to make "a double LP covering the whole of American musical history, from traditional folk and classic country to rock & roll and the new dawn of the Moog synthesizer," an album I have no doubt would have been a fiasco and highly enjoyable to review. Instead, new member Gram Parsons convinced the band to record a country album. Mostly recorded in Nashville with sidemen, the Byrds were the first major band to venture deep into country, and the results were excellent. The band sparingly used electric instuments in favor of steel guitar as the lead, fiddle and banjo, giving them a vastly revised sound. The material is mostly excellent - a pair of new Dylan songs ("You Ain't Goin' Nowhere" and "Nothing Was Delivered" with McGuinn adopting Dylan mannerisms in his singing), and a pile of standards. Parsons was supposed to have a greater role on the album, but interlabel disputes forced the band to scrap most of his steady lead vocals in favor of McGuinn. Still, Parsons was a sharp songwriter and his two contributions: "Hickory Wind" and "One Hundred Years from Now" handily trump the band's other contribution: McGuinn and Hillman's "I am a Pilgrim". Of course, as newcomers to country, the Byrds got to cover anything they wanted, and their session backers made everything sound professional. For the moment, the band's As exciting as this direction was, the album did not sell, Parsons left the band to start the Flying Burrito Brothers, Hillman followed and Kevin Kelley was fired.
Most re-releases contain versions of "The Christian Life", "You Don't Miss Your Water" and "One Hundred Years from Now" with Parsons' superior vocals, along with some fine other rejected songs ("All I Have Are Memories" and "Lazy Days").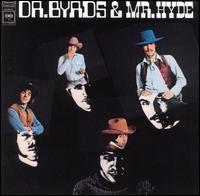 Dr. Byrds & Mr. Hyde (Mar. 1969), ***
The Byrds were now McGuinn and three new guys, and they retained the country-rock missive, but with a more electric rock approach. Clarence White's guitar and Dylan producer Bob Johnston's work provide needed gusto, and McGuinn sounds invigorated. These Byrds sound like they might do something thoroughly great, cause enough for celebration. McGuinn's writing dominates the album (with some co-writes), and his songs cover typical subjects like old dogs ("Old Blue"), women ("Candy"), or more Dylanesque material (the fun "Drug Store Truck Drivin' Man", "King Apathy III"). The rest of the album is filled with fine covers (Dylan again with "This Wheel's on Fire", Paxton "Your Gentle Way of Loving Me"), more outer-space weirdness ("Child of the Universe"). The album's close is its oddest moment - a medley of "My Back Pages" and a pair of blues tunes which sounds like an excellent C&W bar band version, both reaffiring their past, and distancing themselves from it. Regretfully, without Parsons, McGuinn's tremulous songwriting talent was the only thing separating the Byrds from an actual C&W cover band, and that was thin support.


The Ballad of the Easy Rider

(Dec. 1969)
I don't have this. The title track was their last Top Ten hit in the US.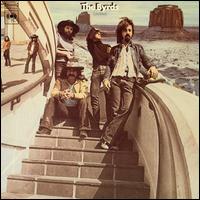 Untitled (Oct. 1970), **1/2
A double album, half live. They sound good live, although they mainly play earlier song like "Mr. Tambourine Man" and an entire side is devoted to "Eight Miles High". Oddly enough, it largely ignores their newer country-rock material, save for "Nashville West" and the excellent "Lover of the Bayou", but the lineup gives everything a rockin' country tint.
The studio side is more country-rock, but lighter than Dr. Byrds & Mr. Hyde. McGuinn had worked with theatre director Jacques Levy on another bizarre, ambitious idea: a psychedelic/country-rock musical based on Ibsen's Peer Gynt, called Gene Tryp. It never came to pass, but it provided a few good nuggets for the Byrds later work, as Levy's oblique lyrics are an adequate Dylan substitute. One of these is the live side's strongest song (the opener "Lover of the Bayou") and the two others comprise the studio highlights. "Chestnut Mare" has odd spoken versus, with McGuinn talking about pursuing the mare in increasingly unrealistic terms, while "Just a Season" is a return to the folky harmony days of the band, and "All Things" is more excellent country-rock. Aside from that, Untitled shows a series of misjudgments. McGuinn was not the greatest singer, but he was the Byrds' predominant voice. The newer members' voices range from stifled (Clarence White on "Truck Stop Girl") to bland (Skip Battin on "Take a Whiff" or Gene Parsons on "Yesterday's Train"). Further, bassist Skip Battin wrote or co-wrote most of the remainder. Battin's eco-friendly material is just as annoying and dated as McGuinn's earlier space-eyed garble ("Hungry Planet") and his country-rock songs are mediocre ("You All Look Alike" or "Well Come Back Home" which sounds like a San Francisco song with its loose feel and tripping ending). The band's playing is not an issue - White's guitar sparkles throughout and they were clearly talented. Yet, with unfamiliar vocals and unmemorable material, Untitled often sounds like a lesser band. Melcher produced again.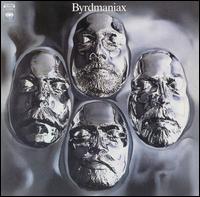 Byrdmaniax (Jul. 1971), *1/2
A fiasco. Byrdmaniax is folkier than Untitled, and Melcher's production mars the already tepid material to the point that it ended his career. McGuinn had been interested in Americana, and Byrdmaniax has it in spades: goofy Dixieland ("Citizen Kane", "I Wanna Grow Up To Be a Politican"), 50s rock ("Tunnel of Love"), soul backing vocals ("Glory Glory", "Kathleen's Song"). Untitled's bad decisions are repeated (middling non McGuinn vocals, crumbly production), and Melcher also obliterated White's solos or preempted them with session guy Larry Knechtel's overabundent keyboard work. McGuinn's material is the strongest, and at best it is tolerable background music ("Glory Glory", "Absolute Happiness" or "I Wanna Be a Politician"). The Battin/Fowley team wrote must of the clunkers, including the annoying "Tunnel of Love", and the album closes with soft-rocker Jackson Browne's "Jamaica Say You Will". The band was retreating somewhere (Airplane rootsy? soft-rock?), but it was not a dignified march. Avoid.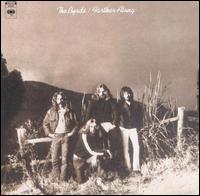 Farther Along (Dec. 1971), **
Farther Along terminates the Byrds deep in roots music, along with a few nods to 50s rock and roll. Melcher was out, and the band's self-production is straightforward. The songwriting, however, is as flaccid as ever. Songs about roadies, songs about country life, songs about women, well made, but for educational or historical purposes only. McGuinn's sole song, "Tiffany Queen" is a decent retro-rocker, and White's folk (title track) and bluegrass instrumental ("Bristol Steam Convention Blues") are fine, but the remainder are uninspiring. White's snappy guitar leads are rare, instead adding mandolin, banjo on the folkier songs. The only songs worthy of condemnation is the Battin/Fowley work "America's Great National Pastime" with stupid satirical lyrics set to a dixieland tune. Fittingly, it was chosen as the band's final single and neither it nor the album charted. The Byrds were the first big folk-rock band, the first major country-rock band, but everyone from Seatrain to the Kinks was with the program, and doing it better.