The Buckinghams
Albums reviewed on this page: Kind of a Drag, Time and Changes, In One Ear and Gone Tomorrow.
The Buckinghams were pop superstars for about a year and a half in 1967-68, and then a trumped up drug charge and popular abandonment of wistful pop derailed them. Yes, "wistful" best describes their music - their biggest hits are full of teenage love and accompanying lack of understanding. Nowadays, the Buckinghams are big-time uncool, but their songs are soul-shaded Chicago pop-rock at it's AM radio finest, and the foundation of the "Chicago Sound" (aka taking a pop-rock track and plastering horns all over it). They also suffered from what I like to call the Chicago Curse - starting out as a well-intentioned Chicago cover band and ending up as pop drool. Their early success with "Kind of a Drag" allowed them to sign with a big label, but then they started working with manager/producer James William Guercio. Guercio may have gotten them a contract with Columbia, but he also steered them in an awful pop direction, drowning the band in horns and strings and giving them crappy songs to record. The group managed to survive a while, but after cranking out three albums in two years, they faded along with other happier pop groups. They were always a bit more soul-oriented than other pop groups such as The New Colony Six, thanks mainly to Dennis Tufano's strong vocals and Jon-Jon Poulous's interesting drumming. Frankly, they were never that good - I can't image a greatest hits compilation getting more than a ***1/2 rating - but they are a guilty pleasure.
Tufano & Giammarese had a duo in the 1970s and Grebb went on to play with Chicago related bands like Lovecraft and The Fabulous Rhinestones.
Personnel:
Nick Fortuna (bass), Carl Giamarese (lead guitar, vocals), Dennis Miccolis (organ), Jon-Jon Poulos (drums), Dennis Tufano (vocals). Miccolis was fired after Kind of a Drag, and replaced with Marty Grebb (keyboards).
---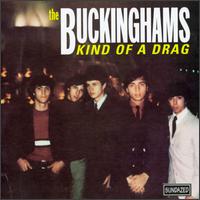 Kind of a Drag (1967), **1/2
An overly generous rating, but this album is pretty fun. The Buckinghams were still a real rock band at this point; a cover band to be sure, but still a band. The title track was the big hit, as producer Dan Belloc added punchy horn parts to the tune about confused teenagers, kicking off the "Chicago Sound" in the process. As a result, horns showed up everywhere in Chicago bands, not always for the best. After the title track's success, the label just slapped every Buckinghams track it had around onto one LP in an effort to get product out the door. Such is the nature of a #1 nationwide hit. Thus, some of these tracks were released as singles as far back as 1965. Kind of a Drag's parentage is probably a combination of their live act and whatever songs they were given. Thus, there is a heavy British Invasion influence --some Kinks-y fuzz-rock ("Don't Want to Cry", "I've Been Wrong Before"), a tame Beatles cover ("I Call Your Name"), and from the Zombies as well ("You Make Me Feel Good" and a more swinging rendition of Gershwin's "Summertime"). The band had some talent to get the job done: guitarist Carl Giamarese has some throw-away fuzz solos, Dennis Tufano's a good straight pop singer and Jon-Jon Poulous does a good job at the kit. Kind of a Drag also has some soul feel along with the Brittania, as Tufano does a good job pulling off James Brown's "I'll Go Crazy," but the rest of the album is just period filler. Local guitarist and songwriter Jim Holvay contributed three songs ("Love Ain't Enough" with partner Gary Beisbier, "Makin' Up and Breakin' Up", the title track), all in the same sort of teenage love vein, but the two non-hits are not as good. Nothing significant about this album beyond historical realms, but just a fun time. Released on a small label, and with an appropriately out-of-focus cover photo of the band. Produced by Belloc and the group's manager.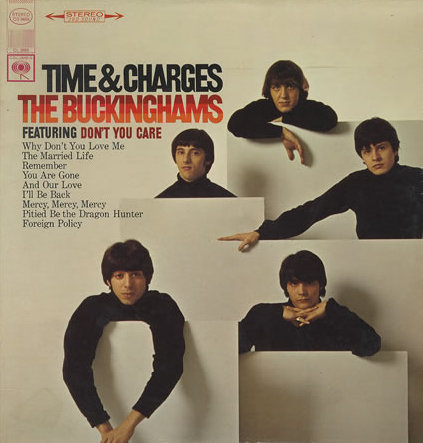 Time and Changes (1967), *1/2
The tracks on this album fall into two discrete categories - up-tempo numbers like their debut (Holvay and Beisbier's "Don't You Care" and "Why Don't You Love Me" which have the same confused teenage motif, and a cover of Cannonball Adderly's "Mercy, Mercy, Mercy"), and a pile of schlocky James William Guercio originals which comprise the remainder (the lone exception is the Beatles' "I'll Be Back"). Guercio was now their producer, manager and arranger, and his strategy was to push them more towards a bland, mainstream pop sound. Thus, Giamarese was handed an acoustic guitar, and was shunted to the background along with new keyboardist Marty Grebb. Guercio was smart enough not to mess with the Buckingham's recipe for success (both "Don't You Care" and "Mercy, Mercy, Mercy" were Top 10 hits), but his horn and string arrangements are disturbingly overblown. If you thought Days of Future Passed or The Left Banke were florid, these arrangements approach self-parody. Guercio's own songs are the same sort of dated fluff that he was working on with the milquetoast Chad & Jeremy, and stuffed with hideous romantic clichés and bad rhymes. His work has only a small nod towards contemporary musical trends with "Foreign Policy," a Socially Conscious piece with the usually clunky arrangement, a JFK excerpt in the middle and then some backwards horns at the end. It is as awkward as my description. Tufano's voice is suited to this sort of thing, but his heart isn't in it (he sounds bored on "You Are Gone"). Poulous keeps banging away as usual - he was probably one of the best pop-rock drummers at this point. Guercio's songs are so embarrassing, the comparison with the rest of the album is like night and day, and they drag my rating way way down.

Portraits (1968)
Guercio was still in charge, but the band wrote most of the material. Holvay and Beisbier's "Hey Baby (They're Playing Our Song)" and "Susan" were big hits.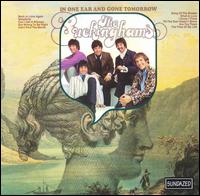 In One Ear and Gone Tomorrow (1968), **
The Buckinghams had freed themselves from Guercio and consequently moved in more adventurous directions, as their brand of clean collar pop-rock was becoming fast outdated. Yes, the band explored new territory, but it was only new territory for them. In One Ear has a pile of songs that sound like second-rate tunes from other bands, either Love's orchestrated and acoustic dreams (the hushed "Simplicity"), or Paul Revere and the Raiders pop ("Till the Sun", "Are You There", "The Time of My Life"). Some sound like a deliberate attempt to break with their earlier sound (the country-rock attempt at humor "Our Right to Be Wrong" with phony vocals and massive amounts of slide guitar). Psychedelia only gets a few passing nods (the hazy, contemplative "I Know I Think" written by Grebb and Poulous, and the lame opening to "Song of the Breeze"). Giamarese did get to solo, but he does not show any of the exuberance displayed on their debut (the distorted guitars on "I Can't Find the Words" are a frustratingly missed opportunity). Still, In One Ear has plenty of "regular" Buckinghams materials, even though they had run out of Holvay/Bieber songs. Guercio's last work is here (Grebb's bluesy "What Is Love"), but even with Guercio gone, Grebb and arranger Sam Andrews know how to put major 7th chords, and horn and string arrangements together to copy the Buckingham's finer moments (the intro to "Back in Love Again" sounds eerily like Chicago). Their pre-Guercio style shows up only intermittently, such as on the fun soul flashback "Can I Get a Witness?". Still, the band, or really Grebb (who wrote or co-wrote with other members nearly every tune) knows how to write some good material, and "I Can't Find the Words" boasts a good sing-along chorus. In One Ear produced no hits, and is inconsistent, but the Buckinghams made their own mistakes, and not Guercio's. Produced by Jimmy "the Wiz" Wizner.
They were asking for trouble with a album title like that, though.
Tufano & Giammerese (1973)
The guitarist and singer had a duo which released three albums in the 1970s. I have not heard them, and I don't think they had anywhere near the level of popularity as The Buckinghams.