Albums reviewed on this page: H. P. Lovecraft, H.P. Lovecraft II.
I will be upfront about this: I do not like H.P. Lovecraft. They were a Chicago band who took folk rock and merged it with psychedelia. They were not very good. Their main talents lay in vocal harmonies which sounded like, and creating a unique (and dated) sound. They were associated with Bill Traut, whose productions usually drive me nuts. They played a ton of covers, which also drives me nuts. After their first album they moved to California, became more spaced out, and then broke up in the late 1960s after recording a sequel. Their drummer led a couple of follow-up bands under the name Lovecraft in the 1970s. End of story.
There are a lot of people who really like this band, and you may be among them. I find them annoying and tedious, and, as noted below, could not stand them as background music.
Personnel: David Michaels (vocals, guitar), George Edwards (vocals, keyboards, etc), Tony Cavallari (lead guitar), Jerry McGeorge (bass), Michael Tegza (drums). McGeorge replaced with Jeff Boyan in the move to California.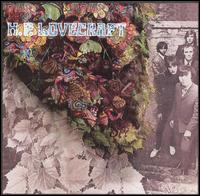 H. P. Lovecraft (1967), 1/2
This album receives the lowest rating I have ever given for one very simple reason: it is the only album I have turned off in the middle out of sheer disgust and boredom. Roughly two years ago, during one of my last days at an intentionally temporary job, I received permission to listen to music at work. Among my choices that day was this album, which intended to use as background music. It didn't work. The band is so monotonous and sluggish, that it failed as background music. I could not even stand having on in the background (admittedly with headphones). If the band had intended to disgust and bore their audience, that would be one thing; this album is highly trippy psychedelic album, with all the depth of a sitcom character. The band succeeds admirably at dual vocals from both George Edwards and David Michaels, and combined they sound like a creepy Jefferson Airplane. Just on the vocals, though, thanks to Michaels' magic multi-octave range which makes him sound like Grace Slick at first blush. Congrats, boys, because in almost every other way you are deficient. While the Airplane had so many guitarists that poor Skip Spence had to learn drums (ok, that's not true), these folks rely on Michaels' plastic organ and Edwards and lead guitarist Tony Cavallari's nominal guitars to propel them through their songs. Edwards is of the strummy folky sort, Michaels's light organ is way way dated, and Cavallari is seemingly absent. Together with a rhythm section crammed in the right channel (Michael Tegza on drums and Jerry McGeorge on bass), they go off in a very hippy, trippy way.
It turns out to be the wrong way. This album is so bent on their own particular, strongly vocal based sound that it almost has to be a love/hate thing. I, for one, chose hate. They even chose some outside songs to cover - Steppenwolf's lyrically horrid "The Drifter", Randy Newman's "I've Been Wrong Before" (sounds like it was recorded by candlelight), a pair of Fred Neil songs ("That's the Bag I'm In" which has aged as well as milk, and "Country Boy and Bleeker Street"). My personal disfavor falls on their version of Dino Valenti's "Come Together" done better by the Youngbloods. This version combines Michaels' crappy organ with some sappy flute, doing two things: 1) making them sound even more like everyone's favorite co-ed Haight-Ashbury band, and 2) evoking every crappy flute-ridden 70s soft rock track. The real "keeper" is their most famous track - "The White Ship". You see, what I have yet to mention is that the band's default mode appears to be taking things very, very slowly. Here the album reaches its nadir (or peak if you're on the flip side). Take a bolero beat down to the point where a pacemaker or CPR is required, and have the band tripped out so much they don't do squat on their instruments and Edwards' organ becoming more and more like some crappy Casio tone for six and a half minutes; that's "The White Ship". It was enough to have me turn it off the first time I heard it. I wasn't even paying attention to the song and I had to turn it off because it just drags on. Forever. and Ever. Alleluia. Alleluia. Just get on your damn white ship and fly out into space or the sun or wherever. Thank you for making me hate hippies for once, guys. The track is so bad, that I had to restrain myself from turning it off the second time I heard it as well (there was a lot of finger tapping, and I felt like my brain was being deprived of oxygen). It's actually a shame, because the two easily digestible tracks are after "The White Shit" - "The Time Machine" is a fun Dixieland romp about the aforementioned, and "That's How Much I Love You, Baby (More or Less)" is hushed and jazzy. Both of the tracks could almost be from a different album. The production by George Badonsky on the rest (one of talent assassin Bill Traut's henchmen as it turns out) is uninspired; he winds up using the same mix on almost every track (dump rhythm section in right channel, guitar in left, vocals in middle, and organ gets some movement). Traut himself shows up on ship's bell on "The White Shit", and the gang's unsuccessful horn section and Traut compatriot Eddie Higgins crops up on from time to time ("The Drifter" Higgins does some nice vibes on "That's How Much I Love You, Baby"). Way, way too irksome for me, although I will admit the presence of two not entire bad tracks and the fact the band knows how to play their instruments makes this album likely merit a full star. But there's no way in hell that I'm giving it to them.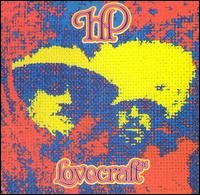 H. P. Lovecraft II (1968), **
Much better. The group dropped most of the overweight production, and instead began doing what I usually fear - loosening up the sound. For once, this is a good decision (or side-effect of increased drug usage). Sure, they are still a folk-rock band given over to making poorly-aged psychedelic music, but folk is still a large part of the band's sound, varying between sharper, more forciful songs ("High Flying Bird", "Spin, Spin, Spin", "It's About Time") and quiter (new bassist Jeff Boyan's classical themed "Blue Jack of Diamonds", or "Mobius Trip" which mirrors the Lovin Spoonful's "Coconut Grove"). However, their decision to open up their sound allows some interesting things to occur, foremost the creation of a delightfully trippy feeling. Yes, H.P. Lovecraft had ventured further into that psychedelic world where instrumental mood became a larger factor, typified by bands like Pink Floyd. "Electollentando" epitomizes this new approach with Michaels' whimpy organ making varied electronic noises (presaging synthesizers), scattered guitars, while retaining some folky underpinnings while the band glides along. "At the Mountain of Madness" is the flip side - playing more into Floyd-area psychedelia with a pulsating sound to accompany their spaced-out sounds and strong vocals. The piece de resistance is Chicago radio ad-man/spoken word-jazzman Ken Nordine's brief "Nothing's Boy": a bit crystalline nonsense delivered in Nordine's resonent voice. If the group had continued beyond this album, I imagine they might have created some sort of American folk-space rock. Still, there are some over the top elements. the band's vocals would be more adept for a Broadway stage ("It's About Time", "Keeper of the Keys" - not a Randall Duk Kim tribute, but a Brewer & Shipley (!) composition), and the piercing dual vocals are reminiscent of the Airplane or Zager & Evans. Also, the lyrics are usually either psychedelic babbling or inexorably tagged as orginiating in the late 60s. Still, a large advance, even if the best tracks ("At the Mountains of Madness", "Blue Jack of Diamonds", "Electollentando", "Mobius Trip") are more interesting than entertaining, and the entire album is best treated as a time capsule.
The band broke up after this album was released.
Lovecraft: Valley of the Moon (1970)
This has an interesting lineup - Tegza, Jim Donlinger, Marty Grebb, and Michael Been (future leader of the Call).
Lovecraft: We Love You Whoever You Are (1975)
The feeling was not mutual, apparently.