The Youngbloods



I guess she's gone to Frisco



Albums reviewed: The Youngbloods, Earth Music, Elephant Mountain, Rock Festival, Jerry Corbitt, Good and Dusty.
The Youngbloods were fairly successful, usually remembered for their cover of "Get Together", which only became a hit a couple of years after appearing on the band's debut. Although the Youngbloods came from roughly the same East Coast background as The Blues Project and the Lovin' Spoonful, they rocked more and were a bit darker. Jesse Colin Young had a good tenor, but the band started to lose steam after their second album; moving to San Francisco and losing Corbitt while recorded their third album, Elephant Mountain. Although many considered it their finest, I find Corbitt's absence makes the album an uneven exercise in jamming. Like a three-legged stool, the band did not have enough internal cohesion to really propel themselves with only three members. At the same time, Young delivered only a handful of singer-songwriter type tracks on each album, so even with the addition of a bassist the Youngbloods recorded a lot of covers in their later days. Despite being standouts on the East Coast, the same did not hold true in San Francisco. Still, Young has a nice voice, Banana's jazzy electric piano is a welcome change from the guitar-heavy rock scene, and Corbitt was a talented guitarist. I would start with their self-titled debut and work from there.
Personnel: Jerry Corbitt (lead guitar), Jesse Colin Young (bass, vocals, guitar), Lowell Levinger aka Banana (guitar, electric piano), Joe Bauer (drums). Corbitt quit in 1968(?). Michael Kane joined on bass in 1971, and Young switched to guitar.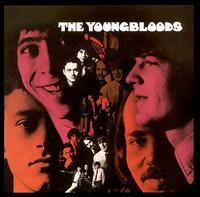 The Youngbloods (1967), ****
To draw some sweeping conclusions about a time far removed from my own- once upon a time in New York, the Lovin' Spoonful were the smiling popsters, the Blues Project were the traditional R&B/blues band, and the Youngbloods were the rock band. Sure, the album kicks off with guitarist Jerry Corbitt's "Grizzly Bear", a song about a dancing bear who has "gone to Frisco / to dance it there" written with the same goofy humor as the Lovin' Spoonful, but it is an exception. This album's tone is louder (the brash, distorted lead guitar on Fred Neil's "The Other Side of This Life"), and darker ("Four in the Morning", even "Get Together" is bittersweet) than the Lovin' Spoonful, and Felix Pappalardi's strong production gives the instruments a well-rounded sound and distinct edges. Additionally, the band avoids instrumental wanderings and this decision helps their more unusual blues covers (Jimmy Reed's "Ain't That Lovin' You Baby", "Statesboro Blues", with only "C.C. Rider" being a flop). Their songwriting is strong as well - Corbitt has two excellent lighter songs (the aforementioned "Grizzly Bear", and "All over the World (La-La)") and Young has a similar delight in "Foolin' Around (The Waltz)". Certainly the album's most famous track gives rise to the album's claim to fame is as a precursor to country-rock-- Dino Valenti's "Get Together" combines Young's smooth tenor, and Corbitt and Banana's guitar work into a measured vast sounding track. With all the covers this is a weak four stars, but the Youngbloods really had it together on their debut (although Pappalardi's production sure doesn't hurt also).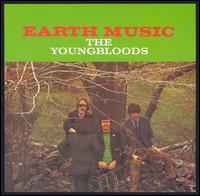 Earth Music (1967), ***
While their eponoymous start only had a few original songs, their cove were a wise selection of folk and blues songs without overexposure. On Earth Music, the band performed more of their own songs, but these and their covers lack the debut's punch. The situation is largely the same: Banana's jazzy electric piano, matched with Corbitt's guitar, but overall the album is quieter and folkier. It starts out strong with the Holy Modal Rounders' "Euphoria", a jugband goes to Dixieland song, which uses the band's excellent pairing of Corbitt and Young's voices. After that, some of the better songs come from the band: the poppier "Dreamer's Dream" which would work well on their debut, and Young's jolly jugband "The Wine Song". Yet, the band created (wrote, actually) their own weaknesses. Young's songs are quieter and more folky ("All My Dreams Blue" and "Sugar Babe"), which suit his more tender tenor well, yet lack the resonance of the Youngbloods, as does Young's folk/blues ("I Can Tell", "Long and Tall"). Banana's spotlight numbers are a distraction as well: a cover of "Too Much Monkey Business" and his own fuzzy blues "Fool Me", both of which are average. This points to their more relaxed, folkier work, but without being as engaging as their debut. Pappalardi produced some tracks, the band produced others, and both produced a few.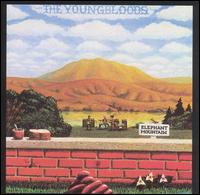 Elephant Mountain (1969), **1/2
Some combination of moving out to San Francisco and losing Corbitt drove the Youngbloods to lighten up further. Young instantly became the dominant songwriter, pulling the band in a softer singer-songwriter direction, but he isn't a dominant musical personality. Banana does not miraculously change from being a great rhythm keyboardist/guitarist into a lead one, but his electric piano work is right alongside Young's guitar as a leading instrument. Elephant Mountain's problem is that without Corbitt the group tended to get lost in jazzy, soft-rock jams frighteningly often. The first one, a Banana song called "On Sir Francis Drake" is the best of the bunch - a catchy little electric piano line that gets worked on a number of ways before the entire track collapses into more ordinary blues ramble. After that, the album has a shocking amount of filler--from brief instrumentals ("Turn it Over", "Double Sunlight", "Black Mountain Breakdown") to another jazzy instrumental (the aimless "Trillium"), to 70s soft-rock (Young's "Ride the Wind" which with some congas and vibes is a recipe for near narcosis). At least Bauer must have been in heaven - he came from a jazz background and Young is pretty good at portraying the alternately romantically disappointed ("Smug" is the hands-down favorite on here) or balladering male ("Sunlight"). Producer Charlie Daniels (yes, the country fiddler), lacks interesting ideas - double tracking vocals so that they sound like odd reverb ("Darkness, Darkness"), leaving in studio chatter between songs. The best stuff probably came before Daniels' work with the group. Aside from a leftover Corbitt/Pappalardi/Collins song that sounds more like jubgand goofiness than anything on their debut ("Rain Song" complete with a rain solo) the loudest and most concise tracks were produced by the group and engineer Bob Cullen ("Smug", "Quicksand", the bluesy "Sham" with some good driving guitar work), although Cullen uses more overdubs than Daniels. This album has not aged well, mostly showing the Youngbloods slipping into the West Coast slowdown, but does have some bright spots. Well, at least "Smug" is pretty good.

Jerry Corbitt:

Corbitt

(1969)


Corbitt's first solo album. I have not seen it, but he turned far more country than the remaining 'Bloods albums, and was hanging out with Charlie Daniels, if that gives you any indication.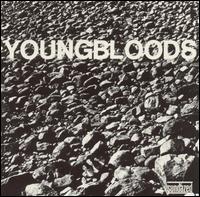 Rock Festival (1970), **
Probably buoyed by their belated success with "Get Together" after it was used in an ad, the Youngbloods got a contract with Warner Bros. and their own vanity label, Raccoon. This hectic background is likely responsible for the fact that this album is cobbled together from various concerts with a couple of studio tracks thrown in to round it out. Rock Festival is a fitting companion to Elephant Mountain, but not in a good way. In keeping with the times and adopted California locale, and without the benefit of studio overdubs, the group slid right into their jazzy soft-rock vibe, but without injecting much life into their work. Young contributed two songs, one of which ("It's A Lovely Day") is a definite acoustic throwaway, and the other ("Josiane") continues the endless soft-jazz of "Ride the Wind". Banana's standout contributions to the album are his strikingly weak vocals (he sounds like an Adam Sandler parody on "Faster All the Time" and "Fiddler a Dram") and a remarkable inability to develop a ditty (the banjo piece "Interlude") into a real song. The best example of the latter is "On Beautiful Lake Spenard", the partner of Elephant Mountain's "On the Sir Francis Drake". While the song does have subtly shifting time signatures, the track seems to be very circuitous, almost like one is running around the block repeatedly but varying it slightly each time - skipping, sliding, etc. Again, the record has plenty of instrumental junk not serious enough to be attempts at avant-garde, such that they are more like the equivalent of a orchestra warming up ("Prelude", "Sea Cow Boogie", "Ice Bag"). So the band covers of real, substantial songs stands out, way out. Tim Hardin's "Misty Roses" makes the band's compositions pale in comparison, and the studio cover of Jimmy Reed's "Peepin' 'N' Hidin'" solves some one of the post-Corbitt Youngbloods' problems - a lack of a sonic focal point. The solution was bring in harmonica player Earthquake Anderson who adds a much needed counterpoint to the band's playing, and doesn't make them seem like just three OK players diddling. Other than that, Rock Festival is like a garden overgrown with weeds, with a couple of flowers dug up from the public garden stuck in the middle.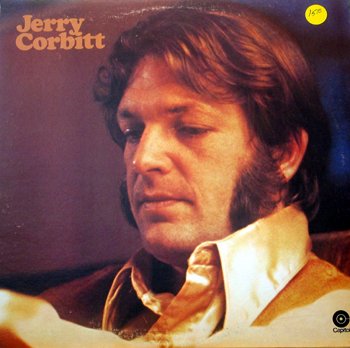 Jerry Corbitt (1970), **1/2
His second solo album, before he gave up a solo career. Made with Charlie Daniels, Jerry Corbitt is a country-rock album arranged more like a rock album (fitting in the age of Delaney and Bonnie). Corbitt's voice and guitar are in fine shape, and Daniels' production switches around country elements like pedal steel, fiddles gospel backing vocals to give the album a more mainstream feel. Of course, an artist is only as good as his material (well, I guess an album is only as good as its songs), and JC has a lot of decent material with only a few highlights. Nothing is as goofy or as folky as his work with the Youngbloods, and no song is terrible. The albums starts off well, with Corbitt blaring through "Country Boy Blues" working that delightful Southern accent for all its worth. More singer-songwriter material like "Burning in Your Love Light" and a reunion with Young on the guest's "Till You Come Back Home Again" are also delightful. The back side of the album isn't as strong, leading off with Lawrence Hammond's "John Deere Tractor" - one of those sob stories about how hard the city is on a country boy. That alone wouldn't be so bad (even though "Country Boy Blues" is about the reverse - going to the city), but the song is slow and kills all energy. The remainder of the flip sounds stronger, but songs like "Happy Times" (about their absence) and "Get on Back to the Land" fail to click. Corbitt wrote most of the material, with Young joining and contributing the one mentioned song, and a couple of Daniels turnes ("Georgia" and the fine Job-like "Pain"). I'm guessing that the album was not a success despite the fact that it sounds great, given that Corbitt did not release another album in the 1970s, which is a shame because the album's strongest material holds up well.

Joe Bauer: Moonset (1971)
This is what happens when you have your own vanity label.
Ride the Wind (1971)
I don't think their final three albums sold very well, as the few times I have seen them for sale they were expensive. (In some minds a rare album is always worth more, regardless of quality).
Crab Tunes/Noggins (1971)
Credited to a bunch of people - Banana, Bauer, Kane, Anderson, along with saxophonist Billy Mitchell and pianist Kenny Gill.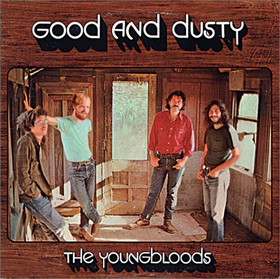 Good and Dusty (1971), **1/2
I might be giving this album two and a half stars out of politeness. Good and Dusty is almost entirely covers of older material - blues ("Pontic Blues"), R&B ("Stagger Lee"), "Let the Good Times Roll", even the freaking hand jive song. Now with new bassist Mike Kane, the band is almost roots-rock: straight versions with guitars, occasional piano and Young's sweet tenor. Banana avoids the electric piano, and the jazzyness of Elephant Mountain and Rock Festival only flares up in a few spots. I guess this is what you would expect from a band relocated to a small town north of San Francisco, got their own label and studio - relaxed, basic and down to earth. Young has two songs, the blues of "Drifting and Drifting" and the better "Light Shine", an attempt at an uplifting anthem ("People let your light shine" etc). Banana's contribution is the suitably goofy "Hippie from Olema #5" about how the hippies are morally superior to everyone else. (The title track is a minute and a half of instrumental racket). It all sounds fine, but it could also be a really great bar band; it's pretty clear they were running out of ideas. Earthquake Anderson shows up on harmonica again on a few tracks. Presumably self-produced.


Jesse Colin Young: Together (1972)
Young was the only member to have a substantial solo career. I have not listed his records, even though I own a couple.
Banana and the Bunch: Mid-Mountain Ranch (1972)
A solo album with Bauer, Kane, "Earthquake" Anderson and bassist Steve Swallow.
High on a Ridge Top (1972)
The final Youngbloods album.