Buffalo Springfield
Albums reviewed on this page: Buffalo Springfield, Again, Last Time Around
One of the most important American bands for a couple of albums. I tend to think of them as America's answer to the mature Beatles.

Personnel:

Steven Stills
(vocals, guitar),

Neil Young

(vocals, guitar),

Ritchie Furay

(vocals, guitar),

Bruce Palmer

(bass),

Dewey Martin

(drums).

Young

quit at least once, and

Palmer

left towards the end, replaced by

Jim Messina

semi-officially.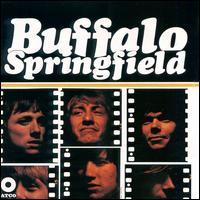 Buffalo Springfield (Dec. 1966), ****
Buffalo Springfield's debut helped mark the advent of political awareness and more adventurous American music. The group's lone hit, Stills' "For What It's Worth," is a strong transitional statement - dealing with political events, paranoia, and seems to crop up on any documentary about the 60s (it's the one that goes "Stop, hey, what's that sound? Everybody look what's going down."). Interestingly enough this track was added to the album in early 1967, and the remainder is quite different. In its original form, Springfield's debut continued the shift towards melodic Beatles-influenced Americana, in contrast with more frequently heard straight blues, R&B or folk-rock. No 12-string guitar leads, fewer strummed basic folk tunes, and in their stead, more complicated songs with tight harmonies. This is Rubber Soul plunged deeper with Americana, resulting in country inklings ("Hot Dusty Roads", "Nowadays Clancy Can't Even Sing"), more folk, blues ("Leave"), long enough for a couple of minutes of good harmonies and intricate guitar leads. Yes, the Beatles are a powerful influence ("Out of My Mind", the fuzz on "Sit Down I Think I Love You"), but Stills and Young's songs are stronger than mere knock-offs, setting the group apart from the dozens of bands groping in the Beatles' wake. Young was the better songwriter at this point - writing poetic, sometimes obtuse lyrics, and matching them with relatively complex chord changes ("Nowadays Clancy Can't Even Sing"). Stills' talent is marginally weaker, writing more direct lyrics (usually woman-aimed), and musically simple melodies, although all of the Springfield's songs could be sung by one person with a guitar. Stills' reliance on repetition does result in the album's only true weak spots ("Hot Dusty Roads" and the Eastern-influenced "Everybody's Wrong"). The luxury of having both Stills and Young play lead guitar has a large impact on their sound, allowing them to have two different styles within the same song. The singing is also really good. Nowadays, most people are more familiar with Young's warbly tenor or Stills' folksy baritone, but the producers utilized Furay's sweet tenor for a good portion of the album's lead vocals, and the others harmonize well in all configurations. The production is a bit dated, falling for the 1966 trap of sound squashing, and rendering Palmer's bass nearly impossible to hear. While Mr. Tambourine Man may have been America's response to the Beatles of 1964, but Buffalo Springfield was made as the response to the Beatles of 1966. With the addition of "For What It's Worth", the band advanced beyond simple response.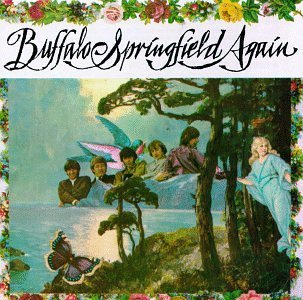 Again (Nov. 1967), ****1/2
Here's where the band attempted to assimilate most of America, with success. The band branched out with their second album, and the breadth of the material and its excellence is magnificant. Again's scope reflects the band's divergence - as each member took charge of their songs. The basic sound is the same: more buzzed guitars, excellent singing and harmonies, a rhythm section that does its job and folk often lingering somewhere. Yet, it is surprising that only Stills' "Hung Upside Down" and Young's "Mr. Soul" sound like they could have been on the debut. But even that would have been pushing it - "Mr. Soul" is more intense musically and lyrically bitter than most of the debut. Generally, most of these songs were not written or performed as compactly as the debut, often more relaxed or open. The writers have also changed somewhat, as Furay's material is just as strong as the better-known Stills and Young. Stills wrote the infamous measured jazz burnout of "Everyday" and "Bluebird" where the band's folk rock gets charged with heavy rock before falling through into the chicken coop. "Rock and Roll Woman", co-written with an uncredited David Crosby, sounds like a template for CS&N - underlying catchy acoustic riff, excellent vocal harmonies. Furay's songs also really shine, the country-rock "A Child's Claim to Fame" or the heartbreaking "Sad Memory" are as strong as the Stills or Young songs. He even wrote a Dewey Martin vocal number (a Ringo song!) - the fullblown soul number "Good Time Boy" complete with a horn section. As for Young, aside from "Mr. Soul" he contributed a pair of grandiose, orchestral tracks made with Jack Nitzsche: "Expecting to Fly" and the lyrically abstract "Broken Arrow", both lain with sadness and distance. Again may be a bit of a neglected classic these days, but it influenced everyone from Yes to The James Gang. This may be the best album to come out of the West Coast in this era, non-Zappa division.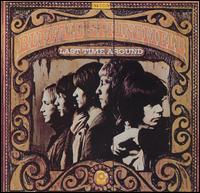 Last Time Around (July 1968), ***1/2
Buffalo Springfield splintered during this album's recording, leaving only Furay and new bassist/producer Jim Messina at the end. While on Buffalo Springfield the band's members integrated their sound, the separation of Again is perhaps even more extreme on Last Time Around, without much creative tension. Messina's production uses quiet bass or discreet horns to give most of the album a low-key feeling, allowing Furay to use his tenor voice for all it's worth (the Young/Furay song "It's So Hard to Wait", Young's "On the Way Home"). Furay comes oddly close to orchestrated pop, relies almost solely on his voice to carry the overwrought "The Hour of Not Quite Rain", one of the album's true mistakes. Messina applied this quiet approach to his own mumbly countrified blues, "Carefree Country Day", notable mainly for an odd skat section. Furay/Messina may be low-watt, but Stills has energy left, and he uses it to piece together the elements of his style heard with CS&N and beyond. Here, his interests in Spanish/Mexican music (the guitar lines in the hushed "Pretty Girl Why", the mariachi feel of the fun "Uno Mundo"), or keyboard paced mix of blues and soul ("Questions", "Four Days Gone", "Special Case" with his flecked organ), are inlaid with sustained guitar, and strongly point towards his later work. Young barely appears, contributing some backing vocals and his "I am a Child", a pleasant little solo acoustic song. As the last members of the group, Furay and Messina had the last word, and the album's last track, "Kind Woman", presages their work with Poco. The track is a nice little country-rock song with good pedal steel guitar leads from future Poco member Rusty Young. Barely a group album (Palmer does play on some tracks), but Stills' work is pretty strong ("Pretty Girl Why", "Four Days Gone", "Uno Mundo") as is anything Young helped write. Stills went on to Crosby, Stills and Nash, Young started a solo career, Palmer also recorded a solo album, while Messina and Furay formed Poco.