The James Gang, Joe Walsh and Domenic Troiano
Albums reviewed on this page: Yer' Album, Rides Again, Thirds, Live in Concert, Barnstorm, Straight Shooter, Passin' Thru,
Domenic Troiano, The Smoker You Drink The Player You Get, Miami, So What, Newborn, You Can't Argue With A Sick Mind
I got interested in both Walsh and the James Gang after reading a Pete Townshend piece in which he claimed that Walsh was the greatest guitar player alive. Strong words, so when I found an album I picked it up. And lo and behold, this stuff is good! So, believe it or not, the James Gang were hot stuff in the late 60s and early 70s. Hailing from Cleveland, they had it made in the local scene by 1968, when a number of personnel changing resulted in the dropping of the original guitarist and keyboardist and the addition of Joe Walsh. The result was a power trio, with Walsh fronting, Jim Fox (the James of the Gang) on drums and Tom Kriss on bass. Granted, Walsh can sing like crap and frequently does - but that is why we have studios and multiple takes. Jim Fox had the potential to rock the house which he did on their first album Yer' Album and their live recording, but was overshadowed by Walsh almost entirely. Their music turned from more Invasion-styled work to the West Coast country, laid-back stuff fairly quickly. (And no, I can't add any more adjectives to the previous sentence.) Despite releasing three singles from their first album (none of which made it), the group had some success with their albums and "Funk #49" the single from The James Gang Rides Again. Anyway, Walsh went solo and I've reviewed a couple of his albums below. He joined the Eagles in 1976, and later quit them in a big fashion. So yeah, Walsh is a really good guitar player, but watch out for that wavering blast of nasal whining which occasionally erupts.
The post-Walsh James Gang was a tabula rasa, on which visiting guitarists would impose their styles and tastes. Domenic Troiano and Roy Kenner were a decent replacement for Walsh for a couple of albums, but Troiano then left for a declining Guess Who (who then split after a couple of years). His replacement was Tommy Bolin, whose previous band Zephyr was good, and who played on one of jazz drummer Billy Cobham's albums. Bolin had talent, but exausted his material in only two albums. He quit for Deep Purple, went solo and then died at a young age. The band broke up, reformed a year later and recorded two more albums before disappearing for good. I have only the first of these, and hold no hope for the second and final one.
Personnel: Joe Walsh (guitar, keyboards, vocals), Jim Fox (drums) and Tom Kriss (bass). Kriss left after Yer' Album and was replaced by Dale Peters. Walsh quit 1971, replaced by Dominic Troiano (guitar) and Roy Kenner (vocals). Tommy Bolin in, Troiano out, in 1973. Band broke up in 1974 when Bolin joined Deep Purple. Reformed with Fox, Peters, Bubba Keith (guitar, vocals) and Richard Shack (guitar) in 1975. Everything ended one year later.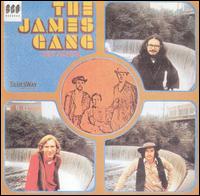 The James Gang: Yer' Album (1969), ****
At one point, the James Gang was one of Pete Townshend's favorite bands, and after hearing this album its easy to see why. Not only does Joe Walsh contribute excellent guitar work in his debut, but the others excel as well; Jim Fox is a fantastic drummer, and Tom Kriss a good bassist. The trio were probably Cleveland's biggest rock band, mixing British Invasion with American funk and the relaxed West Coast with fabulous results. Although some tracks may sound a touch dated (the backwards phasing guitar line on "Bluebird"), Walsh keeps things moving with short snappy lines and avoiding long-winded solos. He also contributed the majority of the songs, including the sparkling acoustic "Collage". The covers are mainly used for soloing by the band (Buffalo Springfield's "Bluebird", the Yardbirds' "Lost Woman"). The only down moment is Jerry Ragavoy's "Stop", and, as the notes say, "the story of how we couldn't", with a deadening twelve minute running time. A strong power trio. Produced by Bill Szymczyk.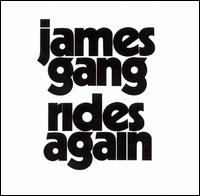 The James Gang Rides Again (1970), ***
Overall, their sound is streamlined: Walsh played fewer big leads, Fox drummed less, and new bassist Dale Peters is a placeholder. Rides Again has more songs (at the expense of workouts), and its focus is pretty evenly split. The first side continues the blues-rock, opening with "Funk #49", a culmination of the debut's sound, complete with jungle beats and snappy licks. The remainder have flaws ("Woman" is repetitive, for example), but are still solid rock tracks. The back side is more laid back and folky, ("Tend My Garden" and "Garden Gate" with Rusty Young on pedal steel) ending with a big string-laden, melancholic number in "Ashes, the Rain & I". (Yet, Walsh's annoying voice is brought up in the mix.) Produced by Bill Szymczyk.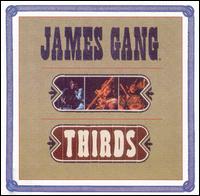 The James Gang: Thirds (1971), **1/2
A more democratic album, with Fox and Peters contributing two songs each. Maybe good for band politics, but wrong decision for the listener. Fox and Peters may not have the Walsh nose-voice, but the guitarist was leagues ahead in songwriting. Fox's songs are OK, with the album closer "Live My Life Again" repeating the title over and over again the last three minutes or so, and "Things I Could Be" is the same chord for over four minutes. Peters' songs are downright bothersome; "Dreamin' in the Country" is helped a lot by Walsh's steel guitar, but "White Man/Black Man" is absolutely dreadful - a slow preachy gospel number that's over five minutes long. "Sometimes I get the feelin' it's never going to end," indeed. Walsh's two big numbers, the crunchy "Walk Away" and the slower CSN&Y-influenced "Midnight Man", make up the album's highlights. A slow jazzy blues workout ("Yadig?") with Fox on vibes and Peters on upright is as adventurous as it gets. Produced by the group and Szymczyk.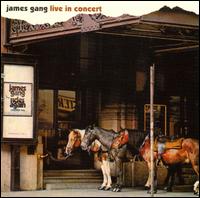 The James Gang: Live in Concert (1971), ***1/2
Carnegie Hall, in fact. This may be the best place to start with the band, actually, as it mostly ignores their lighter material to focus on being a power trio, making it something like the band's Live at Leeds. Walsh's voice is obnoxious but not unbearable, and he experiments with wah-wah and delay ("You're Gonna Need Me" - like an intentional version of Townshend's echo soloing on Leeds) and even vocal percussion. It mainly highlights their blues rock, but midway through the first side, Walsh shifts to organ for versions of "Take a Look Around" and Rides Again's "Tend My Garden", leading into an acoustic guitar and piano version of "Ashes, the Rain & I". The album's problems are the mixing, with Walsh's voice and guitar eclipsing the drums on the first side (although it may be my record) and Dale Peters' chokes on his solo ("Lost Woman"). But this shows Jim Fox as one of the better drummers of the day, and Walsh's performance is excellent. (He either left the band soon afterwards, or the label released this to recoup their loss; I'm not sure which). If you can stand Walsh's voice, buy it.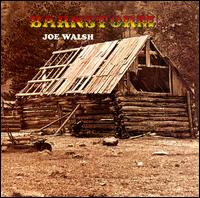 Joe Walsh: Barnstorm (1972) , **1/2
It was clear the Walsh was the main talent in the James Gang, so it could not have been a surprise when he left. His first solo album continued his relaxing streak, but ground it in keyboards and melodic figures, giving Barnstorm a stronger pop influence than he had shown in the Gang. Superficially, he kept the trio format, with Joe Vitale on drums and keyboards and bassist Kenny Passarelli, both of whom worked with him for the next few years. But the band has a different feel from the Gang's post power-trio days. For a lot of the album it feels like Walsh is just exploring, such as dropping in melodies like a prog-rock band, or playing around with how things sound (the grandiose parts of "Mother Says", a talkbox), rather than scripting songs. In fact, the A-side seems to have the best songs, or those with confused identities: the opening "Here We Go" is mainly an Abbey Road hangover song, that morphs into rock via the bleepy synth noises Pete Townshend was using at the time. Another song, "One and One" keeps evolving, including some fusiony parts, until it plays itself out. The back end lacks changes and meandering, but is locked to the early 70s: the sunshine and clear air vibes on "Birdcall Morning", hard rock on "Turn to Stone" or the throwback "I'll Tell the World". Only "Turn to Stone" really rocks out, otherwise there's acoustic guitars, lots of keyboards, some vocal harmonies. Walsh's lyrics are not peculiar, childhood reminiscing, hippy fables and the like, and his voice is still a whine. Not a bad place to start with his solo career, I think. Produced by the eternal Szymczyk.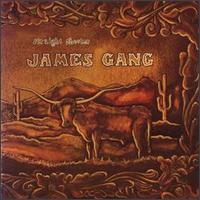 The James Gang: Straight Shooter (1972), ***
I really expected to dislike this album. After all, Joe Walsh took the group's signature sound (and producer) with him. (Unless you count suck as a musical style, shown by Thirds' non-Walsh tunes.) But strangely enough, Straight Shooter does not suck, with credit due to newcomers Domenic Troiano and Roy Kenner, who wrote the songs. This incarnation of the James Gang sounds like a merger of its parents - the old Gang started out playing blues and some white-boy funk, while Mandala treated all the instruments as a rhythm foil for Kenner's voice. Here, Troiano usually melts into the rhythm section again, while Kenner stands out front, although the times have tempered everyone. Most of the material is not that exciting (the opener "Madness" is the lone exception) - there's a goodly amount of light funk (in keeping with the times), but the band sounds tighter, and the music provides a suitable use for Peters' robotic bass playing. While Walsh's signature numbers tended to be filled with strong guitar work (in tone), Troiano has a knack for slower, acoustic ballad tracks (the unexpectedly James Taylor-like "Getting Old"). These work well with Kenner, an emotive, white soul singer who oversings often, but lays off on the quieter numbers ("Let Me Come Home"). Comparable to Bobby Tench, he sometimes needs to be reminded that he's not Ian Gillan (the falsetto shrills on "I'll Tell You Why"). They even exorcise the ghosts of guitarists past with a good Walsh-like rocker ("Looking for My Lady"), and have some good clean fun with "Harry Hypochondriac". As for Fox's drumming - he stretches out a bit on the last track, but otherwise the band's cohesion prevents any serious instrumental breaks. Self-produced.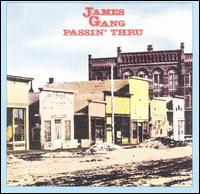 The James Gang: Passin' Thru (1972), **
Enter the Era of Indifference. Another album of middling rock with fairly dumb lyrics. Passin' Thru has a whole lot of "hey, girl" songs matched to vacant rock songs, either of the whiteboy funk genre ("One-Way Street", "Up to Yourself") or ventures towards country/folk ("Run, Run, Run"). Give them credit for a few minor experiments which dead-end - the folk + harpsichord on "Things I Want to Say to You" (perhaps inspired by the Stones' "Lady Jane"), and some classical guitar work both there and in "Drifting Girl". Kenner is the sort of vocalist Jack Black honors (or parodies), with the big tremeloed soul voice, tendency to jump into falsetto at the ends of words, and sexy or dumb lyrics ("You're on a one-way street / a street called life"). But the band lacks energy beyond Kenner's voice or their disciplined tempo, and they don't excel with any of the influences they pull together. Troiano melds into the rhythm section, and the session players are often the most interesting things to hear (pedal steel on "Run, Run, Run" or keyboards more frequently). The flipside is that nothing here is really offensive or discouraging, in keeping with the mostly sweet-talking lyrics. Only a couple tracks are sort-of worth it - "Everybody Needs a Hero" is a decent song in the non-balls rock category, and "Run, Run, Run" is fine country-rock. Self-produced with Keith Olsen. Troiano left after this album to go solo and play with the Guess Who, who also released a pile of forgotten 70s albums.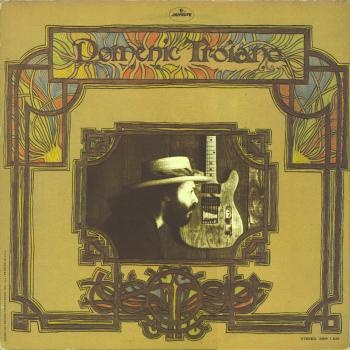 Domenic Troiano (1972), ***
If you want to own one early 70s Canadian singer-songwriter / funk-rock record, this is probably the one. On James Gang (and Mandala) records, it's tough to discern Troiano's personality, as he's always coupled with Roy Kenner. (In contrast, Walsh always comes across as a goofball, but one with a distinct musical voice.) Troiano's solo debut allows him to display himself - his voice (surprisingly good) and his guitar work (also good). Musically, this is busy funk/soul mixed with more singer-songwriter material. The whole axis of sound is different from his James Gang work, where all the musical instruments often had to fight Roy Kenner's voice. Funky rock requires an excellent rhythm section, and his was one of the best: Pentti Glan and Prakash John, who are amazing and energetic, without distracting from Troiano himself. The best demonstration of the boisterous funk is the opener "The Writings on the Wall". It segways into the equally good "The Answer" which has a similar sound, except that Troiano's solo draws more from jazz or classical music than his work with the James Gang would suggest. But one thing that comes across is that these songs are predominantly more personal than Gang material. Troiano's baritone voice sounds like the best of any James Gang guitarist, and most of these songs would suffer from the Roy Kenner Experience. He does drift into mellow patches ("Repossession Blues" "I Just Lost a Friend") or reminiscence ("Let Me Go Back") but never mires himself in James Taylor territory. The worst track is the obvious one: the downer joke "Hi Again" where Kenner lends his bombast for the lead vocal. Overall, Domenic Troiano is really a surprise. Although I doubt early-70s Canadian funk-rock is going to have a revival, this cannot be a bad place to look, with tracks like "The Writings on the Wall", "The Answer" or "The Wear and the Tear on My Mind". Glen and John, had been in Bush with Troiano earlier, and later worked with Lou Reed and Alice Cooper for a number of years. Other backing players include Hugh Sullivan and Red Rhodes. Produced by Troiano and Keith Olsen.
Fun fact: the cover is mostly hand drawn and spells some things wrong.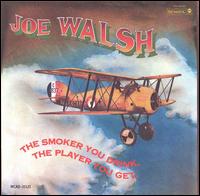 Joe Walsh: The Smoker You Drink, The Player You Get (1973), ***1/2
This is strongest of his three pre-Eagles solo albums. The sound is more focused than Barnstorm - Walsh retained much of the mellow feeling, but cut out a lot of instrumental dead weight and used spiffy, mainstream production. It doesn't start so laid-back, however, as the opening track, "Rocky Mountain Way" is classic Walsh - stinging slide leads, his goofy sense of humor in the lyrics, with a lengthy talkbox solo. The album then backs off; the remainder loaded with subdued keyboard or acoustic guitar-led pop songs. The entire band (including new keyboardist Rocke Grace) contributed songs, and most of the best material was written by the others - Vitale's gentle psychedelia ("Bookends") or Chicago-style light jazz/pop ("Days Gone By" complete with flute), Passarelli's Caribbean jams ("Happy Ways"), along with Walsh's own folkier "Meadows" and "Wolf". The production is rather extensive, and with a pile of keyboards, it almost has the feel of a Todd Rundgren album from this era. At its worst, it's mired in 70s tropes (Grace's "Midnight Moodies" is a tosser: flute and synthesizer to light jazz), but mainly Smoker is sonic comfort food. Szymczyk and Walsh produced.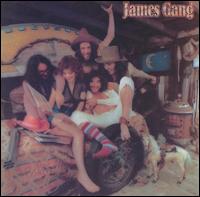 The James Gang: Bang (1973),

**1/2


Once again the Gang has a new guitarist who kicks some life into them. The six-shooter this time is Tommy Bolin, whose work is more arena-rock oriented than his earlier blues/jazz work with Zephyr and Billy Cobham.

Bang

is really his album - he and some outside folks wrote almost all of the material. Where Troiano was a bland leading man, Bolin tackles a wider range or styles and tones, usually overdubbing himself to add depth. The band's sound is roughly the same - Roy Kenner's overdone Jack Black soul vocals ("The Devil is Singing Our Song" is the best example), nods to country, funk, power chords, soft rock everything. Consciously or not, Bolin emulates Walsh's grab-bag approach in terms of influences, and guitar sounds. So when the album opens with cranked power chords on "Standing in the Rain" and Bolin breaks out the slide, you can trick yourself into thinking something of the old James Gang is back. While Bolin was a good guitarist, all the phasing, coked-out blues, and minor experiments like the blues/funk/50s rock on "Must Be Love" or minor synthesizer use on "Ride the Wind" anchor the album to mid-70s rock malaise. (The cover art's color palette tells all). Even a track like Kenner's a capella overdub "Rather Be Alone With You" is more an oddity than a destination. Nor are the lyrics special, mostly men singing about women, in a less obnoxious way than Bolin's next stop. For every track like "Standing in the Rain" or the lively funk of "From Another Time" which is the album's other good track, there are listless (or to be polite, relaxed) songs like ythe Bolin-sung "Alexis" which verges on soft rock or "Mystery" which tries to recapture the grandiosity of "

Ashes, the Rain & I" (but somehow gets Kenner to turn it down). Bolin's guitar work is good, and Fox does shine in places, but the songs are middling and the production slightly oily. A branch of rock probably never to be resurrected. Self-produced.



Two stray comments. First, they already took the cover photo and Bolin had to be airbrushed in. Second, I bet Bolin had to learn some of the old Walsh and Troiano material for shows. That must get obnoxious after a while; think of the guys joining the band post-Bolin.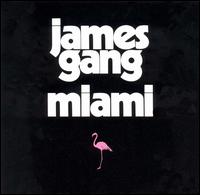 The James Gang: Miami (1974), **
An ominous beginning: hearing the opening chords and they sound exactly like another song. "Cruisin Down The Highway" is the same as Traffic's "You Can All Join In" (minus the sax squiggles), which opens Traffic. For Bolin's second album, the Gang was now a slick hard rock machine. Kenner's shtick has gone so downhill that on Miami he is as forgettable as most of the songs on the record. Beyond being slick, Miami is also boring. The first three songs have the exact same structure and sound (mid-tempo rock). The next (fourth) differs slightly but still has an apt title, "Sleepwalker". Not only does this reflect the listener, it is as if Bolin was merely content to vaguely imitate Walsh with crunching chords and slide guitar. The only good song on this side sounds is a short instrumental that sounds like the Motel 6 theme ("Miami Two-Step"). The back side is better with Bolin playing light jazz twitterings, which builds into a decent (but not good) rock song ("Praylude / Red Skies"). The only song with sincerity is Bolin's ballad "Spanish Lover", which has a nice acoustic base, and Bolin on vocals. The rest, forget it. Not as bad as the mechanical first three songs, but nothing notable. If this is what regular rock was doing in the mid-70s, no wonder metal and prog ruled the day. Bolin quit, and the band imploded; he later recorded a pair of solo albums and joined the rump of Deep Purple.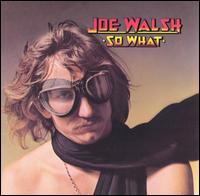 Joe Walsh: So What (1975), **1/2
This is probably Walsh's first true solo album, and it has a bit too much Walsh. Joe replaced his Barnstormers with session men or self-overdubs (Vitale shows up a few places), and dumped the keyboard palette for his guitar. Hooray, the rockists will say, but his rock songs are half-empty arena-sized tunes with jokey humor ("Welcome to the Club", "Time Out", the gauzy "County Fair"), although he has good version of the old James Gang tune "Turn to Stone" . The other thread is mellow 70s rock-folk ("Falling Down", "Help Me Through the Night") usually with backing vocals from the Eagles. Yet, for all the rote, mid-70s tropes, Walsh is so idiosyncratic the album has both a Rick Wakeman-like synthesized version of a classical piece ("Pavane"), and a brief goof-off blues piece ("All Night Laudry Mat Blues"). Walsh and John Stronach produced, largely continuing Szymczyk's deep production sound, although Szymczyk has one appearance - the album closing "Song for Emma" - a piano ballad larded with strings and female backing vocals, perhaps in an attempt to repeat "Ashes, the Rain & I". Shortly after this album came out, Walsh joined the Eagles.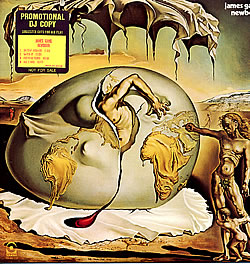 The James Gang: Newborn (1975), *1/2
The Gang must have really screwed up their karma, because they keep reincarnating in a worse format. By this time, they were essentially a bar band with a very good drummer, and production from heavyweight Tom Dowd. Fox and Keith: Rhythm Section for Hire, teamed up with Bubba Keith (vocals, some guitar) and Richard Shack (lead guitar). (That's right, Dick Shack and Bubba Keith). Keith was more Kenner than Walsh in his vocal approach, but while Kenner always sounded like he sweet-talking the ladies, Keith is more about dread and drinking. Keith and Shack wrote almost all of the songs on Newborn, but the approach is largely the same as the band's last few albums, even if the duo cranked up the crunching guitars. Mostly harder rock songs, loud guitars and a large, large pile of lyrical clichés. Keith even sings "good loves goin' bad" at one point, alongside other songs concerning love, hellraising or both ("Earthshaker"). There are a few boring ballads to even things out ("Come With Me" is a wanna-be film theme) and a fair country-rock song at the end ("Cold Wind"), but mostly loud forget-me-rock. Shack was the weakest lead guitar player yet, but sometimes the crunching guitars snag hold of some melody and the result isn't so bad, such as on the album's best tracks: "Shoulda Seen Your Face" and "Red Satin Lover". 1975 was not a great time for main-line rock, and this is another example of why. Oh, the non Shack and/or Keith track? A cover of "Heartbreak Hotel". Inessential, unless you're one of those who goes around digging up Heartsfield albums as well. Shack was an old Cleveland guy, and I believe he and Keith played together before and/or after in a totally forgotten band called L.A.P.D.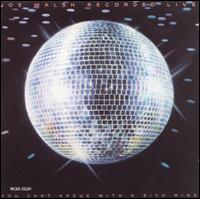 Joe Walsh: You Can't Argue With a Sick Mind (1976)
A live album in which he runs through some hits from the James Gang and his solo career. Nothing really exciting here, and his voice is terribly whiny in concert. The best song is, surprisingly, So What's "Help Me Through The Night", where is he isn't trying to be slick. Otherwise the renditions of both "Rocky Mountain Way" and "Turn to Stone" don't really go anywhere. The songs that I know sound better in the studio. I don't know what his backing band was at this point, but there's a second guitarist and I bet Joe Vitale is there as well. Avoid if you can help it.

The James Gang: Jesse Come Home (1976)
Forget Jesse, how about Joe come home?
Just turn your pretty head and walk away to the Music page...