Deep Purple
Albums reviewed on this page: Shades of Deep Purple, The Book of Taliesyn, Deep Purple, Concerto for Group and Orchestra,
Deep Purple In Rock, Fireball, Machine Head, Who Do We Think We Are, Made in Japan,
Burn, Stormbringer, Come Taste the Band.
"I have been born three times. I know through meditation" - from "Listen, Learn, Read On"
I originally chose that quote because it showed how utterly bad and pretentious early Deep Purple were. Looking at it now, it applies to the band fairly well, if you ignore their reunions. Their first incarnation was as a fairly terrible progressive-rock band, which scored a lot of initial success in the US, but almost nothing in the UK. Then after replacing Rod Evans, vocalist un-extraordinaire and bassist Nick "People Don't Even Remember Me Because I'm Not Worth Remembering" Simper, the band entered their golden (metal) era. Guitarist Ritchie Blackmore was a great classic blues player with his own distinct tone, and new vocalist Ian Gillan (best known to many for singing the role of Jesus in the original recording of Jesus Christ Superstar) could really belt it out - and then break into his fluctuating vibrato scream. This is repeated over and over again in the reviews, so let's get it out here - organist Jon Lord was good, but never really did much more than follow in the footsteps of Keith Emerson's work with the Nice. I recognize that they had the same interests music-wise, which is fine, but Lord was never an innovator. Finally, drummer Ian Paice was pretty consistent at keeping it interesting, and Roger Glover - well, he stayed in the background. This alignment of the players lasted for four good albums (Deep Purple In Rock, Fireball, Machine Head, Made in Japan, and one bad one (Who Do We Think We Are). Is it early metal? Yes, although nobody seemed to notice that Blackmore was playing straight blues a good portion of the time, and Lord was being rather classical. But all good things come to an end, and the band entered their third phase - that of a concealed, and then open hard rock band when both Ian Gillan and Roger "People Remember Me Because I Was Around When The Band Was Successful" Glover left. It may sound like I'm quibbling between metal and hard rock, but believe me there is a difference - the hard rock was far less technical, and when Deep Purple played it, less interesting too. The replacements, Coverdale and Hughes were not as talented at either playing or writing as the men they replaced. Blackmore gave (Burn) and gave (Stormbringer), until he gave out and then went out (to his own band), and the band recorded one album (Come Taste the Band) with Tommy Bolin before departing to that great arena in the sky. End of story, except for reunions and all.
I'd start with Machine Head, their most well-known album from their metal period, and go in ever-widening circles forwards and backwards from there, although the margins are pretty rough.
Personnel:
Ritchie Blackmore (guitar), Rod Evans (vocals), Jon Lord (organ), Ian Paice (drums), Nick Simper (bass). Evans and Simper replaced with Ian Gillan and Roger Glover respectively after Deep Purple. David Coverdale (vocals), Glenn Hughes (bass) then later replaced them after Who Do You Think We Are. Blackmore quit after Stormbringer to form/take over what became Ritchie Blackmore's Rainbow. Tommy Bolin then popped in to take his place. Band split, 1976.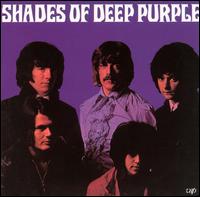 Shades of Deep Purple (1968), **
Deep in the shrouded mists of time, Deep Purple was a classically-flavored power-pop band, with an emphasis on the power. Recorded quickly, Shades of Deep Purple has all the instrumental ingredients for Deep Purple's later success - Blackmore's loud blues licks, Lord's classical organ, Paice's rapid fire drumming. But Shades is still a pop album, and Rod Evans seems to be under the delusion he was reared in the American South, and consequently did some goofy soul vocals (a slow and overblown cover of the Beatles' "Help" which he sings like a soul ballad). Despite their name (what's darker than the blues?), the more blues-oriented tracks seem to be stuck halfway between Brian Auger-like Swinging London ("And the Address") and ordinary workouts ("Mandrake Root"). But who needs slow quasi-classical arrangements of "I'm So Glad" (complete with "Prelude: Happiness") or "Hey Joe" (inexplicably credited to the group) that allow plenty of room for the group to insert well-known motifs (like Bolero and Malaguena) in the songs? Warning: Repeated listens may result in you having a gun in your hand. Some goofy late 60s production does not help matters, like sticking space-age noises between tracks. Blackmore does not have his technique worked out yet - he sticks mainly to whammy bar and doing some Hendrix imitations ("Mandrake Root") and wah-wah crops up from time to time. He also contributes one interesting curiosity - a good copy of the Who on "Love Help Me" built on power chords, and with some falsetto backing vocals to match Evans' psychedelic lyrics. Their rip-roaring cover of Joe South's "Hush" is the rare case where they get it right - loud, not too long, and appropriately soulful for Evans' vocals to seem well placed. So, Shades has very little original material, the new songs are primarily derivative or without any real substance, and the covers are not for the faint of heart (despite the intricate arrangements). All of that being said, I would still rather listen to this album than to almost any other two star album. The group's sound is excellent, but the end to which it was employed is primarily dreck. Produced by Derek Lawrence.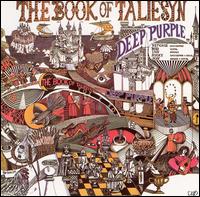 The Book of Taliesyn (1969), **
This kinda blows. Deep Purple now trended towards being a progressive rock band, and a fairly bad one at that. Rod Evans is still the singer here, and he tends to sound like soul-shouter Mitch Ryder (of the Detroit Wheels). So when combined with Lord, a classical organist, and Blackmore, a really good classically-influenced blues guitarist, you would not expect the result to be a mess. Oh, but it is. A big mess. I am pretty sure Evans writes the lyrics, which are mystical without meaning anything ("Listen, Learn, Read On", "The Shield"). There are also some misguided covers, Neil Diamond's "Kentucky Woman" (another US hit), a ten+ minute rendition of Phil Spector's "River Deep, Mountain High," and an extremely odd version of the Beatles "We Can Work It Out". Minor chords are everywhere, and I mean everywhere ("Exposition", and everywhere else), as if they were on clearance at a music store. The whole album sounds eerie because of that and some not-so-hot production, and frankly, the songs suck. The only halfway decent songs are the guitar and organ blues workout "Hard Road" (Deep Purple explored this in-depth later), the instrumental "Exposition" which does not suck, and "Anthem" with a lesser amount of minor chords, and a nifty fugue section. Actually, "Anthem" is pretty much the only original decent song on the album, and it's not great but has some good classical bits. Fortunately, nothing is really grating, only boring. The reason this gets two stars is because of the good job that Blackmore does everywhere, and Lord's periodic good flashes amidst a wasteland. Produced by Derek Lawrence, who should have known better. Released on the Tetragrammaton label, which was partially owned by Bill Cosby.
Check out this from the back of the album: "The Book of Taliesyn is a representation of seven different feelings with Ritchie, Rod, Ian, Nicky and Jon, establishing the moods under the spiritual direction of Taliesyn. The book is not an end in itself, but merely another link in the chain of musical progression which is evolving as Deep Purple." Slightly pretentious, perhaps?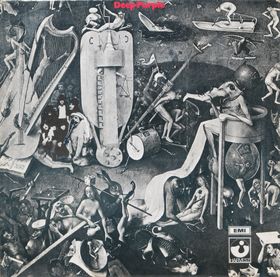 Deep Purple (1969), ***
A big improvement. Evans contributes fewer lyrics, and comes up with something interesting for once (the Rosemary's Baby tribute "Why Didn't Rosemary") and sounds like a decent singer. Instead, Lord is doing the lyrical work, avoiding mysticism (thank God) and focusing on more "normal" topics. Deep Purple has only one cover as well, an unspectacular version of Donovan's "Lalena". The really good news is the production - Deep Purple no longer sounds like poop, but like a real band. The great news is Blackmore - he re-discovered the wah-wah pedal and learned the latest techniques. Deep Purple's main problem is again the songs --more misfires, but closer to the mark, which is apparently the blues ("Blind" is too long and "Chasing Shadows" gets lost in its own percussion). Lord is not a compelling soloist either. Lyrically, "Why Didn't Rosemary" is my favorite track - a blues song asking why she did not just take the pill, instead of giving birth to ...uh... (only in 1968, I tell you). However, "The Painter" and its tape manipulated cohort "Fault Line" are Blackmore's show - and he is amazing. Just to remind everyone that they still had progressive aspirations, Lord has a twelve+ minute "concert" with three movements entitled "April" at the end. The first part consists of Blackmore and Lord alone, and is a decent mediaeval instrumental, followed by a dull orchestral passage (Lord's amateur night at the Pops), and then to hammer the musical point in, a group rendition with lyrics. The same musical theme for 12 minutes, and not a whole lot of solos in there either. Boring. So, Blackmore raises this half a star, without him it would be unremarkable. Produced by Lawrence again.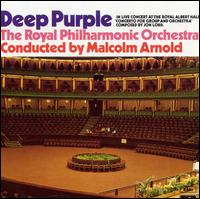 Concerto for Group and Orchestra (1970), ***1/2
Brace yourself - a) I'm to going to make the inevitable comparisons to the Nice, and b) this album isn't nearly the pretentious train wreck that the title suggests. This is an almost perfect example of parallel construction - Five Bridges and this album were recorded in consecutive months in 1969. Concerto came first, but it's not as if the Nice ripped them off or anything, as it's a lot harder to do that with "classical music" than a pop trend (Five Bridges was also commissioned). Commercially, Concerto was less successful than Five Bridges, but it was Deep Purple's first charting UK album and is a heck of a lot better than Five Bridges in all respects. Lord gathered his inspirations from 19th century symphonic composers and the result is a focused, clear counterpart to film scores of the thirties and forties (Alfred Newman and friends). He had a surprising aptitude for catchy little motifs (especially in the First Movement), a fondness for woodwinds, and crafted some truly interesting orchestral parts (the creepy beginning to the Second Movement being a highlight). But the bulk of Concerto is given over to the orchestra, the band gets in only three "songs" with them, but they are good ones (the 5/4 section in first half of the Second Movement actually approaches astonishing). Newcomer Ian Gillan does not get to sing much, but he grabs your attention: his performance is very much in the Jesus Christ Superstar mold - not quite belting it out as much as having a fantastic and large voice. Concerto has room for soloing, pretty much split between a really sharp Blackmore, a very churchy Lord, and the long, but tolerable (if still obnoxious by definition) Paice drum solo which is the centerpiece of the disappointing Third Movement. The pretension factor might seem to be high, but Lord is quick to disavow it as anything but "an evening which was intended to be, and in fact ...turned out to be, FUN", compared to the ideas behind Five Bridges (don't ask). Of course, most rock fans are going to hate having to sit through the orchestration, no matter how well scored it is. But for the dozen or so people worldwide who enjoy film scores and rock music, well they're going to have a great time. Full Title is Deep Purple/The Royal Philharmonic Conducted by Malcolm Arnold In Live Concert at the Royal Albert Hall: "Concerto for Group and Orchestra," composed by Jon Lord.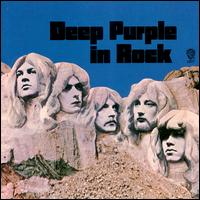 Deep Purple In Rock (1970), ***
The title pretty much says it all - In Rock is where Deep Purple laid down their blueprint for their long string of successes. That blueprint? Ditch the progressive stuff, distort Blackmore's guitar and Lord's organ, and then have them duel it out over riffs and power chords. The flaw in this plan is that Lord is by far the weaker of the two soloists - being more of a foil for Blackmore than an actual competitor. He sounds like a church organist possessed by a devil, but neither an overly talented devil or church organist. The result is that Lord sounds like he never met a minor scale he didn't like, and he threw little classical twirls into his playing ("Speed King" where he plays like an evil Ray Manzarek). On the other hand, Blackmore emerged as a fully developed player with all the tricks - string scraping ("Hard Lovin' Man"), triplets ("Flight of the Rat"), and fantastic note bending almost everywhere, and making Lord's playing pale in comparison. Ian Gillan was probably the best front-man in early metal, not only could he sing full-throated, but his trademark is a sort of screaming operatic falsetto. If Lord sounds like he was possessed, Gillan sang like he was trying to convince us that he was also under the influence. Finally, Ian Paice also deserves praise because he kept things interesting, even during a drum solo ("Flight of the Rat"), without being overly flashy or anything. When combined, the set of bluesy songs has a classical influence, and fortunately do not all rely on riffs either. But the songs are have pretty much the same production, and, despite the excellence of playing, tend to be indistinguishable from each other in the long run. The only real exception is "Child In Time," which is well constructed and justifies its length (over ten minutes). Also, In Rock's the lyrics are not great, but serviceable. This album gets hailed as a landmark of early metal, but it is really more of a signpost for things to come, due to the lack of memorable tunes. Produced by the group.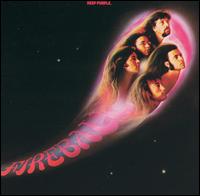 Fireball (1971), ***1/2
A real improvement because Deep Purple realized they needed songs to go along with their impressive playing. Enter hooks, and, as an added bonus, production to distinguish each track. Of course, this is all at the expense of soloing time, but it is worthwhile tradeoff (the title track which is immensely catchy, despite the dud of a guitar solo). Fireball has the same enjoyable bluesy metal sound, but the band was much more trashy than menacing this time ("Strange Kind of Woman" which is a trashy delight) with something to listen to in almost every track ("No No No" which is a weaker song contains a fantastic bass line). In terms of solos, Lord lost time to all manners of production tricks and tones (organ feedback, backwards organ, droning for both on "The Mule", odd Peter Banks-like solo in "Fools"). The result is a different feeling of arranging or production for every track. But they manage to botch it up big time in two cases. The first is "Anyone's Daughter" which sounds very un-Deep Purple with its light, down-home sound (Lord on honky-tonk piano), and absolutely atrocious lyrics. Here are a few samples-
on a lack of suitable grocers, I suppose:
I won't get no more eggs and water
Now I've laid the farmer's daughter
poor dietary concerns:
I stood under your bedroom window
Throwing up a brick
or the epitome of awkward phrasing:
You say I'm dumb and scraggy
But man this dumb and scraggy is
Your daughter's baby's daddy
If Ernest Hemingway had not already shot himself, he would have upon hearing that last bit. The lyrics completely negate the rough charm of the music. The other bummer is the jokey "No One Came," which I have to imagine is a semi autobiographical song about Gillan's lack of success as a singer. Thank goodness he did not write a subsequent song about his lack of success as a lyricist. But still, Fireball shows the band branching out and trying new things, most of which work. On the whole, it is well written, well played (even Lord), and well produced (by the band).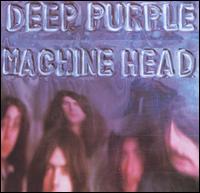 Machine Head (1972), ****1/2
Not really anything new, it was just where all the good elements floating around Deep Purple's prior albums coalesced. While In Rock menaces and Fireball is hard, this album fuses the two. That is, it sounds like the former, but has the quality production and songs of the latter. Machine Head is considered an early metal classic, however many of the songs are more hard rock ("Never Before" which points the way to cock-rock like Aerosmith) or just heavy blues ("Maybe I'm a Leo", "Lazy"). Only one song sounds like real metal, the downright threatening "Space Truckin'". But the riffs that were substandard and plagued their prior albums are upgraded here, led with their signature tune "Smoke on the Water," a song about the burning of Zappa's hotel (of all things). The songs are well written and self-arranged , with good bridges to keep up our interest ("Never Before" has a strange one that sounds like late period Beatles). Blackmore spits out lead after impressive lead ("Highway Star"), many of them his usual straight blues lines. Also note his throbbing rhythm lines during many songs - a technique used by metal bands to this day. Even Lord has his moments - a lightning fast solo in "Highway Star" and another possessed church organist intro to "Lazy". Only a few tracks are weaker ("Maybe I'm a Leo" and "Pictures of Home"), but Machine Head is so well done that these spots are not albatrosses. The only other complaint is that Paice seems to have toned his playing down on the album, but that is only a minor issue. A hard rock (or early metal) classic. Self-produced.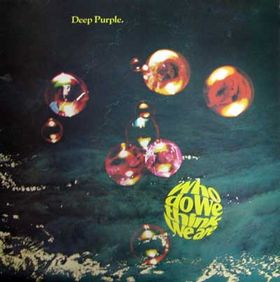 Who Do We Think We Are (1973), **
For reasons I have not investigated, Deep Purple decided to dumb down their sound and lyrics. Who Do We Think We Are sounds like the band was covering themselves, with the main difference being the addition of popular touches like boogie or glam-rock ("Mary Long" sounds a lot like "Farmer's Daughter" for example, before it trails off into an Indian trance with jazz drumming). All in all, this album was an attempt to make them sound more like Slade, but without any substance. "Rat Bat Blue" is an excellent demonstration of this - the words are pronounced "rat bat baloo" resulting a catchy rhythm, Kipling fans' ill-will, and not much else. The menace is present, but not only is it something we heard before, it is watered down besides ("Smooth Dancer"). Gone also are some of the nice arrangement touches like outros and intros, as well as extended solos. The band's supply of production tricks has also begun to run low, so we get phased drums ("Super Trooper") and cruddy non-Gillan backing vocals in a couple of spots. But the most surprising aspect is the overt boogie nature of plenty of the songs, reinforced by Lord's piano work. Even the latest offering from their long line of big, meaty songs ("Woman From Tokyo") is the weakest one to this point, featuring an actually pretty interlude before sliding into boogie territory. Blackmore is around but his talents are wasted, while Lord is harmless when he is not blatantly ripping off Nice-era Emerson (the solid "Our Lady"). As might be expected, the lyrics have also taken a turn for the worse as well. The only real stinker in the lot is the traditional blues of "Place In Line" with some wince worthy vocals from Gillan and inane lyrics. In summary, this album goes where Deep Purple had gone before, except in a derivative manner. Self-produced.
Oh, and who do they think they are? Judging by the gatefold sleeve, which consists of mostly favorable press clippings, they consider themselves to be talented and unheralded. My favorite reads: "Thank goodness the group are not 'serious' about rock music; I can't bear pretension when it's based on limited talent."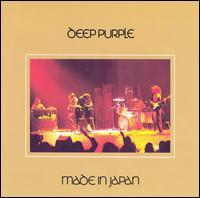 Made in Japan (1973), ****
An immaculately recorded double-live album recorded over a few days the previous summer. If there ever were any doubts about whether Deep Purple's skills transferred from the studio to the stage, Made in Japan erases them. A wisely chosen set focusing on extended renditions of some riff-based songs might spell doom for many other bands, but here every member of the band shines. Blackmore is astounding; not only does turn out his usual high-quality fluid blues playing, but his versatility is far greater - string scraping, power chords, whammy bar abuse - he is the real deal. For all of my complaining, Lord shows himself to be, if not a standout soloist, then a valuable supporting player who manages to squeeze quality into his own solo spots. Whatever his shortcomings in the studio, they do not appear here. At one point I thought I might have been listening to Thirds-era Soft Machine, as an extreme example (the descending spaceship intro to "Lazy"). Paice is, well, his usual excellent self - changing his rhythms to maintain your interest, and otherwise being talented. Even Glover seems to have it going as well, although he is at the bottom of the mix. Which brings us, finally, to Ian Gillan, who despite being early metal's best singer, does not quite get the space the instruments do. Sure, he gets to showcase his amazingly high screaming/singing in a call and response with Blackmore ("Strange Kind of Woman"), but for the most part Blackmore lets his fingers do the talking. How do Deep Purple maintain the audience's interest when so many of their songs could potentially sound the same? Do them in slightly different styles. Thus, both "Lazy" and "Child In Time" are feature a jazz-blues style in them, as if this were recorded during the British Blues Boom (think a very, very good Ten Years After). Plus, they provide me another opportunity to bludgeon one of my points in again - "Space Trucking" goes on for a full side (of an LP) a lot of which sounds exactly like late period Nice. Specifically, "Rondo", right down to the bass line and organ feedback. While Lord may not have Emerson's technical skills, he is a hell of a lot easier to listen to, especially live. There are only a few dry spots on the whole double-LP set - a long drum solo from Paice ("Mule", most of the original track winds up in "Space Trucking"), the aforementioned call and response session, and few other soft patches here and there. On the whole, very well played, and certainly one of early metal's finest moments.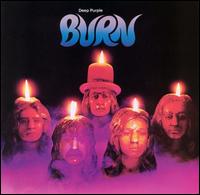 Burn (1974), **1/2
Well, Deep Purple managed to loose their lead singer and bassist a second time. Needless to say, this time the replacements were not of the same (or better) caliber. The future Whitesnake frontman David Coverdale is not bad, but he was the classic big voice + over-emoting hard rock frontman. Fellow newcomer Glenn Hughes was a more precise bassist than Glover with little runs here and there, and boasts his own middling gruffy voice here and there. It is really sad to see what happens when the riffs run dry ("Might Just Take Your Life" is the best and it's only decent), and the studio gimmicks have all been used up on previous albums. The answer? Well, you devolve into hard boogie, with your vocalist sounding like he receives "soul" in a cardboard box via mail order - it's cheap and slathered on liberally (the aptly named spotlight track "Mistreated" which drags on for over seven minutes). Sure, Blackmore is still unmistakable (the title track) and a reduced Lord attempts to compensate by buying some synths (the boring prog-rock instrumental "A 200"), but it is not enough. Not even a return to Montreaux, where Machine Head was recorded, really helped. At the end of the day, Burn is all pretty derivative ("You Fool No One" borrows its beat from "Whisky Train" and it's vocals from Cream's "I Feel Free", and there is some back catalog cannibalization as well) and when you find yourself being compared to Bobby Tench (this means you, David Coverdale) it is not good. All of that being said, Burn is far better than their last studio album, and is fairly decent as mechanical rockers ("Sail Away") or guitar-based rock goes ("Lay Down Stay Down"). If you had never heard their previous work this might sound far better, but I cannot forget the past. Boogie - where good metal bands go to die. Most of the songs are group efforts, minus Hughes. This did mark the end of the period where the entire group was credied for every song. Self-Produced.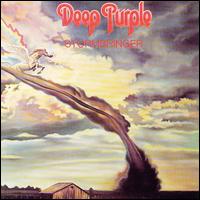 Stormbringer (1974), *1/2
Deep Purple's identity is submerged in this album of bluesy hard rock. Stormbringer is so bad that it is hard to take this stuff seriously. OK, there are a couple of attempts at old-style riffs (the title track which seems to be able evil clouds, and "Lady Double Dealer") but the lyrics are so terrible. It is just a standard exercise in male bravado and arena rock. Stormbringer is oversung ("Love Don't Mean a Thing" has Coverdale slobbering like a demented Stevie Wonder, but it's everywhere) and underplayed by Blackmore. He does show flashes of his former style while focusing on slide work, so he sounds like an impersonator rather than the real deal. Well, someone has to come up with music to be played during strip club scenes in bad movies. Really, this is what male high-school students in the 70s would enjoy while drinking Pabst, and complaining about women. How can anyone take a song like "High Ball Shooter" with a straight face? The chorus has the lines of "High ball shooter / You sure ripped the low ones off me", and that's only one example. Utterly ridiculous, as if recording one bleh album in a year was not enough. Great Taste/Less Filling? Let's try (Leaves a) Bad Taste/All Filler. The one and a half star rating? Simply because it's so bad it's entertaining in an unintended manner. I am not surprised that this hit the top ten in the UK - Deep Purple was a bankable commodity at this point. The songs were written by various combinations of group members, with Coverdale being the only one consistently credited. I would guess he was responsible for the lyrics. Entertainment wise it rates higher, but only because it is so terrible. Produced by Deep Purple and Martin Birch.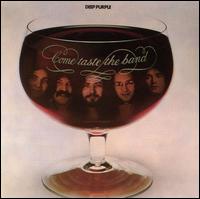 Come Taste The Band (1975), ***
Let's face it - no matter how fast Blackmore may have soloed, Deep Purple ceased to be a metal band with Burn. The guitarist quit after Stormbringer, and the band recruited James Gang member Tommy Bolin to take Blackmore's spot. In actuality what this openly admits that the band had become s a hard rock band, and that is far from a bad thing. Sure, "Love Child" opens with a passage that sounds like vintage Sabbath + organ, but it's really not much more than lip service to the past. Bolin was a good guitarist, and one who was a hell of a lot more suited to the other side of the thin line between hard rock and metal. His slide work is far better than Blackmore's, and while he did not have his predecessor's speed, he wasnot exactly Johnny Slowfingers either. I think Blackmore was just burned out, playing-wise and in the songwriting department. Bolin co-wrote most of the tracks and has a nice guitar spotlight number ("Owed to 'G'"), but I think he sparked the other members as well. Come Taste the Band has plenty of genuinely decent moments even on bad tracks, like the creepy intro to "You Keep On Moving." It also does not hurt that the vocals are pushed down in the mix a touch, although we do get hit with the double whammy of both Coverdale and Hughes at least once. But this post-Blackmore era tries something which I cannot see Ritchie going along with - the rhythm section gets downright funky on some tracks ("I Need Love", "Lady Luck"), as Paice plays a swooshing 1-2 beat and Hughes drops his mechanical bassist schtick. Who knew it could be this easy to sound much better? Lord even contributes a nice piano song with synths taking the place of the rest of the band, even though it only allows Bolin to openly ape Stevie Wonder ("This Time Around"). There are the usual lyrically indulgent minefields ("Gettin' Tighter" about the band), and Coverdale's usual lamenting about gambling and being a displaced person ("Dealer", "Drifter"). This shows a band that had promise album, even more so given that the entire thing was written and recorded in a month. I am even sorry they broke up afterwards. Produced by the band and Martin Birch.

Made In Europe (1976)
Live. I don't own this, and reputedly it's far inferior to it's similarly titled predecessor.
The band reunited, etc. later.
I wantcha, I need ya ...back on the Music Page.