I had Blind Faith in Cream
Albums reviewed on this page: Fresh Cream, Disraeli Gears, Wheels of Fire, Goodbye, Blind Faith, Songs for a Tailor.
Cream was a great band. They were a high profile link between the R&B/blues scene of the mid-60s, psychedelia and the hard rock that followed. But personality conflicts made the band a three-legged stool, and they were only around for a couple of years before the inevitable blow-up. They were also the first big supergroup (as everyone came from another well-known band) and the first big power trio. They put out a large body of work for such a short time frame (1966-68). Nowadays many people have not heard of Cream, or sum them up with one word - "Clapton". We should not forget, however, that there were two perhaps equal musicians in the band - singer/bassist Jack Bruce and drummer Ginger Baker. Bruce's vocals really are not for everyone - he's a bit nasally and the live tracks are an adventure, but his bass playing is fairly impressive, maybe the English Jack Casady. Baker was one who liked to drum big - raising a large amount of noise at the kit, and also popularized the extended drum solo, earning many fans' thanks and my own disdain. In fact, as far as fast paced and "busy" rhythm sections go, they were second only to the Who in this period. They laid the foundation that other hard rock groups followed, as well as more blues-oriented acts. But what about the man who we all know today - Mr. E.C.? Top-notch stuff solo wise, as he was perhaps second only to Hendrix in this area. His wah-wah, when deployed, was almost deadly. His tone was unique, and his technique excellent. I'm not a worshiper, only an admirer - but I feel like we take his talent for granted sometimes.
Together, they took the blues and ran with it through the big psychedelia period until it became an influence in their studio work and not a mandate. In the alchemy of the late 60s everything was mixed together, and when it came out few things were just "blues" or "folk" or "rock." Disparate genres, influences, cultures all got combined in the music - and Cream was a prime example. The blues was always there in the music, but it was part of something bigger and more solid than a simple exercise in the key of Robert Johnson. Afterwards Clapton pursued his solo career (and we all know where that led him), while Bruce went in more jazz direction before forming a large number of power trios. Baker? Well, he jammed and he jammed, and then stopped, and then rocked, and stopped. Yes, vagueness is my trademark.
Personnel: Ginger Baker (drums, vocals); Jack Bruce (bass, vocals) and Eric Clapton (guitar, vocals).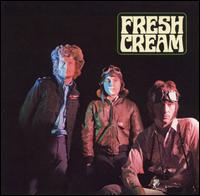 Fresh Cream (1966), ***1/2
This is one of the first and best examples of mixing blues and pop together. There are a number of classic songs doing just that, highlighted by Clapton's solos and Bruce's floating vocals (Skip James' "I'm So Glad", and Bruce's self-duet "Dreaming", and his first collaboration with lyricist Pete Brown "I Feel Free"). For these were the days when people were writing "Clapton is God" on subway platforms and the like around London, and his work is excellent here, even if it's in small doses. Put Clapton's distinctive guitar in with Bruce's good bass work (made more impressive by the fact that he sings at the same time), and Baker's loud and busy drums, and one can make a good case for the birth of hard rock. What we tend to overlook is that even though Fresh Cream is really poppy, it was also very loud for its day. The band's work is fast, powerful and dexterous - certainly pointing the way for "hard rock", even though out of context it may not seem like it. The group's songwriting ability is out in good force for their debut: Bruce does most of it (the traditional "Sleepy Time Time", and the powerful but lyrically deficient "N.S.U.") while Baker delivers one of those uplifting blues-pop songs ("Sweet Wine"). Many people hate Bruce's voice, and while I have no problem with it, I am concerned with his vibrato. When it kicks in it is as if his voice shudders and shimmies like he was having a personal earthquake. You get used to it in time, but it is still a touch disconcerting. There are a couple of things to watch out for, however, as the back side of the album is a bit haphazard. It has the usual assortment of cover songs, all enthusiastic ("Cat's Squirrel", Clapton's vocal spotlight on "Four Until Late" and a lot of unremarkable harmonica on Muddy Waters' "Rollin' and Tumblin"), and then Ginger Baker's "Toad". The last is a curious song, as much as it can be called a song, because it's actually a very long drum solo disguised as a song. Now, Baker is an excellent drummer - he always keeps things interesting, is more of a hard hitter than a chattering player like Mitch Mitchell, and had excellent discipline unlike Keith Moon. But peel away the opening chords, and voila! ...Baker drums away. And away. And away. It is also a spectacular example of why drum solos often fall into the trap of being very, very, boring. In fact, I think we have this particular song to thank for many of the less-fine examples that are extant. The other thing is the mixing on this album, as they cram the entire band into the right channel, and then overlay the vocals in the center and right, with the solos coming on the left. The thing is there are not that many solos, so it is fairly unbalanced. Maybe it's just my old vinyl copy, but almost the entire album is done in this fashion, so you probably don't want to listen to it in headphones if that's going to bother you. These are just quibbles however, as this is a landmark album, just with a couple of flaws and the group dressed up like fighter pilots on the cover for reasons probably best left to them.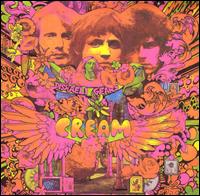 Disraeli Gears (1967), ****
This is their best studio album, and one of the best examples of blues and psychedelia. In song after song Clapton shows that he was top form with his distinct "woman tone" cranked up on guitar (the sustained soloing on "SWLABR"), and when he added in a wah-wah pedal, the result is some of his best work ("Tales of Brave Ulysses"). While what is arguably the most well-known track, "Sunshine of Your Love", is another example of their excellent blues-rock, a distinct psychedelic influence is at work here. It is felt not only in Clapton's solos, but in the striking imagery of some of the lyrics ("Tales of Brave Ulysses" and "SWLABR") and also provides a good outlet for Bruce's occasionally floating vocals. The blues-rock is just as compelling, although Clapton's "Strange Brew" does run into a chicken/egg problem when compared to his interpretation of the traditional "Outside Woman Blues" as their basic riffs are very similar. With the exception of "SWLABR," the Brown/Bruce compositions are merely good (the dreamy "Dance the Night Away" or the joyous party atmosphere on "Take It Back"), and Bruce's own "We're Going Wrong" is a loud epic which builds but mysteriously lacks payoff. Producer Felix Pappalardi, who along with his wife Gail Collins also co-/wrote some of the songs ("Strange Brew", "World of Pain"), gave the album essentially the same production that he used for The Youngbloods - guitar in one channel, drums in another with soloing and vocals in the middle with the bass in the back left. It's pretty balanced, and allows the two more prominent instrumentalists room to play. The only true downside is the one sluggish Baker spotlight ("Blue Condition") and the Alfred Doolittle-ism of "Mother's Lament" which is the sort of thing that drunks gather 'round the piano to recite together in a litany of silly humor. Still, one of the best albums of this period, and a collection of great songs.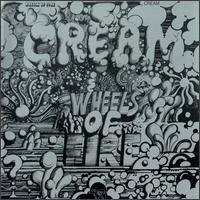 Wheels of Fire (1968), ***
No, this has nothing to do with the Dylan song - that is "This Wheel's On Fire". Wheels of Fire is a double album, one LP studio, the other live at the Fillmore. The studio side ranks with Cream's best work, bookended by stupendous Bruce/Brown compositions. The first, "White Room," features quintessential examples both of Bruce's technique of switching from baritone to lilting tenor on the chorus, and Brown's striking, image-filled lyrics. The closing "Deserted Cities of the Heart" is an adrenaline-rush number, with the band plugging away on a descending chord pattern. Beyond those, psychedelia has certainly kicked in, with Pappalardi (who made the excellent decision to mix Baker's drums onto both sides of the mix) and Bruce running around playing any instrument they can get their hands on - viola, hand bells, recorders, trumpet, etc. All the extra instrumentation accentuates the songs, and helps wean the band from their blues sound. At its extreme it materializes in Bruce/Brown's creepy "As You Said," which consists of Bruce's voice eerily singing over acoustic guitar, cello, and minimal drumming. There are also three, yes, three Baker songs on here, but before you go off writing letters to the quality control department of Atlantic records, let me say that they are all rather good. There are two likely reasons for this - first off he co-wrote with one Mike Taylor, who deserves to be canonized by Cream fans for his good works in rehabilitating the songwriting-poor. The second reason is that Baker's songs tend to be from a breed of child psychedelia, or tykedelia as I have taken to calling it, which benefit greatly from all the added instrumentation by Bruce and Pappalardi (the storybook "Pressed Rat and Warthog", "Passing the Time"). The other Baker song, "Those Were The Days," is actually a joyous rock song about how great it was in ancient times. No kidding, it's sort of a follow up to the feel of "Sweet Wine", and it's good. Otherwise, Wheels of Fire has some riff-based blues numbers to keep them honest ("Born Under a Bad Sign", "Sitting on Top of the World", "Politician") which are catchy enough to get caught up in easily.
Where is Clapton is all of this? Well he certainly contributed good leads to these songs, but nothing like the handful of outstanding solos on Disraeli Gears. On the other hand, he does have the lone standout track on the live half of the album - a knockout cover of "Crossroads," where he is on fire. When he gets to the solo section the second time he really lets it go. Aside from that, the live album ranges between Heaven for Cream Fanatics to Purgatory for Ordinary Folks. You see, each member had a spotlight track, and then they all unite on a cover of "Spoonful." Clapton's showcase is "Crossroads" of course, (on which he sings as well) and should be Heaven to all. Bruce's number is "Traintime". To be blunt, the track is a six+ minute Jack Bruce harmonica workout, with Baker drumming along. Now I would rather hear a six minute harmonica workout from Bruce than say, Keith Relf, and yes, Bruce is more than a passable harmonica player. Hell, I would go so far as to say he was above average, even if he does make Ian Anderson grunting noises periodically. But it is excessive and indulgent, and I cannot imagine people in the audience yelling up, "Hey Jack, why don't you blow on that sweet harp for a few minutes!" or if they did, it was because they wanted to go get a beer, use the bathroom and not have missed anything. Guess what - the harmonica is employed to make train-like noises! Gee, what a surprise. What could top that? Well, I will give you three guesses as to what Baker's spotlight song is, and if you need more than one you have yet to be acquainted with "Toad". This is truly Purgatory - an interminably long drum solo disguised as a song. How long? Over 15 minutes long. That is a quarter of an hour. That is half a Kinks album. That is fucking ridiculous. Granted, if anyone could pull it off, it would be Ginger Baker, but I certainly don't think he does. Hardcore Cream fans (whose existence have not yet been proved) may find it Heavenly, though. Finally, Cream's cover of Willie Dixon's "Spoonful" has the band playing at the same time, although it is hard to tell if they were playing together. The music is like an old-fashioned coach being pulled by a team of three horses - Baker's slightly ahead of the other two and driving the music, while Clapton and Bruce are trying to go their own way as much as they can within the harness of the beat. The song is long (longer than "Toad" even) and while it is interesting to hear Bruce really let loose on bass, the free range Clapton (no snickers please) does not stumble on anything great, and we get to hear Bruce's vocals in a live format (shrill, overly vibrato-ed and almost like an English Marty Balin). Three concurrent self-indulgences do not a great track make. Again, Heaven for the true fan, Purgatory for the ordinary.
As it is the studio album ranks right up there with Disraeli Gears because the improved songwriting helps offset the lack of jaw-dropping instrumental work, but the live album is a testament to how much is too much.

Live Cream (rec. 1968, rel. 1970)
Live tracks from within the same week as the tracks on Wheels of Fire, and probably recorded for that purpose.
Live Cream, Volume II (rec. 1968, rel. 1972)
More of the same, with a couple of tracks from later in the year.
BBC Sessions (rec. 1966-68, rel. 2003)
Reportedly with awful mono fidelity, although that's not firsthand knowledge.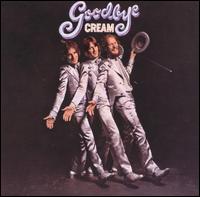 Goodbye (1969), ***
The band had already broken up at this point, but Goodbye probably afforded some relief to fans, while invoking painful rounds of "if-only." It's a mini-Wheels of Fire, but with much greater quality control. The first half of the album was recorded live on their final US tour, and is more consistent than their previous live tracks, although nothing great. Just three strong blues songs ("I'm So Glad", "Politician" "Sitting on Top of the World") that justify their running times and tend to avoid personal showcases (although there's some question as to whether the Clapton and Bruce vocals on "I'm So Glad" are dueling or merely sloppy). The studio side is outright spectacular, despite the fact that each member contributes their own track. Their final single, "Badge," is a result of Clapton coaxing George Harrison into returning the favor shown on "While My Guitar Gently Weeps." It's one of Cream's better songs, despite an abrupt ending. Slower, less bluesy and ultra-melodic, it has the exact level of quality that one would expect from two top musicians collaborating. It would not be a Cream album without a Bruce/Brown song either, and this one final bit of fun nonsense ("Doin' that Scrapyard Thing") is a delight, with Bruce playfully rolling his r's and the like. Finally, even Ginger Baker cranks out a surprisingly good tune ("What a Bringdown") with his usual fairy tale lyrics, and an pulsing underlying beat. Goodbye Cream, and thanks for trying your best, even at the very end. What a bringdown indeed. Produced by Pappalardi, it went to #1 in the U.K. charts, and was their only album to do so.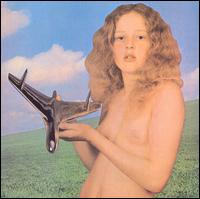 Blind Faith: Blind Faith (1969), ***1/2
Tailor made for a VH1 Behind the Music episode, Blind Faith combined three major stars (Steve Winwood, Eric Clapton and Ginger Baker) and one normal musician (Rick Grech) into a supergroup that went supernova fast. Blind Faith lasted less than a year, producing one album and a tour before blowing Clapton into a solo career, Winwood back to Traffic, and the other members into musical purgatory. Putting aside the issue of its controversial cover, their sole album is a very good entrant in the world of blues-fusion. Despite the presence of some very talented people there seems to be a definite lack of material to work with (even covering Buddy Holly's "Well All Right," albeit in a very good way). Winwood was the group's main songwriter, so musically they sound more like Traffic (the usual blues+soul feel), but with Clapton they were structurally more like Cream (longer solos, longer song lengths). The first half shows the fabulous potential of the group - the opening song, "Had to Cry Today," is built on a killer pentatonic riff and the Winwood/Clapton twin guitar arrangement is stellar. The other two original songs are Winwood's acoustic "Can't Find My Way Home" and Clapton's George Harrison-inspired "Presence of the Lord," both top notch as well. The backside is where the songwriting starts to fade and things come apart. After a relatively weak Winwood tune ("Sea of Joy") comes Baker's "Do What You Like," a jam which sinks the entire album. It fails to avoid the trap that so into which many 5/4 songs fall, namely sounding like a rip-off of "Take Five," but that need not entirely spoil the song. Winwood and Clapton (with a odd San Francisco-like solo) contribute in a non-fabulous way, and then Grech, who is simply not a soloist on the bass, coughs up one of the most boring solos this side of Dale Peters. In the end, the track dissolves into studio chatter. An astonishing bomb by a group of this caliber, and a fifteen minute+ one at that. At least Baker's drumming is excellent throughout the track, and his solo is not a complete waste. Grech gets a lot of guff for his playing, but with that one exception he was a competent rhythm bassist who did his job. This went to number one in the UK, and the US, but the band was only together for about six months. Produced by Jimmy Miller.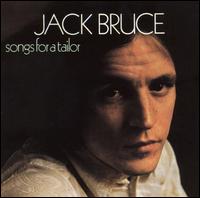 Jack Bruce: Songs for a Tailor (1969), ****
After Cream's dissolution each member went their own way - Clapton's blues/soul guitar drama, Baker's hybrid disasters, and Bruce's jazz-rock. Songs for a Tailor is easily the most Cream-like of the trio's initial post-breakup work. In essence, Bruce continued his work from Wheels of Fire - writing highly melodic songs with Pete Brown's lyrics, Pappalardi producing, the grumbling bass, sung by the familiar voice. Many of these songs such "Theme from an Imaginary Western" or "The Clearout" could have easily appeared on a Cream album. The album does have a distinctive bent, as without Clapton, Bruce was free to pursue a jazzier sound. He also effectively punted the guitar parts by handing them over to a young Chris Spedding, excepting George Harrison's low-key guesting on "Never Tell Your Mother She's Out of Tune." His players are mainly taken from the jazz-rock community, and Jon Hiseman is not Baker, but still a dexterous and interesting drummer. Most of the tracks are bouncy with jazzy chord changes, his grumbling bass and driving piano providing a center to the sound. Still, it is hard to picture jazz horns adorning a Cream track ("Never Tell Your Mother She's Out of Tune", "Ministry of Bag"), or using the same musical phrasing. Almost the entire first side bounces along in this excellent manner, as does "Ministry of Bag" and "The Clearout".

Bruce also pursued the (relatively) quieter, starker acoustic interest he displayed on Wheels of Fire's "As You Said". Unfortunately these are weaker tracks, as Bruce's acoustic guitar based songs tend to be circular at best such as ("Rope Ladders to the Moon", "He the Richmond"). This mode does yield good result - the first part of "To Isengard" is a dreamy acoustic song that sounds like a CS&N song - good vocal harmonies, multiple acoustic guitars and a carefree tone. The blues appear, but more as a component ("Boston Ball Game", "The Clearout") than a missive. Songs for a Tailor's sole attempt to recreate Cream's blues-hungry power trio (the latter portion of "To Isengard"), is without success, mainly because Spedding was too absorbed with a wah-wah to function. All told, in swinging Cream's sound into jazzy direction, Bruce created music that avoided repeating his power trio work or becoming the jazz specialist's province. In that sense, Songs for a Tailor was unique: a jazz-rock album for the casual listener. It worked too: it made the UK Top Ten.


What a Bringdown... Back to the Music Page.