Jeff Beck
Albums reviewed on this page: Truth, Beck-Ola, The Rod Stewart Album, Rough and Ready, The Jeff Beck Group,
Blow by Blow, Hummingbird, Diamond Nights, Wired, There and Back.
Out of the famous trio of Yardbirds guitarists, Jeff Beck seems to wind up with the short end of the stick. While Eric Clapton may have found success with Cream and a solo career and Jimmy Page founded Led Zepplin, Beck took a different path. Founding his own group after leaving the Yardbirds, Beck was one of the early heavy metal pioneers with his first few albums, influencing groups like Led Zepplin. Then Beck moved towards a jazz-fusion style, which aptly displayed his vast technical prowess, culminating in two well regarded instrumental albums, Wired and Blow by Blow. Beck then began to record more sporadically through the late 70s and 80s. Fortunately it appears that he is picking it up once again, releasing albums in the past few years using a techno beat to back his playing. I have seen Beck in concert and he is the most impressive guitar player I've ever seen - his technique is amazing from slide to blues to jazz fusion. The man has a bag of tricks that makes everyone else look one-dimensional.
I've reviewed two Hummingbird albums, as the band consisted mainly of the Mk II band, but they focused more on the groove. Occasionally there are references to Gonzalez as well, which was a collective band formed by Tench in the early 70s that also was all about the groove and featured a large open roster of players.
The Jeff Beck Group Mk I: Jeff Beck (guitar), Ron Wood (bass), Rod Stewart (vocals), Mick Waller (drums) and Nicky Hopkins (piano). Waller replaced by Tony Newman for Beck-Ola.
The Jeff Beck Group Mk II: Jeff Beck (guitar), Clive Chaman (bass), Bob Tench (guitar), Cozy Powell (drums), and Max Middleton (keys).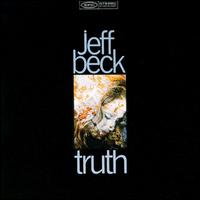 The Jeff Beck Group: Truth (1968), ***1/2
After exiting the Yardbirds mid-tour, Jeff Beck formed his own group. Expanding on the Yardbirds' increasingly heavy blues approach, Truth was one of the foundations for heavy metal: a sort of midpoint between trad blues and Led Zeppelin. Strange as it sounds, this set of gravely voiced, riff enhanced blues covers predates and foreshadows Led Zeppelin. It has some problems, mainly a lack of original songwriting, and Rod Stewart's vocals. Although Stewart is tolerable occasionally, he annoys me to an unbelievable extent. But Truth's rather odd collection of songs is a bit of a weakness, as Beck covers everything from his last big Yardbirds hit "Shapes of Things", to "Ol' Man River", to Ravel's Bolero, to a solo acoustic version of "Greensleeves". But the album's redeeming factor is Beck's playing, which permeates every track with loud interesting leads. The best moment of the album is the closing wah-wah masterpiece "I Ain't Superstitious". John Paul Jones appears, and Jimmy Page contributes a song.
Sadly, despite the enormous amount of talent in the group, their sound was largely expanded on by Led Zeppelin with greater success.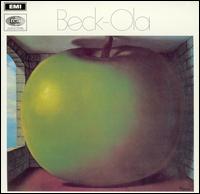 The Jeff Beck Group: Beck-Ola (1969), ***
Beck again could not come up with any outstanding material, so Beck-Ola is almost really good. Nothing really stands out either way. Most songs have the same approach-- hard blues --this time applied to two Elvis covers and a couple of decent originals. Beck spends most of his time delivering the same type of leads, but also plays a lot of whacko guitar work as well ("The Hangman's Knee"). The only different tracks are Hopkins' "Girl from the Mill Valley", a mid-tempo piano instrumental, and the overlong "Rice Pudding", again slower, but with Beck messing around his guitar while everyone backs him up. The sole catchy song is "Plynth (Water Down The Drain)" which is short, and has a nice rhythm. Otherwise, nothing new, with Stewart's vocals as annoying as always. Hopkins on keyboards really does help, but Newman isn't as strong a drummer as Waller. If you liked the previous album, go for it.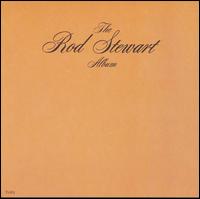 Rod Stewart: The Rod Stewart Album (1969), ***
This is the best place for Rod right now, as he uses many of the same musicians as the first incarnation of the Jeff Beck Group. Just in case you were wondering, I really dislike Stewart's voice. But, it is effective in the right circumstances. Those circumstances turned out later on to be boozed-up Stones-style rock, but on The Rod Stewart Album he had not settled on one sound. Not a bad thing, but kind of unexpected. Almost equal in importance to Stewart himself on this album is Ron Wood, doing great bass work, and some guitar as well. For example, Stewart's cover of "Street Fighting Man" would not have worked without Wood's excellent bottleneck guitar work. Of course, it isn't as good as the original, but it is the kind of material for which Stewart's voice was made. What is his voice? Kind of a shouty gravely blues voice it seems, and when he does this (with a little luck) it works ("Blind Prayer" for one). But he gets contemplative and slower (and softer) on "Dirty Old Town", and the acoustic ballad "Man of Constant Sorrow", with Rod on guitar. Many of these experiments (for that's what they were) do not come off right; "An Old Raincoat Won't Ever Let You Down" sounds silly, and "I Wouldn't Change a Thing" is another contemplative song that stops, starts and uses not only Keith Emerson, but has the Producer Lou Reizner singing some lines. The only thing close to a classic on The Rod Stewart Album is "Handbags and Gladrags", a slower piano-based number written by Manfred Mann vocalist Mike D'Abo (aka King Herod in the original Jesus Christ Superstar). Granted, one might ask why D'Abo didn't sing it himself, and instead played piano, but who knows? As for the song, it is another sad, looking back song, augmented with woodwinds. Yeah, woodwinds do not matter, but I thought it was a nice touch. The verdict? Rod's debut is a grabbag, with some good songs, and some boring ones. The not-so-at-this-time all star cast includes future Ron Wood (of course), Micky Waller (toned down a bit as well), Ian McLagan, a Nice-era Keith Emerson, Manfred Mann's vocalist playing piano for a number, and two members of the group Steamhammer, Martin Quittenton and Martin Pugh, on guitars. Produced by Lou Reizner.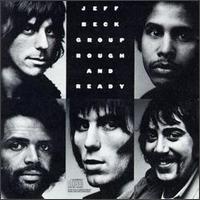 The Jeff Beck Group (Mk II): Rough and Ready (1971), ****
Having entirely replaced his backing band, Beck embarked on an almost entirely new sound. It's faster, syncopated, and (dare I say it), slightly funky. Gone are the Elvis covers and hard rock approach; instead, new singer Bob Tench comes close to oversinging ("Jody" is the only time he does) but is a heck of a lot easier to listen to. But the biggest change is the addition of Max Middleton on keys - his role appears to be almost as big as Beck's. That is not to diminish Beck's talents, which he displays admirably with blistering slide work ("Short Business") or blues. Beyond that, "Raynes Park Blues" is a test run for Beck's later fusion work that does not quite gel, but still has some nice Peter Green-esque moments in it. My personal favorite is "New Ways/Train Train", whose first half sounds exactly like Stevie Wonder, and serves a showcase for Beck's talent. With only a few weak spots and nothing embarrassing, this album is great.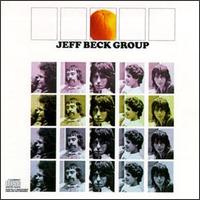 The Jeff Beck Group (Mk II) (1972), ***
The cover photos tell all about this album: Tench and Powell look like they are having a great time, Chamen looks skeptical, and Middleton and Beck look bored. To tell the truth, there is plenty to feel bored about on this album. Instead of recording Beck's own tunes (he wrote or co-wrote everything on the previous album), he accounts for only about half of the tracks. When they play a Stevie Wonder song it is thankfully good ("I Got To Have a Song" whose chorus sticks in my head), likewise for a Dylan cover ("Tonight I'll Be Staying Here With You"), but this album has a good amount of tripe. Beck's guitar skills can lift almost any track (his own rather ordinary "Ice Cream Cakes" for one), but songs like the annoyingly dumb pop "Glad All Over" are still bad. Plus, Tench tried to make up with increasingly overwrought vocals whatever musical energy the others lacked. Beck does get into a groove on "Going Down," simply busting into a cool solo (Middleton also has a nice piano into). But they only time the group shines is on "Highways" and the instrumental "Definetely Maybe", with some amazing guitar work (and good Middleton contributions). The rhythm section does a great job like last album; too bad the songs were not as good. Produced by Steve Cropper (who co-wrote the rather weird "Sugar Cane").

Beck, Bogart and Appice (1973)
A power trio with members of Vanilla Fudge. Supposedly terrible.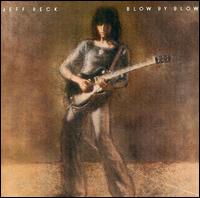 Blow by Blow (1975), ****1/2
Hello, vocal-free fusion. The musical concept behind Blow by Blow is simple, but its exercise is stunning. Each track has a main musical theme which is then expanded upon, or transmuted through soloing within a set chord framework. If that sounds obscure then think about it this way - take a series of notes, say two lines of a song, and then have it repeat (although not strictly) with each chord change. If these notes are too short it becomes riffing in a lead instrument, or if slower a rhythm line (how many bass lines are repetitive?). What this album does is take that musical motif and then solo around it, expand on it, abandon it and later return, but never forget it. It isn't anything really new - the most famous jazz album of all time, Miles Davis's Kind of Blue, has tracks built around this idea. But adopting it towards rock was fairly groundbreaking, even if it was only an adaptation. This translates into fairly hard-edged rock soloing within a jazz structure, frequently propelled along by a funk beat. Or at least those are my notes for the first track, "You Know What I Mean". Both Beck and Middleton keep these themes going, while taking time to let loose within the chord structures of the songs. Sometimes the musicians cannot overcome the original musical theme (the cover of the Beatles's "She's a Woman" does not really go anywhere, even if it goes there with a talkbox), but some others are so good that you don't need much else ("Scatterbrain" which due to the speed is more of a riff, but that combined with the chord sequence make it a treat). Beck's playing strengths are his multitude of ideas, style shifts (Shaft-like, light jazz, slide), but most importantly his ability to coax emotion out of his playing when he wants to ("Cause We've Ended as Lovers" where the guitar pleads for its life, or the forlorn "Diamond Dust"). Middleton is something more than a rhythm player, but less than a second lead instrument; he co-wrote most of the songs with Beck and journeys back and forth between these two roles throughout. His reliance on more electric piano puts him in line with Beck's friend Stevie Wonder on some tracks, and Wonder even wrote two of the tracks ("Cause We've Ended as Lovers" and "Thelonius"), but Beck's sound is his own. The rhythm section is just that - Phil Chenn (bass) and Richard Bailey (drums) from groove band Gonzalez provide good support, with Bailey not being a clattering drummer which is nice for a change. Overall this album is fascinating if not immediately so, and Beck's playing is a treat. Unfortunately, this sort of music mutated into things like soft jazz and muzak, which this albums may superficially resemble, but underneath there's a whole lot of musical integrity. Produced by George Martin, that George Martin.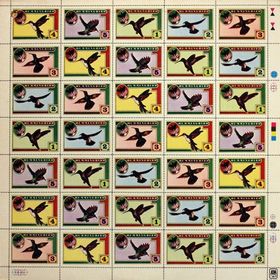 Hummingbird: Hummingbird (1975), **1/2
A forgotten spin-off, this band had Tench, Middleton and Chaman and attempted to build on the good groove that Beck's group had. The funny thing is that because Middleton stays with his trademark electric piano it sounds more like Beck's post-Tench work. There really is a good dynamic working here - a bouncing rhythm with the same light funky touches that Beck worked on top of. Former Steven Stills drummer Conrad Isidore wrote most of the material, and he adds a distinct reggae flair to his drumming and songs ("Ocean Blue", "Island of Dreams") but never comes up with anything beyond pleasant. Both he and guitarist Bernie Holland are not as flashy as the main brand players, and Holland in particular is in an impossible role. He usually stays in the background playing rhythm, but did write the most overtly Beck-influenced track, "Horrors". His soloing echoes Beck enough to make it amusing to hear (he plays fast scale-based notes while using a wah-wah pedal) but lacks Beck's innovation of emotion. "I Don't Know Why I Love You" is an attempt to recreate the emotional masterpieces of Beck, and Holland certainly tries. The positive thing is that the group really plays like a group, nobody is really blocking out anyone else, although this does give Tench plenty of room to grandstand. Hummingbird is not a bad album, but more similar to the rock-oriented Jeff Beck Group than Beck's contemporary fusion work I am not sure who the audience was that they were catering to was, as only one good track does not echo Beck (Isidore's pleasant "Such A Long Ways" which he sings, not Tench), and all this really does is make me want to listen to the real thing. Produced by the group and Ian Samwell.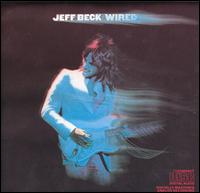 Wired (1976), ****
Beck finally ditched vocals with Blow by Blow, and squarely focused on his fusion playing, and Wired continues this with Beck usually trading solos with either Middleton or ex-Mahavishnu Orchestra member Jan Hammer. But Beck's variety of tones and flexibility of style give his playing an amazing emotional and atmospheric depth (the tender acoustic "Love is Green"). Along with this, Wired's songs also have different feels, as with the mysterious intro to "Come Dancing" or the vaguely 50s feel to Jan Hammer's "Blue Wind". Each song seems to have a central motif, not a riff, that gets echoed throughout. I could do without Hammer's synth tones most of the time (especially on "Blue Wind" where he floppily drums as well). Middleton is the only holdover from Beck's previous band, but the new rhythm section of Richard Bailey (drums) and Wilbur Bascomb (bass) is admirable. Narada Michael Walden, who plays some drums and piano, wrote most of the songs and did a heck of a job. But he didn't write the best, a cover of Mingus's "Goodbye Pork Pie Hat" which is really mind blowing. Produced by George Martin.

Hummingbird: We Can't Go On Meeting Like This (1976)
Recorded with a different lineup.
Live with the Jan Hammer Group (1977)
No comment.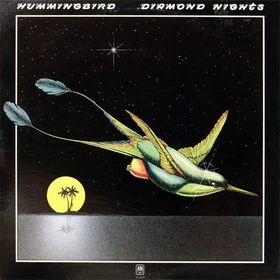 Hummingbird: Diamond Nights (1977), ***
After spending too much time researching Hummingbird, I can conclude the following: 1) Tench, et al. have an interesting history, and 2) You really don't want to know about it. Hummingbird was all about the groove underneath, and they continued to do just that with Diamond Nights. You can imagine this fit fairly well into the whole disco thing, and while not entirely given over to disco, the band did get some full-blown production ("Madatcha", "Spirit"). Specifically, female backing vocals, horns, strings, Latin percussion etc, which balances out Tench's vocals. Funk/jazz session drummer king Bernard Purdie lays down a steady beat, and they go from there. Only when they slow down or get quiet does it get hokey ("She Is My Lady", "Losing You"). Middleton is the only real soloist, and he gets an appropriate spotlights, the Latin jazz "Anaconda" and "Anna's Song", otherwise Diamond Nights is one dancing groove after another. New guitarist (and former Gonzalez member) Robert Ahwai pretty much stays in the background, and Tench plays some unremarkable lead guitar. There may be a definite lack of songwriting but just sit back (or dance) and enjoy the groove. Produced by Ian Samwell and the band again.
Did I use the word "groove" enough?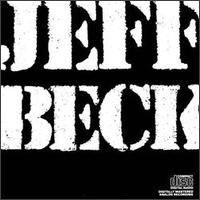 There & Back (1980), ***1/2
With the exception of a few Hammer tracks, Beck used an entirely new backing band led by keyboardist Tony Hymas and drummer Simon Phillips, who also wrote most of the songs. Hammer is up to his old thing - a couple of songs cluttered up with synths (the disco-ish "You Never Know" which buries Beck), and a rather vanilla attempt to channel Stevie Wonder ("Too Much To Lose"). The new guys do not attempt to overshadow or duel Beck usually; instead, they have a more contemporary atmospheric and level sound ("The Pump"). That is not to say that they are not great musicians in their own right, and the breakneck "Space Boogie" features some outstanding drumming by Phillips, for example. The album's focus is rightly on Beck, and he gets plenty of space to play and deliver some fascinating singing slide work ("El Becko"), along with his other usual moods (mournful in "The Final Peace", or "The Golden Road", another Stevie Wonder sound-alike, but excellent). Granted, some tracks go on for long periods of time, but the songs themselves are strong. Another dazzling display of the Beck comet, showing it hadn't lost anything in his four year studio absence. Co-produced by Beck and Ken Scott.

Etc...
I've been used, so back to the Music page...