Soft Machine
Albums reviewed on this page: Jet Propelled Photographs, Soft Machine, Volume Two, Third, Fourth, Matching Mole.
The Soft Machine were the first group to emerge out of The Wilde Flowers, a Canterbury band who practically produced the whole Canterbury subset of art-rock (the remainder of the band coalesced into Caravan in 1968). The Soft Machine formed in 1966 out of musicians that were or had been in the Wilde Flowers. A set of demos recorded the next year show an intriguing direction - a collection of jazz-pop songs that are faintly reminiscent of the Zombies - but with more rock and focus on the drums as the real lead instrument (vs. the Zombies' vocal and keyboard base). Guitarist Daevid Allen contributed little, but it was apparent that Robert Wyatt was a top-notch drummer among the likes of Michael Giles of King Crimson. Allen left before the first album Soft Machine was recorded, and Kevin Ayers departed afterwards for an eclectic solo career. He was replaced by Hugh Hopper, another Wilde Flowers alum. At this point their music was a mixture of psychedelia, avant-garde, jazz and rock. Got that? Not to mention the goofy (some would say dadist) sense of humor present through all of their work. Their Third album was the last with vocals (limited to one side of a double album), and Wyatt departed after their Fourth. He soon established Matching Mole and then went onto an interesting solo career, which was sadly limited by an accident which left him paralyzed from the legs down. From then on Soft Machine was fusion group with various people coming in and out and soldiered on until the early 1980s. So here's the deal - Wyatt is awesome, both as a singer and a drummer. Ratledge coaxes unusual sounds out of his organ (even approaching Keith Emerson territory) and Hopper plays a mean fuzz bass. When Elton Dean joined the group their sound went heavily towards traditional jazz, and I mean heavily. I'm not the greatest fan of Dean's playing, but he impressed Reg Dwight enough to change his first name to Elton. I have Matching Mole's (a phrase close to the French translation of Soft Machine) first album as well as a Caravan album. In brief, both group expanded on early Soft Machine, with Caravan being more pop oriented, and both group tend to get dragged down by overlong jams.
Recently there have been an awful lot of live albums, and other odd stuff concerning this period of Soft Machine coming out on CD. I haven't really had the opportunity to hear any of it, as it hasn't shown up used around here. Investigate elsewhere.
Personnel: Robert Wyatt (drums, vocals); Daevid Allen (guitar); Mike Ratledge (piano and organ); and Kevin Ayers (bass). Visa problems forced Allen to leave problems their first album; he helmed Gong in its various forms. Ayers left after Soft Machine and was replaced by Hugh Hopper (bass, occasional sax). The Third lineup included: Elton Dean (alto sax), Lyn Dobson (flute, sop. sax), Nick Evans (trombone), Jimmy Hastings (flute, bass clarinet), of which only Dean was the only one to stay on. Wyatt left after Fourth. Further changes beyond.
Soft Machine: Jet Propelled Photographs (rec. Apr 1967), ***1/2
An interesting session, Jet Propelled Photographs is a collection of flawed jazz-pop songs enthusiastically performed. The album's sound and production is slightly rough (backing vocals on "Save Yourself"), and Wyatt's voice sounds a touch haggard. At this point, the group was still a quartet including Daevid Allen; he tends to stay in the background, or play unhelpful bluesy lines (his "Town Without a Pity" intro to "Memories"). Still, you can hear the basis for their future sound in Wyatt's drumming ("I Should've Known" where he drowns out Allen) and Ratledge's keyboard parts (the piano and vocal "That's How Much I Need You Now"). Wyatt also has some great skat vocals throughout (example: title track). Fans of the early Soft Machine will love this, and many of these songs appeared amidst Wyatt's side of Third. Produced by Giorgio Gomelsky, known for his work with the Rolling Stones and Yardbirds.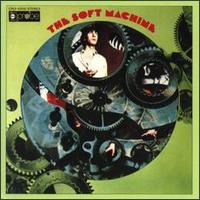 Soft Machine (1968), ***
Sharing a manager with Jimi Hendrix, the Soft Machine toured with the Experience in America, and recorded this album in New York. The group expanded the jazz-rock sound of their demos with experimental tendencies, but the album's production is a large mistake. It sounds like producers Chas Chandler and Tom Wilson treated them as a heavy psychedelic trio - reverb and general muddiness, few instrumental overdubs or change of instruments. Since the songs flow well, I would guess the the band went into the studio and recorded their live act quickly, to give people something to buy on/after the tour.
The band's thrust was their jazzy songs, now bulked up with Ratledge's quick organ (everywhere, but especially "So Boot If At All") and Wyatt's jazzy drumming. Some of the poppier songs lack the long instrumental passages in the middle (the serene "A Certain Kind", "Save Yourself"), but most flow into and out of Ratledge's flights. The band has a strong sense of humor, seen on "Why Am I So Short?", while some of the more avant-garde tracks like Ayers' "We Did It Again" and "Why Are We Sleeping?" are boring. Getting used to the album's lack of guitar may take a few tries (Wyatt's drums fill out the sound to an extent), but the monotonous production kills the album's life.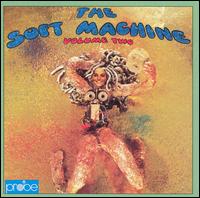 Soft Machine: Volume Two (1969), ****
Immensely better, and the place to start with the band. The band's sonic palate expanded radically, and lyrically they retained the same entertaining patter and nonsense. Ayers quit, and Hugh Hopper's fuzzy bass tone made that instrument as distinctive as the other instruments. Ratledge uses piano and organ, Hopper and his brother contribute some saxophone lines, and Wyatt even uses an acoustic guitar on one song - allowing the band to explore quieter moods, and lacking the long instrumental passages of the debut. The first half flows more than the second, but the entire album has plenty of difficult and/or syncopated rhythms. The band's dada sense of humor is in full force - a pataphysical introduction to the alphabet, an ode to the Jimi Hendrix Experience ("Have You Ever Bean Green?"), a song in Spanish ("Dada Was Here") with only a few dips into psychedelic nonsense ("Out of Tunes", "Fire Engine Passing with Bells Clanging" despite its delightful painting-like title). They even re-write Ayers' "Why Are We Sleeping?" into an ode to him ("As Long as He Lies Perfectly Still"). The band's instrumental leaning still surface, taking up a large portion of the second side, but fortunately they have good frentic riffs, and varied tones (the opening to "Pig", etc). It is too bad this would be the band's last album with an appreciable pop quotient.


During 1969 Soft Machine backed Syd Barrett on a few songs on The Madcap Laughs.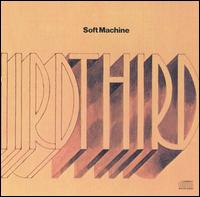 Soft Machine: Third (1970), ****1/2
Now things get serious: two LPs and four tracks. After this point Soft Machine melded contemporary jazz with the more experimental aspects of rock, but mostly strayed into the former, never to return. Nor is it the same old players, having bolstered themselves with the horns from Keith Tippett's band, although mainly highlighting saxophonist Elton Dean. The album opens with Hopper's "Facelift" - which opens with organ oddness and aimless, wailing horns in the first 5-1/2 minutes, before breaking into a regular song. But it's not a pop song - it's basically a jazz instrumental and Hopper splices two different live performances for this version. Raetledge is even more catholic - "Slightly All The Time" is straight tasteful jazz focused on Dean's saxophone. "Out-Bloody-Rageous" veers between jazz and Terry Riley-like electronic minimalism.
Wyatt alone retains the pop sound from their earlier albums on "Moon In June". Showing a split with the others, most of the track is a multitracked Wyatt solo, performing a medley of early Soft Machine songs which trail off linked with skat or instrumental sections before the band comes in towards the end and everything loses its shit. Fascinating. Almost a perfect album, except for some dry spots here and there, and the potential off-puttingness of "Facelift". Self-produced.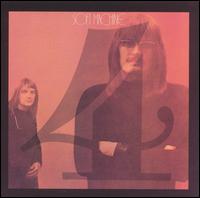 Soft Machine: Fourth (1971), ****



Soft Machine: Fifth (1972)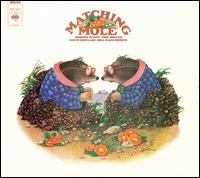 Matching Mole (1972), ****
A continuation of Wyatt's more pop sensibilities and experimentalism, after Soft Machine junked them. Fans of the Canterbury scene or Wyatt's work with Soft Machine will love Matching Mole, but others may find it too abstract. The rest of the band are not the sort of jazz-focused players that the Soft Machine bunch had become, and the album is far more about texture and atmosphere than soloing. Sure, Wyatt added a great deal of mellotron to the album, but he used it more as a lead instrument. Guitarist Phil Miller added little fuzzed bluesy parts, Dave Sinclair also distorted his organ beyond recognition, both styles grounding the album in more traditional rock. The songs are generally focused around one musical phrase, and then loosely improvise with it, sometimes fall apart into noise, only to recover. The album is put together well also also as each side flows.
Matching Mole opens up normally enough with "O Caroline," a heartbreakingly sincere piano ballad with Wyatt's tender vocals. If Matching Mole were to be remembered for one thing, it would be this beautiful track. Wyatt's vocals turn more idiosyncratic as it evolves into the next track "Instant Pussy," with Wyatt doing scat while the band does their thing. This then turns into "Signed Curtain", another piano song, but in true Canterbury style, it only has placeholder lyrics. Thus, the first verse mainly consists of Wyatt singing "This is the first verse." Clever, and a good tune besides. In the end, it is like "O Caroline" - a self-conscious effort by Wyatt to reach out.
The balance of the album is instrumental, and moves from structured phrases to noisy disarray with humorous titles ("Instant Kitten", "Beer as in Braindeer"). This can be challenging stuff, and not for not everyone. The side opens up with overlapping mellotron sounds, evoking Soft Machine's "Out-Bloody-Rageous" and, by extension, Terry Riley. In other places, it sounds like nothing is going on, and that the group has let themselves go too much. But then they turn around and deliver another quirky irresistible riff amidst madness ("Dedicated to Hugh"). The entire album ends in one fantastic creepy mellotron track, "Immediate Curtain," which is the epitome of the group's focus on creating a feeling, not a fixed tune. It has the same eerie qualities as incidental music from 2001: A Space Odyssey. Those who like their music with both humor and a bit of instrumental madness, will enjoy it. Produced by the group, with Wyatt writing everything except Miller's "Part of the Dance". The band was mainly Canterbury folk - Sinclair was from Caravan, and bassist Bill MacCormick was in Quiet Sun with Phil Manzanera. Sinclair actually left during recording to go back to Caravan, and was replaced by electric pianist Dave McRae, also a distorter. Hard to tell who plays on which track, what with all the altered noises around.

Soft Machine: Six (1973)
Matching Mole's Little Red Record (1973)
Produced by Robert Fripp, and Eno pops up here. Their last album. Soon afterwards Wyatt fell and became partially paralyzed. Miller later formed Hatfield and the North with Sinclair.
Soft Machine: Seven (1973)
Soft Machine: Bundles (1975)
Soft Machine: Softs (1976)
They released many more albums, plus tons of solo albums.
Time to save yourself? ...Return to the Music Page.