King Crimson
Including his former vassals, and the power behind the throne.
Albums reviewed on this page: The Cheerful Insanity of Giles, Giles and Fripp, The Brondesbury Tapes, In The Court of the Crimson King,
McDonald and Giles, In the Wake of Poseidon, Lizard, Septober Energy, Islands,
Larks' Tongues in Aspic, No Pussyfooting, Starless and Bible Black, USA, Red, U.K.,
Exposure, God Save the Queen/Under Heavy Manners, Let the Power Fall, Discipline.
King Crimson revolves around guitarist Robert Fripp. Almost always trying to push the envelope, for better or worse, Fripp has led various incarnations of the group up to the present day. Originally, King Crimson was one of the founding fathers of the progressive movement, and their debut, In the Court of the Crimson King, laid the groundwork for the scope of prog-rock for years to come. But the group was always more orchestral, more jazz-oriented, more out there than the others, as lineups usually included a saxophone player, and plenty of mellotron. Lyricist Pete Sinfield contributed lyrics that were far better than many of their peers, before Fripp dumped him in the early 70s. Therein lies the band's Achilles heel: an unstable lineup. After their debut, King Crimson slowly lost momentum, finally collapsing in 1972. Their next incarnation (with plundered Yes drummer Bill Bruford) released two fascinating albums (and one mediocre one) that displayed high technical prowess like other prog bands, but to a much greater, more symphonic end. Fripp reformed them in the early 80s, releasing a trio of complicated, yet stripped down albums. While their peers like ELP and Yes went off too far in one direction, King Crimson never had a distinct direction, only an idea. All in all, King Crimson is a idea of constant change, almost the oxymoron of accessible avant-gardeness, and always moderately serious.
Personnel: Robert Fripp (guitar, mellotron); Greg Lake (bass, vocals); Michael Giles (drums); Ian McDonald (saxophone, flute, mellotron). OK, here we go. McDonald and Giles, and then Lake quit after the first album, with the last two still appearing on In the Wake of Poseidon. McDonald was replaced by Mel Collins (sax, flute), and Lake by Gordon Haskell (bass, vocals) on that album, with Andy McCulloch (drums) coming on board for Lizard. But by the time Islands rolled around, the rhythm section was Boz Burrell (bass, vocals) and Ian Wallace (drums). At which point the group broke up in 1972. A new lineup of Fripp, John Wetton (bass, vocals), Bill Bruford (drums), David Cross (violin, keyboards) and Jamie Muir (percussion) was formed the following year, starting with Larks' Tongues in Aspic. They immediately began shedding members however, with Muir leaving after that album, and Cross after Starless and Bible Black. Their initial 80s lineup consisted of Fripp, Bruford, Adrian Belew (guitar, vocals) and Tony Levin (bass).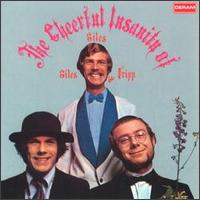 Giles, Giles and Fripp: The Cheerful Insanity of Giles, Giles and Fripp (Sept. 1968), ***1/2
Undeservedly reduced to a footnote in King Crimson's history, GG&F were most likely the first group to have a straight jazz/classical guitarist in their midst. It helped that that guitarist was Fripp, who was about as good as they come, the drummer was Michael Giles who became one of the best progressive rock drummers and brother Peter had an intentionally droll voice and a splendid bass tone ("Newly-Weds"). As for GG&F, their music is, well, different. Cheerful Insanity is progressive and not progressive at the same time, with little pretentiousness, lots of goofiness ("stories" run between tracks), and serious works like the multi-part "Suite No. 1" with beautiful guitar/piano interplay. Nothing is rock-based or blues-based, relying on the aforementioned jazz and rock. Most everything is low-key, and there's a definite wave of nostalgia throughout the record, as seen in the pastoral "Thursday Morning" and the oh-so-sincere music hall of "The Sun Is Shining" (complete with strings and female backing vocals.) But it is Cheerful Insanity for a reason, such as tracks like "The Crukster", a hilarious send-up of the Moody Blues' serious poetry intros and outros. Most of the lyrics are delightfully fun nonsense or humorous ("How Do They Know" which contains my favorite mis-heard line in a chorus - "The dust is sucking your eyes"). Occasionally they lose their way, as on the "Elephant Song" which could be called the "bizarre verse punch-line song", and the unfortunate psych jam that ends the record ("Erudite Eyes"). "Call Tomorrow" is decidedly weird --psychedelic Wurlitzer? Feel fortunate it is in-print, and comes with the best outtake ever recorded, the hilarious "She Is Loaded".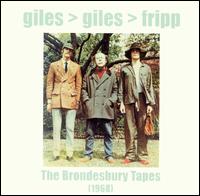 Giles, Giles and Fripp: The Brondesbury Tapes (rec. 1967-68, rel. 2004)
Cheerful Insanity fans will find this essential - home recordings, mainly clustered around the Giles, Giles, Fripp and McDonald era. During the later days of GG&F, Ian McDonald joined them, as well as his girlfriend Judy Dyble. McDonald was, of course, a bit of a jazz-head in his playing, but also brought a strong folk component as well. Dyble matched this; she was a more traditional folk singer previously with Fairport Convention who provided a good alternative to Peter Giles' affected deadpan. Behind the scenes, Pete Sinfield also showed up around this period. GG&F still retained their breezy retro feeling, not akin to an English analogue of Dan Hicks, but added in a good dollop of folk and experimentation as well. Brondesbury also shows Fripp as a much more traditional electric guitarist in places "Why Don't You Just Drop In" or "Wonderland", trying various styles of distortion when not using a straight jazz tone.
Cheerful Insanity's material was usually very structured: Giles pop tunes, or Fripp's more elaborate works. The Brondesbury Tapes has its share of home versions ("Digging My Lawn", "Suite No. 1", "Newlyweds") but they are the least interesting tracks. Try some unheard Peter Giles tunes instead: starting with the very early and very odd "Hypocrite", with Giles dryly observing that "your friends say you are hip; I understand it's short for hippo," while friend Al Kirtly plinking on piano in the background. The staggered harmonies and resolution on "Murder" are also a treat, and of course the song ponders who would murder. Giles' hilarious "She Is Loaded" also shows up, similar to the studio version already released.
While Giles' songs are closer their album's material, the Tapes also has a brace of more open ended tracks: a version of "Erudite Eyes" foreshadowing King Crimson as McDonald joins the mix, as well as a couple of fascinating takes of "I Talk to the Wind" (one with Dyble on lead). The McDonald/Sinfield songwriting was strong right from the start, joining the Cheerful Insanity vibe with less structure on the awesome "Make It Today" while the gentle "Under the Sky" with Dyble draws more on folk. In contrast, Fripp's works are more curiosities. "Passages of Time" is built around around the common Spanish chord sequence, with Dyble singing that she can "see into passages of time" while odd distorted noises are mixed in. Fripp is also responsible for "Why Don't You Just Drop In" more of a blues song complaining about hippies, which sounds like a Russian folk song in the verses, while the wordless chorus is lifted straight from the traditional "Misty". (It later appeared as part of "The Letters" on Islands). "Wonderland" is the most odd, blowing through a long skat section. The exception is "Plastic Pennies", a wholesome, commercial pop song heavily utilizing Dyble singing about mainly about children. Perish the thought it might have been released and made a hit single - making GG&F a one-hit wonder and killing King Crimson.
Several tracks get repeated, but the album is over 70 minutes long. If this were cut down to a single album, it would be as good, if not better than Cheerful Insanity, but such is an archival recording's nature.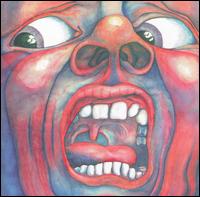 In The Court of the Crimson King, An Observation by King Crimson (Oct. 1969), ****1/2
Sometimes I find labels useful. They can help a person understand what I'm talking about by referring to some common vision of whatever the label is. "Progressive rock" is one these labels. The problem is when what people think a label means and what its definition is are two different things. I recently read someone's comment that they didn't consider King Crimson to play prog-rock because Crimson sounded different from Genesis and Yes. Despite that I find that comment false, it ignores what progressive rock is. In the early days progressive rock was a lot more diverse than its eventual bloated corpse would indicate. In the Court is a rock record, but not from the same background as other rock records. The band mainly drew on jazz, but with some classical thrown in for good measure. The main difference between Crimson and other groups is multi-instrumentalist McDonald, who contributes saxes, flutes, other woodwinds and mellotron. No other major jazz-rock group was experimenting with saxophones or lutes at this time, which gives them a unique sound. Add McDonald to Giles, Giles & Fripp and there goes the neighborhood, in a good way. The album opens with "21st Century Schizoid Man", a track that paved the way for Yes to do such things as "Heart of the Sunrise". It is fast paced fusion, with Fripp turned up loud and McDonald driving saxes to madness. On the quieter side of things, McDonald's has a great flute song "I Talk To the Wind", while "Moonchild" is so quiet it turns into a rather infamous and boring sound collage (the only thing preventing this album from being perfect). There are also two moody mellotron epics enhanced by Lake's dramatic singing ("Epitaph" and the title track). Lyricist Pete Sinfield replaced GG&F's goofiness with beautiful literary imagery, but was still very clear and direct (so not cryptic like Ian Anderson, or the muddy vagueness of Yes). Let me express my admiration for Michael Giles one more time, as he is one of the drum gods. Finally, newcomer Greg Lake was a surprisingly good replacement for the other Giles, and a fantastic singer. But McDonald is the difference maker, as he provides the foundation for every song, as well as many of the solos. Fripp is more in the background, but his presence (and writing) is certainly felt. So, where they don't sound like Yes or Genesis as much as others may (the Nice), they at least set the standards for prog-rock in scope. This is a fantastic album. Produced by the group.

In the Wake of Poseidon (May 1970), ***
Those that fail to learn from history, are doomed to repeat it. Well, Fripp and Sinfield must have forgotten their previous album because Poseidon sounds like exactly like it. Except vastly inferior. Confused? Let's clear this up then. Poseidon is almost a track by track recreation of the band's debut, but the songs and playing are weaker. A lack of substance is quite apparent, perhaps due to the fact that McDonald had quit, his duties split between Mel Collins (sax, flute) and Fripp on mellotron. Even Poseidon's better tracks feel needlessly extended ("In the Wake of Poseidon", "Pictures of a City") and Fripp coughs up one ungodly eleven+ minute suite (the appropriately named "Devil's Triangle") which ranges from boring to annoying. The better moments? The bizarre "Cat Food" has some non-mythical/historical lyrics from Sinfield to go along with its zany jazz-rock, while "Cadence and Cascade" is a pretty, classical ballad undeterred by the vague vocals of newcomer Gordon Haskell. Not that Lake is gone - he was in the process of leaving, which means he only did the vocals, with Peter Giles filling in on bass. Of course, Peter's brother Michael had also quit, but that doesn't stop him from still playing either. Keith Tippett is around on piano as well, just to confuse matters. So if you want the big picture it runs something like this - Fripp tries to stretch out their tour material and then stop up the gaps with a couple of decent songs and a thrice-repeated trifle ("Peace"). Produced by Fripp and Sinfield.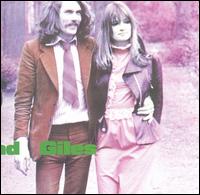 McDonald and Giles: McDonald and Giles (1970), ***
Not exactly household names, the drumming Giles and McDonald, the multi-instrument guy, quit and recorded this album with the help of Peter Giles (the non-drumming Giles). King Crimson's original sound was thus divided: Fripp kept the technical more symphonic and overtly jazzy aspects, and M&G went with the folky, light, even poppy side ("Flight of the Ibis" has the original melody to "Cadence and Cascade"). One reason may be that Fripp kept the mellotron in the divorce, so McDonald plays more guitar, along with piano, flute, sax and the rest. On the more practical side, McDonald's voice isn't as strong as the Crimson vocalists, and is better suited to this type of material. It is clear that this is more of a mainstream album from the beginning - the opening of "Suite in C" sounds directly inspired by Abbey Road, and McDonald shows a strong folk bent (the gentle ballad "Is She Waiting"). For those who like labels, I would say that McDonald and Giles is more pop-progressive rock, like Yes's debut. Lyrically, M&G is substantially different from Crimson as well; McDonald's lyrics are distinctly romantic and Giles brings forth a happy idealistic song from 1967 that demonstrates its age ("Tomorrow's People - The Children of Today"). Even the Sinfield-penned suite which occupies the album's second half ("Birdman") is a distinctly whimsical tale of a man constructing wings to fly. The main difference between this and KC is that McDonald is not as strong a soloist when he is only playing off of himself, even if he overdubs a great deal. Instead, he and the brothers Giles have to keep shifting the music to keep it interesting, and even employ orchestration at one point ("Suite in C", which is where with the addition of Steve Winwood they sound like a Canterbury band for a part). This strategy works - even when it leads to unpredictable results (the solo line in "Flight of the Ibis" is on zither!), and they get into good grooves ("Birdman: The Workshop"). In fact, if I were a DJ there are plenty of great bouncy instrumental stretches to swipe. The only problems come up when they decide not to shift, and instead go for slow buildups which need more than three men to sustain them ("Birdman Flies!" and the closing "Birdman-The Reflection"). All in all, a good album, but one that lacks a main attracting point. Self-produced.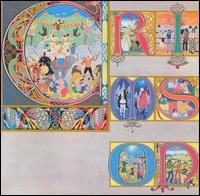 Lizard (Dec. 1970), **1/2
The first major shift of King Crimson's sound; henceforth its sound would be ever-changing. Apparently, Fripp's idea was to meld the more traditional classical and prog sounds of their first two albums with looser structure and sound. To do so, he called in the auxiliaries - Keith Tippett and his horns and woodwind players. The opening track, "Cirkus", is a microcosm of the whole affair - interpolating Fripp's classical guitar and Collins' short, lilting and jazzy sax lines, when not utilizing the typical Crimson multi-layered sound. Fripp largely avoided electric guitar solos - only the end of "The Battle of Glass Tears" foreshadows his later excellence, sticking with mellotron and a nimble classical style. Their older sounds did not disappear, but this Crimson band does not take off, so part of "The Battle of Glass Tears" features a bluesy sax riff like "20th Century", but only as a backdrop, not a propeller. The band's epic side - represented here on the second half's songs concerning Prince Rupert, often takes on the measured tone of a movie soundtrack, with the clear lines of the guests pacing "Bolero". While this was very adventurous, this incarnation of Crimson sounds like a bad jazz-rock band sometimes, such as on Sinfield's Beatles tribute "Happy Family". New singer Gordon Haskell is a low-pitched, open throated singer; he sounds like he has a cold most of the time. Songs that may have passed with Lake do not with Haskell (the classical ballad "Lady of the Dancing Water"), who gets scant help from Sinfield's often oblique lyrics on "Indoor Games". It all never quite fails, and never quite succeeds. Amidst all this adventure, Fripp and Sinfield did have the wisdom to ask Jon Anderson of Yes to lend his voice to "Prince Rupert Awakes" - a nice piece of more ordinary classical themed prog-rock (and with an identifiable story), with Tippett doing a bit of Emerson-like playing, although Fripp (delightfully) adds in some Steve Stills-style backwards guitar lines on the choruses. The result is the album's best track, but also its least ambitious, even if it was far more complex than contemporaneous Yes. Lizard broke with the past, but Crimson had not achieved a reliable sound.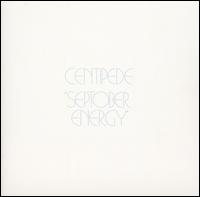 Centipede:

Septober Energy

(1971),

*


The Beast with a Hundred Arms in a massive project: a double-album with a 50 member jazz-rock orchestra performing a work by Keith Tippett. Fripp produced, but the pianist organized everything, and it featured most of his group, old Crimson hands McDonald and Burrell, Soft Machinists, violins, cellos, more horns, and Brian Godding (brother of Tippett's wife, Julie Driscoll) as the sole guitarist. Despite a lineup sure to place well in Fantasy Jazz-Rock Rotisserie Leagues,

Septober Energy

is a bloated mess. There are good passages (buried alive) here and there, and Fripp may have saved some ideas for the Larks' Tongue-era (the opening noises, the mostly instrumental approach). Yet, the album commits almost every musical sin: overlong jams, avant-noise, section wank episodes, no apparent order to pieces which approach and retreat, and wordless vocals occasionally deviating into hippie babble lyrics -- all dumped into one track carved up on four LP sides (the music doesn't reflect the sides for the most part either). Maybe Tippett was trying to recreate the large jazz band format for the early 70s; maybe he was trying to merge experimental hippie stuff like Joseph Byrd with contemporary jazz; maybe he was trying to further explore the symphony / rock band sound which was commercially successful for

Atom Heart Mother

and Deep Purple's

Concerto

. Whatever he was trying to do, listening to

Septober Energy

is like watching a peacock preen itself and prance about before a mirror: there are some moments of beauty, but even Narcissus would have drowned himself well before the second LP.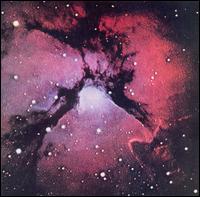 Islands (Dec. 1971), **
Slower, with more blues(!), Islands is a collection of good ideas more than a good album. Fripp, having produced Centipede, broadened Crimson's ambitions as well, even if he left Sinfield to produce this. Thus, Islands involves not only Tippett and friends again, but an orchestra in places. This allows Crimson to expand on Lizard's dichotomous approach - "Formentera Lady" switches between orchestral and electric backing, and "Prelude: Song of the Gulls" is an out and out classical work. Islands also shares Lizard's "one big crazy jazz session" feel in places like "Formentera Lady" and "The Letters", and he lets the guests do most of the work. He also pursues the opposite - instrumental tracks that sound composed - "Prelude: Song of the Gulls" obviously, while "Sailor's Tale" is the album's bright spot: a bit of modern composition with dramatic musical phrasing, as Fripp uses the mellotron to full effect. Yet, the rhythm section is the Crimson's most basic yet; Fripp taught Boz to play bass in a matter of weeks, and Ian Wallace lacked the technical skill of his predecessors. This does make them good backing for the album's guests, however, which is something.
Island's largest change is that Sinfield dropped his fantasy lyrics entirely, but his placid observational lyrics are worse: pallid tales of women ("Ladies of the Road", "Formentera Lady") and the loner's lament of the title track ("Touch my island / touch me" - ack). Burrell's singing matches the material - deliberate, restricted and far easier than Haskell. Accordingly, despite their rock credentials, the band rarely kicks it - Boz raises his voice once on "The Letters" and "Islands" crawls along for almost twelve minutes. Many of the album's musical ideas are not new - "The Letters" combines the old GG&F song "Why Don't You Just Drop In" with slo-mo "21st Century" horns, "Ladies of the Road" owes a lot to the late Beatles interpretation of the blues, as well as McDonald & Giles' "Suite in C". Fripp wanted to push boundaries and re-invent the band, but at this point his collections of ideas and attitudes did not coalesce, and Islands is possibly Crimson's weakest studio album.

Earthbound (Jun. 1972)
A live album with the Islands crew, reportedly so wretched it was not released in the United States.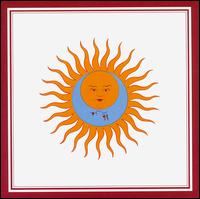 Larks' Tongues in Aspic (Mar. 1973), ****
This is truly, truly progressive rock. If we go way back to beginning, progressive rock was an attempt to merge classical music and rock music. Prog-rock, first explored by the Nice, was actually regressive in nature - putting traditional classical motifs into rock music and then emphasizing longer solos and technical precision (think of Keith Emerson as Bartlett's Book of Classical Quotations). Others took the forms of classical music and applied them to rock music. The first King Crimson album was something different - an attempt at rock music without the rock. Many groups then proceeded to put the rock back in quite successfully. The title track on this album is actually forward looking - progressive. I cannot describe it in any way other than as modern classical music, as Fripp finally found an approach that successfully merge his classical and modern impulses. Along with him were a fantastic rhythm section (John Wetton on bass/vocals and Bill Bruford on drums), a violinist (David Cross), and a percussionist (Jamie Muir). Some passages are creepy, some are beautiful, but all the musicians acquit themselves well and there is precious little limelight hogging. Before anyone goes off thinking that a percussionist is some sort of luxury item, let's make it clear that Muir is essential to this record. His use of tuned percussion is very intriguing, and helps give them an edge over other groups. For this incarnation of King Crimson sounds nothing like other groups, as far as I can tell. It rarely even sounds like prior Crimson, the exception being a beautiful entry in the line of Fripp's acoustic ballads ("Book of Saturdays") and parts of "Exiles". However, aside from both parts of the title track and "Book of Saturdays" the rest of the album doesn't have the same focus. Wetton has one of those voices that sounds influenced by alcohol and cigarettes of days past, but hasn't submitted to it and still really sings. Lyricist Richard Palmer-James is a poet of romantic reminisces, and he does quite well. Fripp varies his guitar tone quite a bit from controlled distortion, which can only be described as the sonic equivalent to the bouncing of light in a fiber optic cable, to the open harshness of a metal group (the excellent "Larks' Tongues in Aspic Part II"). A fascinating album, mainly for its sound and with some excellent tracks as well. Self-produced.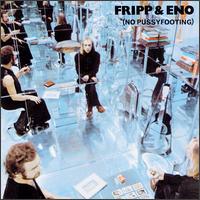 Brian Eno & Robert Fripp: No Pussyfooting (1973)
First of their experimental albums - playing against a multiple delay, a la Terry Riley or Neu!. The tape cycle creates a natural rhythm, but the music waxes and wanes as opposed to relying on a melody. One of the beginnings of ambient music, which is a polite way of saying that it makes excellent background music. Fripp later explored this music with Eno on Evening Star, and his early 80s solo works using Frippertronics or one of its permutations. More susceptible to a binary rating than a standard one - you may love it or hate it, but I suspect the outcome is largely dependant on the circumstances of listening, rather than the music itself.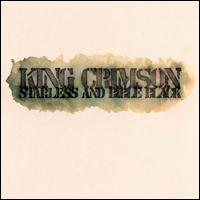 Starless and Bible Black (Feb. 1974), **1/2
Most of this was recorded live, with some overdubs added later. What does King Crimson sound like live, you ask? Imagine an unplanned progressive-rock epic that maintains the same texture throughout. But you only hear pieces, further adding to the confusion. In other words, Starless and Bible Black is dark and creepy, occasionally brilliant, but mainly just unfocused. Sure, the playing is top-notch, but the more structured songs ("The Great Deceiver", "Lament", the old-world feel of "The Night Watch") are all misfire. The rest are jams of varying length and creepiness. Nothing akin to the multi-part beauty of "Larks' Tongues in Aspic" is really attempted, as the group seems content with only playing off-the-cuff. As with most improvisations, some are good (the peaceful "Trio" of violin/mellotron/bass, or "We'll Let You Know" with it's jerky bass line) while a couple are just aimless (the title track, "The Mincer"). Muir is gone, and Fripp gets most of the spotlight, coming up with another one his signature fast fingered "dark" guitar pieces with Cross hooking up a distortion pedal to his violin (the instrumental "Fracture" - easily the best track on here). In the end the album doesn't have much in the way of substance, but plenty of atmosphere to spare. Music for the highbrow haunted house. Produced by the band.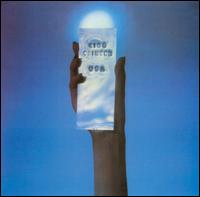 USA (rec. 1974, rel. Apr 1975), ***1/2 (or better)
An excellent live album from the Cross lineup, and the best Crimso live product before Fripp released a bazillion concerts through mail-order. The band was loud and well-rehearsed, making renditions of their mainly Larks' Tongue-era tracks really tick ("LTIA Volume II", "Exiles", "Easy Money"). Cross is a bit lost in the mix, venturing between violin and mellotron, with the latter often featured as undergrowth. To compensate, Eddie Jobson overdubbed violin later; easy enough to see why Cross left before Red. Unlike the Starless Crimson, USA's one unscripted song ("Asbury Park") is a jam, rather than an aural piece of shattered glass, and well, like many jams, doesn't go far, and doesn't need to. Fripp shows off his dexterity at will through it, and keep in mind the loud, and buzzed-up sound Crimson sported at the time. Finally, the band ends with a rendition of "21st Century Schizoid Man" and it's a rocking one; this lineup could play, they could belt, they were nimble as a watchmaker and they could do the grand old lady of the Crimson canon justice. "R.I.P." the back cover states; little did we know Crimson had more lives than Rocky Balboa had bouts. The final release (after Red) of this particular incarnation, and it wins the match.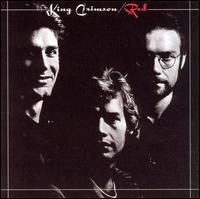 Red (Oct. 1974), ****
In listening to this album, one can't help wondering if the title was influenced by the famous Mars portion of Holst's The Planets, which King Crimson used to perform live. Not that Red borrows musical themes from that work, but it carries the same dark and powerful sound of Holst's piece. The title track is the perfect example, with loud, distorted instruments, a brooding riff, and unexpected symphonic break. Most of the album can be seen as offspring of early Crimson song styles, albeit turned dark and twisted. For example, "Fallen Angel" might be a descendant of more ballad-like songs such as "I Talk to the Wind", while the wonderful "Starless" is definitely another creepy mellotron enhanced epic along the lines of "Epitaph" (complete with Ian McDonald sax work). As for the excellent "One More Red Nightmare", it continues the same ominous tone of "Red," but with a syncopated rhythm and something like hand claps that make it sound like a funk song. Only the instrumental "Providence" does not keep up, opening with Cross's violin meandering like a creepy horror soundtrack before turning into a loose jam whose reason for existence may be only to show that John Wetton can both sing and play the bass pretty well. As for Bruford, he is top notch throughout the album, contributing excellent fills and percussion, leading one to question (as everyone else has) how Yes let him go. Fripp does not ever really show off, shying away from solos and playing a (literally) mean guitar (his creepy same note extravaganzas in "Starless"). Fripp, Wetton and Bruford are the only real band members left, with alumni Cross, Ian McDonald, as well as the Lizard/Islands horn section of Collins, Miller and Charig all doing admirable jobs. This album is remarkably relevant even today, as it sounds exactly like the sort of partially avant-garde things they play on community radio. Self-produced.
Brian Eno & Robert Fripp: Evening Star (1975)
More ambient music.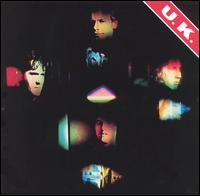 U.K.: U.K. (1978), **1/2
An attempt to make a prog/fusion album that combined the distinctive talents and ambitions of its players with a friendly sheen. It was not an album for neophytes, instead aimed more at established listeners who wanted a heavier, more intense album than what Yes or ELP concurrently made. U.K. was a supergroup of sorts - the ex-Crimson Bruford/Wetton rhythm section, former Roxy Music member Eddie Jobson on keyboards/electric violin and Allan Holdsworth on guitar. Their technique is admirable, with Holdsworth's guitar style an interesting mix of bent notes and speed, such that his solos resemble jazz saxophone lines ("Thirty Years"). All told, the pieces fit together well, but U.K. is firmly stuck to its era.
The album's faults lie in both its cold, synthetic feeling, a result of Jobson's synthesizers, and the shiny production. It's not Jobson's fault that his state of the art equipment produced sounds later imitated by 1990s computer games, or could be music for Star Wars knockoffs (the opening of "Alaska" among other synthetic wonders). Similarly, the band's musical cues are derived from earlier prog rock - Jobson's electronic violin or symphonic synthesizers ("In the Dead of Night", "Thirty Years"), Crimson's dank rhythms or arrhythmia, Holdsworth's sporadic classical guitar use ("Thirty Years", the Jack Bruce-like "Nevermore") a la Steve Howe, or the plastic classical reproduction on "Presto Vivace and Reprise". The lone acceptance of modern trends is on "Time to Kill" where the band kicks in a quasi-disco beat under Wetton's vocals, making it U.K.'s most mainstream track. Like almost all prog music the lyrics are a disaster: "Thirty Years" speaks of "chasing rainbows," and "Mental Medication" is another offender. For every moment the music is interesting or engaging (parts of "In the Dead of Light", "Nevermore", "Time to Kill", cluster-bomb rhythms in "Mental Mediation") there are several dull, warped or bombastic ones. The net result is a failure, an unemotional distant work with grandiose aims and synthesizers, although prog geeks will love it. Self-produced.

Bruford: Feels Good to Me (1978)
Bruford solo debut. I do not have this.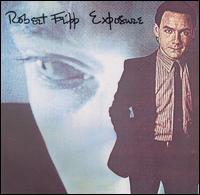 Robert Fripp: Exposure (Apr. 1979), ***1/2
While Bruford was off making prog-rock with friends, Fripp had dropped out of sight; he attended a philosophic/spiritual institute, hung out with Eno and Bowie, played with Peter Gabriel and moved to downtown NY. (Check out Eric Tamm's free book for more information.) No longer Fripp-of-the-technical-prog, he was now becoming Fripp-of-the-avant-pop, which makes sense if you factor in his intervening experiences.
Fripp intended Exposure to be part of a trilogy, starting with Daryl Hall's Sacred Songs, and then Peter Gabriel's second self-titled album. The album is as much an art piece as it is a music album. Fripp was always an intellectual musician, and he became interested in the relationship between the artist and the audience at a performance, beyond the music itself. He toured with his Frippertronics to achieve an immediacy of sound that asked nothing of the audience. The result was layers of looped guitars, back when that was difficult, as he soloed off his past. But notice his shift - from making music and songs, to his focus on performance - which dovetails nicely with the NY art scene of which he was now a part. Not that performance was not part of any good artist's presentation (ex. the Who's destructive antics), but that was usually separated from their recordings. Live albums, of course, are different, but rarely used as the foundation for a studio production, or the mixed nature of Frippertronics, which made the public performance the recording studio for new, improvised work.
It's hard to pin Exposure down, as Fripp was mainly concerned with synthesizing his disparate influences. Hall was the main vocalist, but Fripp was forced to bring in others: often Terry Roche and an overwrought Peter Hammill. Fripp's style now combined his Crimson obtuseness with the ambience and tape loops of his works with Brian Eno (Frippertronics), which built up layers of treated sound as Fripp played over his own delay. Place these sound production/production techniques in a pop music setting (a la Hall) and you get the underpinning for Sacred Songs and Exposure. Certainly it's all a bit intellectual because, well, this is still tight-lipped Robert Fripp we're talking about, even if he was collaborating with Daryl Hall. All the aspects of his career appear - from Red-style prog ("Breathless" with Frippertronic backing) to contemporary sound clip manipulation (various philosophical inserts, the clever creation of a family row in "NY3", "First Inaugural Address To The I.A.C.E. Sherborne House" at inaudible speed), harder rock (but not hard rock) songs like "Disengage" and "I May Not Have Enough of Me But I've Had Enough of You," to the straight Frippertronics of "Water Music I" and "Water Music II". Every King Crimson album had at least one classical ballad; on Exposure this interest manifests as less classical, more open songs like "Mary" and the great "North Star", both akin to Discipline's "Matte Kudesai." While certain songs stand out - a bare version of Peter Gabriel's ("Here Comes the Flood" a piano song, with excellent lyrics), the aforementioned "Breathless", a Talking Heads-like slow funk song with manipulated vocals ("Exposure") - but the album is meant to be taken at a whole. Fripp usually relied on others for lyrics, and Exposure mostly uses Joanna Walton's personal, downcast poetry, except for the found speech which comprises and "NY3". Fripp's own interesting lyrics for "You Burn Me Up I'm a Cigarette" show him wrestling with his spiritual studies. Fripp's production techniques - the Frippertronics and the sound cuts, seem old hat now, but were cutting edge. The result is an album that ebbs and flows from idea to idea, and setting to setting, and shows Fripp's music in transition.

UK: Danger Money (1979)
Bruford and Holdsworth had left, replaced by Terry Bozzio (ex-Zappa).
Bruford: One of a Kind (1979)
This I have.
Bruford: Gradually Going Tornado (1980)
Fusiony. Blah blah blah.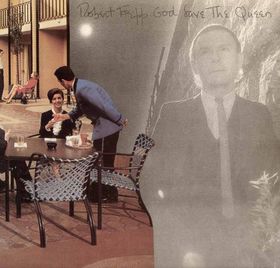 Robert Fripp: God Save the Queen/Under Heavy Manners (Mar. 1980), **
Half Frippertronics (God Save the Queen), half "Discotronics" aka Frippertronics with a beat (Under Heavy Manners). The GSTQ half is what it is: you listen to it, and later think "Gee, that was okay background music, but I can't remember anything about it." The Discotronics half is better, because "Under Heavy Manners" is (or like?) a pop song with David Byrne singing, even if Fripp's lyrics mostly catalog of -ism words. The remaining track - "The Zero of the Signified" is Frippertronics with a rhythm section and Fripp's guitar arpeggios. For over twelve minutes. The lengthy liner notes have more substance than the album. An intellectual experiment. Pass.



The League of Gentlemen: The League of Gentlemen (Mar. 1981)
Fripp and others.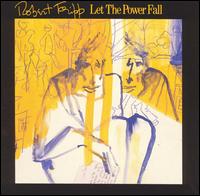 Robert Fripp: Let the Power Fall (rec. 1979, rel. Apr. 1981)
"1981 is the year of the Fripp" - so said the promo film for Exposure. Let the Power Fall is an entire album of Frippertronics culled from his solo Frippertronics tour in 1979. With new notes replacing old ones (or over loops), it is interesting how he creates chords and directs the music piecemeal. The whole thing sounds like a guitar version of Terry Riley's Poppy Nogood and the Phantom Band, except better. It strikes me as far better than God Save the Queen (for whatever reason), and makes excellent Music for Doing Other Things.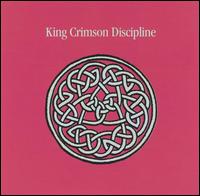 Discipline (Sept. 1981), ****1/2
The Anglo-American incarnation reunited Fripp with Bruford, along with bassist Tony Levin and guitarist/singer Adrian Belew. This incarnation merges Fripp's solo work with the Talking Heads style music Eno (and Fripp) was involved in: poly-rhythms, African beats, guitars processed to various ends (the most amusing of which is the Howe-like seagull noises on the easygoing "Matte Kudasai") and a bit of a sheen in the production, but still feels like King Crimson underneath it all. A refurbished, modernized King Crimson to be sure, but the moniker is still appropriate. Adrian Belew is a warm vocalist (like Wetton was), but his guitar Levin's bass/Chapman stick make interlocked rhythms with Fripp, as well as the latter's insanely fast runs and arpeggios where synths would be on contemporary records. The band still has a highly technical instrumental feel, but like the album's name, a high degree of control and precision goes into the music (the amazing "Indiscipline", "Discipline"). Bruford's drumming has been almost entirely re-molded - stripped down, more world-beat, with a few returns to his old self here and there. The lyrics, written by the band, have an appropriate touch of irreverence to them ("Elephant Talk", "Indiscipline"), although they do spoil one track by letting Belew ramble on telling a story ("Thela Hun Ginjeet"). Given Fripp's desire to keep pushing new boundaries, this was a success for him. Produced by the group and Rhett Davies.

Beat (Jan. 1982)
Three of a Perfect Pair (Mar. 1984)
Last of their albums in the 1980s.

Crimson was resurrected in 1994, and have released several albums since.