Talking Heads
There's a party in my mind.
Albums Reviewed: Talking Heads: '77, More Songs about Buildings and Food, Fear of Music, Remain in Light, Speaking in Tongues.
Talking Heads were one of the strongest American New Wave bands, but frequently I find them irksome. Blame frontman David Byrne for that, but credit him for much of the band's character. Ultimately, the band was probably the strongest and longest lasting to emerge from New Wave scene, but I still favor Television or Blondie. Starting with their second album, the band had a fruitful relationship with Brian Eno, culminating with

Remain in Light

. Based on their first album, this is not surprising, given that the band exhibited the same goofy, oddball tone as early Roxy Music.

Conceptually, the band focused on Byrne's quirky persona and the solid rhythm section of Tina Weymouth on bass and Chris Frantz on drums. Escewing solos like a lot of New Wave bands, some of the band's high points relied on solid backing (including utility man Jerry Harrison) for Byrne's personality and Brian Eno's noises and treatments. Musically, they were the original spaced-out nerd/funk band, and mixed other styles in gradually.

I have do not have any of their albums beyond

Speaking in Tongues

, although that is subject to change.

Talking Heads: '77 (Sep. 1977), ***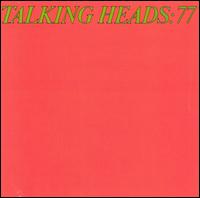 Just like modern furniture, Talking Heads stripped down the sound of rock music. The group had a wider palette than others, thanks to Harrison's usfulness, but '77's tone is locked down and simple, without distortion or elaboration. While the Sex Pistols revolted against the order of society and promoted anti-virtues, Talking Heads dealt in a different way. They had not reached rebellion, and instead internalized it, making it frustration and control. The control is pervasive in the rhythm section's funk feeling. It is felt in the clear guitar tones of both Jerry Harrison and David Byrne, and the scripted guitar lines (the opening of "New Feelings", "Who Is It?"). In fact, the band usually created a couple of odd rhythms based on some sort of minimalist funk or blues, and then shifted between them. If this was all the band did, they would not be very interesting. Frustration makes this album, and that frustration usually appears as David Byrne. The quintessence of this is "Psycho Killer", the band's first hit. Over the set, rigid rhythm section comes Byrne's lyrics about a person whose frustration with society has led him to the boiling point, and beyond. Where Rotten was the psychotic, Byrne is the stylist. His tenor vocals are clean, clipped, precise and while the frustration builds in the music ("Who Is It?", or his singing the word "day" in "Happy Day"). His lyrics also demonstrate distaste for contemporary society and others ("No Compassion" about people with problems, "Tenative Decisions" about indecision), and frequently writes in first person. Certainly everyone has a lighter side and sometimes Byrne's lyrics are a bit childlike (the delightful "Don't Worry About the Government" sounds like it was written while lying on a hill looking at clouds, or the catchy 60s dancer "Pulled Up"). The band also does dorky love songs (a mixed bag), so for every "Uh Oh Love Comes to Town" there's a fluffy "Happy Day". The band's later interest in world music is presaged in a couple places (steel drums on "Uh Oh Love Comes to Town" and the delightful "First Week/Last Week"), but not really explored. A promising debut. Produced by Ramones producer Tony Bongiovi, former session guitarist Lance Quinn and the group.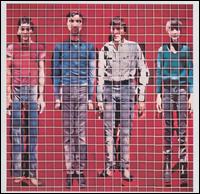 More Songs about Buildings and Food (Jul. 1978),

***1/2
The strategy of white boy funk and polyrhythms, topped with Byrne's unique vocal delivery, started to pay off on

More Songs

. Idiosyncatic vocals and interest in quirky pop music aligned them splendidly with (Brian) Eno, who produced this album and collaborated with the band for the next few years. Byrne still exhibited a precocious child's persona, and
his methodolgy seemed to be to lock himself into a midset and let loose.
His tastes were still arty: rejecting middle-class middle-America ("The Big Country"), an obnoxious, menacing song about painting ("Artists Only"), or satire of married life ("Found a Job"). When combined with Eno's periodic treatments and techniques,

More Songs

can been seen as an entirely new form of stylized art-rock, and the
stylized honesty and glossed, polite funk is also
a counterpoint to Blondie's retro kitch. The band's focus on rhythm intesified on this album - the tight Frantz/Weymouth combo, the guitars playing scratchy rhythm (the great "In Our Love", "Found a Job", "I'm Not in Love"). Even the lighter,

'77

-esque material is better (the growing complexity in "The Good Thing"), even if "The Girls Want to be with the Girls" sounds like a reworking of

'77

's "Tentative Decisions." But, oh, those rhythms (some African ones creeping in) and Eno's treatments snaking around with them. Follow them, and you will be up there vocally mugging with Byrne.
Ironically, their first big hit is the track that fails to cater to their strengths - a cover of Al Green's "Take Me to the River". When listened to next to the driving beats of the other tracks, Byrne becomes less tolerable and its slow pace grinds. All is not paradise, for the parts do not equal the whole. For while pieces of greatness abound (the opening riff in "Warning Sign", "With Our Love", "Stay Hungry"), Byrne is an acquired taste, both for his vocal style and his simpleton lyrics. Better things were ahead for all, but

More Songs

began to solidify their distinct style.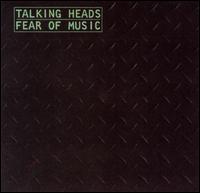 Fear of Music (Aug. 1979),

****
Still going down the same road. Eno's production is suitably layered and inscrutible, and the band still maddening. Byrne stopped using his uncut thoughts as lyrics, resulting in less self-involved rambling. Their polyrhythms, now slipping further towards worldbeat, keep moving around and are tremendous their re-working of Hugo Ball's dada poem "Gadji Beri Bimba" into one of their funk+beat masterpieces ("I Zimba") is immencely clever, while the bubbling "Mind" and "Paper" both kick the beat as well. Beyond that, every track has something going for it. The more dance-tempo tracks have Byrne's off-kilter lyrics ("Cities" and "Animals"), although the lyrics are the weak part. Some interesting hybrids blues-funk (the intrigue and paranoia of "Life During Warfare" or more rock ("Memories Can't Wait" with the great line "There's a party in my mind / and I hope it never stops"). Other tracks rely too much on the production and animatronic rhythms to evade lethargy ("Electric Guitar", slow-speed disorientation of "Drugs" or a goofy ode about "Air"). Still, I found a little guitar line from "Electric Guitar" inhabiting my brain up to a week after listening. Loopy, in every sense of the word.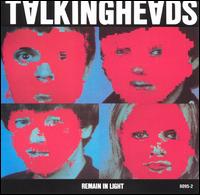 Remain in Light

(Oct. 1980),

****1/2
This is Talking Heads' finest album, and a rather odd one at that, taking their approach to music to a logical conclusion.
Remain in Light
's first side consists of three tracks which explore "I Zimba" instrumental worldbeat, group vocal feel ("The Great Curve", "Crosseyed and Painless" and "Born Under Punches"). Byrne and Enp's master stroke was to treat the instruments as a looping backing tape - scratchy rhythms repeating, without real chords or progression. Above this, Byrne's twitchy spoken lyrics and sung choruses overlap and intertwine. The scant solos are Kraftwerk with Tourette's syndrome ("Crosseyed and Painless"). Both Byrne and the backing (the band and session people) are good enough to make this work, despite the dangers.
The second half is more traditional, but still removed from their earlier work. With each successive album the Talking Heads moved further away from songs you could bash out on a guitar, and even
Remain in Light
's "normal" songs are too intricate. The album's key track is "Once in a Lifetime", a clever bit of social commentary packaged as a loopy pop song. The rest of the second side is similar. The songs are used as a medium for storytelling like VU's "The Gift" ("Seen and Not Seen") or third-world mimcry ("Listening Wind"). While Byrne's voice is the focal point, the underlying music shows a greater interest in world music - African beats, reggae, horn funk ("Houses in Motion") all sent through the Eno treatment factory and carefully deployed in the sound. The album's weakest point comes at its end - "The Overload" a dark bit of collapse, which drags. Is it even a band, or a carefully arranged canvas for Byrne's vocals and scraped guitar parts? The line gets blurred, but somewhere amidst all the beats, arrayed bass pops and blurred guitar lines is the feeling that everything is a whole, led by Byrne and Eno.
Jerry Harrison:

The Red and the Black

(Oct. 1981)

Uh, Milwaukee REPRESENT?
The Name of this Band is Talking Heads

(Apr. 1982)
A well regarded live album. I have it. I am not going to comment.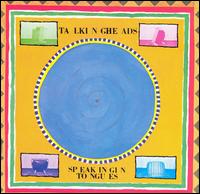 Speaking in Tongues (Jun. 1983),

****




While

Remain in Light

took the Talking Heads about as far as they could go in streaching regular song structure,

Speaking in Tongues

is a smart retreat into dork funk/pop, with no Eno involvement. All the pieces and sounds remain the same (such as transmuted gospel in "Slippery People"), but Frantz and Weymouth create catchy dance beats to underpin the songs, and some R&B/funk ringers augment the sound. The result is a brash pop album with a stong synth-rock components, but one in which you can hear the band members, not some carefully planned studio collage. I feel like

Speaking in Tongues

would be a great album for a dork wedding, with plenty of infectious, goofy fun with Byrne's deadpan
("Burning Down the House", "Making Flippy Floppy", "Girlfriend is Better" with Bernie Worrell providing flashing light synth sounds, "Moon Rocks"). The exceptions are a mumbly blues tribute -- at least, I hope it's a tribute -- on "Swamp", and "This Must Be the Place (Naive Melody)" which returns to the airy pop of their earlier albums, just with more synthesizers. No Adrian Belew this time around, but the players included Alex Weir from the Brothers Johnson (guitar), Wally Badarou (synthesizer), and violinist Shankar. Even though

Remain in Light

is the better album, this one is a lot more fun, and my favorite Heads album (so far). Self-produced.
Stop Making Sense

(Oct. 1984)

More liveness. I do not have any of their remaining albums.
Little Creatures

(Jun. 1985)
True Stories

(Sept. 1986)
Naked

(Mar. 1988)