Blondie
Little Girl Lies.

Albums Reviewed: Blondie, Plastic Letters, Parallel Lines, Eat to the Beat, Autoamerican, Heart on a Wall, The Hunter.
Blondie. Yep.
Blondie (Feb. 1977), ***
In many ways, Blondie is a bizarro world Talking Heads. Blondie focused on humor, a pastiche of musical styles that were long since outdated, and above all, a strong sense of style. They are a lopsided grin, a naughty wink, and usually associated with frontwoman Debbie Harry. There is little of the seriousness of penetrating monologue of a David Byrne here, or the hypnotic lockstep of the Talking Heads' rhythm section. Blondie has a pretty good formula: deliberately cheesy synth parts, smart humorous lyrics set to discarded 50s and 60s sounds - Motown girl groups, surf music, cloying 50s ballads, even a ode to West Side Story. The quintessential example is the opening track, "X Offender" which opens, like many early 60s songs, with a spoken intro from Harry on how she wants to go with an unspecified "you." Of course, it turns out that "you" refers to the officer arresting her for prostitution. That is the sort of humor that is prevalent on this album. The lyrics are almost all pure pop kitch, and deliberately so. Listen to the way she says "flesh" on "In the Flesh," another psychotic love obsession song. It sounds perverse; you don't want flesh, and the word has such a horrible sound to it. (Also note the double entendre contained in the chorus of "Look Good in Blue")

Drummer Clement Burke worked hard, enabling the group to shift genres successfully, but the band's sounds pretty thin. The band has "loose coordination," but it is clear that Harry was the one to which you are supposed to pay attention. The rest are there to fill out a police lineup, occasionally tossing off a central riff, or something, but pretty nonchalant. Hell, I think they would have lost a blindfold, instrumental-only battle of the bands to the Cars. Maybe even to Tom Verlaine alone. Do the general public remember anyone besides Harry nowadays? Did they at the time? Blondie has no dominant songwriter, and a fair amount of co-writes between the guys and Harry. Well, at least they were a good backing band - not flashy enough to detract from Harry's vocals (and stage presence, I imagine), and certainly not like the interlocking nature of the Talking Heads. Thus, right from the start their sound is structured like a pop band, but one with a different. Put it all together and it's New Wave; commercial, highly marketable New Wave at that. But they were more like the Cars, in that their underlying issues aren't connected with social issues or frustration. Instead, everyone has a good time, although I hope that their future albums are better times.

But for all their sense of style (just look at the cover), Blondie has enough sense to make fun of hipper-than-thou insiders on "Rip Her to Shreds." It's a good method, but there's a real risk of it being a formula here, and a couple of the songs are almost pure fluff (the B-movie horror of "Attack of the Giant Ants" or the disco-fueled "Man Overboard"). Still, it's hard to beat a good riff, such as that on "Rifle Range" although the band rarely gets loud ("Kung Fu Girls" is one exception). It's a bit like the Zucker brother movies that were beginning to appear in this era. The mock seriousness of Airplane! is similar in tone (although with less style), a series of fun take-offs, which can quickly go downhill (see Airplane! 2). Here, if having and making fun might is enough for you, you'll be satisfied. Irony goes a long way, but not everywhere. Produced by Richard Gottehrer.

Plastic Letters (Feb. 1978),

**1/2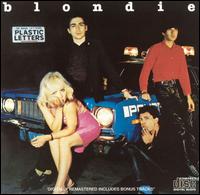 Oh, Blondie, Blondie, Blondie.
The
clever pop continued on
Plastic Letters
, and all was well in broadening their repertoire of tongue-in-cheek pop tributes to odd topics clothed in 60s pop. Plastic Letters' best songs are the giddy mock-pop ("Fan Mail" is this album's "X Offender", "I Didn't Have the Nerve to Say No"), and a contemporary cover of "Denise" (renamed "Denis") was their first big hit. Beyond that, things are dicey. As none of the musicians were instrumental leaders, the band was still built around Harry who could coo, espouse naivite, or weariness depending on the circumstances. So while
Plastic Letters
is tougher thanks to more guitar and less keyboards, and they worked some new (old) sounds with mixed success. Not all their 60s pop interpretations have much substance: "Denis" is bubbly product, and a goofy attitude alone does not equal success ("I'm on E", "Love at the Pier"). Their lyrics have interesting styles like cinematic fantasy (the dragging "Bermuda Triangle Blues (Flight 45)", "Contact in Red Square") and playful cynicism ("No Imagination"). Their stabs at R&B ("Kidnapped") or more danger ("Detroit 442, Cautious Lip") never click, while Stein's fine power-pop "Youth Nabbed as Sniper" turns Blondie into a mocking menace. The songwriting is mixed at best, with Destri consistently beating some of Stein's dogs like "Cautious Lip". The album hits dead spots a bit too frequently, even if they one of the few mainstream bands who could make a song about contact with the dead a delightful piece ("(I'm Always Touched By Your) Presence, Dear". While Harry proved an eye-magnet, the music alone struggles against turning into gimcrack.
Parallel Lines (Sept. 1978),

****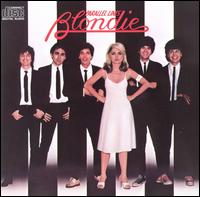 Schools use quizzes and papers to ascertain that you are making progress in understanding. Usually this comes to fruition with an exam or paper, where you are expected to weave the threads into a coherent whole. Congratulate Blondie, as
Parallel Lines
is their senior thesis, using well-appointed style, songwriting hooks and Harry's variable vocals to bring their interests to a new height. Some credit goes to the continued emphasis on guitars, aided by new members guitarist Frank Infante and bassist Nigel Harrison. While none of the guitar solos deserve to be etched into stone, Blondie riffs their way into success ("One Way or Another", the rhythms and wordless singing in "Heart of Glass"). When mixed with rebounding songwriting from the band and Jack Lee/Nerves covers, Blondie's New Wave pop songs have enough propulsion and edges to make them great such as "You Keep Me Hanging on the Telephone," "Pretty Baby", "Picture This", with subtly obsessive lyrics ("One Way or Another"), or personal cinematic visions ("11:59"). The most well-known track is probably "Heart of Glass", a glossy disco song delivered in Harry's smooth and winking voice. The album isn't all confection or the culmination of previous ideas; the fascinating "Fade Away and Radiate" is a deep breath in the middle of the album, with an icy, building, Pere Ubu-like intro and guitar from Robert Fripp, while Harry delivers one of her more dramatic performances. Some points are weaker, the retro 50s/60s approach (the classic "Sunday Girl" and "I'm Gonna Love You Too"), intentionally self-mocking hip rock tracks ("I Know But I Don't Know" and "Just Go Away"), but
Parallel Lines
is a body of songs with all the right parts.
Eat to the Beat

(Oct. 1979),

****
One of Blondie's strengths was that their sound is disposible: they don't take themselves too seriously and which also makes them more fun to listen to than the Talking Heads.

Eat to the Beat

is a perfect example; a wonderful successor to

Parallel Lines

- no major changes, just more disco elements, clean production and plenty of Burke's furious drumming ("Dreaming", "Victor"). Blondie's trademarks are present - humerous lyrics (the snarky reggae of "Die Young Stay Pretty" and the mock lullabye of "Sound-A-Sleep"), girl groups ("Slow Motion") and Destri's excellent power-pop ("Accidents Never Happen", "Living in the Real World"). The best songs follow "Heart of Glass": disco beats with pop ("Atomic" with
spy guitar lines and
Destri's pulsing synths, "The Hardest Part" about robbing armoured cars). A few songs are underwritten, but still have good parts: "Union City Blue" has a nice feel but no momentum and "Shayla" has a nice chorus. The writing is spread throughout the band, with Harry and Stein writing about half the album (including the one joke "Sound-A-Sleep") and Destri has a golden touch. Talking Heads may have been more complex, but simple pop is good enough.
Autoamerican (Nov. 1980),

**1/2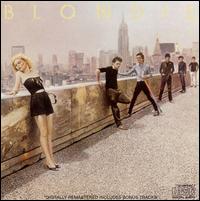 Blondie's fifth album finally crossed the line between rock band and pop group with a few winks. Recorded in LA, Chapman's production is the aural equivalent of soft focus - glossy, and with plenty of session players to put things on an even keel.
Blondie the band is in short supply on

Autoamerican

, even if their lyrics have bite.
Certainly eclecticism is still paramount -

Autoamerican

's two big hits were vastly different - a reggae cover of "The Tide is High", which is a bit too similar to

Eat to the Beat

's "Die Young Stay Pretty", and the rock/rap hybrid "Rapture". (Absolutely groundbreaking, and absolutely dated).
The album opens with Stein's "Europa" and "Live It Up" - practically an overture with orchestral backing and a minimal guitar line phasing into a spoken word piece.
"Angels on the Balcony" and "Do the Dark", two of Destri's power-pop songs, are some of the stronger tracks, but lack edge. (A third, "Walk Like Me" does not come close).
On the whole, the band's rock tracks belong more to the teased hair world than the New York scene, and often sound like Michael Jackson backing tracks. Harry's voice was Blondie's signature feature, but was often the only distinguishing feature. She gets to sound kittenish on some faux 40s cocktail numbers ("Here's Looking at You" and "Faces"), which have questionable input from the band. Far worse is the album's ending: a cover of
Camelot
's "Follow Me" is just Harry's etherial voice over a session man's synthesizers. None of the band's playing stand out; instead session men ranging from Flo & Eddie to Tom Scott appear at various points. Blondie's big-time pop album may have had mass appeal, but somewhere their rough edges were hewn; insincerity and sincerity became indistinguishable.
Jimmy Destri:

Heart on a Wall

(1981),

**1/2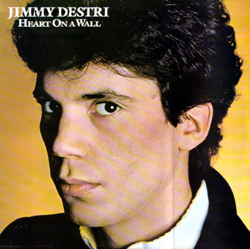 1981 was the year of the Blondie solo projects, and Destri tried to launch a solo career with this album. (Although it is the Alpha and Omega of his career, a sticker - "The first solo album from Jimmy Destri of BLONDIE" indicates that it wasn't supposed to be that way). Destri wrote pop songs which usually were integral to Blondie albums, and his album avoids the bloat of Autoamerican for their earlier sounds. Plus, he snagged an excellent group of musicians to back him: bandmate Clement Burke, Bowie sidemen Carlos Alomar and Earl Slick, producer/keyboardist Michael Kamen, rounded out with session men John Siegler on bass and guitarist Tommy Morrongiello. Destri, the acolyte turned leader, is not well suited to the role, being a talented songwriter who has a raspy, strained singing voice. The music is consistent with his Blondie material - full band pop songs with good choruses and beats ("Don't Look Around"), and not overblown (one exception is "My Little World" which is fashioned into a repetitve "big" number). One track ("Liffe Metal Drummer") may even be a Blondie outtake, as Stein appears on guitar and female vocals sing in the background over a cross of a 60s spy theme and a Sergio Leone soundtrack. Destri's delivery is more sincere than Harry's nuanced singing, but the songs almost require a strong singer. Instead,
Jimmy Destri
has to make do with singing whispers or raspy shouts over otherwise good songs ("Bad Dreams", "Don't Look Around" and "Numbers Don't Count"), and relies a touch too much on the same feel. Most of these songs could have made a good Blondie album, but Destri's voice makes it a beautiful elevator with a badly frayed cord.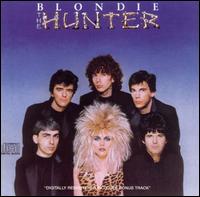 The Hunter (May 1982), **

Only after being hungover from a wedding did I understand

The Hunter

. With their final (classic era) album, Blondie soldiered their pop approach into further musical styles, with a mind to convert anything and everything into long, dance-beat songs. Thus, after

Autoamerican

's Blondie-does-ska, we have Blondie-does-calypso with "Island of Lost Souls" or the odd rap-meets-disco "The Beast". The nadir comes with "Little Caesar", for which Harry quasi-raps as a sort-of child Jimmy Cagney. These sit alongside middling tempo dance songs ("Orchid Club", "War Child").
The entire album is enslaved to its bloated production and prolonged beats, leaving little room for musicans.
The entire first side is nearly given over to this stuff - music to not disturb a workplace, or for wedding receptions when people are already in a frenzy of movement and need to keep it going at all (artistic) costs.
Blondie's old interests are given this treatment. "Dragonfly", about drag racing in space,
recalls their early B-movie stories
; but really is

only

a story, as the song is a poor excuse for another mindless beat and endless narration.
The better songs avoid this zombie movement - Destri's "Danceway" is a final 60s pop song, and a cool, cabaret cover of "The Hunter Gets Captured by the Game". Regretfully, Harry's empty lyrics mar the other two tolerable tracks - a rejected James Bond theme ("For Your Eyes Only") and "Find the Right Words". The album isn't really so much an embarrasment - it is too well produced for that - as it is a waste of time. (This grade could easily be cast downward a bit).
Yes, they reunited. Also, yes, I am going to ignore those albums.