John's Children / Jook / Jet / Radio Stars

They've nothing to do with us.

Albums reviewed on this page: Orgasm, Different Class, Jet, Songs for Swinging Lovers, Holiday Album.

John's Children were a better story than a band. A mod band that were pretty awful at the beginning, they lived on hype and stage antics (neither of which transfer to their records). They replaced their guitarist with a young Marc Bolan, and things improved. I'd guess they only recorded a handful of decent songs, most written by Bolan. The strongest parts of the group were Chris Townson's Keith Moon aping drum style, followed by Ellison's glam vocals. That lineup lasted somewhere around six months, before Bolan quit and started Tyrannosaurus Rex. Ellison released a few uninteresting singles afterwards. I've listed all of them and all of the John's Children releases in a hopeful attempt to give a decent discography. Not really reviews of either, just notes based on "very exciting" Youtube video viewings.

But what is interesting is Townson's next band: Jook or The Jook, who released a handful of singles in a sub-Who vein and recording a bunch of harder demos that were far better. Better yet was Jet, a lesser (but louder) sibling to Sparks, with Ellison and Townson joining a couple of guys who the Maels kicked out of their band, plus Davey O'List(!). I think 1975's

Jet

is a neglected classic with the band giving a loud, bitchy take on bassist Martin Gordon's catty songs. The band eventually evolved into Radio Stars, which recorded a bunch of goof-off takes on punk and pub-rock. The band had a revolving door of drummers, and burned itself out within a few years. Gordon left halfway through to found a new band, The Blue Meanies, who managed to release one pretty good single before folding. Gordon has released a number of solo albums beginning in 2003.

John's Children: Andy Ellison (vocals), John Hewlett (bass), Geoff McLelland (guitar), Chris Townson (drums, guitar), McLelland replaced in 1967, with Marc Bolan who quit later that year.

Jook: Ian Hampton (bass), Ralph Kimmet (vocals, guitar), Chris Townson (drums), Trevor White (guitar, vocals),

Jet: Andy Ellison (vocals), Martin Gordon (bass), Davy O'List (guitar), Peter Oxendale (keyboards), Chris Townson (drums).

John's Children: "Smashed Blocked" / "Strange Affair" or "The Love I Thought I'd Found" / "Strange Affair" (Oct. 1966)
The A-side is a nice piece of confused garage psychedelia which made the band's name. To wit: it opens with Ellison talking about how confused he is, lost, he needs help! before dumping into refrains using the title. The song also has a quieter verse or bridge, where Ellison croons a bit like a bad Phil May, talking about how sometimes, he cries. Although bassist John Hewlett co-wrote the song with their manager, the recording is actually session musicians with Ellison overdubbed. The B-side is an R&B joke number about a lad named Ernie, credited to "Fingers Groin."

For the UK release, the A-side was renamed "The Love I Thought I'd Found" and the ballad-like section was moved to the beginning, and the drugged monologue to the end. It undercuts the weirdness. The US version was somewhat successful, which makes some sense in the days of popular garage rock. The UK one did not.

John's Children: "Just What You Want - Just What You'll Get" / "But She's Mine" (Feb. 1967)
Bass-heavy pounding A-side, with bizarre grunting hey's in the background. The chorus has some dramatic whispering. I think the whole thing is ridiculous, and pretty funny. (Possibly recorded with session musicians again). The flip is a Who-ripoff with Jeff Beck guesting on guitar and providing an actual solo.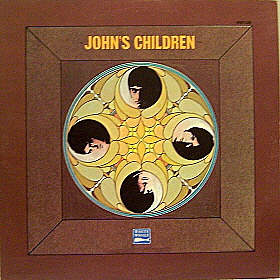 John's Children: Orgasm (rec. 1966?, rel. 1970), *
Take: one not very good mod band, record an album, then overdub it with the recordings of screaming girls from It's a Hard Days Night. Result: one "live" album, promptly shelved and then dumped out years late. In this age of endless re-evaluation, it is certainly possible to defend this album. I don't fault the band for this . . . unique commercial strategy. But frankly, they sound like a bad garage band, made magnitudes worse by the fake production, and then burdened by the near-constant screaming. The only track (sort of) worth saving is "Smashed Blocked", a single (in its unfettered form) which retains enough verve in this setting to be mildly acceptable as the disorienting odd piece that it is. (The recording is presumably the same as the single, which was Ellison dubbed over session musicians.) Beyond that, there's some bluesy material, downright awful (and unintentionally hilarious) garage-level stuff like "Just What You Want" and "Not the Sort of Girl", and a lot of "what? I can't really hear them." The only band member who demonstrates promise is Chris Townson, whose drumming is as active and intense as any from this period - not quite the Keith Moon School, but heart pumping. But really, even if you were to lessen the burden on this Jacob Marley of albums, you just find some dumpy Who or contemporary Pretty Things knockoffs. Don't.

CD releases include some of their singles, sometimes the clean versions of these songs, which would probably add another full star or so.

John's Children: "Desdemona" / "Remember Thomas A'Beckett" (May 1967)
Their first single with Marc Bolan, who wrote the A-Side. This is pretty good, although pretty unusual. The verses are just one chord, with vocals over them, and an ascending chord pattern. Ellison's singing sounds more natural, Bolan adds some guitar noise, and Townson's drumming is good. The lyrics (implying a teen's visit to a prostitute, I believe) got the single banned from the BBC. The B-Side still had McLelland, and is a pretty decent mod-pop song, totally driven by Townson's marathon drumming, and a nifty attempt by McClellan to add some noise. It shows that the original lineup could have been successful; alas.

John's Children: "Midsummer Night's Scene" / "Sara Crazy Child" (July 1967, unreleased)
When the mod-band goes flower-pop. Bolan wrote the A-side, and it's pretty cool: a space out section, high pitched backing vocals, some guitar anti-solos. The B-Side is less exciting - a slower portrait of the title character. Withdrawn before release.

John's Children: "Come and Play With Me in the Garden" / "Sara, Crazy Child" (July 1967)
A-Side is actually a simplified "Remember Thomas A'Beckett" (i.e., with interesting bits cut out).

John's Children: "Go-Go Girl" / "Jagged Time Lapse" (Oct. 1967)
This really sounds like the Bolan of Tyrannosaurus Rex: underwritten, vaguely retro. Inexplicable organ solo. The B-Side was a recording from Orgasm, sans screaming. It's mod, but not very good.

Andy Ellison: "It's Been a Long Time" / John's Children: "Arthur Green" (Dec. 1967)
The A-Side is a contemplative track done more with strings and horns than a band - it's from a contemporary soundtrack. The flip, by the group is classic power-pop from them, although without any production flourishes.

Andy Ellison: "Fool From Upper Eden" / "Another Lucky Lie" (Mar. 1968)
A-side is a middling pop song dominated by keyboards. I haven't heard the flip.

Andy Ellison: "You Can't Do That" / "Cornflake Zoo" (May 1968)
A-Side is a slow R&B rendition of a Beatles song with backing singers, brass and Ellison's joyous slightly trembly voice. The B side is a bit rougher, which isn't saying much. Junk tune with a Bo Diddly beat and a fake Indian solo at the fadeout.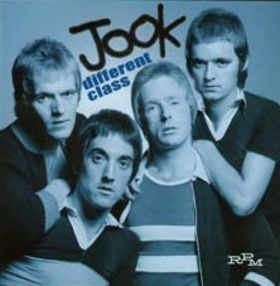 Jook: Different Class (rec. 1972-74, rel. 2005), ***
The Jook released 5 singles between 1972 and 74; those and a posthumous 1978 EP make up the bulk of this anthology. If pub-rock bands like Dr. Feelgood maintained the no-frills approach of 1964 English blues, Jook partially carried the mod sound of Pete Townshend's slashing 1966 power chords. While The Who's live show strongly diverged from their elaborate albums, Jook was a compatriot of that earlier live show - a band that never left clubs for stadiums. No, they were not slavish torch-carriers (like The Jam's In the City, although I'm teasing) and their music the handclaps and stomping beats of glam ("Oo Oo Rudi" and "King Capp" which is the best of these). (Sometimes it sounds like Pete Townshend tossing off an urban football anthem.) They were probably well served by the single format, which favored more of a no frills approach. You can hear passing trends in the music, be it the same rural streak found on Who's Next ("Do What You Can") or the coming ascent of pub-rock ("Crazy Kids" sounds like a lost Nick Lowe power-pop song,"City and Suburban Blues", the retro 50s feel in "Bish Bash Bosh"). But the songwriting isn't quite there; guitarists Ralph "Ian" Kimmet and Trevor White have talent - but they tend to over-rely on thumping riffs ("Alright With Me", "Bish Bash Bosh") in their attempts at Instant Post-Mod or Glam Anthems. The band had talent, so nothing sounds bad per se, but some tracks sound tossed off (a cover of "Shame Shame Shame" which could have been in the Who's repertoire in the late 60s, "Jook's on You", "Rumble" sounds like The Small Faces to me for some reason).

A final recording session from 1976 yielded four tracks for an EP, and this material is probably the strongest, boiling the band's sound down to loud guitars, power chords and sometime vocal harmonies, heralding the mainstream revival a few years later. It includes the band's only great song - "Aggravation Place" which goes for angry, urban power chords instead of clomping and gimmicks, and "Different Class" and "Everything I Do" are also fine songs.

The band broke up in 1974, with White and bassist Ian Hampton joining Sparks. (Hewlett managed both bands).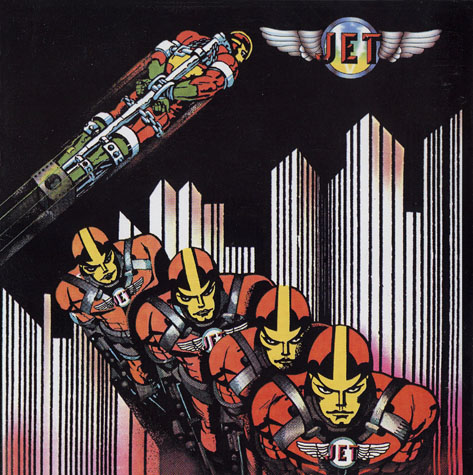 Jet (May 1975), ****
I'll admit it: I only created this page so I could talk about this album. This Marginal Rock Figures All-Star Team released a lost glam rock classic which is a lot of fun. The Maels kicked bassist Martin Gordon and keyboardist Peter Oxendale out of Sparks, and they turned around and formed Jet with Townson, Ellison and Davy O'List (who had been in Roxy Music briefly). Jet owes an obvious debt to Kimono-era Sparks with its rhythm piano and kitschy vocals backed up with loud guitar. But there are strong differences: Jet is far more rock-oriented and not as diverse than Sparks. O'List power-chords like he's in a coliseum, Andy Ellison exaggerates his diphthongs to give a positively bitchy vocal performance (as opposed to the cabaret styles of Russell Mael) and Oxendale uses a variety of keyboards and sounds (organ, mellotron, etc). But bassist Martin Gordon is likely the reason Jet succeeded (artistically) where the other projects on this page scuffled. He wrote almost all the songs, and his melodies are catchy and his lyrics often bitchy and clever ("Nothing to Do With Us" about, well, social situations, "Tittle Tattle", the bad date of "Fax N' Info" or the misunderstanding in "Diamonds Are a Girl's Best Friend"), and has a strong lyrical voice. They were well served by producer Roy Thomas Baker, who was working with Queen at this time, and brings the same level of bombast: loud guitar, mellotrons, repetition, the works. For this is really a Loud Rock album with a prominent kitsch factor, like a catty Slade. Most of the album does a good job of taking a big rock sound and using for pop purposes: "Start Here", "Brain Damage", "Cover Girl" among them. There are some hints towards the music revolution coming - the heavy power-pop of "Cover Girl"; little wonder that Gordon's lyrics turned a bit nastier and the band evolved into the more ripping Radio Stars. Yes, it was the mid-70s, so the songs often run a minute or two longer than necessary, but the only real weak spots are "Song for Hymn" which goes towards the vacant side of Gordon's lyrics or the goofy nonsense of "Whangdepootenawah". But more important the album is just a lot of fun and energy, and (at least for me) very suitable for multiple listenings.

CD releases include the B-side "Quandry" which is as essential as the rest of these songs. There are also collections of demos, radio tracks, etc. called More Light Than Shade.

Trevor White: "Crazy Kids" / "Movin' in the Right Direction" (Jul. 1976)
The ex-Jook guitarist released an excellent version of the former Jook b-side. The flip isn't quite as good, but still a solid glammy rocker with power-chords.
Jook EP (rec. 1976, rel. Apr. 1978)
Discussed above.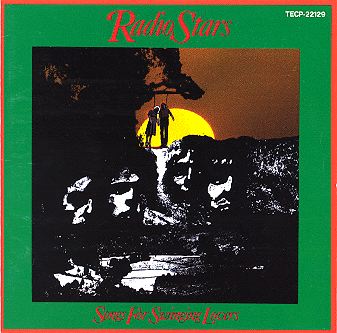 Radio Stars: Songs for Swinging Lovers (Dec. 1977), **1/2
Jet morphed into Radio Stars, where Gordon and Ellison just tweaked Jet's sound for the punk age. Ellison's vocals are nasty, gone are the keyboards and Baker overdubs. What is left is something like a sendup of the punk/pub rock scene. Maybe it's just that I like Gordon's lyrics - unserious and mundane topics flippantly paired with the crunch of the day. The result isn't quite a parody, or Ray Davies' early 80s takedowns of popular culture, and Martin's lyrical voice is different from Nick Lowe who was doing something similar, but never came so close to punk. (Lowe always seemed like he was writing songs which had one parent in an early 60s country jukebox, while Radio Stars was more contemporary minded). With more brash guitar being in vogue, only a few songs have something of a Jet through-line ("Don't Waste My Time" and Ellison's "Is It Really Necessary?" which is basically power-pop revivalism). Those two and the more cutting ("Good Personality" and "Nervous Wreck") are the strongest on here. The trouble is that Martin's songs are not quite parody, and have odd topics like food ("Macaroni 'n' Mice"), serial killers ("The Beast of Barnsley" which sounds like a parody of The Stranglers), matched with 2 minutes of slightly too competent for the times music. (In this period, the band also released songs about bad breath and being forced to work as an accountant). The less odd topics are just like joke riffing on the scene (fake punk of "Eric", "Arthur Is Dead Boring", or the closing ode to their label "Buy Chiswick Records"). You might call this a piss take, except that it lacks any anger. Gordon produced, with Ellison's assistance.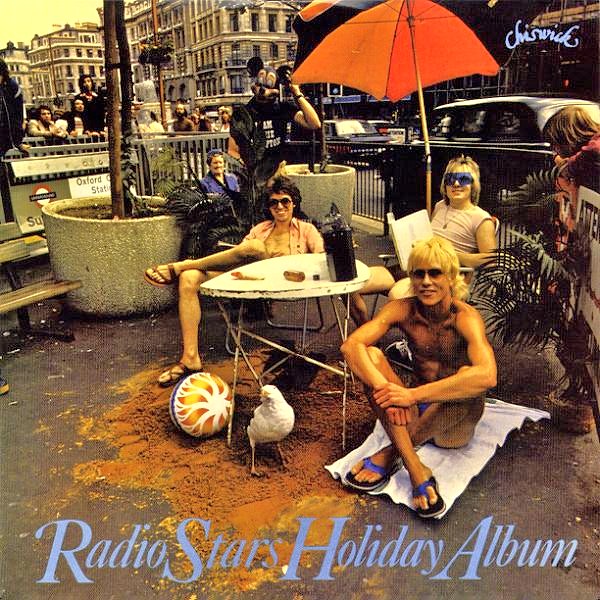 Radio Stars: Holiday Album (Sep. 1978), **
The band's final album is more of the same, although the band stepped further away from the hyper punk sound that lightened up Songs for Swinging Lovers. Instead, it's a reversion to popular rock, with fake blues ("(I've Got Dem Old) Sex in Chains Blues (Again Mama)", a nod towards cock-rock ("Rock 'n' Roll for the Time Being"), synthesizers and plenty of opportunities for guitarist Ian Macleod to spit out some riffs. But those solos exist because a lot of the songs feel padded, either through repetition ("Boy Meets Girl") or unnecessary Macleod solo time ("Baffin Island"). Plus, tracks like an undistinguished power-pop version of "Norwegian Wood" are red flags. Gordon's humor was still going strong, but not as strong as before ("Sitting in the Rain" a send-up on sad-sack rock songs, although "Baffin Island" is the most prominent dud). Yet, when the repetition or bad humor are kept in check, the band shows that it could still make entertaining punk/pop songs ("Radio Stars", "The Real Me", even "Boy Meets Girl", were it cut in half) or stuff antithetical to the fake-Pistols songs on their debut, like "It's All Over" a slower song whose highlight is some serious saxophone work from guest Chris Gent. All in all, Radio Stars were competent fellow-travelers to the punk/new wave scene, but usually with the harmlessness and irony which The Kinks were using. Had they continued, they might have found similar levels of success, but their history is a mess of drummers, Gordon left and they sputtered on for a few years. Gordon produced.
The Blue Meanies: "Pop Sensibility" / "I'm Not in Love With You" (Sep. 1980)
Gordon's next band only managed to put out one single in the few years they were together. It's typical Gordon; the A side has Chris Gent singing about how he has "pop sensibility" over the jaunty poppy new wave backing. The B-Side is probably even stronger: a power-pop song of a guy telling a girl, well, that's he's not in love with her. "Of course Martin Gordon wrote about that," I thought when listening to it. The rest of the band was Ray Weston (drums) and Tommy Willis (guitar). In 2006, Gordon released a compilation of Blue Meanie material (Pop Sensibility) which shows the band merged Gordon's sensibility with a more commercial power-pop sound than Radio Stars, with far better results. Gordon went on to release several solo albums in the 2000s.