Spirit
Albums reviewed on this page: Spirit, The Family That Plays Together, Clear, The Twelve Dreams of Dr. Sardonicus, Feedback, Spirit of '76
Spirit came out that strange cradle of 60s rock - Los Angeles, a city which produced a bunch of other not quite normal acts - the Doors and Frank Zappa being famous at the time, while Love was busy becoming a cult act. Nor is Spirit your normal, everyday group. The band was fundamentally, well, goofy. They could never go down the strange satire, strangeness and otherwise nuttiness of Zappa, because that was Zappa shtick (even though he tried just about everything). Spirit's goofiness manifested in more a playful sense - either by putting sounds of a card game in a song, singing to groundhogs, or advising us to go back to the zoo. These things are not so out of place in the late 1960s, but the key is that Spirit don't sound like they are tripped out of their minds or sloppy when they tackle these things. I mean, they may have been, but they don't sound like they are. This irreverence, their ability to tackle a wide variety of musical styles with credibility, and great ear for melodies make them forerunners of a lot of modern bands' attitudes (I'll plead some ignorance here, but the Super Furry Animals come to mind first).
The members who get the most recognition are guitarist Randy California and his step-father Ed Cassidy. California was a guitarist of great talent, and Cassidy was an ex-jazz drummer, but one whose style had more in common with pop-rock than the complicated patterns of a Robert Wyatt or Bill Bruford. California had the talent to play straight hard rock or even metal, and often it sounded like he was, especially when he added multiple parts to a song. Whatever the prominence of those two, one of the band's strengths was actually that their balance - in some sort of Rousseau ideal, each member provided a good balance to the rest. Although California deservedly received a greater share of time, keyboardist John Locke (who could rattle of jazz solos), bassist Mark Andes (who often cranked up along with California) and singer Jay Ferguson (who had one of the better voices in American rock) all contributed heavily.
These things never last, and Spirit broke up after four albums, with California and Cassidy keeping versions alive for some time later. Although I have not heard their debut, I am almost certain the best place to start with their catalog is The Twelve Dreams of Dr. Sardonicus.

Personnel: Mark Andes (bass), Randy California (guitar, vocals), Ed Cassidy (drums), Jay Ferguson (vocals, keyboards), John Locke (keyboards). California, Ferguson and Andes quit in 1970-71, with Al Staehely (bass, vocals) and Christian Staehely (guitar) replacing them. Band then broke up in 1972. Reformed a few years later with just Cassidy and California.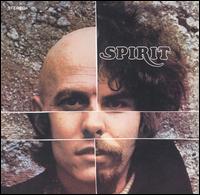 Spirit (1968), ***
Spirit's debut is quite the product of its day: psychedelic rock with a strong jazz component. The band was fueled by some of the same musical influences that produced English Canterbury bands or prog-rock, like an disintegrated, multiple personality Yes. Perhaps this can be explained with the fact that drummer Ed Cassidy was a jazz veteran, while his step-son Randy California had played guitar alongside Jimi Hendrix. As far as the actual songs go, singer Jay Ferguson was the predominant songwriter at this point. His material is mainly psych-pop with a tough instrumental edge (the very British and catchy "Uncle Jack", sitar on "Girl in Your Eye", "Water Woman"), although only the opening "Fresh Garbage" and "Uncle Jack" really shine. Spirit's most notable feature is the band's placement of strong jazz interludes which have nothing to do with their psych-pop hosts ("Straight Arrow", "Gramophone Man"), a rather unique move.
Regardless of the dual nature of their repertoire the band's playing was strong. California, all of 17 years of age, has the brash, distorted tone of Hendrix, Fripp, John Roberts ("Girl in Your Eye"), or even the English Steve Miller, and his phrasing is derived more from the blues - pausing and accenting individual notes ("Topanga Windows"). He may have the tone worked out, but California didn't quite know what to do with it yet, such as on the lurching "Mechanical World." His own song, "Taurus," is a departure from Ferguson's Beatle-fed product; a gentle classical guitar piece with strings overdubbed Moody Blues-style; its main riff provided the basis for Led Zeppelin's "Stairway to Heaven" a few years later. On the opposite end, keyboardist John Locke was one of the band's jazz-heads and his jazz instrumental "Elijah" could easily fit on a Matching Mole album. Future Spirit albums showed the band melding these disparate influences together, but Spirit shows that at least one American band took jazz to heart without a horn section.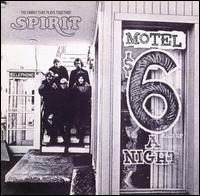 The Family That Plays Together (1968), ****
If one did not know any better, one could write off the mixture loud guitars, blues licks, jazzy beats, and chamber pop that fill this album as another example of psychedelia. However, this was Spirit's normal sound - they could deliver a dynamite mainstream rock song ("I Got a Line on You") then turn around and combine a Jewish traditional song with jazz (the aptly named "Jewish"). In fact, nobody was doing the latter at all, putting this beyond normal psychedelia.
Guitarist Randy California combined his knowledge of good riffs and loud, distorted blues lines to deliver some dynamite mainstream rock songs ("I Got a Line on You" which was their one fairly big song, and "It's All the Same"), with a skill far beyond his meager seventeen years. His sustained tone and multiple overdubs combined with Andes solid bass push The Family That Plays Together to the forefront of heavier American rock for 1968, even as the band's other influences prevented them from evolving into a proto-metal band. As the other main songwriter, singer Jay Ferguson's songs are good, despite lacking California's consistency. Ferguson concentrated more on piano-based psychedelia (the excellent "Dream Within a Dream") and the character pieces which showed up everywhere at this time ("Poor Richard", "Silky Sam", "The Drunkard"). Whatever his shortcomings as a songwriter - Ferguson was a really good front man; he sings without distorting his voice, and had a strong pair of vocal chords.
Critics sometimes note that Ed Cassidy was a jazz drummer beforehand, but don't get too caught up on with that fact. Cassidy had own style - not over the top, not too intricate, and a lot closer to a pop-rock drummer than you might expect. Still, Spirit was very jazzy in places - California's "Jewish" combines a traditional chorus with rocking jazzy instrumental sections, and the California/Locke song "It Shall Be" has almost a straight jazz feel to it, right down to the flute. Despite all these disparate musical threads, Spirit was clearly a rock band, just one with esoteric tastes. So, even though The Family That Plays Together may be perfect for 1968, it does not really sound like 1968 because it has aged well, and Lou Adler's production is great.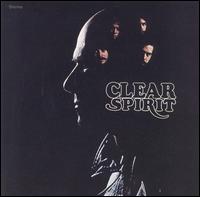 Clear (1969), ***
A transitional album, and a disconnected one. Spirit felt some strange pull towards the blues, as well as recording instrumental jazz, and neither sounds one bit like the other. In other words, a typical Spirit album.
Ferguson's psychedelic pop has vanished, and some odd blues tracks are in its stead ("Policeman's Ball" or "Ground Hog" where he yelps "Hey Mr. Groundhog!" on the chorus). His lyrics are all over the map - ranging from the Jo Jo Gunne-like "I'm Truckin'" to social commentary ("Cold Wind"). Regretfully, Ferguson was not a strong songwriter, and even when he has an interesting idea, like putting a little dance section into "Policeman's Ball", he offsets it by doing something obvious, such as borrowing a musical phrase from "Lean on Me" for "Cold Wind." Part of Spirit's charm was that they were quirky, but here it seems only like window-dressing. California was not too interested in playing many leads on the album, although he does introduce some acoustic and slide work into the ever growing array of Spirit sounds. This is not to say that the band fails when they try their hand at blues - the album's opener "Dark Eyed Woman" is pretty good and has a great ascending/descending riff. It just happens to not be Spirit's strong suit.
Clear's latter half usually sounds nothing like the first. Spirit had worked on an obscure movie soundtrack (when was the last time a rock band worked on a famous movie soundtrack?), and the resulting tracks are gold. Well, gold that probably befuddled their fans anyway - for these tracks are contemplative instrumental jazz with tastefully orchestration ("Ice", "Clear" and "Caught"). This is where California showed his versatility, either through some pyrotechnics in the middle of "Ice", or with the Wes Anderson-like guitar on "Clear".
Clear still has plenty of good-ol' fashioned tracks that rest on a middle ground. "So Little Time to Fly" would have been my pick for single - a perfect explication of urban paranoia. Cities crumbling - time to go elsewhere, away from all the unrest. Although Spirit never left, many others did at this time, fueling the trend towards roots-rock, country-rock and lesser offshoots of both. There is an odd pop song on here as well - "Give a Life, Take a Life". Great name, great line in the chorus ("You have the right to take my life away") but a bit too tentative to be a real success. In fact the entire album has sort of a unfinished feel to it - few tracks beside the instrumentals sound finished, or are more than roster fillers. Lou Adler produced again, and it sounds great.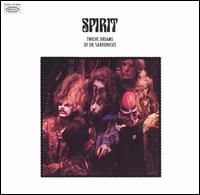 Twelve Dreams of Dr. Sardonicus (1970), ****1/2
Twelve Dreams was Spirit's apotheosis, a merger of everything they had learned up to this point, reflecting both the richness of and concerns about urban America. Having rid themselves of whatever odd blues affliction haunted them on Clear, the band regained the same focus which served them well on The Family That Plays Together - which is to say, no particular focus at all. While Frank Zappa was content to shift styles in an eternal parade of sarcasm, irony, humor, and sporadic seriousness, Spirit's ability to get inside any music style and make it their own was their greatest strength. For that was their style - usually a bit humorous, technical, and world-conscious, but always well-played.
Not that a listener will be thinking about that, as the music will take them in every time. Lou Adler is gone, replaced by David Briggs, who gives the band a more normal production. Eclecticism can be off-putting, and Spirit is particularly accessible on Twelve Dreams, beginning with the opening "Nature's Way". At the outset it sounds like the band has gone very, very hippy - acoustic guitar? Eco-friendly lyrics? Then after a few moments, the music really kicks in, and some wicked rock results. Eco-friendly rock, though, as the chorus contains this unforgettable image ("We've got nothing to hide / we're married to the same bride / she eats away from inside"). Eventually, during the instrumental break California goes off on a turbocharged slide rampage. That, ladies and gentlemen is Spirit. Whatever interests they pursued on Clear return in better form on Twelve Dreams, alongside a bumper crop of new styles. Sly Stone must have crapped his pants when he heard their tribute to Ed Cassidy ("Mr Skin"), as Spirit nailed down the Family's funk with a studio horn section. They go even further in "Morning Will Come" - a terrific song whose combination of hard rock, horns and excellent vocals foreshadows the rise of glam-rock. This is really the blueprint for any number of current bands who are content to bring energy and quirkiness to almost anything and succeed. The best example is "Love Has Found a Way" - with an odd bass/vibraphone pairing, a vocal/guitar pairing, backwards drums and upbeat lyrics. Completely unique, strange, excellent, and could have easily been recorded today by someone floating around popular music's edges like the Super Furry Animals.
Only a few songs do not rise this level - Locke's instrumental "Space Child" incorporates a synthesizer, but lacks movement, and Ferguson's "When I Touch You" is vaguely Asiatic hard rock of the ho-hum specie. However, in general the band's songwriting is at its zenith, and even Ferguson's "Animal Zoo" is a funny and catchy song about society breaking down and having to go to the zoo. It's interesting to note that while everyone else was heading to the hills, Ferguson was humorously suggesting an alternate return back to nature. In general, the band's playing is excellent, and California deserves special praise. His slide madness during the instrumental break is insane "Nothing to Hide", and he just kicks his soloing up a notch in "Street Worm". He seems to have started introducing folk elements, as we delivers a chillingly sincere Grateful Dead like song (the brief "Why Can't I Be Free"), as well underpinning some of the more rocking songs ("Nature's Way", "Life Has Just Begun").
In short, this album could have been a blueprint for 70s rock - well played, funny, concerned, and diverse. As it was, although the label released three singles ("Animal Zoo", "Nature's Way" and "Mr. Skin"), none of them made much impact on the charts, and music continued to separate into smaller genres. The album itself did not do too well, and the band also broke into smaller pieces, with California going solo, and Ferguson and Andes forming the harder rocking Jo Jo Gunne.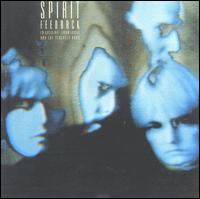 Feedback (1972), **
Even if you had missed the band members listed on Feedback's cover, the first few seconds would tell you this was not the same Spirit. Texas accent? Uncomplicated guitar playing? Female backing singers? What is going on here? The fact is, Twelve Dreams was not an immediate success, and the band came apart in its wake. California left for a few solo albums, and Ferguson and Andes formed Jo Jo Gunne to pursue harder rock. Now left without guitar, bass or band members who were related to each other, remaining members Locke and Cassidy welcomed aboard a pair of Texan brothers, Al and Christian Staehely.
Thus, a band whose identity was previously built on eclecticism became mostly wedded to a single genre, blues-rock. One can understand the Staehely brothers' attraction – they played the right instruments pretty well, Al could write songs, and they already understood each other's style. Al's lyrics are surprisingly broad-minded, as well; the opening song, "Chelsea Girls" is about NYC's Hotel Chelsea, and contains references to Dylan Thomas and Andy Warhol. No cultural tunnel-vision here. There is even a satire of the New South ("Cadillac Cowboys"), which mocks white-collar cowboys. Beyond that, however, their songs deal more with the usual you-look-SO-fine-babe matters that most harder rocking groups addressed in the 1970s. These titles betray their subject matter ("Ripe and Ready", "Earth Shaker", "Witch") with "Earth Shaker" taking the prize for "Sweet bread baker / Bake my cake and you'll make a sale," although it isn't too bad otherwise. Every time Christian opens up a guitar solo, though, the ghost of Randy California lingers, making the listener wonder what might have been.
The other musical factor is Locke, whose detailed and prominent keyboard parts makes the band sound like Nicky Hopkins sitting in with the James Gang ("Darkness"). Also, his two decent instrumental tracks ("Puesta Del Scam" and "Trancas Fog-Out") retain Spirit's old magic through melding jazz and rock. However, these songs seem at odds with the un-ironic rock of the Staehelys, who nonetheless acquit themselves well in each area. In the end, even though David Briggs' production is fine and the album sounds good, it all washes out to fungible 70s rock.

Randy California: Kapt. Kopter and the (Fabulous) Twirlybirds (1972)

In 1973, California and Cassidy recorded an album, Adventures of Kaptain Kopter & Commander Cassidy in Potato Land, which was released as a Spirit album in 1981.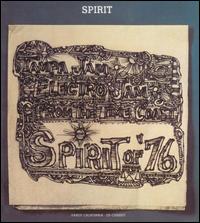 Spirit of '76 (1975), *1/2
A clever title, and an appropriate one. Hyped to give Americans something to rally 'round in the post-Watergate era, the bicentennial celebrations are remembered, if at all, for the atrocious objects they produced, most often involving red, white and blue. This album does not betray who suggested the title, but the resulting double-album is as varied, contradictory, and insipid as the mid to late 70s itself. California recorded and produced an album running the gamut of styles, while playing just about everything himself, with the exception of Cassidy's drumming and Zappa engineer Barry Keene playing some bass. Perhaps California was asked to reflect upon America. Perhaps he was asked to create a series of contrasts. Perhaps he was was asked to go into the studio and record whatever he had plunking around in his head. Whatever the premise, the result is an odd combination of folk, rock, and empty space, which sounds more like well-done home demos than a real album.
Almost all of Spirit of '76's songs sound incomplete. Maybe since he was overdubbing several guitar lines, California never got around to adding some kick ass guitar parts ("Veruska" is the lone track where he cranks it up, or really doing much with old Spirit sounds ("Once Again" has his trademark sustain sound). More likely he had mellowed out - the album is surprisingly folky and light. Indeed, the action-shot! liner photos only serve to tease the buyer - this album does not rock, it contemplates. In the intervening years since Spirit's breakup, California had spent some time with a guru, which might have calmed him down. Accordingly, the more well-thought out songs are really hymns ("What Do I Have", "When?", "Thank You Lord" the odd "Guide Me"), which is both odd and understandable. Call this the mature Spirit - the one that does not party much.
Still, California's light tenor is better suited for quieter music, and when he tries to belt it out he sounds like a poor man's Jimi Hendrix. California was friends with Hendrix (who even suggested California's name), which makes Spirit's cover of "Hey Joe" a bit uncomfortable. On most of this album California seems to be bogged down in atmospheric guitar effects; rather than creating interesting leads, California smothers his sound with reverb and sustain. Yet, on "Hey Joe" he lets it fly, although his various guitar overdubs overlap and almost cancel each other out. When combined with California's Hendrix-like vocals, what was intended as a tribute becomes almost a parody. At least Ed Cassidy still can create a great drum line at the drop of a hat ("Joker on the Run", the sci-fi "Uranta").
There are tons of song linkages which are typically bizarre, but not very entertaining. An aimless studio jam ("Tampa Jam") comes and goes at will, as does some quirky echoed nonsense spoken by one of the band's friends ("Jack-Bond" discussing the "time coast"), and studio chatter. The only things anchoring this album are the traditional pieces. It does not say much when the most put-together track is the national anthem. California's folk interpolation of "America the Beautiful" and "The Times They Are A'Changing" is an inspired decision, but the others only highlight the original compositions' shortfalls. It seems clear that California considers rock songs traditional pieces as well, paying homage to the past, without doing anything interesting (the aforementioned "Hey Joe", "Like a Rolling Stone", the Stones' "I Need Love"). Then again, maybe this is California's vision of America - weakened, without substance, with only the past as real achievements. Although California's intent is unknown, this album is showpiece for the mid-70s artistic collapse of older rock groups.
In the end, there might be some reason for recording this, but its release is baffling. As for Spirit, California and Cassidy soldiered on, making albums which were indifferently received throughout the Seventies, and into the Eighties.