Arthur Brown, Atomic Rooster and Andromeda
Albums reviewed on this page: The Crazy World of Arthur Brown, Andromeda, Death Walks Behind You, In Hearing Of, Made in England.
The Crazy World of Arthur Brown: Arthur Brown (vocals), Vincent Crane (organ, piano), Drachan Theaker (drums), Sean Nichols (bass), although it appears Nick Greenwood (bass) and John Marshall (drums) also may be involved. Theaker and Nichols were out fairly quickly, replaced by Carl Palmer (drums).
Andromeda: John Du Cann (vocals, guitar), Mick Hawksworth (bass, vocal), Ian McLane (drums).
Atomic Rooster: Vincent Crane (organ, piano), Carl Palmer (drums), Nick Graham (bass). Palmer quit, replaced by Rick Parnell briefly, then Paul Hammond (drums). John Du Cann (vocals, guitar) added, then Graham quit. Vocalist Pete French added, 1971. Du Cann and Hammond leave to form Bullit in 1971, then French leaves in 1972. Final line-up that we care about: Crane, Rick Parnell (drums), Steve Bolton (guitar), Chris Farlowe (vocals), and Bill Smith (bass), although Bolton leaves in late 1972, to be replaced by John Mandella (guitar).
---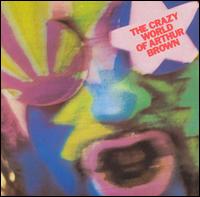 The Crazy World of Arthur Brown (1968), ****
Somewhere in England a nuclear accident occurred in the mid-60s, and ordinary club R&B/jazz musicians were transformed into mutant musicians with psychedelic powers. Singer Arthur Brown gained a fantastic intensity and range, becoming a vocalist transcending almost all others. He could be a expansive as Ethel Mermen, or soft and soothing, then raving like a lunatic, or burst into an astonishing falsetto vibrato. Organist/pianist Vincent Crane played his parts with a skillful dementia, and without relying on any of the gimmicks used by Keith Emerson. Drummer Drachan Theaker was only affected to the extent that he tried to play like Ginger Baker, but cannot successfully execute it, losing his timing in the fills. (Bassist Sean Nicholas seems to have acquired the ability of infrequent usage). The result is music that was as heavy as you could get without a guitar, or light and whimsical, and immensely creative psychedelia. Brown's lyrics are quite excellent throughout: a cross between a revival preacher's sermon and an acid freak, with a good cadence to them. Even though these images are rather striking, his lyrics have an undercurrent of Biblical references as well ("Come and Buy" or "Spontaneous Apple Creation"). In other words, he was a modern William Blake with a theatrical bent large enough to blow all the album's earnings.
As for the music, the first side of Crazy World is a loosely a story about an acid trip. An acid trip where Brown meets the devil, which can only lead to bad things. This is set up with "Prelude-Nightmare," which sounds like a jazz/R&B trio becoming enthusiastically demonic, as Brown introduces his insane falsetto. Incidentally, this falsetto was a direct precursor to almost all heavy metal singing - Ian Gillan's famous delivery is almost certainly copied from Brown. This track leads into the wonderful "Fire Poem" where Brown starts out talking normally, but the lyrics rapidly become psychedelic and surreal, and his vocals become accordingly hysterical and paranoid. Of course, all it does is set up the infamous "Fire."
The quintessential Brown track, "Fire" features him screaming "I AM THE GOD OF HELLFIRE" as a introduction, and demonstrates the intensity and range of his vocal delivery: one minute he soothingly advises the listener that "all of it's going to burn" and the next he's crazily shouting "you're gonna burn, BURN BURN BURN." The track is everything good about this album - Brown's hypnotic and flexible vocals and Crane's driving organ work and smart arranging. A nice combination of batshit insanity, aural bi-polarity, and catchy music. It was also a hit in the UK and the US. The rest of the story (featuring reprises of the "Fire" burning) with "Come and Buy" and "Confusion" are comparative letdowns, saved by Brown's less frequent vocal histrionics. Still, even in these less inspiring songs, the band's smarts show up in smart writing/arranging, with changes in pace, and good instrumentation ("Confusion" opens with an organ/xylophone pairing, for example).
Still, Brown's vocals make the album, and even more so on its second half. His cover of Screamin' Jay Hawkins' "I Put a Spell on You" is the sort of performance for which the song cries. He alternates between informative and downright creepy, especially when it sounds like he is arguing with himself to "stop it! STOP IT! stop it!" Crazy World's other cover is a straight version of James Brown's "Money," where Brown gets to air his voice out. In other places where he becomes more quiet, Brown sounds more explanatory than untrustworthy (the excellent R&B song "Rest Cure"), while in "Fire" his soothing voice is akin to a stranger with candy. "Spontaneous Apple Creation" is a bit of a happy psychedelic cheesecake with Brown narrating and singing a bit of nonsense containing one of my favorite lines "and 3000 people ate one strawberry." The song is so light, it makes me think of bright colors and dancing cartoons. Only "Child of My Kingdom" is a relative clunker, and strangely cops the James Bond theme.
Produced by Kit Lambert, with Pete Townshend as "Associate Producer," this was the only album released by this line-up of the Crazy World, with Theaker getting replaced by Carl Palmer. Then Crane and Palmer split to form Atomic Rooster. Brown later regrouped with the rarely heard Kingdom Come in the early 70s, before embarking on a varied solo career, sometimes interacting with Crane and Theaker. However, this album is unrestrained, and intensively creative, providing a fascinating glimpse of the late 60s.

The Crazy World of Arthur Brown, Strangelands (rec. 1969?, rel. 1988)
Either a second album with the band or solo. Either way, not released until much later.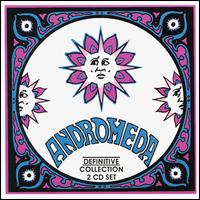 Andromeda (1969), ****
While Crane and Palmer were still backing Brown's madness, future Atomic Rooster guitarist John Du Cann was leading this underground band. Usually when liner notes use the term "underground group" it's code for "group that never had any success and didn't deserve any," but Andromeda deserved better than they received. This was the time when heavy psychedelia and blues really crossed over into the beginnings of early metal, and while Cream was all over the charts with a mixture of the first two, they never went down the metal path. Fellow power trio Andromeda did, releasing this album after Cream broke up, although Andromeda had been around since early 1968. As for the music, Andromeda is an enduring combination of blues, jazz, metal, and Holst's The Planets, based around the talents of John Cann. The guitarist and singer wrote almost all of the songs and he shows a real talent for constructing multi-part songs with completely different sounds and tidy transitions to link them ("Turns to Dust", "Return to Sanity", "When to Stop"). But his guitar work really drives the album: he tosses off riff after amazing riff, frequently overdubbing multiple lines in the same song, and even cranks it up to full-blown metal (the "Determination" part of "Turns to Dust" is just one example). Bassist Mick Hawksworth is with him every step of the way, with some amazingly deft bass work to match Cann's fleet fingers ("Too Old"). Drummer Ian McLane is the lesser member, as his drumming style belongs more to the 60s than the whole Bonham/Baker/Paice large sound trend. But he can be a real basher when appropriate, and is more than adequate. In keeping with the times, Andromeda is not all blues and metal; it has a well-thought out classical element also, usually in the form of musical quotes from The Planets ("Return to Sanity," "Day of the Change"). This album has a touch of Quicksilver Messenger Service as well, in both the backing vocals, and the traditional Spanish guitar in "When to Stop" (the only acoustic guitar on the entire album - this is mainly a ROCK album). Andromeda's lesser facets are the cheap production --McLane's drumming is for the most part unmixed-- and Cann's lesser, but still good, jazzier almost-pop songs ("And Now the Sun Shines", "I Can Stop the Sun"). Whatever shortcomings, the writing and the playing more than make up for it; Cann might have been the best of the "second-tier" guitarists based on this album alone. Some music is meant to played out loud, and this is a good example. Andromeda broke up after Cann joined Atomic Rooster, which found actual success. Produced by the group, with Eddie Offord as the engineer.
The album has been reissued in a couple of different formats, all with bonus tracks that are arguably just as good as the album. My edition has both their only single Go Your Way/Keep Out 'cos I'm Dying, as well as some unreleased songs that are fantastic ("Let's All Watch the Sky Fall Down", "See Into the Stars"). The version that is in-print as of right now is actually a two-CD collection with even more unreleased material, and alternate takes.

Atomic Rooster (1970)
Their sole album with Carl Palmer on drums.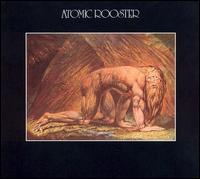 Atomic Rooster, Death Walks Behind You (1971), ***
This was Atomic Rooster's second album, after Arthur Brown organist Vincent Crane absconded with the Brown's tour drummer Carl Palmer to make a new band. (Police report a bassist was also involved.) After their debut, Atomic Rooster, Palmer was tagged to play with a different grandiose keyboardist, becoming the P in ELP. Crane then brought on board former Andromeda guitarist John Du Cann (alias John Cann), while the band's bassist departed. (Anyone with information on his whereabouts should contact police).
Combining Crane and Du Cann sounds ideal. Crane was usually the gas jet to Arthur Brown's flame, providing most of the Crazy World's musical underpinnings and additional creepiness. (Du) Cann was a guitarist who could spit out twisty riffs with great speed and decibel levels, as he did with Andromeda and drummer Paul Hammond is a very, very good athletic drummer as well - closer to Palmer in style than other hard rock drummers like John Bonham. Together, the band has a very dark, very hard sound. Death Walks Behind You opens with the deliciously malicious sounds of Crane's piano stalking downward, then Cann kicks in the song's main riff. Brown told his listeners that they were going to burn, but this is a more compact version of that same version of hellfire and brimstone. Cann sings of paranoia, doom, hell, as the song builds and builds towards . . . nothing. Andromeda fans know this is the moment for Cann to kick in the amazing soloing, but the song's middle is anticlimactic: Cann needles the golden riff some more and Crane has a piano interlude. Sure the sound is great, but in the end - nothing. The same problem plagues Cann's "I Can't Take No More," a good rock song completely deflated by an oddly lame chorus. As Cream once remarked, what a bringdown.
If only there were some high commandment, some overpowering figure to say to Atomic Rooster: "Go Forth and Rock." For Rock, they surely could. Both Cann and Crane liked to overdub themselves, and between them they could have created some great pyrotechnics. At best, Cann and Crane only trade ass-kicking solos once, on "Seven Streets," which is not great otherwise. Cann only reaches his potential on "Sleeping for Years," where he piles on the guitars before slashing through the rest of the great song. Instead, the Rooster gets turned around in other contemporary trends. "Vug" is a take on prog-rock, with Crane adding some soul organ. The prog crops in other places as well, such as "Gershatzer," which see-saws between rock and slower keyboard sections. The band's hit single, "Tomorrow Night" is cock-rock, based a distinct beat rather than any explosive soloing, and discussing the need to "do it right, tomorrow night." Aside from "Sleeping for Years" the only other really strong track is "Nobody Else" which is mainly a moody piano ballad. Every dark bands needs one of these - the slow depressing, painfully introspective track. Even though they had their moments of devastating metal, the band seemed to define their sound a bit too broadly. The highs are high, but the mediocres make up the bulk. Produced by the band.

In Hearing of Atomic Rooster (1971), *1/2
You remember how Deep Purple wound up with a crappy vocalist and turned from kicking ass to making hard rock nonsense? Well, Atomic Rooster did it first! New singer Pete French was the standard soul-based hard rock vocalist, but also comes with a distinct accent (like Steve Marriott's, perhaps?). He could be a successful screamer, but the band rarely rocks hard enough for him to make the effort. Everything is slowed down, less intense, and Cann's guitar solos have all but disappeared. In Hearing of is dominated by the new soul or vaguely funky sound, and the band only has a handful of interesting ideas. Hardly anything on this album is worth recommending. The proggish instrumental "A Spoonful of Bromide Helps the Pulse Rate Go Down" has a nice central riff, and "Head in the Sky" is a half-hearted Cann track. Other than that.... well, somehow Cann's "Devil's Answer" became a Top Lordy! Five hit in the U.K., but its odd mix of added horns, French's obnoxious "sing!" before the chorus, make it only slightly less empty than the rest of the album. The band's dark lyrics are still present, so perhaps they were hoping the music's glacial pace would reflect their myopia ("The Price", "Black Snake"). Boring hard rock, and it is little wonder that Cann and Hammond left and formed a new band after this album. The album also boasts uncharacteristic Roger Dean cover art, displaying an elderly women fleeing in horror from the band, who were secreted inside of an ear trumpet. Produced by Crane and the group.

Kingdom Come, Galactic Zoo Dossier (1971)
Brown's new crazy progressive band.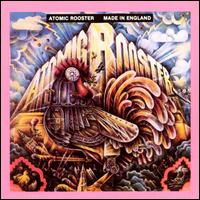 Atomic Rooster, Made in England (1972), *
Even worse than In Hearing Of, Atomic Rooster made all the same mistakes, but more abundantly and intensively, with Made in England. Almost every track follows the In Hearing Of's formula: slow rock with funky beats, with Crane placing classical or progressive flourishes on top. This approach's faultiness is only enhanced by the group's lineup changes, as Du Cann, Hammond, and then French left. None of their replacements were as good. New guitarist Steve Bolton lacks Du Cann's rapid-attack capabilities, instead utilizing wah-wah ("Stand by Me"), Shaft-style rhythm playing, or standard bluesy hard rock leads ("Never to Lose", "Space Cowboy"), making the band sound conventional. He never rivals Crane for the band's center, only tossing out solos occasionally and playing rhythm otherwise. Singer Chris Farlowe is a huge liability. Some singers are bad and know it. Lee Jackson was downright terrible, but you always felt like he knew he was terrible. The problem with Farlowe is that he was a bad singer who thought he was good. A product of soul and R&B, his singing on Made in England ranges from annoying to downright ludicrous. When he isn't overworking his lungs, he sounds like a creepy soul singer ("Time Take My Life"), but those instances are rare; his frequent vocal affections and histrionics are atrocious ("Stand By Me', "Little Bit of Inner Air"). Crane has not changed much; his playing is his usual downcast classical-influenced work, even if his lyrics are more depressed than ever ("Don't Know What Went Wrong", "People You Can't Trust" which borrows its intro beat from "Tomorrow Night", "All in Satan's Name", "Never to Lose" among them). On many albums you can ignore the bad music, and here the best tracks are the ones you can ignore. Others are comically bad (could anyone take "Space Cowboy" seriously?) or actively bad ("Stand by Me" sounds like a extremely crappy Argent, "Little Bit of Inner Air"). It takes a lot to make a track actively bad, where it becomes annoying to even listen or hear it. A move towards mainstream rock somewhere near Argent, but a gamble which did not pay off. None of these tracks were released as an A-Side, and the album failed to chart. Produced by Crane.

Kingdom Come (1972)
Atomic Rooster, Nice 'N' Greasy (1973)
Kingdom Come, Journey (1973)
The band used a drum machine on their final album.
Dance with Arthur Brown (1975)