Quatermass
Quatermass released one organ-dominated hard prog/rock album in 1970. The meat and potatoes is in the review. You know, like 10 lines down.
Scary enough, there's even a Quatermass tribute site.
Personnel: Peter Robinson (organ, keyboards), John Gufstafson (bass, vocals), Mick Underwood (drums).
---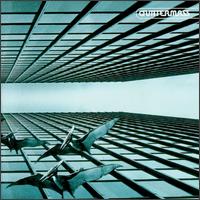 Quatermass (1970), **1/2
Fans of early 70s hard rock will want this. Quatermass's sole album sounds like a combination of Atomic Rooster, Rare Bird, Deep Purple, Emerson Lake and Palmer, and, erm, Trapeze. In other words, organ-dominated hard rock with a prog bent. The band was a trio of organ/bass/drums, with Peter Robinson's organ being the dominant instrument. He comes off as a cross between John Lord and Keith Emerson - but each in their slightly future forms. (Cue the spooky music, Kentholowmew)
Let me explain - Music can belong to the Past, Present, or Future. If you're say, in the Present, and the album sounds like the Past, it's not going to sound as cool as things in the Present (probably). If you're in the Future, well, it may sound cool, because the Present is now also the Past. You lose that perspective of whether or not it was cool at the time, and solely go for how it sounds overall. For example, Genesis' From Genesis to Revelation sounds like it should have been released two years before it actually was. Nowadays, people don't care if it was dated beyond all belief when released. I tend to think that a reviewer should think about the context in which it was released. If you're in the Present, and you sound like the Present then that's usually fine. The thing to worry about is sounding too much like the Present or being too big, which will permanently associate you with that time, and always make you in the Past in the Future. For example, the New Kids on the Block are so early 1990s. They will always sound like the 1990s, and even a revival of that "sound" will sound dated. If you sound like the Future in the Present, that's even better. That means in the Future you may sound like the Present. You won't sound dated. For example, see Eno or Sparks, who helped pave the way for New Wave.
So Robinson's sound was in keeping with the Present, possibly the Near Future. Sure, Lord may have followed Emerson, but at this time neither had broken through to their signature sounds - Deep Purple in Rock was released the following month (May vs. June 1970), and Emerson, Lake and Palmer didn't appear until January 1971. Quatermass is an unholy bridge between the two, venturing forth hard rock based on turbocharged organ, and the twisted Gothic motifs found in ELP songs like "The Barbarian" and "Stones of Years". Alas, without a guitarist or any real counterpoint to Robinson's organ (except more keyboards), the sound gets a little monotonous even while the playing is good (and it is). Most of those songs were not written by the band either; they came from journeyman guitarist Steve Hammond, whose "Make Up Your Mind", "Black Sheep of the Family" and "Gemini" are turned into thumpers, despite the absence of guitar. "Gemini" is the best of these, and their version (the original was on Eric Burdon and the New Animals' Love Is, of all albums) milks that hot rodded organ sound to high heaven. However, this approach also exposes the band's weak spot - bassist Johnny Gustafson's vocals, including both his voice and the words. His tenor voice almost always needs to be shouting, and he oversings to compensate for not having a strong voice. Hammond's lyrics are pretty much junk as well, which is about in line with the times. Some approach the Uriah Heep level of stupid ("Black Sheep of the Family" has "I got a half a pound of rice / a beard full of lice"), but most are just the usual level of bad of hard rock nonsense.
It's not all hard stuff though - the band had a more experimental and atmospheric strain, although it was less developed. "Post War Saturday Echo" has the quiet feel of a Gilmour-less Pink Floyd, down to the slightly nonsensical piano solo. It works on that track, but Robinson's instrumental "Laughin Tackle" tries too hard. Built around Emerson-like minor-key organ lines, gradually orchestration and some dissonant electric piano work their way in with the same dark feeling, until the track gives way to . . . a drum solo. Eventually, the song works its way back to its creepy feeling, but the drum solo folly kills it. Other telltale signs that this was recorded in 1970 - the short organ hymns in between verses in "Gemini", and an attempt at an orchestrated harpsichord ballad ("Good Lord Knows"). You could not be a hard rock band without showing your sensitive side no matter how bland it turned out, I guess. Well, Deep Purple had a few bombs along those lines as well.
In short, this band had a lot of potential. They could use a new singer (and lyricist) preferably. Heck, make them a guitarist and you'd have a serious Deep Purple contender on your hands. As it is, a sequel would have been interesting, if only to hear which way the band went, would they have remained in the near-future or stayed the same. Things worked out for the band members, though. Underwood later played with Gillan's solo band, Gustafson played with a post Atomic Rooster-John Du Cann in Hard Stuff, before strolling onto some Roxy Music albums and into Gillan's backing band as well. Robinson went into session work and then wound up in Brand X. Hammond later co-wrote the long-forgotten all-star musical Flash Fearless Versus the Zorg Women Parts 5 & 6, among other less interesting things.
Sometimes I'm Up, Sometime's I'm Down, and Sometimes I'm on the Main Page...