Emitt Rhodes

Whom Time Will Show the Wiser.


Albums Reviewed: Live, The American Dream, Emitt Rhodes, Mirror, Farewell to Paradise.

Emitt Rhodes was talented. (Hell, he probably still is.) Starting with Los Angeles folk-rock band, Rhodes soon made a name for himself as a one-man pop band drawing heavily from

Rubber Soul

through

White Album

era Beatles. I find it tempting to nail Rhodes to his McCartney "inspired" success with his self-titled debut, but Rhodes actually moved through several phases in his brief pop career: from The Merry-Go-Round's folk-rock, to the expansive sounds of

The American Dream

through to the more esoteric pop of his final album,

Farewell to Paradise

. Still, Rhodes' forte were songs obviously indebted to someone else, and it appears he struggled to establish his own voice in his work. To the extent you can hear it, it is the sadness and weariness of the onerous contract which gave him mental health problems and prematurely ended his recording career.

Emitt Rhodes

is where those interested should begin.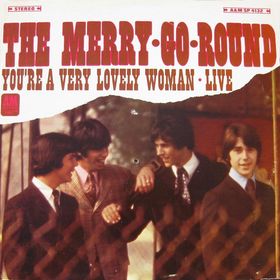 The Merry-Go-Round: You're a Very Lovely Woman / Live (Nov. 1967), ***1/2
Not a live album, but an uninspired pairing of songs in the title. (Did the label think people would mistake it for a single?). Regardless, Lovely Woman marks Emitt Rhodes' debut as a singer and songwriter, and it's quite a statement. For people familiar with Rhodes, the voice and harmonies will sound familiar, but the sound less so: clearly an outgrowth of American folk-rock, struck through with pre-psychedelia Beatles - two slightly twangy guitars, bass and drums. Compared with Rhodes' later, intricate arrangements, the sound is contained; but the Go-Rounders were rather polished - bassist Bill Rinehart had played with the Leaves (the originators of "Hey Joe") and both he and drummer Joel Larson also had played with Gene Clark. (Lead guitarist Gary Kato was a friend of Rhodes).
Lovely Woman is obviously indebted to others - Rubber Soul-era Beatles, the Byrds, even the Buffalo Springfield ("On Your Way Out") and the Left Banke. In other words, the band very nearly lacks a distinct identity. Yet, they made some great music, as the secret to a great pop song is not the overall sound, but a good melody. Rhodes' songs often have more than enough merit to avoid being theft or even mere tribute - the excellent straight folk-rock songs could have fit on an early Byrds album ("Live" and "Have to Run Around"). Even when their Beatles admiration is open, his melodies give the songs personality, such the humorous "Gonna Fight the War" or "Where Have You Been All My Life". The lesser ones are those where the band becomes sub-standard Beatles clones ("We're In Love", "Gonna Leave You" being the most egregious). They still have charm when doing this, unlike bands like the Aerovons, or the Moon. For all their obvious attention to contemporary charts, the band's magnum opus - "Time Will Show the Wiser" - differs from the rest of Lovely Woman. Opening with a brief backwards introduction, the track is much closer to straight folk (no drums, focused on acoustic guitar), but with Rhodes' expansive faux-English harmonies, almost like a LA response to the Left Banke. One of the best pop songs of the period; if only the rest of the album were as consistent.

The Listen, Listen CD has all the tracks on Lovely Woman, along with those on The American Dream and the band's two delightful, Beatles-inspired 1968 singles which went nowhere. Fun fact: arranger Ian Freebairn-Smith later wrote the theme to Magnum P.I.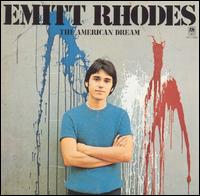 Emitt Rhodes: The American Dream (rec. 1969, rel. 1971),

***


Rhodes hired studio musicians to record the American Dream, finishing out the Merry-Go-Round's contract. The label then sat on it, releasing it after Rhodes' successful debut. While

Lovely Woman

concentrated on guitar-centric folk rock and his later songs heavily on Beatles,

American Dream

shows Rhodes exploring a variety of styles, making full use of his hired hands. Almost every popular trend within pop gets an outing on the album: West Coast sunshine pop ("Pardon Me"), lush orchestration ("Come Ride, Come Ride"), a darkly baroque story ("The Man He Was"), calypso? ("Mary, Will You Take My Hand") to more Merry-Go-Round like material ("Let's All Sing"). Rhodes had also started writing knock-offs of McCartney's piano ditties ("Holly Park"), but he was fairly derivative - "In Days of Old" sounds like the Beatles processed through the Bee Gees. Some of the attempts are not as expected - his quieter songs are weaker ("Someone Died") and one hopes the fake blues-pop of "Textile Factory" is a joke. (The original LP also included the Merry-Go-Round's "You're a Very Lovely Woman"). Most of the album shows Rhodes' delightful ear for melody, but it is hard to identify Emitt Rhodes on an album which displayed his influences so openly. Yet, his fans will want to hear this to hear him in a larger setting, even if his producer was responsible for the larger orchestration. Available on CD with

Lovely Woman

as

Listen, Listen

.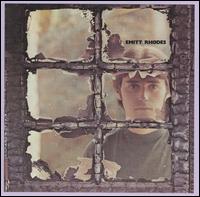 Emitt Rhodes (1970), ****1/2
After finishing American Dream, Rhodes spent months in a shed behind his parents' house perfecting these songs, before rejoining the fray. The hard work paid off: this is the album McCartney should have made with his self-titled debut. Like McCartney, Rhodes played all the instruments, and like the McCartney of yore he has an amazing knack for pop hooks. Frankly, Rhodes sounds more like McCartney in places than McCartney himself did in 1970. Rhodes had a fabulous ability to recall the Beatles' piano-based power pop: the driving piano, the understated drumming, the fuzzy guitar leads, the wondrous harmonies and the bountiful joy. Although most of these songs are pure pop bliss taking their lead from tunes like "Ob-La-Di Ob-La-Da", Rhodes was not really a Beatles or McCartney impersonator; he was too talented, and nobody will mistake him for the real thing. Nor did the Beatles ever sustain this happy direction for an entire album. Yet, the album contains plenty of downright gorgeous material ("With My Face on the Floor", "Somebody Made for Me", "Promises I've Made" are my favorites). The downside is that Rhodes was out-of-touch with his own time: this album would have been perfect in 1967-68. As it was, it charted at #29, but groups like Badfinger were already making power-pop bigger and stronger. Rhodes also stuck mainly with piano; when he slows down and focuses on acoustic guitar he becomes a bit too derivative ("Lullabye" where he does more of a Lennon impression, "You Must Have"), and his guitar skills are best confined to snappy lines, not extended outings (as on the darker "Long Time No See"). However, even accounting for these few hiccups, this album is awash in catchy songs, innocence and bliss. An amazing feat, even more so for just one man.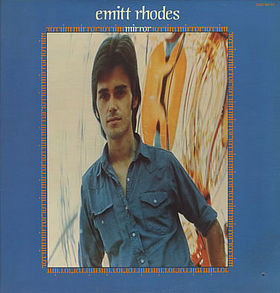 Emitt Rhodes: Mirror (1971), ***
The deal that made Rhodes a successful pop artist also caused his own downfall, requiring him to deliver an album every six months. Given that he spent nine months preparing his first album, he was forced to cut corners, and the pace, pressure and resulting lawsuit eventually drove Rhodes into depression. No surprise, then, that Rhodes' approach was only a modest step forward, even if the result was stagnation. The success of his debut was largely fueled by his ability to write catchy songs in the Beatles' style, then presented with his carefully tailored sound and delightful voice. Rhodes adopts a slightly harder tone here, which can be very effective - the chugging "Really Wanted You" is one of the album's highlights - but often the songs' melodies are not up to the debut ("My Love is Strong"). At the same time, his lyrics have taken a self-reflective and bitter turn. In fact the song "Bubblegum the Blues" is a phrase which loosely applies to a good swath of the album which has a bluesy or dark feel ("Side We Seldom", "Better Side of Life", "Mirror", "Take You Far Away"). Rhodes still has his gorgeous voice, and he employs it well ("Bubblegum the Blues", the catchy "Birthday Lady"), but this album sounds like an uninspired and downcast White Album-era Paul McCartney.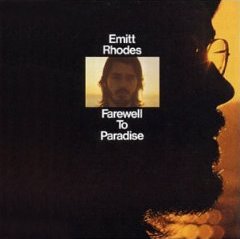 Emitt Rhodes: Farewell to Paradise (1973), **1/2
Rhodes moved further away from being a McCartney clone, but that compounded with the laid-back tropes of the mid-70s make Farewell to Paradise a muddled send-off. He was still a one-man band, but he added more guitar, saxophone, even some background mellotron to his sonic repertoire. Everything sounds lovely, but his evolution places him somewhere between a singer-songwriter (the title track) and fellow one-man pop machine Todd Rundgren ("Drawn to You"). Farewell is encouraging in that Rhodes sounds best when exploring cooler, funkier sounds such as on "Drawn to You", with its wah-wah guitar and sax lines, or the bluesy "Nights are Lonely". The guitar dominates Farewell, but Rhodes used piano is a more serious and grandiose manner on songs like "Those That Die" or the introduction to "Warm Self Sacrifice". Yet, he cannot escape his grounding in the Beatles - both "Trust Once More" and "Warm Self Sacrifice" evoke The White Album, whether consciously or not. Nor does all his genre-experimenting produce good results - "Blue Horizon" has an odd mellotron/banjo pairing, and overall his songs are weak. Rundgren may be the best comparison, but he lacks Rundgren's playfulness or sense of humor, employing introspection with a few attempts at political commentary ("Those That Die"). Still, the world could always use another esoteric pop artist, and it is unfortunate that Rhodes abandoned his recording career after this album.