The (Young) Rascals
Albums reviewed on this page: The Young Rascals, Collections, Groovin', Once Upon a Dream, Freedom Suite, See, Search and Nearness, Peaceful World.
The Rascals had a very simple concept: play soul/Motown/R&B as a band, keep the vocal harmonies and add a bit more rock to the sound. Granted, the band continually did other things, but I like to think of them more as indulgences: singer Eddie Brigati has his neo-crooner songs, and guitarist Gene Cornish has a pile of mediocre folk and pop songs scattered throughout their catalog. However, their basic sound remained the same: Felix Cavaliere leading the group on either or organ or piano, and then often his soul baritone singing lead. If you want to have good soul music, you need good singers, and Cavaliere and Brigati were good. Musically the band was a little weak: Cornish's guitar work is nothing special, and Cavaliere and drummer Dino Danelli were pretty good. (They had no bassist). Brigati did not play an instrument, but did write most of the band's lyrics, so that was his role. Even if they were not technical wizards, they did have the benefit of being tight in their early days. Their drift towards lighter, poppier music brought in session players and diminished this somewhat. The band is also notable for their interest in race relations and equality, which started to crop up on their albums in the late sixties.
You will notice that the band constantly gets what I consider to be low marks for their albums. The reason is simple: early on the band did not write much of their own material, and their work is really uneven. Then, when they started to crank out their own songs, quality began to suffer a bit. Their albums just always were watered down by a bunch of mediocre songs, self-written or otherwise. Their first two albums (The Young Rascals, Collections) have a couple of good songs and a pile of covers or crap. Then they made one pretty good album (Groovin'), an aimless psychedelia-influenced one (Once Upon a Dream) and a half-concept/half-instrumental misfire (Freedom Suite). Their singles did very well in this period, and their albums also charted highly, although both started to fall off after Groovin'.
Personnel: Eddie Brigati (vocals), Felix Cavaliere (keyboards, vocals), Gene Cornish (guitar, vocals), Dino Danelli (drums). Brigati and then Cornish, and a bunch of people were brought in as replacements.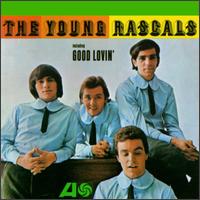 The Young Rascals (1966), **
The band had been playing nightclubs for a while, perfecting their mix of soul, Motown and R&B, when they were reportedly they were the first white artists signed to the Atlantic label. Keep in mind, that a white soul/rock group really was a novelty at the time, and the band had the talent to become more than a novelty. They had one minor hit, "I Ain't Gonna Eat Out My Heart Anymore" and then a smash cover of the Olympics' "Good Lovin'", which is a peppy soul song with just enough garage rock in it. The band used this same approach often throughout their early days, although "Good Lovin'" was the band close to their rocking peak.
The record sounds like the label gave the band a chance to record their live act in the studio to take advantage of this success. Each singer gets to showcase a different style: Felix Cavaliere kickstarts the album with the rocking "Slow Down" and "Good Lovin'", Eddie Brigati has a taste in slower dramatic soul ballads ("I Believe", "Baby Let's Wait"), and guitarist Gene Cornish sings on the folkier tracks (covers of "Like a Rolling Stone" and "Just a Little"). The band is tight, with Cornish and drummer Dino Danelli providing an excellent rock underbeat and Cavaliere's shimmery Hammond getting a big role on top. Still, the band only writes one song ("Do You Feel It") and a lot of their covers are mistakes. The two folk songs are bad forgeries, and they play the entire "Like a Rolling Stone" with Cornish doing a fake Dylan voice. They also have a thing for Wilson Pickett, covering both "Mustang Sally" and "In the Midnight Hour". While their idea of bringing British Invasion verve to soul is a good one, the Young Rascals needed better material to succeed outside of live shows. Self-produced. (LP Atlantic 8123).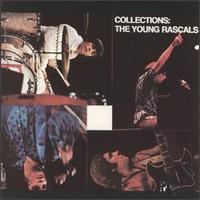 The Young Rascals, Collections (1966), **
A real step forward. Cavaliere and Brigati started writing together, and it paid off immediately with "Lonely Too Long" and "What Is the Reason" - both highlighting the band's pleasing blend of inoffensive soul and R&B. Both feature Cavaliere leading the way on piano, pumping the soul vocally, while the others add in tight backing. In general it sounds like they had more time and/or more money to record this record - some strings appear, Cornish adds bass tracks ("Lonely Too Long" has a really good bass line), and Cavaliere often switches to piano.
The bulk of the album is a mixture of songwriting attempts and soul covers. The band's covers are nice, but inessential: Motown with "Mickey's Monkey/Love Lights" and "Too Many Fish in the Sea", and Chris Kenner's "Land of 1000 Dances", which should have been at the album's head. Brigati still did his slower, building ballads ("Since I Fell For You", "More") which allow him to play out his voice. Cornish also went down a different path, with middling results: "No Love to Give" is effectively a solo track dubbed with strings, and "Nineteen Fifty-Six" is a Chuck Berry Tribute co-written with Danelli. Again, even though they were probably dynamic in person, they simply do not say enough on record. People who cannot get enough rocking soul music will like this. Self-Produced.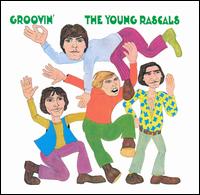 The Young Rascals, Groovin' (1967), ***
Cavaliere and Brigati really moved into pop territory in a serious way here - slowing down the tempos, dumping their harder sound in favor of more backing musicians, and shifting from their soul/R&B sound to a wider array of styles. The album launched three big singles, the title track which topped the charts, "A Girl Like You" and "How Can I Be Sure". "Groovin'" is a very laid-back soul pop song, about, well, enjoying an afternoon. "A Girl Like You" is also lighter than most of their prior work, a bit jazzier, and with significant orchestral backing. Any song with prominent harp pluckings is not really a rock song, although the band retained some verve. "How Can I Be Sure" is primarily a Brigati showcase, sounding like an old world ballad, and giving him plenty of space to let his voice unfold, while still getting as tearful as any early 60s pop star. Brigati always sounded like he wanted to be a crooner, and this song gives him the chance.
It is not too apparent from the album's big hits, but the band started to edge into psychedelia as well: "Find Somebody" is built around a droning Cavaliere guitar line and its lyrics echo Jefferson Airplane's far more familiar song, and both "Sueno" and "Groovin'" talk about . In some ways the band has not changed - Cornish still gets his lame pop song to sing "I'm So Happy Now", and "You Better Run" has the ingredients of their old sound - Kinks-like guitar riff, florid organ, Cavaliere soul shouting. Otherwise, Cavaliere's strong soul vocals in conjunction with the band's burgeoning musical tastes and slight psychedelic gropings make them sound like some bad, early version of Traffic. "Sueno" employs the same Spanish feeling as "The Dealer" but with less exciting results, while Hubert Laws' flute work on the jazzy "It's Love" brings them right into Traffic's area. It also highlight's the band's main weakness s - while they could sing well, and write good songs, nobody was a terribly good soloist. Cavaliere was a highly effective rhythm player (the guy also needed to sing often), and Cornish's nearly abandoned the electric guitar here, gaps which were offset by the session guys. Yet, the band gets a lot of credit here, for being a poppish band which tried something new (rare for a lot of East Coast guys), and generally raising up the quality of the bulk of the album. Even the album's weakest track, Cornish's soul ballad "I Don't Love You Anymore" has some killer vocal harmonies. (My suggestion to rap producers: use the short falsetto intro and the chorus as backing).
Even with flaws, this is probably the group's strongest album, and it was their most successful, peaking at #5 in the charts.

In 1968, the band released "A Beautiful Morning" a non-LP single. It's like "Groovin'"; smiling, enjoying the world music with slow tempos and lyrics about feeling good. It reached #3 on the charts.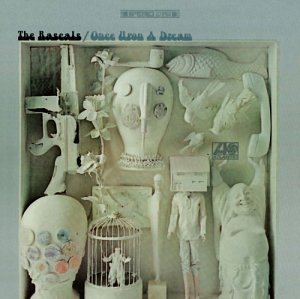 The Rascals, Once Upon a Dream (1968), **
This album seems to have no certain direction except to state that the Rascals were not a common pop band: No more "Young" in the name, and the album's cover has shifted from carefree cartoon to art collage. The title is certainly a reference to the late Martin Luther King, Jr., and the title track and "Singin' the Blues Too Long" (with King Curtis on sax, no less) both deal with equality, unlike many of their peers. But predominantly, the band continued the approach of "Groovin'" - laid-back R&B/soul combined with psychedelic pop. The end product features slower tempos, more session players, high pitched backing vocals, lyrics of vision and experience, and intermittent sound effects. Most of which are typified by "It's Wonderful", the album's strongest track.
However, the band is trying to please a large crowd, so they wind up falling for some of psychedelia's more dated techniques like between-song noises and introductions, although on the first side only, making it seem poorly conceived. Cavaliere and Brigati's songs tend to have two different gears musically - either their traditional piano soul matched with contemporary trends (the tripped out vocal sections of "It's Wonderful" or the sitar/tabla half of "Sattura") or having guests drop in jazz solos sections ("Please Love Me"). Both are fair methods of compensating for the band's playing limitations, and the latter is pretty novel.
The band members' special interests come into play, and since Cavaliere sang the hits, the others got their own spotlights. Brigati has his elaborate contemporary crooner numbers ("Rainy Day", "My Hawaii" where you can picture the tux and microphone), which is nothing new. Cornish always has a song or two, and this one is his best yet- "I'm Gonna Love You" is a lurching Dixieland song, and his singing is far more aggressive. The album's title track is also a curiosity - it has the mass of backing and slow tempo of a Brigati showcase, the catch is that David Brigati sings it (presumably Eddie's brother). David has a light tenor, not Eddie's showman voice, and while he does a passable job, one of the Rascal's strengths were the strong vocals.
"It's Wonderful" is fine, but the album's lacks stand-out tracks, making it a pop mess with some strong whiffs of social consciousness.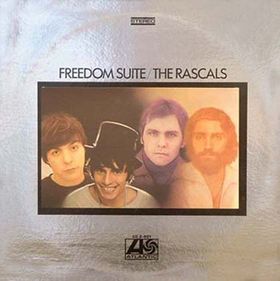 The Rascals, Freedom Suite (1969), **1/2
For a single LP the Rascals did almost everything right. They ditched the Brigati crooner material, most of the psychedelia and gimmicks. Instead, the LP is one soul track after another ("Any Dance'll Do", "Look Around", "A Ray of Hope") and often with equality themes, as typified by the hit "People Got To Be Free". Yeah sure, most of this stuff sounds like Motown, but that isn't a bad thing. The last track, "Heaven" sounds like the product of a balanced Laura Nyro. Granted, Cornish has his requisite two songs ("Me and My Friends" and "?") neither of which is at all bad. There is not much innovation - Cavaliere and Brigati do an interesting re-work of "America the Beautiful" and "Of Course" features something like a wah-wah electric piano - but the group's focus is a decent trade-off after Once Upon a Dream. If they had restricted themselves to one LP, this may have been their strongest work: a socially conscious soul album with mass acceptance.
The second LP, subtitled Music Music, cashes in some of this goodwill. This is either the band just playing around and keeping the results, or an attempt to demonstrate their technical skills for critics. The first side has a bluesy jam, entitled "Adrian's Birthday" for engineer Adrian Barber, which has a Supersession-lite feel. Dino Danelli's "Boom" occupies the rest of the side, and listener beware, it is a drum solo. A long drum solo. Aside from Cavaliere, Danelli was the Rascals' strongest musician, and he could probably outplay almost any other East Coast drummer from his era, without being flashy. Still, a drum solo is a trial of patience, and the best that can be said is this one is not corrosive. The last side of the album is an instrumental, "Cute". Again, included on a lark or to demonstrate the band's ability to actually play their instruments (cough Monkees cough Raiders)? Either way, it's a jam that unravels, and then re-integrates. There is nothing bad about it - Cornish does not drop a brick when soloing, uses feedback even, and the only annoying part is Brigati's bongo solo. Well, what else is supposed to do during an instrumental? This would have been adventurous a few years earlier, but in 1969 it was just superfluous.
So, the addition of Music Music prevents the album from taking off, even if it did have commercial success: the double-LP made the Top Twenty with the band's lowest placement yet, and "People Gotta Be Free" topped the charts.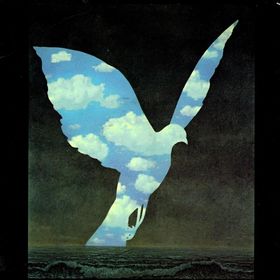 The Rascals, See (1970), **1/2
Back to a single LP, and it's all over the place. The biggest news is that Cavaliere and Brigati largely stopped writing together. Cavaliere writes the album's bulk, and some of his lyrics are based on Eastern philosophy, presumably the Paramahansa Yogananda whose Divine Inspiration is thanked on the album's back cover. Cavaliere usually matches this with more eclectic arrangements (the tripped out "Death's Reply", the already dated sitar/Indian percussion of "Stop and Think"), only the title track is predominantly traditional. Cavaliere's melding approach payoff with the delightful "Nubia" where the verses and solo sections are almost straight jazz (utilizing Danelli, Ron Carter's bass work and flautist Hubert Laws) with the Rascals tight harmonies on the chorus. It's not all so adventurous, and with the exception of "Nubia", the better parts of the album lie in their more standard material. Cavaliere was leading their soul sound into even more good-timey territory on "I'd Like to Take You Home" and "Carry Me Back", the latter of which rocks in down-home manner. They still excel with soul music, and the "Real Thing" is a typical Rascals pop song - bouncy, concerning love, and really catchy. "I'm Blue" is the sole Brigati/Cavaliere song, and it's a slow blues song designed as a Brigati showpiece. Cornish has his allotment of middling songs "Remember Me" which follows his Lovin' Spoonful/Youngbloods strain (and his lyrics involving spitting) and an attempt at a risker rock song ("Away Away"). Amidst all these directions the band still delivers a good cover of "Temptation's 'Bout to Get Me", a use of their old strategy of nailing Motown material. The band really does not appear to have a direction at this point, or perhaps too many directions, and they have not truly updated their sound or production since their start. As a result this album displays symptoms of Raiders' syndrome, which occurs when a lighter rock band decides to play heavy, but it doesn't sound authentic ("Hold On"). The band's success really started to take a hit at this point, with this album only hitting #45 on the charts.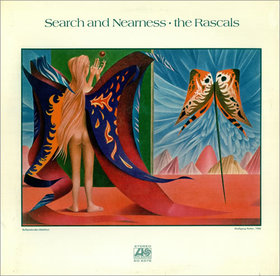 The Rascals, Search and Nearness (1971), **
A farewell album, to both Brigati and Atlantic records. Again narrowing the Rascals's sound, Cavaliere relaxed their music in keeping with the time, adding some gospel touches ("I Believe", "Glory Glory"), and has wah-wah make a belated appearance ("Right On", "Fortunes"). His lyrics have also shifted, largely abandoning social statements or mystical ("I Believe" is an exception), settling with the warm afterglow of the era. The result is an album which is less intense, but still drawn from the old sources, just more generic ("Almost Home", the bluesy "Thank You Baby"). The funny thing is that Cornish's guitar style is well-suited to this shift, even if he still lumbered about below competency. His lone contribution, the vaguely country-ish "You Don't Know" utilizes the same intervals made famous by the Allman Brothers, and has some pretty crappy lyrics. The song is also one of only three songs to which Brigati contributed lead vocals, the others being Danelli's "Fortunes", an exercise in post-hippy nonsense optimism, and a surprisingly serious and dramatic version of The Box Tops' "The Letter". Nothing grabs you, and the best track is a jazz instrumental--Danelli's "Nama", which is a nice screen for his soloing in 7/4 time. Lots of bands (Rascals included) had done the slower soul thing by then, and Cavaliere's better songs--"I Believe", "Thank You Baby", "Glory Glory"--would not beat out even See's finer tracks. It also failed to sell like their previous work, clocking in with a chart position of #198.

The Rascals, Peaceful World (1971)
The band lost Brigati and Cornish, added three people and changed labels. More jazzy, and experimental.
The Rascals, The Island of Real (1972)
Their last.