The Action and Mighty Baby
Albums reviewed on this page: Rolled Gold, Azoth Demos, Mighty Baby.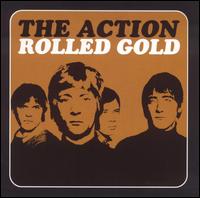 The Action: Rolled Gold (1967), **1/2
The Action were a mod band, and a good one; they just happened to be unsuccessful in the larger scope of things. Mod bands liked soul music; they liked Motown. Think of those James Brown covers on The Who Sings My Generation, or the melange on The Pretty Things rock-to-mod switch album, Get the Picture? The Action also recorded an assortment of soul and covers, impeccably performed and cleanly produced by George Martin. They flopped, most likely because they were just a bunch of nicely played covers. The band's singles lacked an edge, and their last single, "Shadows and Reflections" was a more intricate soul-inflected pop song. Not even the replacement of lead guitarist Pete Watson with former Savoy Brown member Martin Stone or the addition of keyboardist Ian Whiteman made much of a difference.
Which brings us to the end of the tracks The Action released during their lifetime. For the band recorded demos in 1967 for an album which was never properly recorded, and these make up Rolled Gold. Now under the influence of various drugs, the band in these demos sounds more like a cousin of The Action's previously official discography. Much like the Who's dichotomy of roaring live act and intricate studio band, these demos show The Action to have had more, well... action. These tracks are often what their studio tracks are not - rocking, tolerably recorded, and loud, even while retaining many elements of their sound, like Reg King's vocal style and their backing vocals. This was band which showed up in clubs - the one whose guitars were up in the mix, where the drummer never met a fill he didn't like, while honey poured from Reg King.
Martin Stone may not have been given the green light to let it all out like he did with Mighty Baby (although his wah-wahed lead on "Strange Roads" is a strong precursor), but the guitars are solid throughout the album. Drummer Roger Powell also gets a special nod, shifting his rhythm and pummeling with the best of them; little surprise then that he was a young Phil Collins' favorite drummer.
Rolled Gold would have been a very good psychedelic rock album. Not that this is some sort of proto-Zeppelin or something. The band still had a significant lighter side -- this was the era for it. Because they got tripped-out, there are more relaxed or even folky songs, but nothing twee or symphonic ("Love Is All", "Things You Cannot See", "Climbing Up the Wall"). The basic nature of these recordings mean they have none of the clutter often added in psychedelic production. One can only imagine how a gem like "Icarus" would have been mucked up. In its present state it's a slightly messy psych song - with a great fast paced-backing underneath delightful vocal harmonies. These are just the songs - and they are damn good ones. The combation of King's smooth vocals with substance-inspired lyrics and punchy backing is irrestible ("Come Around", "Look at the View", "Brain"). Can you beat opening riffs like those on "Look at the View" or "Something to Say"? Maybe all that soul music helped after all - the band wasn't tied to the standard blues or R&B chord pattern, nor did they borrow from established styles like music hall or folk. The band instead produced music from their own slightly-altered minds.
Several tracks point to Mighty Baby's hippy psychedelic rock ("Strange Roads", "Really Doesn't Matter"). Only a few tracks fail to keep pace, and they are all at the end of the album - "Little Boy" sounds more like a demo than the rest, and lacks the energy of the other material, "Follow Me" is little more than a cool Martin Stone riff, and "In My Dream" is another song that is too polished. We can only speculate what a completed Action album would have sounded like, better or worse than this collection, but Rolled Gold should be good enough to keep us satisfied for a while.

[Untitled Azoth Demos] (1968), *****
Has any band's recorded demos outshined their released output so strongly? Now without Reg King, Whiteman took center stage for these five demos under the interim moniker of Azoth - writing and singing full blown psychedelic rock - and not a weak track among them. Appended to the Mighty Baby CD release, I fell in love with these songs before Mighty Baby itself. The tone is lighter than Mighty Baby and The Action, but the songs still structured like Rolled Gold or singles. The pairing of Whiteman's more subdued pop songwriting, the rhythm section and Stone's soloing is a compelling combination - as if construction workers had a soft side. Whiteman sounds etherial on "Only Dreaming", yet the rhythm section is still crackerjack. The slide on "Dustbin Full of Rubbish" foreshadows Mighty Baby, while "Favourite Days" is a compositional gem - the quiet organ introduction, followed by a jerky, blues section while Whiteman sings about the city, and then the overlapping lines at the end of the song. "A Saying for Today" is remarkably close to something Richard Wright would have written as a Floyd B-Side. The Residents may have intentionally locked material in a vault as art, but the loss of these five tracks is no self-created or everyday tragedy. Sometimes the transitional journey is compelling in itself.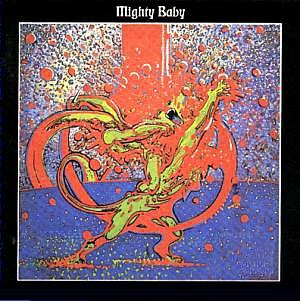 Mighty Baby (1969), **** (with Azoth Demos, ****1/2)
I first read about Mighty Baby while flipping through the AMG guide. Some time later I managed to procure this abandoned album, and the opening strains of "Egyptian Tomb" with off-beat sax honks, an Eastern vibe, and lyrics about people not knowing "what it is to have lived in a different place" indicated that Mighty Baby was no ordinary acid/jam/tripped-out band. With Reg King gone, the band opened their minds further, and pleasant acid-rock vibe, as if the happier Pink Floyd songs fused with the American West Coast and the prevailing country flair. In practice this meant mesmerizing guitar lines from Stone and King, the kinetic rhythm section holding over from their soul days, and the gentle invitation of rootsier sounds. The songs move from section to section with the guitars spinning the route. Sure, the band uses an expansion of the loved blues scales, but everything merges nicely: the discreetly religious lyrics ("A Friend You Know But Never See"), Whiteman's occasional sax work, the lead guitars and a warm and friendly vibe. This duality means the band is sometimes reverential ("At a Point Between Fate and Destiny"), othertimes down-home rollocking ("Trials of a City", the Dead-like "I'm From the Country") but always enveloping. Like most jam bands their minds were focused on the music's flow, but their eyes were on the sky and their manners gentle. Let the rough hands treat you kindly; grab some Mighty Baby, kick off your shoes, go into the fields and transfix yourself.