Syd Barrett
Albums reviewed on this page: The Madcap Laughs, Barrett, Opel.
For those who have no idea who Syd was, a brief summary:
1. Original Singer, Guitarist and Songwriter for Pink Floyd.
2. Major LSD User.
3. Wrote Floyd's first singles ("Arnold Layne" and "See Emily Play') as well as most of their first album, Piper At The Gates of Dawn (1967).
4. Major LSD User.
5. Deteriorates from his drug usage and leaves/is forced out of Pink Floyd.
6. Records two albums (The Madcap Laughs and Barrett) and then fades out.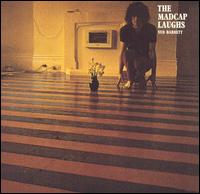 The Madcap Laughs (1970), ****
Not as overtly psychedelic as early Pink Floyd, but disturbing none the less. Most songs are (seemingly) disconnected phrases sung in a low voice over Syd's (mostly) acoustic guitar, sort of disturbed folk songs ("Dark Globe" or "No Man's Land" which breaks into muttering). But he is so unpredictable, often with lurching rhythm, that the backing by Soft Machine is out-of-sync and they fight to keep up with him (Wyatt's drumming in "No Good Trying"). Often the songs (and backing) just sort of end. Barrett's songs about love make more sense than the rest ("Terrapin" or the haunting "Late Night"), but Syd also has a couple of "old-timey" numbers "Love You" and "Here I Go" which are fun, even when he stumbles. He even took a poem by James Joyce and turned it into an eerie simple acoustic riff ("Golden Hair"). Where his lyrics are often bizarre ("If It's In You"), Syd was a definitely a great songwriter (when he had it together) as seen in songs like "Octopus", built on a chord progression that is catchy as hell. At his worst he doesn't sound that bad - just unprepared (page turning on "She Took A Cold Look", or false start on "If It's In You", for example). This album is certainly odd and likely to be disturbing, but Syd was certainly a diamond (fallen) in the rough. Produced by Malcolm Jones, or Gilmour and Waters.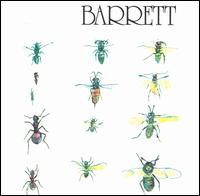 Barrett (1970), ***
In some sense a jeweler's role is to provide an appropriate setting for the stones. He tries to hide the defects in the centerpiece, and bring in complimentary stones that enhance the setting. The shaping and styling of whatever metal often determines our overall opinion of the piece. If the setting is over-elaborate it strikes us as gaudy, if it is poorly made it can override the beauty of the centerpiece, if it too commonplace it will lack interest. But what about the rare stone where the defects are the most interesting feature? Maybe it shouldn't be set at all - simply set on view for all to see. If it is set, it should be in a way that emphasizes its unique character. This is despite the fact that both these answers will greatly cut down the market for the stone - it would be in much greater demand if it simply set in a way that tried to hide it's defects and allowed to pass through mainstream channels. One can't really fault David Gilmour then for his production on this album. Having to work with a deteriorating Barrett, and attempting to assemble something of what Barrett brought. But where The Madcap Laughs was very much about Syd being honest, open, a damaged man communicating from the heart, and surrounded by musicians whose sound reflected his quirky mental state, Gilmour takes the opposite tack with Barrett. With Richard Wright working the keyboards, Gilmour on bass, and future Humble Pie drummer Jerry Shirley this is not a return to The Madcap Laughs or Piper at the Gates of Dawn. Instead, Wright adds suitably creepy organ and piano lines echoing Saucerful of Secrets, and Shirley lacks the subtly necessary for playing with someone as fragile as Barrett. The result is a sound that is enveloping, not the sparse, haunting nature of his first album, which is unfortunate, as Madcap Laughs was significantly about atmosphere. Barrett's songs are not as strong this time, with the usual assortment of pop, folky romantic tunes and a renewed interest in the blues. There is a great deal of bluesy electric overdubs by Syd (most of it sandwiched between the other musicians) which is surprising. The pop songs are the best on here, with "Baby Lemonade" and "Gigolo Aunt" continuing the line of songs with catchy music and bizarre imagery. You may not know what he is saying exactly, but you want him to keep saying it. It is important to note that even at his most inaccessible (the vocally strained and admittedly tedious "Wolfpack") his lyrics are still utterly fascinating. Sure there is another random list of words song ("Rats") and an utterly cryptic attempt at an old school blues sound ("Maisie" with Syd mumbling 'Bad Luck' and 'Bride of a Bull' throughout) but these failures are just part of his charm. Again, the production detracts from the romantic reminiscing of "Dominoes" which should have been left unvarnished, but the childlike Syd who cannot understand those who treat him well (the beautiful "Wined and Dined") is still a force to reckon with. These are generally the tracks Gilmour would have been better off letting Syd perform by himself in several cases, judging by the basic tracks appended to the album ("Waiving My Arms In the Air", "I Never Lied to You", "Dominoes"). Perhaps a Barrett Naked would be an appropriate release. Certainly under the best circumstances this album could not have been another Madcap Laughs, but in attempting to make Syd palatable as a sort of bluesy-folky musician, Gilmour masked the honesty and fragility which made Barrett so special in the first place.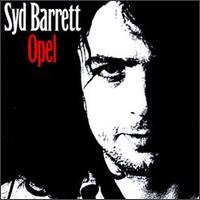 Opel (rec. 1968-70, rel. 1989)
Outtakes, demos and such from his two albums. The title track is more than album-worthy; it's stark, coherent and haunting. Other songs are essentially acoustic demos of released songs ("Rats"), or inferior unreleased versions (a crazy overdub version of "Octopus") The new songs suffer from Barrett's page-turning sometimes ("Let's Split"), but are still worthy songs ("Milky Way"). The most bizarre is the unconnected one-word lyrics of "Word Song". Barrett's blues background is evident on "Swan Lee (Silas Lang)", which is rumored to date back to his Floyd days. "Lanky (Part One)" is a whacko jam session, even without studio trickery. More pleasant insanity. For Barrett fans, a worthy buy.
Yes, for those not satisfied by these three, there is an out of print CD with his BBC session, and a new (2001) compilation features the hilarious and previously unreleased "Bob Dylan Blues".
Presuming your sanity is still intact, back to the Music page...