Biff Rose
Albums reviewed on this page: The Thorn in Mrs. Rose's Side, Children of Light, Biff Rose.
All in all, I do not really know much about Biff Rose. He is from New Orleans, and was doing satirical songs in the New York coffeehouse scene in the mid 60s armed with a banjo. Somewhere down the line he dumped the banjo for a piano and went to California, where his oddball approach fit in well with the hippy movement. His piano work is distinctly non-rock, more the sort of thing that movie directors want when they ask for "old-style romantic love theme," but combined with his odd twangy vocals (he would sneak up into a goofy falsetto occasionally) and good-natured material and attitude, it isn't hard to see why he was a success. I've read that he appeared on Carson's Tonight Show a dozen times in this era, although whether he was considered comedy, music, or both is uncertain. His most famous song is "Fill Your Heart" - mainly because David Bowie covered it on Hunky Dory. Otherwise, his impact on the rock scene is minimal. You could try and fashion an argument that his piano style would later be echoes by Rick Wakeman (on Bowie's album) and Keith Emerson, but I think that is more coincidental than causal. However, even if he didn't produce any overwhelming influence, Rose is still an entertaining listen today.
It seems that his early work has gone out of print (at least in the US), so I don't know how easy it is to track his stuff down.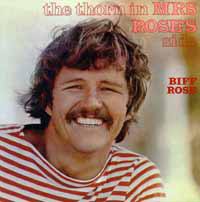 Biff Rose is the Thorn in Mrs. Rose's Side (1968), ****
Rose was among the hippie crowd, and accordingly he was full of good intentions and gentle pokes at the world. Most of this album was likely drawn from his humorous nightclub act ("Mama's Boy", the staged reading of "Paradise Lost", or the LAPD satire "Buzz the Fuzz") with strings, horns, drums, etc. added. It also contains his most famous song, "Fill Your Heart," which was later covered by Bowie on Hunky Dory. A honky-tonk pianist with a voice that was well, imprecise, does not sound like a recipe for successful music, but Rose is so darn joyful he overcomes his shortcomings. He was a happy, uplifted person and he wanted you both to know it ("It's Happening"), and to know why (the hippie philosophy of "The Man"). At all times one can tell that Rose sincerely means what he was singing, which differentiates him from a lot of people. Thorn is not entirely happy, as a few tracks show themes which would later appear in his work (the sad romance of "Molly", or the uncertainty of "What's Gnawing at Me"), but they are still good songs. All in all, an enjoyable album from a hippie piano troubadour. Produced by a pair of ex-New Christies Minstrels, Nick Woods and Art Podell. (Tetragrammaton T-103).


Children of Light (1969), ***1/2
Part Tom Leherer, part Tiny Tim, part left-wing hippie, and part romantic, Biff Rose is a unique singer-songwriter almost in the fullest sense of the word "unique." He was a romantic with a good sense of humor, reacting against what he perceives as the troubles of his times. Rose is not a rock musician, nor is this rock music, either in structure or in presentation. His mostly unaccompanied piano work is best described as Old World - the sort of music found in old movies, but very competent and respectable. Think of a less frilly version of Rick Wakeman's work on Hunky Dory, or Keith Emerson's piano stylings. Rose, however, was certainly a goofball, and the two best tracks on this album capture him as such. The opener "Ain't No Great Day" (with Van Dyke Parks on weird squirty moog) is delightfully carefree, and features Rose's slightly twangy voice going up into an unlikely squealing falsetto. The other standout track, "Evolution" features even more falsetto (and more moog), and rather witty lyrics delivered in a sort of "Whoopee!" style ("I'm my own religion heaven sent / Now I'm tax-exempt"). He covers a lot of ground, and while his some of his good work focused mainly on one style like satire ("Communist Sympathizer") or romantic ballads ("Just Like a Man" with soundtrack strings), he is more interesting when mixing his hippie values with older musical styles. The two big examples of this are the title track, which is a peaceful piano ballad about hope for the future, or "Spaced Out/I've Got You Covered," a blues song bookended by free-style phrase association. A odd, comforting trip. Produced by Woods and Podell again, with Benny Barth occasionally on drums.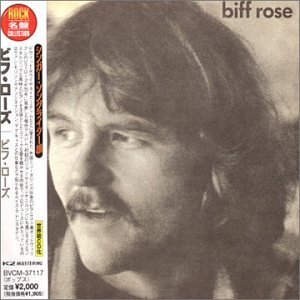 Biff Rose (1970), **1/2
Biff Rose has a different feel from his previous work, almost like Rose has watched his personal and cultural world disappear. Where there used to be odes to counter-culture or happiness we now get songs of loss ("The Captain", "The Promise"), and more room for Rose's surprisingly interesting piano work ("Diane"). Essentially, Biff Rose shows only his romantic side. When this album is successful it is because Rose was able to articulate the warm embers of what he has left ("I'll Walk Away", "I Forgot to Tell You"), rather than any audience-pleasing larks. The music is slower paced, with only one really bouncy tune, the fun "Never Mind", which is the closest thing the album has to a potential single. Otherwise plenty of appropriate strings and more Dixieland fill in ("C'mon Joe", "Passing Parade" neither of which is more than filler). A couple of tracks feel half-finished ("All the Fondest Wishes" is cut in half to bookend the album and smothered by strings, and "African Lullaby/Little Monk" opens with bassist Richard Davis soloing before shifting into an unrelated Rose fragment). All in all this isn't a great album, and far more serious than his prior work, but even so Rose has the talent to make the switch. Produced by Lewis Merenstein, more famous for his work on Astral Weeks.